Armed Violence
Features
The Buni Yadi Tragedy: Through The Grief Of A Father
Abdullahi and his wife had hoped that by the time Adamu was grown and got a job, he would help with financing the lives of their younger children. It was why even though it was exceedingly difficult and financially strenuous, they sponsored him through school and kept pushing.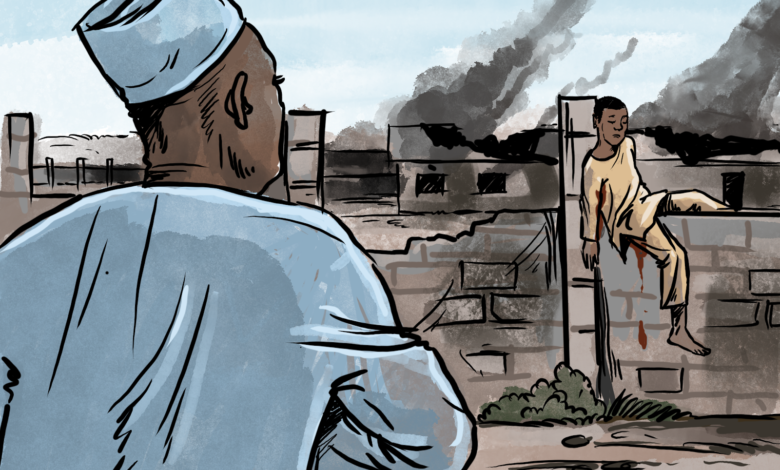 By the time Mallam Abdullahi heard that there had been a massacre at the boarding school in Northeast Nigeria where his son was a student, by the time he got into his car with his wife and drove from Damagum down to Buni Yadi to assess the situation and check on his son, the boy had already been buried. It was an approximately 120km journey, but he did not hear the news until it was too late.
"I did not see his corpse. I did not see his grave, not at that time," he says.
It is both a blessing and a curse. On the one hand, he would have cherished the chance to do his first child one last honour; lower him into the ground. On the other hand, his last memory of the boy will not be of him with a bullet having torn apart his thigh. He will always remember the boy as he saw him last: happy and alive, his hands clutching his bags as he entered the car that drove him back to school in January of 2014, a month before he was killed. He cannot decide which is the lesser mercy.
***
Before insurgents from the Boko Haram terror group attacked the Federal Government College, Buni Yadi, in Feb. 2014 and murdered at least 29 teenage schoolboys during the Buni Yadi massacre, some residents believed they first tampered with the telecommunications connectivity. As a result, Mallam Abdullahi's relatives in the town could not immediately call to inform him of what had happened because it took time for them to hear the news themselves.
Terrorists cutting off telecommunication and even electricity in towns in Nigeria was a relatively common thing at the time. Maiduguri, the Borno state capital, was cut off from electricity for years by the ISWAP terror group. To this day, certain parts of the city still do not have access to electricity.
However, the government also cut off telecommunications in those days in volatile areas to hinder the ability of terrorists to carry out operations. As recently as 2021, state governments shut down telecommunication networks in Zamfara and in Kaduna.
It is unclear which was the case at the time of the Buni Yadi massacre. Unlike many parents who were aware that there were threats around the area of the school and that it was increasingly becoming a high-risk area, Mallam Abdullahi was completely oblivious to these. He did not see it coming. The news, when it came, came to him and his wife as a shock.
He was based in Damagum, Yobe state, himself, and when the call came to let him know there had been an attack in Buni Yadi, he wondered for hours what the nature of this attack was and where exactly it had been.
"I was not given any details about it, so I did not even know. But later, my brother called me on the phone and said there was a need for me to come down to Buni Yadi," he tells me.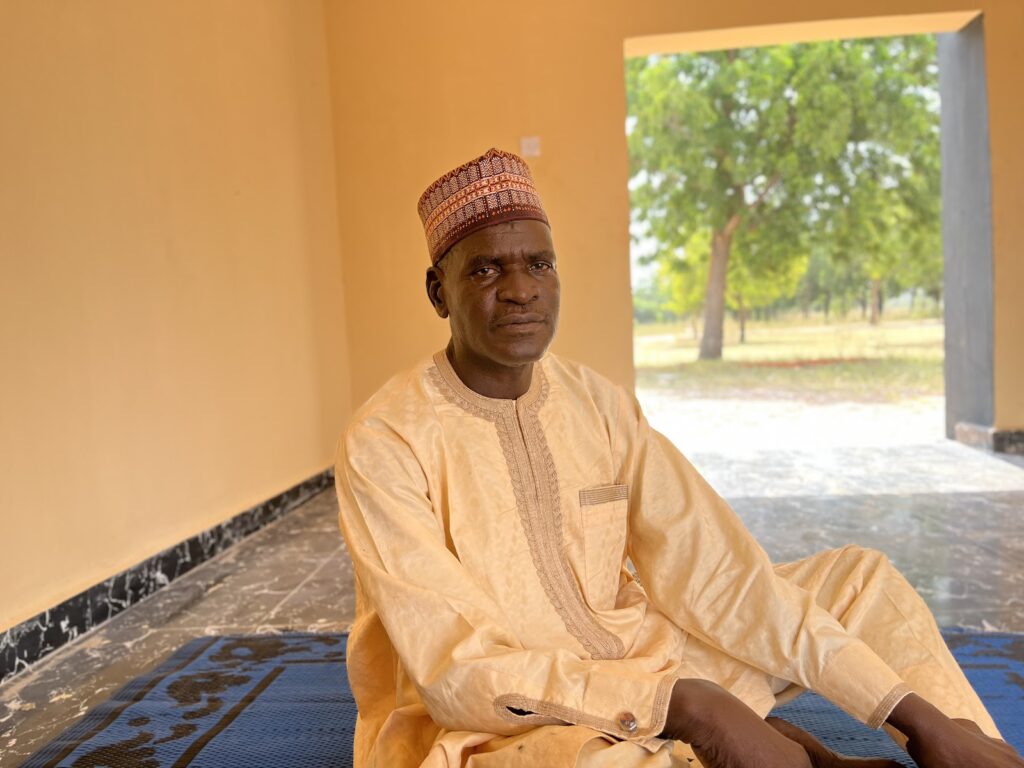 Even then, he was not given the specifics. Perhaps in a different time and under different circumstances, the news would have been splashed all over the internet by the time he arrived, and he would not have been caught unawares.
When Abdullahi arrived in the town, he went straight to his brother's residence. There he found a crowd of mourners gathered already. It was then that his heart began to sink.
In the minutes and hours that followed, he learned the details from his brother, whose son had also been killed and was buried alongside Adamu: that the previous night, terrorists had attacked the school, slaughtered some boys, put bullets in some, and burned others to death. His son was one of the few who managed to escape the fire, but as he attempted to leap out of the hostel room, one of the attackers shot him in the leg. He died. His brother's son was slaughtered.
Abdullahi's son's name was Adamu Abdullahi Adamu, and the last time he ever saw the boy was during the first week of Jan. 2014 when he was leaving for school. The week before, Abdullahi had gone to the school to finalise his registration into SS3, the final-year class. The money had been very difficult to pull together, but he had paid for his textbooks, examination fees, and registration fees.
The day the boy left for school, he had not planned it. But that day, he came home from work to find Adamu's classmates there with the car. One of the boys' fathers was driving them to school and they had stopped by to ask him if he was ready to return so they could drive down together. Adamu was not ready, but the prospect of a free ride with his best friends seemed appealing. And so he took the next hour to hurriedly arrange his clothes and books to return to school.
"When I saw him, I was like you are already ready to go? I didn't even plan on him going back so early, but then his friends were there. One of the friends was also a victim."
From that day in January when he went back, Abdullahi was unable to visit him.
"He was my first son," he says. "He was one of the best students in his class. He even used to represent his school in competitions."
Almost like a watershed, after the attack, Damagum and even the state capital, Damaturu, began to come under attack.
"There was a time in 2015, it was prayer time. The imam had just started the prayer that evening when suddenly, an attack was launched. Those that were fast were able to get their cars and escape."
But Abdullahi was not fast enough. First, he needed to get his family and run away. But the gunshots began to go up. He made it to his house, which was nearby but could not evacuate his family to safety.
"The attack started around 6:30 p.m. They didn't stop until around 11 p.m. We were very close to a Civilian Joint Task Force office, but it didn't guarantee anything. So we had already given up. We thought they were knocking on our gate. We even saw bullets that landed in our house."
In addition to losing a child, Abdullahi and his family also began to lose sleep and peace due to the constant attacks and the trauma and paranoia that came with their son's experience. His other children declined to attend boarding school, no matter how hard he tried to convince them "nothing could happen but by the decree of Allah."
It was why he left the teachers' quarters and relocated inside the town.
But beyond him and his family, Abdullahi believes that the massacre may also have contributed to the slow pace of education in remote areas that were close to Buni Yadi.
"There were neighbouring villages that initially didn't take school seriously. After the massacre, they all abandoned school completely."
There is the emotional trauma of losing his first son. But there is also the financial strain. Abdullahi and his wife had hoped that by the time Adamu was grown and got a job, he would help with financing the lives of their younger children. It was why even though it was exceedingly difficult and financially strenuous, they sponsored him through school and kept pushing.
"We really had our hopes on him," he tells me.
If Adamu were alive, he might have been grown enough to help cater for his siblings. Doing that alone has not been easy on his father.
"Taking care of his younger ones is not very easy as I'm growing old now. If he were around to help, at least he would have reduced some things. Sponsoring someone from JSS1-SS3 is a lot of money."
Adamu, inspired by his paternal uncle who was a doctor, had wanted to study medicine.
"They had already taken their JAMB examination with the intention of that. He was doing so well in school."
---
Support Our Journalism
There are millions of ordinary people affected by conflict in Africa whose stories are missing in the mainstream media. HumAngle is determined to tell those challenging and under-reported stories, hoping that the people impacted by these conflicts will find the safety and security they deserve.
To ensure that we continue to provide public service coverage, we have a small favour to ask you. We want you to be part of our journalistic endeavour by contributing a token to us.
Your donation will further promote a robust, free, and independent media.
Donate Here