Human Rights
Investigations
The Bloodbath (1): Families Mourn Loved Ones Years After Zaria Massacre
In Dec. 2015, the Nigerian Army launched an attack on members of the country's Shia community, killing hundreds of people. Many families carry the scars until this day.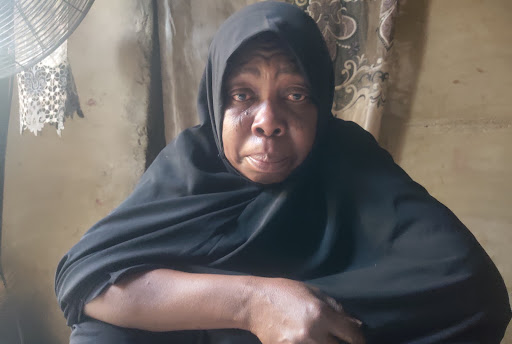 Sherifat Yakubu, 60, tied the knot with her heartthrob, Muhammed Yakubu, in Zaria, Kaduna, Northwest Nigeria, in 1980. They both vowed that the marriage would be forever regardless of any challenge they may encounter as husband and wife.
The couple kept to their promise and for several years lived together as 'siblings'. They had their lives well planned and the dream was simple; to make money and some children.
Muhammed had the habit of not leaving his family members for more than two days. As the chief technician at the chemistry laboratory of Ahmadu Bello University (ABU), he made enough to care for his wife and seven children. He, however, could not fulfil the promise of 'forever'.
He died in December 2015 when the military unleashed an attack on members of the Islamic Movement of Nigeria (IMN) in Zaria. That was the beginning of horror for his family.
Muhammed was killed alongside three of his children on Dec. 13 when soldiers set fire to the home of IMN founder Ibrahim El-Zakzaky.
"It was a terrible moment for me and I cannot forgive soldiers for ruining my family," Sherifat told HumAngle as she cried profusely.
The Zaria Massacre
Between Dec. 12 and 14, 2015, some soldiers attacked Shia Muslims, mostly members of the Islamic Movement of Nigeria (IMN), while celebrating Rabi' al-Awwal, the third month of the Islamic calendar which signifies the birth of Prophet Muhammad.
The military claimed that the Shia Muslims attempted to assassinate former Chief of Army Staff Tukur Buratai when the incidents occurred. Multiple sources who spoke with HumAngle, however, insisted the soldiers killed scores without any threat to Buratai's safety.
The IMN members who said they were unarmed told our reporter that they were planning to celebrate the first day of Rabi' al-Awwal when the soldiers arrived on Saturday, Dec. 12, 2015.
They said they confronted the soldiers on why they were at the venue of their programme but they replied that they were only there to escort the army chief. As more members of IMN arrived, the number of soldiers increased and the Shia Muslims could no longer proceed with their planned events.
As the arguments between the soldiers and the IMN members got intense, the soldiers reportedly opened fire on the people, killing scores. They later proceeded to the residence of El-Zakzaky, where hundreds of people were hiding.
Amnesty International said the incident, which led to the death of hundreds of people, lasted for three days. Many were allegedly buried secretly by the army in a mass grave and 23 families were said to have been wiped out of existence.
El-Zakzaky was also captured alongside his wife and hundreds of other members.
Following public outrage, the Kaduna Government set up a commission of inquiry to investigate the killings and, in 2016, the panel indicted the army, saying the General Officer Commanding the Nigerian Army's 1st Division, Adeniyi Oyebade, ordered the attack on the Shia Muslims. The committee concluded that no fewer than 347 Shia Muslims were killed.
Muhammed's family, which lost four of its members, recorded one of the highest number of casualties.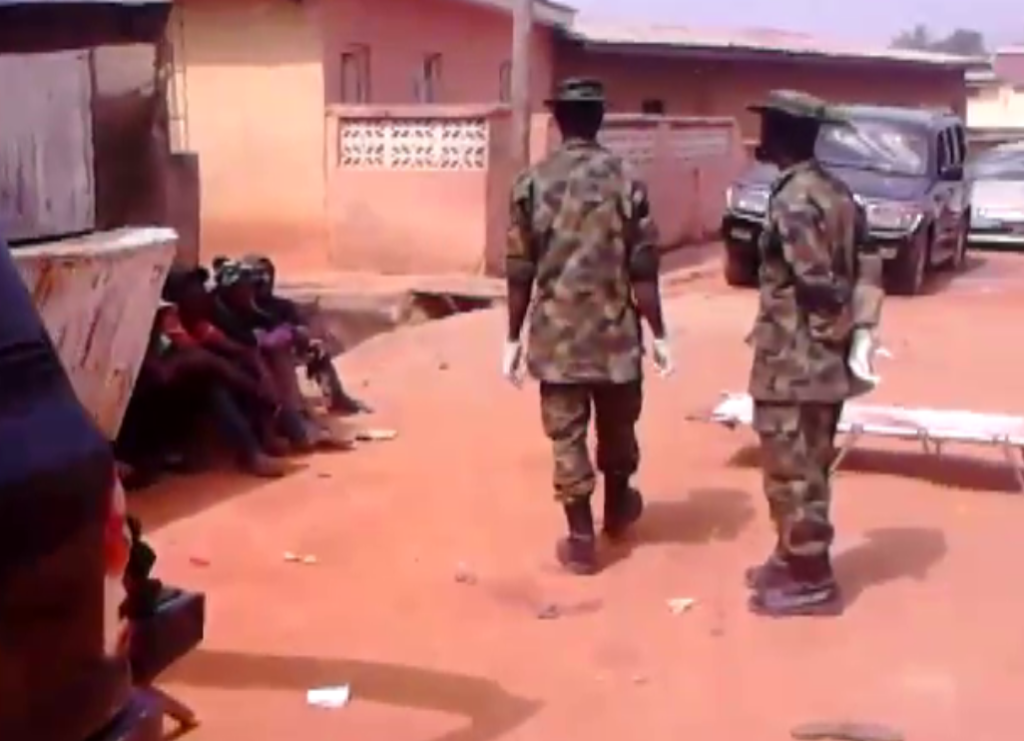 Unending sorrow
As Sherifat tried to speak on the death of her husband and three children, she was choked with tears. She explained how sadness travels through every cell of her body when she remembers Dec. 2015. Her son, Ahmed, lived at El-Zakzaky's residence but as soon as his sisters, Fatima and Khadijah, heard about the attack by soldiers, they went there to support him.
Their father, Muhammed, later joined them in the afternoon.
"I called my husband at night asking if I should bring food for them but he said 'no'. Since I was not convinced with his response, I called one of my daughters, Fatima, and it was then I started hearing gunshots. She told me the soldiers were already killing people."
Soon after Sherifat heard about the killings, she started praying for the safe return of her loved ones. The following morning, on Dec. 13, Fatima called her mother to say she was not sure she would survive.
"I told her to laugh and that all will be well. Sadly by 12:30 p.m. on the same day, she told me the soldiers had shot Khadija and that her father was no more."
At this stage, Sherifat's soul was bleeding the ocean through her eyes. Hours later, she got the news that the soldiers had set the building where people were hiding ablaze.
She told HumAngle that each day of her life has since been for endless tears.
"My life became useless, losing three children and my husband to soldiers for committing no offence," she said. "I have never gone three days without my husband and all my children. This has affected my last-born who is now in a psychiatric facility."
Since she wasn't working before the tragic incident, Sherifat and the four surviving children are left to battle with hunger in a dingy, dampened apartment that is near collapse.
'They killed my husband and six children'
Sherifat is not alone in this state of despair. When Zainab spoke to HumAngle, the pain of losing a husband, Abdullahi, and six children could still be felt from her voice: Ibrahim, a recent graduate; Muhammed, a sophomore student at ABU; Ahmed, also a sophomore at Federal College of Education, Zaria; Abdulrahman, who graduated from an Arabic school in Kano; Abass, a secondary school student in Kaduna; and Jawad, who was awaiting admission when he was killed.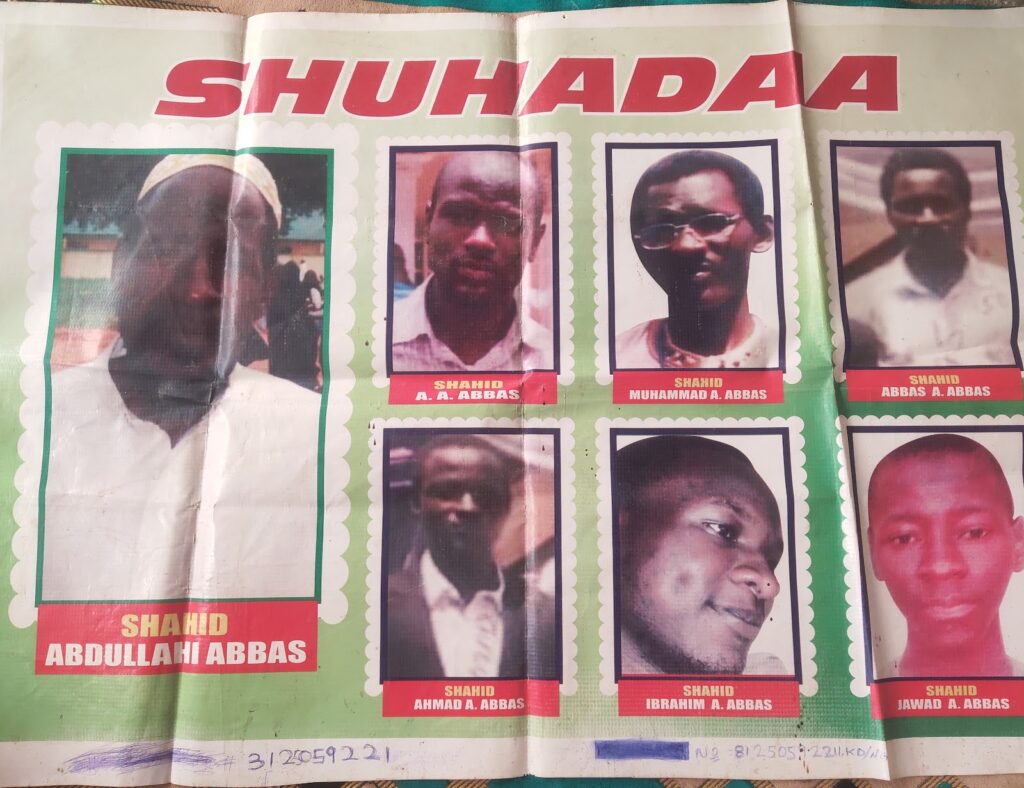 All six were trapped at the residence of El-Zakzaky on Sunday, Dec. 13, 2015. Their father had been in Abuja when he heard the news of the attack by the military. He then left his workplace to solidarise with other members.
"As my husband was coming from Abuja, he went straight to Mallam El-Zakzaky's house and he was shot dead immediately he got to the scene," Zainab wept while speaking.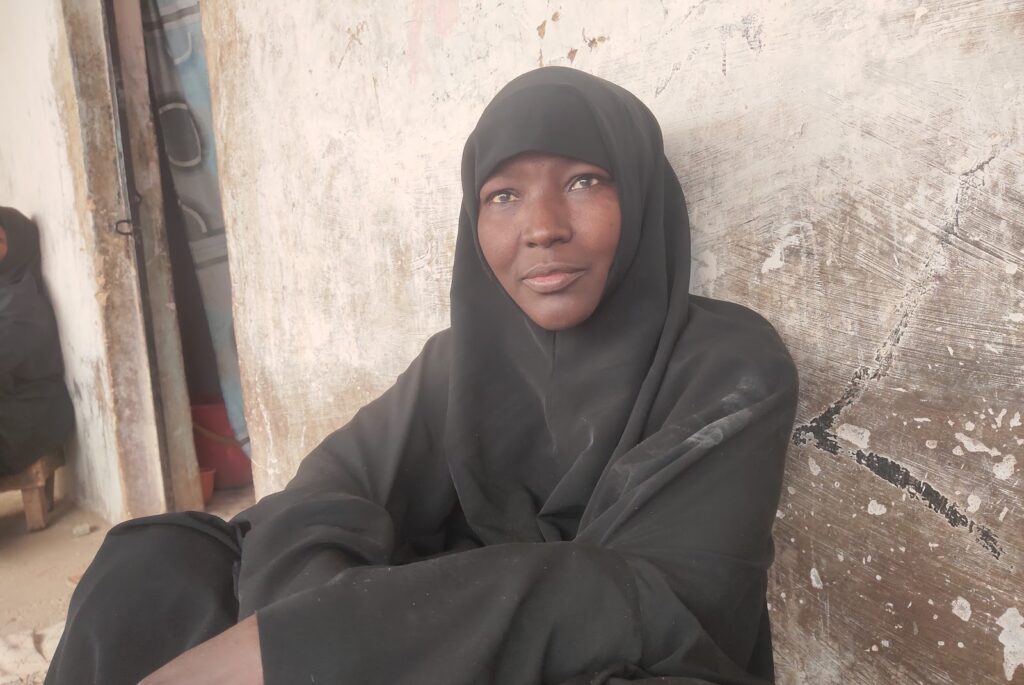 For Zainab, the death of her family members as IMN members was a noble sacrifice, and while "they all died as heroes … the soldiers were the cowards."
Except she now finds feeding herself difficult, she remains strong anytime she remember that Prophet Muhammad was also persecuted. She told HumAngle she lives on the donation from the Shuhada Foundation, a non-profit set up by the IMN following the massacre to support victims.
In another family, it took some minutes before Ishaq Muazu spoke. The father of two children who were also killed during the raid took his time to grieve.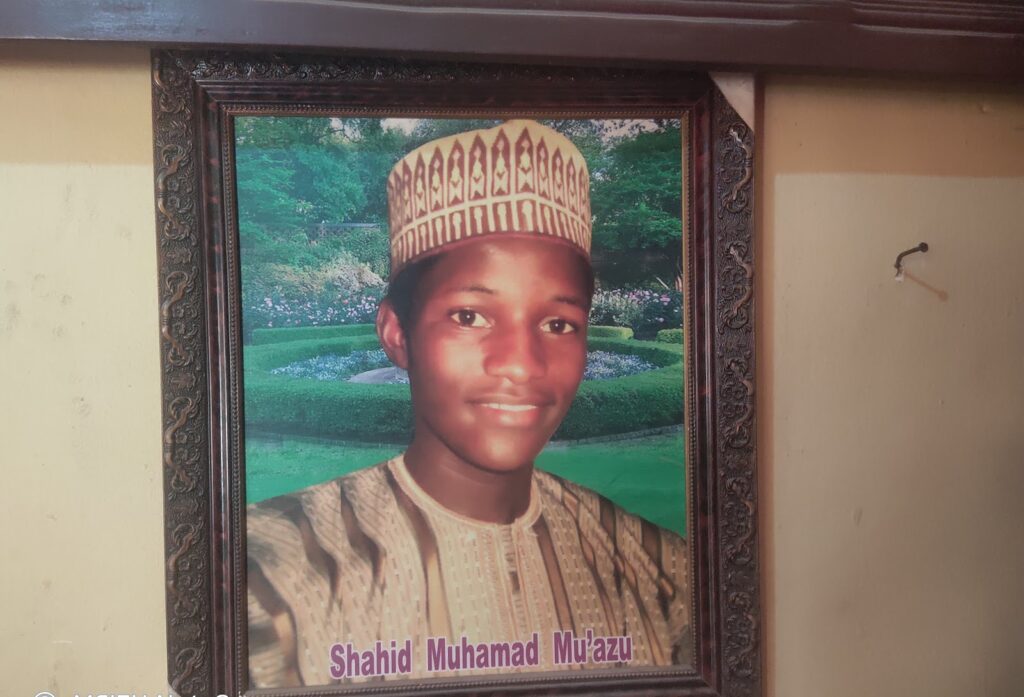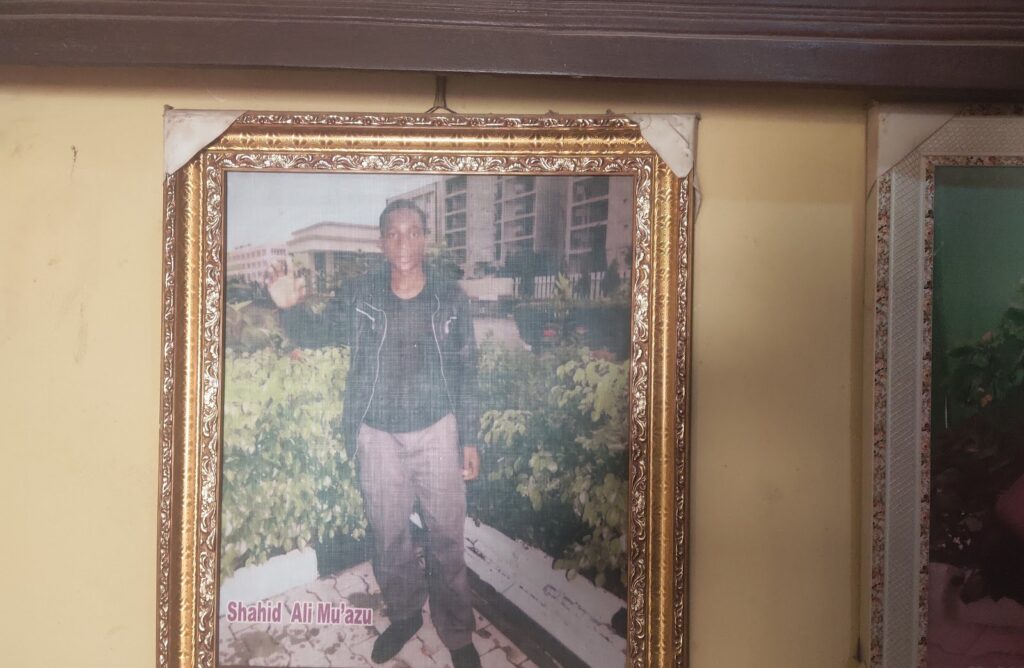 He left home with his wife and children but returned only with the former. Years after the incident, Ishaq and the mother of the slain children still sing mournful songs that spoke of the prospect of healing.
Danjuma Buhari also got two of his children, Ahmed and Muhammed, trapped by soldiers at the house that day in December. While Ahmed was shot dead, Muhammed called home later that night that he had also been shot in his two legs.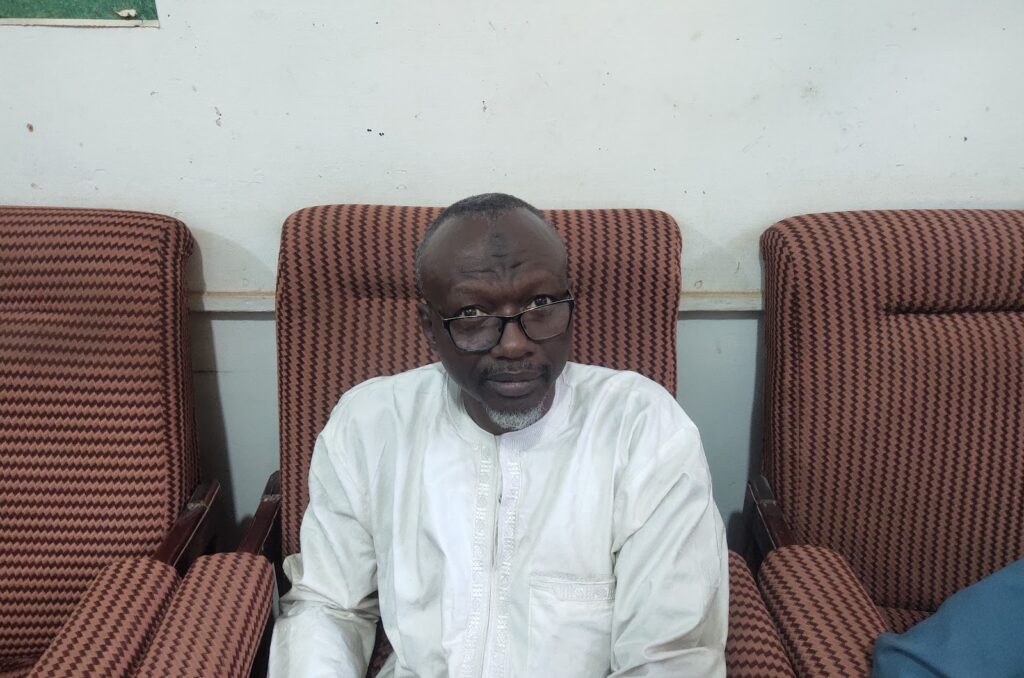 "We gave up on Dec. 14 when we didn't hear from him again. It was, however, surprising that we got a call from ABU teaching hospital on Dec. 15, 2015, that the Red Cross had brought him. He spent eight months in the hospital."
Families tracked 20 deaths from Samoru
Residents of Samoru, a community in Kaduna, told HumAngle that no fewer than 20 of their residents were killed either at the venue of the Shia Muslims programme or the residence of El-zakzaky.
The identified casualties include Shehu Yahaya, Munkaka Sani, Sirajo Ibrahim, Muh'd Taha, Zaharadeen Isa, Muh'd Abubakar, Abubakar Hamza, Umar Dauda, Sumayyah Mshelgaru, Yahaya Ilyassu, Mahdi Idris, Mubarak Bala, Yushau Nuhu, Muh'd Abdullahi, Muh'd Adamu, and Usman Muktar.
The other four dead persons — Mohammed Waziri, Fatima Waziri, Hussein Waziri and Hassan Waziri — were siblings.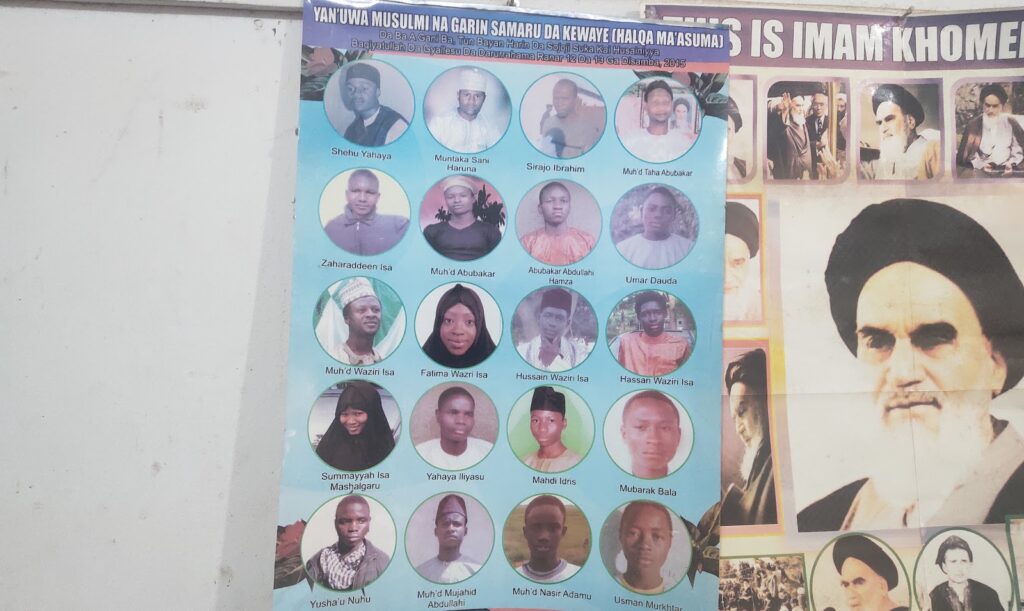 Isa Mshelgaru, the father of Sumayyah, had his glasses perched on his nose when HumAngle visited him in his office at ABU.
After he was informed of the intention to track families who lost their loved ones during the massacre, he merely pointed to a banner containing pictures of 20 persons who had resided in Samoru until their death. "Can you see those on the wall?" he asked.
"It was obvious that the soldiers had plans to create problems by disrupting our programmes. They were brought in batches and it was a day of sorrow."
He said about eight people left his house to the venue of the IMN event but his daughter was the only victim among them. Asked how others escaped and left her to be killed by soldiers, Mshelgaru said, "We left for our house before killings started but my daughter who was working with the media arm of the movement said she was not going with us."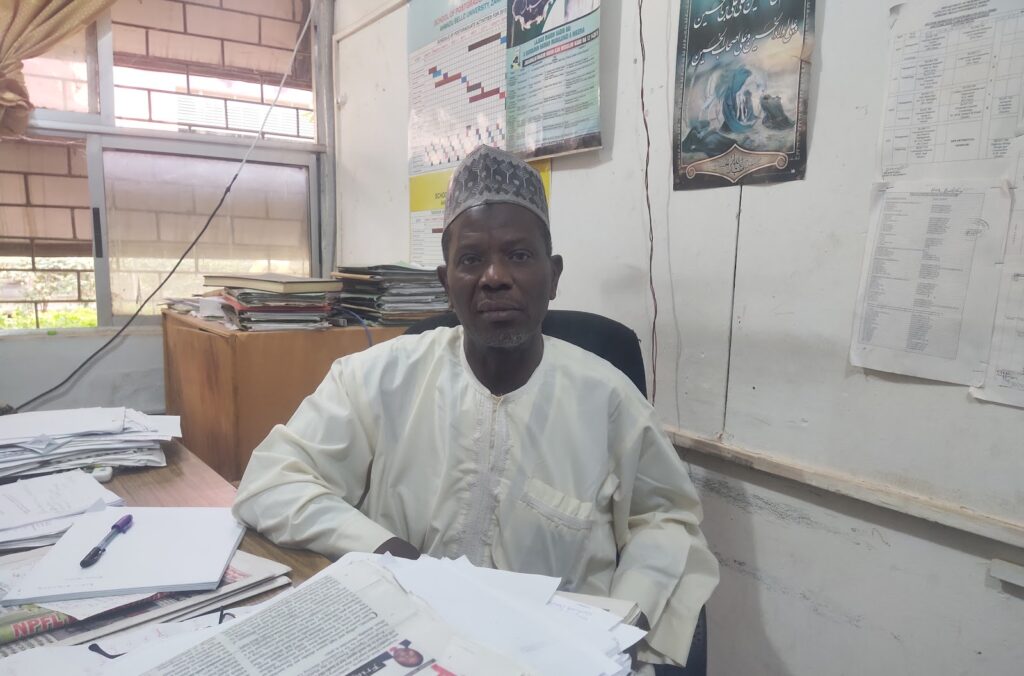 The 25-year-old lady, a 500-level student of Biochemistry in ABU, said it was her duty as a media personnel to cover how the events were unfolding for proper documentation.
"We left her there and communicated with her until Dec. 13, 2015, when she called to say her last words. We have not heard from her since the last call," her father said. "We missed her because she stood for justice all through her life. She was the defender of the family."
Mshelgaru remains upset that there is no justice for his daughter and many others unjustly killed by the soldiers.
This was also the situation with Muhammed Bello, who lost his 20-year-old son, Mahmud Bello.
"My son was just admitted into a polytechnic but could not even do matriculation when the soldiers shot him dead for no offence other than being a member of IMN," he said bitterly. "He was a child that always wanted to see me smile but he is no more."
---
Support Our Journalism
There are millions of ordinary people affected by conflict in Africa whose stories are missing in the mainstream media. HumAngle is determined to tell those challenging and under-reported stories, hoping that the people impacted by these conflicts will find the safety and security they deserve.
To ensure that we continue to provide public service coverage, we have a small favour to ask you. We want you to be part of our journalistic endeavour by contributing a token to us.
Your donation will further promote a robust, free, and independent media.
Donate Here