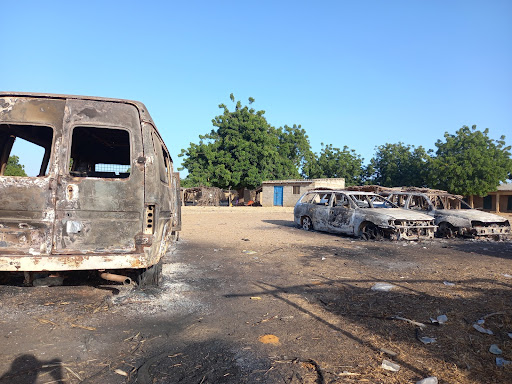 Muhammad Isma'il clenched his teeth as he tried to adjust under mosquito net. He suffered a gunshot wound to his right thigh after a group of terrorists, locally known as 'bandits,' stormed Unguwar Lalle weekly market, Sokoto, Northwest Nigeria, one Friday afternoon in October 2021.
Isma'il was returning to his makeshift stall at the market where he sells cow feed when he heard an explosion. That deafening sound, he later got to know, were gunshots from a terror group. As he got closer to the market, seeing the carnage before him, he laid down beside a vehicle until the shooting stopped. 
But it was not over. At least, not for him.
"I stood up to check the situation of the area. I didn't know two of them (terrorists) were close to me. They both shot at my leg, and I fell down and pretended as if I was dead. I held my breath and I didn't scream, even though I was in severe pain," he recounted, his voice punctuated by the seams of his agony.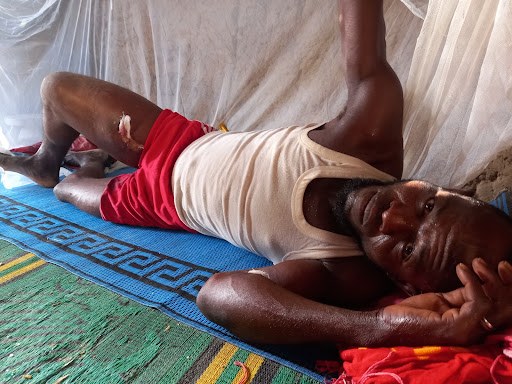 Unlike Isma'il, Labaran was sitting outside his house after the Friday prayer when he heard the reverberating sounds of gunshots. He told HumAngle he was cautioning residents to avoid the patchy road that leads to the market square before a stray bullet hit him in the leg, piercing through his tendon.
"I got hit by a bullet right here in front of my house. It started after the Friday prayer. We heard shootings from the market square, so I told everyone that passed by to remain indoors because a bullet is dangerous and  unpredictable; there is no way to tell where it would head to," he said and got teary eyed. "I was still there when I felt a sting in my leg. By the time I checked I saw a bullet stuck in there."
That Friday afternoon attack claimed the lives of no lesser than 20 people and left many injured, according to locals in the commercial village in Sabon Birnin Sokoto.
Sokoto East becomes valley of deaths
Abdulaziz* had to run for his life, abandoning his means of livelihood after a terror group attacked Goronyo, another terror-hit part of Sokoto, consecutively in a week in late September. Abdulaziz, who operated a POS stall in the town, had earlier expressed optimism over the security situation in the town until it degenerated, causing residents to protest against insecurity in the region.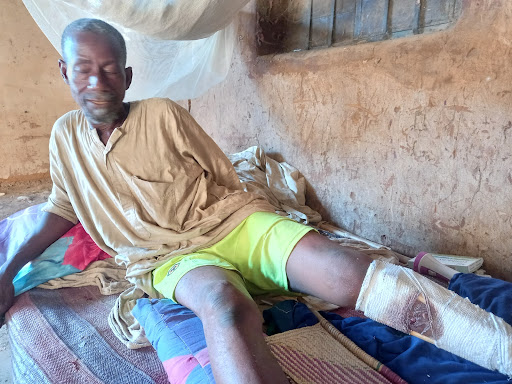 "Things have gotten worse than ever. Goronyo is now a theatre of war, every night. Whenever it's dusk, the sound of gunshots from either the local vigilante or the bandits would rent the air. It has degenerated that youths now carry locally-made guns wherever they go to protect themselves. Even if banditry ends, some of these young men may take advantage of the guns in their hands. It is better to run for my life before they end it for me," Abdulaziz said.
A week after, Sayannu Ibrahim, 37, Bashir Haruna, 35, and no fewer than 50 other people were killed at Goronyo Central Market. A terror group invaded the market on a Sunday evening in October when unsuspecting villagers were trading their farm produce in the popular Onion market.
More than 20 people were critically injured in the attack led by Bello Turji, a notorious terror leader whose gang operates in the eastern part of the state.
When Bashir Haruna and his brother, Bello, heard about the gunshot at the central market, they trawled through the house for their aged father who had earlier left the house to sell Onion at the market but to no avail. Disturbed, they both decided to check him at the market only to stumble upon the veiled terror group who shot at them, just a few metres away.
But it was only Bello who returned home. Bashir, a father of eight children and two wives, didn't make it back alive.
"He was even telling people to lie down. And they shot him," Bello narrated with tears running down his chin. 
"We took him to the hospital where he was pronounced dead. I covered him with leaves then went back home to tell them he is dead."
Goronyo, Mai Lalle, Gatawa, Gangara, Dama, Bukusuma, Tudun katsira, Dama, Lanfige, Bafarawa, and most villages in Sabon Birnin, Isa and other eastern parts of Sokoto State are currently immersed in raging insecurity bedeviling the state.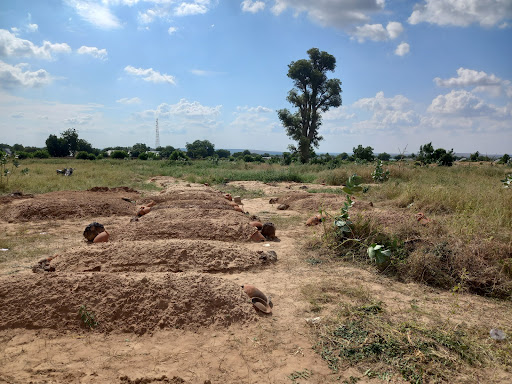 The areas, according to multiple accounts by its residents, became a safe haven for terror groups following military offensives in Zamfara. Sokoto East provides a strategic base for terror groups because of its proximity with Zamfara, the epicentre of insecurity in the northwest, and the neighbouring Niger Republic. 
A study of insecurity dynamics in the region by a lecturer at Usmanu Danfodiyo University, Sokoto, Muritala Rufai, also revealed that the Northwest has been divided into terrorist camps and each allocated to a particular leader to allay the fear of inter-gang squabbles. Sokoto, particularly the eastern part, is under the jurisdiction of Bello Turji, and recently,  Halilu Sububu, popularly known as Halilu Rockets, who shifted his base to the region.
There are also footprints of members of the Islamic State in West Africa Province (ISWAP), a splinter group of Boko Haram, growing in power and influence across the state.
The thin presence of security operatives in the region makes it more vulnerable to attacks. Desperate, more civilians are currently signing up with the local vigilante to defend themselves against the marauding bandits.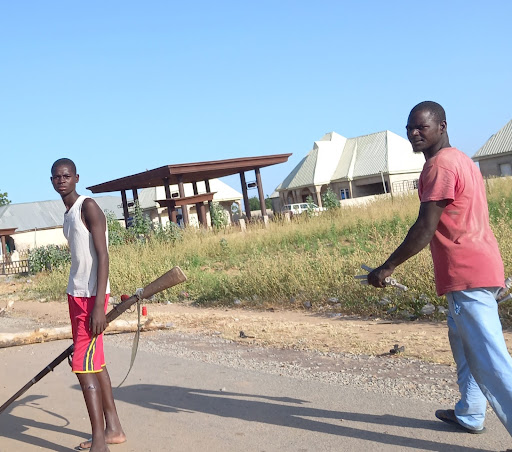 "There is no security. These guys are our security," Muhammad Sanni pointed to a local vigilante in his teens manning Shinaka to Sabon Birni road. "The soldiers are few, and cannot confront the bandits with their sophisticated weapons. Last week, about 200 of them came to attack us. How would a group of 10 to 15 soldiers face them?" he fumes.
This is also the position of Ibrahim*. The twenty-two-year-old resident of Mai Lalle, Sabon Birni, revealed that the security operatives at various checkpoints in the village left for the local government headquarters at Sabon Birni after being attacked by the terror group. Their burnt patrol vehicles can also be seen in the village.
"Those who were here left after they were attacked by the bandits. About four of them were killed. This made the rest leave for Sabon Birni. Since the soldiers left, we've been living at the mercy of the bandits. They attack whenever they want. There are villages we dare not go to because they've been taken over by bandits," he said.
HumAngle observed that from Shinaka in Goronyo, to Sabon Birni —spanning 63 km and more than 15 villages— there are only two security checkpoints, leaving the villages defenceless in the face of the group's unrestrained reign of terror.
Timothy Avele, a security expert, however, believes the shortage of security operatives should not cast a shadow on the safety of locals in remote communities "The entire Security personnel, including the military is said to be less than a million officers. However, that as it may be could not excuse this trend of letting remote communities be ravaged by bandits and terrorists."
On their own
What is happening in Sokoto east is being replicated in most rural parts of Nigeria's Northwest as armed groups intensify their attacks on vulnerable villages in the region. Activities of the groups have displaced not less than 80,000 civilians who now find refuge in Niger Republic while at least 8,000 have been killed since 2011.
Last month, the governments of the northwestern states of Sokoto, Katsina, Zamfara, and Kaduna, shutdown telecoms, banned weekly markets, and restricted sales of fuel, among other measures to finally end terrorism and banditry in the region. Instead, the region continues to record attacks on civilians and military formations. In Sokoto, most villages in the eastern flank have become strongholds of terrorists who have killed 139 people including security operatives in the state, analysis of media reports between September to October 18, shows. This, however, does not include incidents that were not reported.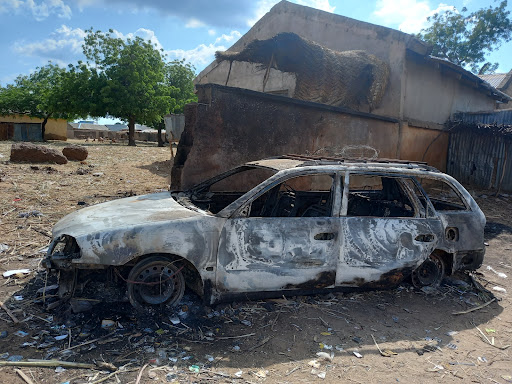 Bashir* was sitting by the roadside with his local vigilante colleagues when he learnt the terror group that attacked Unguwar Lalle were riding their smoke-puffing motorbikes towards them. They quickly mobilised themselves, armed with guns made from scrap metal to confront the bandits, but they were overwhelmed.
Following the shutdown of telecoms services in some local governments worse-hit by banditry in the state, locals grieve quietly as they could not make or receive warning calls to escape impending attacks.
"We were at the main road when we got a report that the bandits were coming. Some of our people had seen them in their hundreds; three on a motorcycle. But it's already late. Had it been there was no shutdown of the network, we'd have gotten the information early. We're hit so hard. They killed our people and burnt down some parts of the market and vehicles," Bashir said.
The shutting down of telecoms services is a two-edged sword, said Avele. The security expert told HumAngle, "it may yield temporary positive results but could also cut off timely intelligence information reporting by the locals."
A local vigilante commander, Yusuf Alli, told HumAngle they now travel long distances to provide intelligence to security operatives.
Dr Rufai, who has in-depth knowledge of the activities of terror groups in the Northwest, explained that the shutdown of telecom services is just a window-dressing measure, as it does not affect the activities of the terror groups. The socio-historian explained that the groups are  able to unleash more terror on rural dwellers because of the shutdown.
"Initially, the telecommunications system was used by both the bandits and the ordinary citizens in the eastern part of the state within the context of mobilisation," he started, offering an insight into the modus operandi of the terror groups. "As the bandits use the communication system for mobilisation, the communities also use it for defensive mobilisation, mobilising members of the vigilante group and security operatives to come to their aid in an event of attack. But with the shutdown, it becomes a great advantage to these bandits, because they are actually on the offensive, and the communities; on the defensive. These bandits operate and live in a particular spot. They easily communicate with one another, not actually via call, but physical and verbal communication and move to attack a particular community, together."
"Before, whenever bandits move, there is always communication across all villages about the nature and pattern of their operations as well as the direction in which they are going. But now with the shutdown, even if you observe the movement of these bandits towards a particular direction, there is virtually no one to share the information with so the communities can stay alert," He said, explaining that the terror groups are exploiting the shutdown to increase the rate of their attacks.
*Names with asterisks have been changed to protect subjects' identity
---
Support Our Journalism
There are millions of ordinary people affected by conflict in Africa whose stories are missing in the mainstream media. HumAngle is determined to tell those challenging and under-reported stories, hoping that the people impacted by these conflicts will find the safety and security they deserve.
To ensure that we continue to provide public service coverage, we have a small favour to ask you. We want you to be part of our journalistic endeavour by contributing a token to us.
Your donation will further promote a robust, free, and independent media.
Donate Here