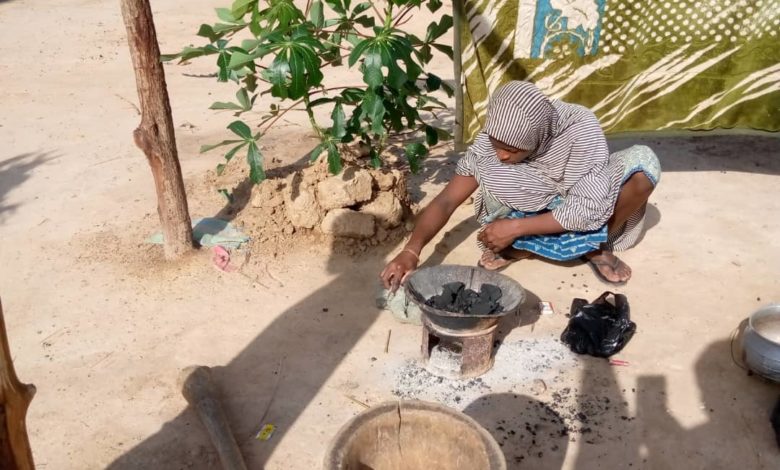 Many single mothers in Internally Displaced Persons (IDPs) camps or those taking refuge in host communities are widowed as a result of the Boko Haram insurgency in Nigeria's Northeast region. Others are divorcees or single mothers whose husbands are missing, a HumAngle investigation reveals.
However, whatever the circumstance for the women, it has been a life of pain and struggle to raise children alone, especially as the majority are poor without sustainable means of livelihood.
Many camps are unhygienic with populations and poor facilities bu daily families must clean their environment, fetch water from boreholes and find food and fetch firewood for cooking.
Some families, however, receive food rations from donor agencies.
Abu Musa, a 35-year-old mother of six in a camp in Borno State, narrated her experience to HumAngle.
" I am from Bama Local Government Area. I am a mother and at the same time a father to my children; my husband was killed in my presence.
"I am a single mother. He was killed before me and my first child. We were forced to look at them at the time he was being killed,'' she said tearfully.
" I have faced difficulties in life. Musa was a bricklayer. He catered to the family until when Boko Haram attacked our village, Bama, and he was asked to join them in the bush but he refused,'' Abu said.
She said when the terrorists came in their numbers to pick him, Musa shouted at them to let them know he was not interested in their overtures and was subsequently shot on the forehead before her and Abdul, their first child.
"We were shocked. We couldn't even cry because of the shock. Abdul was 12 years then and he knew his father was dead.
Since then Abdul developed a psychological problem because of the shock and stopped talking to anyone, Abu said.
She said the young boy fell ill and that she could not bear the pains alone and so relocated to Maiduguri in the hope that things would be better.
"We came to Maiduguri and were rescued by military men. No medication or treatment was given but we were given food when we arrived and we stayed in the hospital for three days before being discharged. I live with my relatives in the camp.
" I do house chores in the community to survive. We don't go to the hospital, we stay at home and usually use traditional herbs for our medication. I can't afford spending,'' Abu said.
She said life had been difficult. "My children are now grown up. Abdul is now 18 years," Abu said, and added that he was doing well now.
She said Abdul helped her in doing house chores with his siblings, adding, "he helps me a lot. He goes to the market to do some work to help in providing some of the household needs.
"We really thank God for the gift of life, at least, we are still surviving," she said.
Fatima Zara, also from Bama, lives in Zannari community in Maiduguri.
Fatima, a 27-year-old, has five children. Her story is pathetic.
"My husband was Modu Zanna. He was a farmer and a firewood seller in Bama before our displacement," she said.
"We trekked out of Bama from my home to Maiduguri. I lost my husband," she cried.
Fatima said her husband was a caring man, whom every woman would like to have.
"We parted in the bush while moving to a safer place; we ran away with five children and I carried the little baby on my back as we moved.
"He disappeared as we were trying to run from the terrorists. He was carrying our luggage and water which we intended to use on the way.
"After some distance we settled under a big tree in the bush with other people who were trying to escape from the terrorists," she said.
"Soon after we settled at about 5p.m. and were trying to get some food for the children, we heard an explosion nearby and immediately everywhere was covered by dust and sounds of gunshots from the army and the terrorists rented the air.
"Everybody was confused, I grabbed the children trying to comfort them but it was beyond my control as people shouted for help. That was how I lost him in the bush, that was how we parted without saying goodbye," she said.
"I lost him at that spot, I am sure he was confused. I looked around trying to find him but he was nowhere to be found and up untill now I can't find him. He just disappeared, I don't know if he is alive or dead .
"I came to Maiduguri after spending three nights in the bush with my children and at last I was rescued by military men at the entry point of Maiduguri-Bama Road. I came with the children and have been living with my relatives who cater for some of our needs. They are really helping me," Fatima said.
She said the difficulties she faced had made her tougher and independent to take care of her children without support from anyone or organisation.
"I usually buy and sell condiments and use the profit to provide the needs of my family.
"It really pains me when I think about him, my family and the life we are living now,'' Fatima said.
Nana, a 32-year-old mother of three, is a divorcee from Doro village, who has taken over the responsibility of catering to her children.
She said she was married to Umaru Maina, a trader, who abandoned her and the children to join Boko Haram. She said Umaru had friends who lured him to join the terrorist group.
Nana said one Sunday night Umaru followed his mates, who claimed to be his good friends and stayed with them for three weeks in the bush.
"In Doro, I worked in the farm alone, cooked for my children and my mother- in-law with whom we stayed in the same house.
"Umaru abandoned me, my children and my inlaw. I have faced difficulties in catering for our needs. When we were attacked in Doro we came to Maiduguri barefoot with my children," Nana recounted.
She said while they were trying to escape from the terrorists, her mother-in-law, who was elderly, sustained injuries and could no longer walk.
"I managed to take her to the nearest village to make it easier for me to go and take her along but the story changed when Umaru returned and found that his mother was not at home.
"I tried to explain to him about her sickness but Umaru had a different agenda.
"I was beaten brutally and I sustained injuries. After all the struggles and suffering, Umaru divorced me at the spot, saying I must produce his mother before I pack my things and leave the house.
"Seeing this, I went to the village to explain to his mother only to find that she was dead.
"I lost her and I was divorced. I didn't go back to the village from there. I proceeded and planned how I and my three children would escape from Umaru and the terrorists in the bush," Nana said.
Nana said she spent four nights in the bush trying to be rescued but unfortunately, she was bitten by a snake but she endured and managed to reach a nearby bush where "I was rescued by a Fulani man who was also trying to get his animals fed in the bush."
"We stayed with the Fulani man and his family for two weeks. My children and I suffered trekking and hungry.
"After the Fulani man had treated me, I moved on to find my way to Maiduguri. Luckily, the man helped me out of the bush and that was how I survived with my children and we were rescued.
"On our arrival in Maiduguri, the military took us and gave us food and water. Immediately the military took me to Teachers' village IDPs camp where I met some of my relatives. Life was difficult at the camp because of the huge population.
"We struggle to find food to eat because of the population, she said, adding that food and other necessities "were not at our disposal. it was hard to find."
She said although some organisations and donor agencies were trying to ease the hardship of IDPs, the huge population made the situation difficult.
"My children and I hawk and beg, sell satchel water to survive. I really face difficulties in finding food to eat.
"Going to fetch firewood and sticks to cook exposes us to danger because we go into the bush to get sticks for our daily meal," she added.
When Nana was asked about her wishes, she said, "I wish it was a dream. I wish to see myself in a better position but I am sure everything will be fine.
Malam Modu Yajiwa, said most IDPs, were vulnerable and needed to be assisted, adding that no single organisation or individual could help them alone.
Yajiwa said he had 23 IDPs in his house, all from his hometown.
He said food and health services were the most important needs of IDPs as oftentimes they suffered diseases and were hungry.
---
Support Our Journalism
There are millions of ordinary people affected by conflict in Africa whose stories are missing in the mainstream media. HumAngle is determined to tell those challenging and under-reported stories, hoping that the people impacted by these conflicts will find the safety and security they deserve.
To ensure that we continue to provide public service coverage, we have a small favour to ask you. We want you to be part of our journalistic endeavour by contributing a token to us.
Your donation will further promote a robust, free, and independent media.
Donate Here