Development
Features
News
#SurvivingLagos: Food Vendors Who Pray For Traffic Jam
Different strokes for different folks is how you will describe these fast food vendors who look forward to traffic congestion in Lagos, Southwest Nigeria.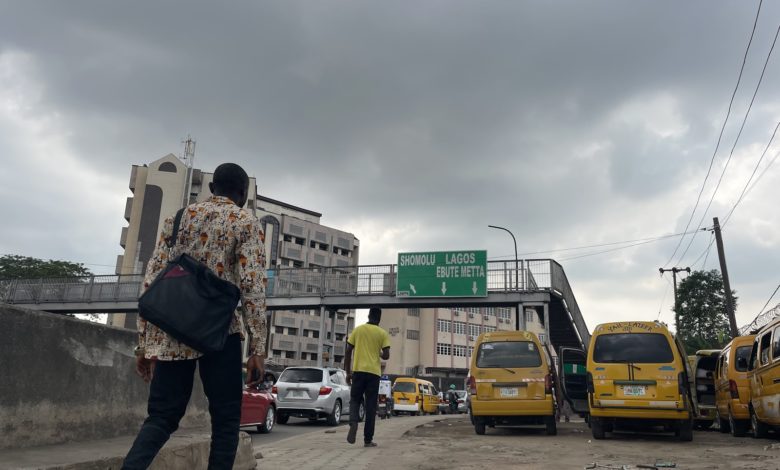 Yaba, Lagos state, Southwest Nigeria, is touted as Nigeria's Silicon Valley, with an unending inflow of people and opportunities in the tech industry. On Yaba's opportunity pavements, there are people who are seeking a better life for themselves outside the tech circle. 
One such person is Chi' Okeke, 32, popularly known as Oga Spaghetti in Yaba, because of a small fast food kitchen where he sells pasta for Yaba's teeming, ever-in-a-hurry population. 
While several Lagosians lament the impact of traffic congestion, gridlocks make Okeke happy. Okeke's dancing hands execute an alluring cooking choreography from his table-top cooker to his cooking pan, regulating the temperature as he attends to provide a 'microwave' experience to a customer. 
"Na morning be market, if you wan really make money for Lagos you must wake up very early. I wake up at 5 and by 5:30, I don reach here," Okeke declared through his infectious excitement radiating from his teeth. "I go home around 1 a.m.," he said, in between laughter. 
The passion
Okeke said as a food vendor, he makes more sales when traffic is at standstill. "When the traffic is at standstill here, some people that have become tired and hungry will see freshly made spaghetti and be like O gbo na! (it is hot), 'let me have a pack.' From a purchase, I can sell all my meals and that is how I make sales in traffic daily."
While the traffic means more money for Okeke, it also impacts him negatively sometimes, especially on days when he has to be at the market to buy his cooking ingredients.
Okeke, a Computer Science graduate, said he had been cooking for five years and started the business at the Yaba College of Technology (YABATECH) campus. He said he is currently selling by the roadside because of an ongoing renovation in the school.
"I studied Computer Science, but I am cooking because I love cooking. Some of my friends who are my coursemates will look at me and say, 'guy why this level now?' Okay, add this token to support your business.' I will look at them and smile because I enjoy what I do. I am excited about my job, and I am not looking forward to getting a white-collar job for now," he said.
A cheerful giver
Okeke, who is married with a child, said he is not shy about selling food because he enjoys the trade. Although, "selling pasta daily sometimes feels like a charity because I sell at a very cheap rate to school children. I sell a portion as low as N200. I also offer food to beggars and the destitute," he said.
Even amidst the persistent rise in the prices of food items, Okeke said he still sells his food to his customers for the same price before and after the COVID-19 lockdown, and the resultant inflation. "Before the lockdown, I was selling for that rate and now after the lockdown, I am still selling for the same rate."
"When beggars come around me, I don't know how to say no to them. Some of them have now turned this place into their eating corner. They will come to me, and I will give them food."
In Love with Lagos but willing to relocate
When HumAngle started talking to Oga Spaghetti, he had declared that "I am in love with Lagos, I am a proud Lagosian," but he mentioned later that Lagos State is not his permanent base as he would love to relocate to Ibadan, another city in Southwest Nigeria.
"If anybody offers me a place, even if it is in a bush, as long as it is Ibadan, Oyo State I am ready to go. Anywhere in Ibadan is better than Lagos for me right now because it is less expensive and less stressful," he said.
He is assured he will record profit on any business in Ibadan with the same work ethics as he has in Lagos. "Here in Lagos, you spend more on transport, purchase of food items and cost of living. If I get a chance, I will move to Ibadan." 
Okeke however explains that he does not want to lose his affiliation with Lagos, declaring that he is working towards an expansion of his business, especially via digital tools. "My future projection for this business is to employ staff and be visible on Google."
'My dream is to relocate outside Nigeria'
However, for a small chops seller, Sodiq Olamilekan, who also trades in the Yaba area, his dream is to leave Nigeria.
Olamilekan was hesitant to share his dreams or talk about his profession, although eventually telling HumAngle that he wishes to "to relocate in the future. If I leave Lagos, I prefer to go overseas. I don't think I can live anywhere else in Nigeria apart from Lagos because I was born here," after HumAngle promised not to feature his face.
Like Okeke, Olamilekan enjoys the merits of the Lagos hold-up. According to him, traffic in Lagos "sometimes affects my business positively because I sell fast food or snacks, whatever you like to call it."
"Because of traffic, most people leave home very early without eating, so they buy what to eat from us. But when there is traffic on this road, business doesn't move," he said, dejectedly.
But as Lagos traffic gives, it also collects. Olamilekan said the only time he doesn't feel the pang of traffic "is when I am going home after the day's business because I go home very late."
"Traffic gets very bad most of the time. I spend like 45 minutes on the bus from here to Oyingbo (a market where he gets his ingredients). Sometimes I have to board a motorcycle when the traffic is terrible," he said.
Despite 'shy' Olamilekan refusing to discuss his educational background, he communicated eloquently in English, and told HumAngle that he doesn't enjoy talking about himself.
Olamilekan has already started living a part of Okeke's dream, as he has a staff who works for him at his stand where he services the Yaba community with his steaming snacks. He plans on expanding too.
The Lagos traffic can be a blessing
Gbolahan Olojede, a public analyst, said traffic is usually caused by road repairs and rains and several other things. 
"It is unfortunate, but there is an economy built around traffic in Lagos. I once bought books in traffic and paid with bank transfer right there. There  are a whole lot of productive hours lost by people trapped in traffic."
"Apart from that, we have cost implications such as fuel, consumption and ultimately health implications of being stuck in traffic for hours," he said. Olojede added that "traffic has helped boost small businesses but If we take a bird's eye view or global view of what is going on, it may not be so sustainable."
Olojede also mentioned a traffic business model where "there are middle-men who go to manufacturers, collect products in bulk and employ foot soldiers to sell them. Some of them have up to 10 or 20 foot soldiers stationed across traffic-prone areas in Lagos," he said. 
But it is a risky business. Olojede said the risks involved are mostly related to security: "there have been instances where those hawkers have been robbed by other people who are also in traffic. Some of those hawkers also rob people. There are instances where one hawker's entire day's proceeds get stolen."
"There have also been situations of accidents, careless drivers and all. In spite of all of these, there have also been instances where law enforcement officials arrest the traders and seize their goods, especially Task Force," he said.
"It is not a sustainable model."
***
Additional reporting by Ghaniyah Olowoyo.
This story is a part of the multimedia series titled 'Surviving Lagos,' where HumAngle highlights the challenges 'Lagosians' face every day to make ends meet and how spending long hours in traffic is affecting families and careers. 
---
Support Our Journalism
There are millions of ordinary people affected by conflict in Africa whose stories are missing in the mainstream media. HumAngle is determined to tell those challenging and under-reported stories, hoping that the people impacted by these conflicts will find the safety and security they deserve.
To ensure that we continue to provide public service coverage, we have a small favour to ask you. We want you to be part of our journalistic endeavour by contributing a token to us.
Your donation will further promote a robust, free, and independent media.
Donate Here