Development
Featured
Features
News
#SurvivingLagos: Insults, Shame, Motivation Dot The Daily Life Of A Lagos Street Cleaner
Paved ways are a product of back aches and exhaustion from people who keep them paved. A sweeper in Lagos, Southwest Nigeria shares what it is like to keep Lagos clean.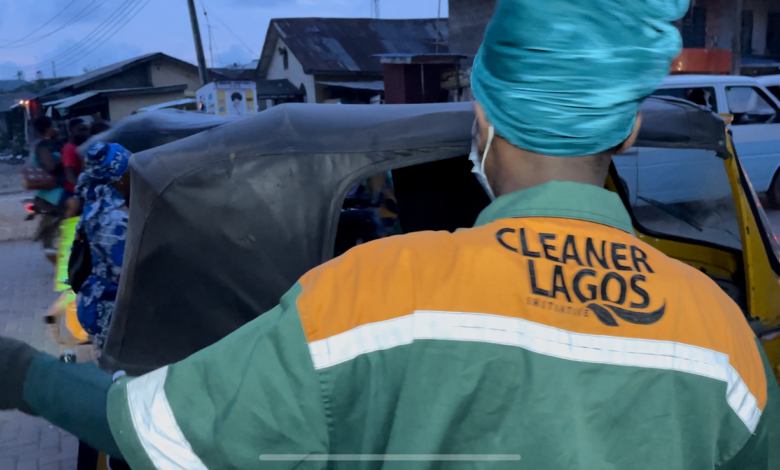 A light drizzle had just subsided when the HumAngle crew walked into the home of 44-year-old Kehinde Omolara, a street cleaner who works for the Lagos state government. 
It was 5.30 a.m. and Omolara had just finished cajoling her son to eat breakfast so she could leave the house early, already clad in a tee-shirt and jeans, ready to start the day. The five-year-old was uncooperative, preferring to sleep than prepare for school that Tuesday morning.
After a series of persuasion and threats, Peter – the boy, ate and returned to bed, to wait for a neighbour who would drop him off at school later at 7 a.m. Omolara stepped out of the house at 5:52 am, walked to her church, a Cherubim and Seraphim (C and S) parish, which is just a stone's throw from her house to say her prayers before proceeding to work. 
The cleanliness of Lagos state depends on people like Omolara and she took great joy in getting to her duty post every day. 
Off to serve
Omolara, mostly addressed as Mummy Peter by neighbours, while narrating her experiences to HumAngle, said working as a street cleaner for the Lagos State Waste Management Authority (LAWMA) is very stressful.
"I sleep almost every day at midnight and wake up at 4 a.m. to meet up with my daily work schedule. I also have to take care of my child, prepare his food and get him ready for school before working every day. I barely get up to five hours of sleep daily," she said.
Reminiscing, Omolara, who had a diploma from Akwa Ibom State Polytechnic, said she used to work with Mr Biggs, a popular chain restaurant in Southwest Nigeria between 2001 and 2007. "I also worked in Chivita for a few months in 2016."
Omolara said she gets to her place of work within 30-40 minutes from her residence and spends N400 on transportation daily while she earns N25,000 monthly.
"Sometimes LAWMA  delays our salary for a month. It is not uncommon for them to pay us for the month at the end of the following month. For someone in Nigeria, you have to manage and cut your coat according to your size," she said.
At work 
Getting to her allocated portion at Ekoro Bus Stop, Abule-Egba at 6:16 a.m., Omolara went behind a row of shops where cleaning material such as brooms, dustpans, are kept, and changed into a green overall with an orange reflective panel on the back, to start work for the day.
"Our CEO supplies us with the cleaning material for work. We have brooms, brushes, rakes and packers," she smiled as she told HumAngle, before hurrying off as if a minute of delay would get her sanctioned.
Omolara said although the work appears little, they often go above and beyond to get the work done. "'We work two to three hours every morning but we work very hard and we don't leave here till 2 p.m.," she said.
"When we pack the dirt on the ground, you have to pack the sand along with it and there's a place where we keep the sand. If we don't pack the sand, what we have done will not look tidy. So, we spend like 2 to 3 hours on the road before we go somewhere and rest, and I go to work every day, including Sundays and public holidays." she said.
Worst traffic experience
Staring at the HumAngle crew, Omolara decried how commercial drivers often drive recklessly and act like they do not care about the lives of people working on the road.
"I don't know why they drive like that, maybe because they don't care or it is their illiteracy, they must be enlightened. There was a day I put the caution sign on the road where I was sweeping and a driver got out of his car and took the sign off the road and started shouting 'sorry madam' while driving through the place," she said 
Omolara said she quickly ran off the road because the person driving the car coming behind him may not know and hit her. 
She said people with personal cars are "more careful with their driving and they respect the sign we place on the road."
"I don't think Lagos can be traffic-free because where I work is a new road and there is already a lot of traffic there. Day-by-day, people are buying vehicles, people are moving into Lagos," she said.
"When I was working in White House (a bus-stop close to her new duty post) too, there was no traffic on the road I sweep. Here, we have a caution sign that we put on the road but there are some reckless drivers that don't want to know. We have to run away from them or we move to the side for them to pass," she said, laughing as she recounted her experiences. 
Despite the recklessness, Omolara has not had a traffic accident on the job but she has "heard some time ago that one of us died while on duty."
On whether she gets scared, she said her work is easier when vehicles are not moving. "There is no job that is not hard, we just have to face the traffic and do our job," she said, smiling proudly.
The insults,  shame, and the  motivation
Omolara said she is used to hearing some insulting words from commercial drivers especially when you put signs on the road to work. "They will say you better go and die in your house! Pack those things, I want to pass."
Recalling one of her embarrassing moments, "my elder sister once called me to ask what I do in Lagos, I said housekeeping, she asked what housekeeping and I opened up that it is LAWMA. She shouted and said 'what kind of nonsense is that? What if you have an accident, what if a car mistakenly hits you, or if anything happens to you? You better quit that job,'" but Omolara has learned to be proud of her job, especially due to the kindness her supervisors shower her with.
"Sometimes I feel like quitting the job. When I started working with LAWMA, I was at the White House bus stop and the sand was not as much as the place I work now. Sometimes I feel like I can't cope with the job anymore but my supervisors are really amazing," she said.
Being a single mother, Omolara said her biggest motivation is her son.
"Sometimes if I think of quitting, I think of my son, his welfare, and everything. The money they are giving us is not much but at least, for someone in Nigeria, you have to manage and cut your coat according to your size," she said.
"I live with my family friends and every morning before I go to work, I bathe my son and feed him and my neighbours help me take him to school while I go to work. I often feel bad having to wake him up by 4 am. He comes back home from school by himself because the school is not far from the house," she said.
'Agbo' local drink to the rescue
Concerned about her healthcare, HumAngle asked Omolara how she treats stress-related illnesses. She said she preferred to treat illness with traditional herbs popularly referred to as 'Agbo.'
Omolara said she also takes paracetamol and Ibuprofen once in a while.
"I do experience headache, back pain, leg pain and sometimes I have problems with my eyes because I've done eye surgery before. If I don't sleep, it affects my sight in the left eye. So I take Agbo iba (fever) and typhoid," she said. 
LAWMA
The Lagos Waste Management Authority (LAWMA), formerly known as Lagos State Refuse Disposal Board (LSRDB) was established in 1977 during Nigeria's preparation for the Festival of Arts and Culture (Festac '77).
The agency is responsible for managing waste generated in Lagos State through a waste collection, transportation and disposal structure.
Despite its mandate, its handling of workers' payments has been a problem. In July 2020, over 2000 workers protested and quit their jobs over two months of unpaid salaries.
'Salary is not enough'
Omolara said she does other menial jobs such as cleaning to augment her salary from LAWMA.
"Having to pay my son's school fees per term and also cater for our feeding, I had to do other things because the salary doesn't come at the right time," she said.
When asked if there is insurance for workers, Omolara said the authorities said there is insurance cover for them.
"For example, we heard they gave the family of the woman who died last year on the job N1 million. I would not pray that I should die on the job. 
LAWMA reacts, experts view
A public health nurse, Olurankise Olumide, highlighted the physiological impact of protracted sweeping on health.
"Bending daily and sometimes at crazy intervals can be damaging to the spine and its associated nerves; worse to say, unimaginable damages."
He said people who do the job are without proper training on the best way to go about their job, "the staggering postural impact on walking, complaints of backaches, joint aches and all."
He also recommended an upgrade saying, "it's shameful to see that this approach of sweeping with brooms (most times) still exists here. There are lots of equipment nowadays that can help to put less strain on the health of workers. Protective gears, vacuum cleaners suited for the purpose, sand brushes etc. can be introduced.  Government should begin to take this seriously."
Giving some preventive measures, another public health officer Lateefat Fawole,  said the sweepers should be encouraged to wear face masks at all times when they are sweeping to reduce the dust and other particles they inhale into their respiratory tracts.
"Using longer brooms to sweep can also support their postures as this will help prevent leg and shoulder pains to an extent," she said.
According to her, there is also the danger of road accidents so we can say their lives are at risk. "They are advised to make use of road signs while working and be extra vigilant," she said.
Efforts to get a reaction from the Lagos state LAWMA chief, Aromire Hakeem, were unsuccessful.
Additional reporting by Ghaniyah Olowoyo.
This story is a part of the multimedia series titled 'Surviving Lagos,' where HumAngle highlights the challenges 'Lagosians' face every day to make ends meet and how spending long hours in traffic is affecting families and careers. 
---
Support Our Journalism
There are millions of ordinary people affected by conflict in Africa whose stories are missing in the mainstream media. HumAngle is determined to tell those challenging and under-reported stories, hoping that the people impacted by these conflicts will find the safety and security they deserve.
To ensure that we continue to provide public service coverage, we have a small favour to ask you. We want you to be part of our journalistic endeavour by contributing a token to us.
Your donation will further promote a robust, free, and independent media.
Donate Here