Development
Features
News
#SurvivingLagos: A Lawyer's Commuting Experience In A 'Chaotic' City
No one is immune to the impact of traffic in Lagos State. Not even when your profession requires arguing cases in a courtroom.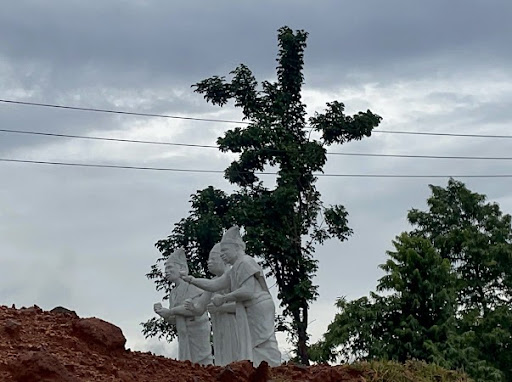 It was a sunny afternoon in Ikeja, the seat of power in Nigeria's commercial city, Lagos, Southwest Nigeria, when HumAngle visited Chima Francis Osuji. 
Osuji, 37, a legal practitioner with two children, said responsibilities and the environment made him leave his family in Ilorin, Kwara State capital in North-central Nigeria, while he works in Lagos.
"My marriage is blessed with two children but my family is based in Ilorin, Kwara State. I decided to have my family in Ilorin because of the responsibilities. As a father, there are bills to pay and you know in Nigeria, prices of things do not go down. The moment they go up, they keep going up. It is because of the teeming responsibilities and the less attractive that the legal practice has in Kwara state in terms of finances, I had to opt for Lagos when the offer came. I  was once a teacher before going into the legal profession," he said. 
Osuji said no one is immune to the impact of traffic in Lagos State, explaining that "You will come across certain characters on the road, your children even pick up certain nuances or traits from the demonstrations of people in buses and off buses."
"There is also the lingo, the language of the street. And there is also this general insanity peculiar to people in Lagos, not necessarily all Lagosians but most. There is this aggression, they respond to things with aggression which could be a result of the bitter experience most of them are facing in traffic."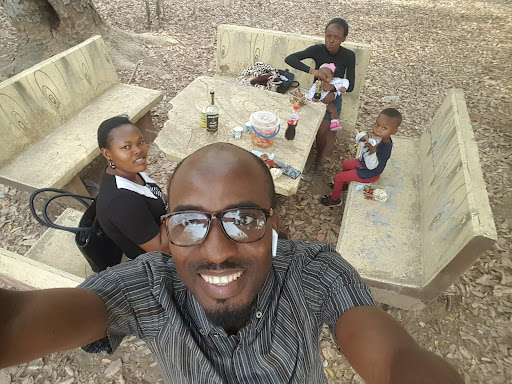 Osuji loves Lagos, but the traffic situation is one big headache.
Running the home from a distance
Raising one's family from a distance is expensive and Osuji hopes to bring them back to Lagos.
"It isn't sustainable to run one's family from a distance unless one's finance is big enough. But for those of us who are managing, it is not sustainable. It is best to have your family in one home. There is the money I send home for daily upkeep, then I still need to cater for my upkeep here. I need to pay for my more expensive food. Imagine that I have my family here, all I need to do is to give them money to prepare food and my food will be ready when I get back," he said. 
The strain
Living separately has been challenging for Osuji's wife. 
"My first child will turn five [soon]. We talk and I make him understand that I love him. Even their mum too, I communicate well with her and try to assist from afar in terms of rendering advice, guidance and resources for the smooth running of the family."
"We are a young couple for starters. Our marriage is barely five years old and I've been here since last year. Even before the separation, I was away for one year when I was running my law school programme. That is taking away two solid years from our five years of marriage. I don't think it is easy for a young lady who should have her husband around. But I think she's coping very well without my physical presence and anytime I am physically available, we get to make up for lost time. Hopefully, by the time she comes to Lagos finally, the vacuum would have been filled," he said.
However, Osuji added that he can raise his family anywhere as long as he is financially stable.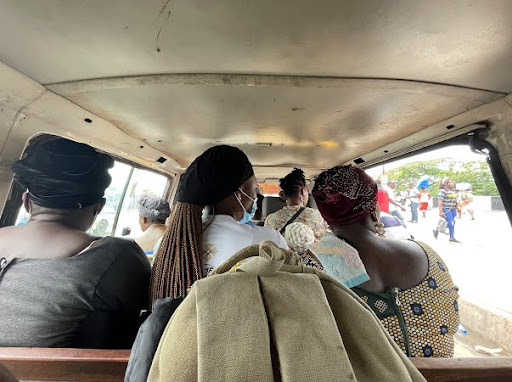 Daily hustle and bustle
Narrating how Lagos traffic affects lives, Osuji said he goes to bed around 11:45 p.m. and wakes up between 4:00 a.m. and 4:30 p.m. daily. 
Osuji, who lives and works on the mainland, spends three hours on the road daily due to traffic, and he does not get up to five hours of sleep. 
"From my home to my workplace is quite a distance. We're talking about a place that is in the suburb of Lagos, Iba, that is on the outskirts and I work on the mainland so it is quite far. I leave home for work around 4:30 a.m., sometimes 4:45 a.m. and I usually get to work around 8 am and I spend N750 to work everyday," he said. 
The next traffic hotspot is at Egbeda roundabout down to Under-bridge junction. "After that place, you either find another at Cement or the road leading to Mangoro. There is also a major gridlock on the road between 'Ikeja Along' and National – all on the Lagos-Abeokuta expressway.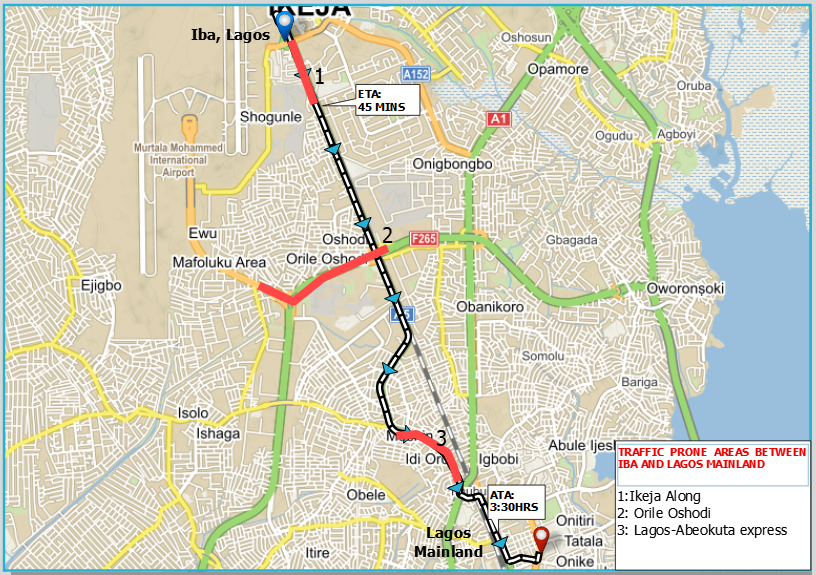 "There are two alternatives – one is the BRT. There is a BRT terminal at Egbeda but the problem with that is the delay in takeoff and I will like to get to work early. If you're patient enough to wait for the BRT, the bus will naturally pass through its lane but before it connects to its place along that expressway, it will still have to pass through the normal route where the BRT will have to compete with other busses so it is still the same process," he said.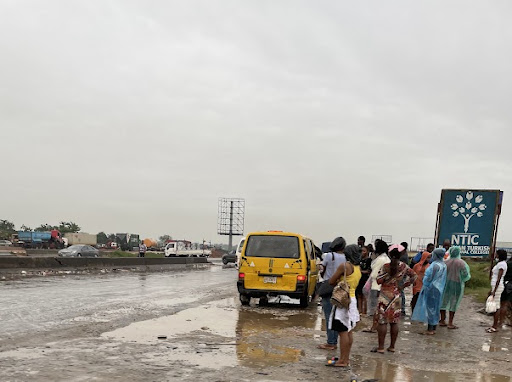 Going back home is even worse, as Osuji closes from the office between 6 p.m. and 6:30 p.m.
Osuji's worst traffic experience was a day when all the buses he boarded had technical issues. 
"From Bisam bus stop to National, there was a technical fault with the first vehicle. In the second bus from National to Egba, the bus also broke down. The one ibalso took from Egba to Iyan Iba also broke down," he said. 
The stress
Osuji said Lagos traffic contributes to stress and illness. 
"I think one's experience in traffic is also one of the stressors that are responsible for ill-health generally because it is a psychological phenomenon. Imagine being in traffic, you're tired and for a journey that ordinarily should last 45 minutes, you're spending over two hours – that is ridiculous. When you think of the stress one experiences at work, traffic only compounds it." 
"I experience this wear and tear regularly, especially when I get home. Imagine having that experience at your workplace and the stress of traffic, it somehow appreciates one's health and I have experienced it first hand. Imagine getting home very tired and you start dozing off over your meal and even losing appetite, taking just a few spoonfuls and you're done. That is inimical to one's health. Most times I've felt migraines and that is on a regular so I have tried to subscribe to some therapies just to stabilise. But for those therapies, I think my health would have been in very bad shape by now."
Mode of transportation
Osuji would rather go for a power bike because, as far as he is concerned, it makes no sense to own a car or drive one when you will spend most of your time in traffic. 
"I was born and bred in Lagos. I will be 38 this year so I have spent most of my life in the city. Coming back to Lagos last year after the five years I spent on my educational pursuit in Kwara State made me feel like a newcomer. Styles, systems, approaches had all changed upon my arrival. I had to start from scratch in learning the basics because Ilorin had spoiled me. In Ilorin, I could wake up by 8 a.m. and still make it to the court before 9 a.m," he said.
Way forward
A public health worker, Afolabi Samuel, said the government should create more link roads to access major routes in order to decongest traffic.
"Hawkers should be regulated by enabling a standardised body or trade union to lead them. Also, more traffic officers should be dispatched to arrest faulty drivers," he said.
Samuel concluded that it is important to educate residents on the importance of having a good rest in a city like Lagos.
---
Support Our Journalism
There are millions of ordinary people affected by conflict in Africa whose stories are missing in the mainstream media. HumAngle is determined to tell those challenging and under-reported stories, hoping that the people impacted by these conflicts will find the safety and security they deserve.
To ensure that we continue to provide public service coverage, we have a small favour to ask you. We want you to be part of our journalistic endeavour by contributing a token to us.
Your donation will further promote a robust, free, and independent media.
Donate Here