Development
Featured
Features
News
#SurvivingLagos: One Traffic Jam Away From Death, Broken Families
Lagos, Southwest Nigeria, a megalopolis of over 21 million people, is plagued with standstill traffic and a fast-paced life where you are one incident away from death.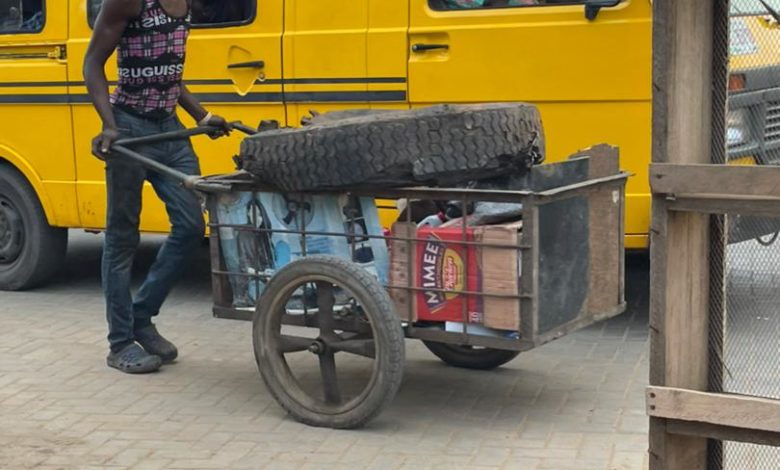 Lagos, depending on who you consult, is the most populous city in Africa, with some estimating the population at 14.3 million, some at 14.8. When the metropolitan area is considered,  Lagos is the most populous metropolitan city in Africa, with over 21 million residents.
The commercial capital of Nigeria, Lagos is renowned for its never-ending immigration, causing it to be a densely populated area with one of the most infamous traffic congestions worldwide. Despite being one of the fastest-growing urban centres in the world, residents have to pay a heavy toll for survival. 
Located in Southwest Nigeria, Lagos' suburbs are connected by water surrounding the highly populated Mainland which serves as a home to many, and the Island where most of the businesses are headquartered, giving commuters the headache of navigating between two separate areas connected by three bridges — Third Mainland Bridge, Carter Bridge, and Eko Bridge — to earn a living.
One of the fastest means of transportation available to Lagosians are yellow buses known as danfo. Asides the danfo, there are also white buses that ply routes between Mainland and Island. Sharing the road with these buses are small yellow cabs, ride-hailing services, and private vehicles often converted for commercial use.
On a league of its own, with its dedicated road and routes are the government-owned long buses known as Bus Rapid Transit (BRT). In Lagos, everything is either in a hurry, or stuck in traffic. 
Surviving in Lagos means you must have a cloud of suspended paranoia above you, be quick-witted, and be ready for danger at all times. In a movie, this might be thrilling, but the people who live in Lagos suffer severe consequences of the city's fast life.
'High blood pressure'
Adetutu Adeleye, a resident, told HumAngle how commuting from Ikotun to Ikorodu every day increased her blood pressure.
Adeleye, a health worker in her mid-thirties, said after battling with the traffic all day, she still has to be a parent at odd hours. 
"I keep my children in an after-school programme till 7 p.m. because their dad gets home by 7 and he will be able to pick them up. Most of the time, they would have gone to bed before I got home. At some point, the stress shot my blood pressure up and I had to apply for sick leave, before finally getting accommodation at Ikorodu, where I work."
The mother of two said prior to her moving to Ikorodu, she would leave the house at Ikotun by 5 a.m. WAT and get home between 9 and 10 p.m. every day. 
"I would spend three to four hours before getting to Ikorodu, despite leaving the house by 5 a.m., though it's a different case for those with personal cars because there are shortcuts to avoid some of the traffic-prone areas," she narrated.
"I  was not getting up to five hours of sleep due to stress and traffic. I spent over ₦2000 naira every day on transportation – from my house to Ikotun bus stop  ₦200, Ikotun to Oshodi ₦300, Oshodi to Ikorodu ₦300, and Ikorodu to my office ₦300. The traffic-prone areas from Ikotun to Ikorodu are Ikotun, Ikeja along, Egbeda, Maryland, Ketu, Mile 12. Meanwhile, the journey shouldn't be more than an hour without traffic."
Like Adeleye, James Adelabu, an accountant who also lives on the Mainland (Iyana Ipaja) but works on the Island (Marina), said he never got time to be with his first child until the COVID-19 pandemic hit and he started working remotely.
Explaining his ordeals, the father of two said although resumption is 8 a.m. and closing is 5 p.m., "I wake up as early as 4 a.m. every day, leave the house between 4:30 and 5:00 a.m., and I don't get home until 12:00 midnight at times due to traffic. Sometimes, I sleep by 1 a.m. and wake up by 4:30 a.m."
"My children will be sleeping before I get home and I will leave before they wake up. At times, one is very tired to even attend to the child and if he has something to tell you, you send him to watch cartoons," he said.
Adelabu expressed another concern: "Our children may not love us when we grow old because we don't have time for them. Housemaids now take the lead because parents are out for economic benefit."
'Time spent in Lagos traffic is unpredictable'
"My wife [also] started working on the Island and we have three-year-old and one-year-old children. We had to get someone to stay at home to watch the one-year-old," Adelabu said.
Adelabu said Iyana Ipaja to Marina is not more than an hour without traffic congestion; "with traffic, I have been on the Third Mainland bridge for five hours. The traffic is unpredictable but when you hit the road early, you will get to the office early then you can sleep or rest before the resumption time." 
He lamented that the congestion is caused by a lack of patience because everyone in Lagos is 'abnormal,' they want to move at the same time. "I spend ₦1000 on transport every day and the traffic-prone areas are Iyana Ipaja, Cement, Ikeja Along, Maryland, and Oyingbo," he said. 
Being used to the 'abnormal' Lagos 
"One of the characteristics of a human being is adaptability, once in a while I feel the impact of the traffic. The only reason I will leave Lagos is to retire back to my village," Habeeb Bamidele, a resident in Arepo area of Ogun State who works in Lagos, said. 
Speaking with HumAngle, Bamidele and his wife, Omowunmi, said parents should not let work or stress overcloud their parental identity. Rather, "they should be approachable and try to create a balance. You need to reconcile your work with your family so you don't lose out," the husband explained.
Highlighting her daily experience, Omowunmi, a nurse, who lives close to Lagos-Ibadan expressway, said, "There is always traffic on the expressway, from the front of Punch office to Long bridge due to road construction. Then sometimes around the Secretariat and on Oregun-Ojota road."
According to her, the journey to her office is 40 minutes without congestion on the road but it takes one hour or more with traffic jams. Omowunmi says she often suffers from motion sickness, especially after a long day/night at work.
"Fares are determined by how heavy the traffic is and the time of the day. Fares are often hiked when it rains or there is heavy traffic. I can spend below or above ₦1000 as the case may be," she said.
'Technology has really been helpful'
The Bamidele couple who got married in 2012 have two kids. Both parents say they take turns in taking care of the children as one parent might be stuck in traffic or at work while the other is at home. 
According to Mr Bamidele, it is normal to have fears when you have kids at home; "they have their phones and we call them, technology has really been helpful."
"I also taught them security tips; don't open the door for strangers, don't go outside to play, among others. For assignments and schoolwork, the older child is eight years old and he can do his homework by himself and help his little sister who is six years old. In addition, there is an arrangement with the girl's teacher to help her after school."
Sharing a ride with the parents individually, HumAngle observed that bad roads and the lack of a drainage system, which leads to flooding, are also contributory to the Lagos stress.
Longer hours in Lagos traffic than in Los Angeles
According to findings in a study by JCDecaux Grace Lake Nigeria and published by Business Day newspaper in 2018, commuters in Lagos "spend an average of 30 hours on traffic weekly." 
A CNN report revealed that drivers in Los Angeles and Moscow traffic spent only 128 and 210 hours respectively throughout 2018; although LA has a population of about four million residents and Moscow about 12 million.
The Grace Lake research, which took about 18 months to conduct, also confirmed that traffic is the second most pressing issue to Lagosians. "In some companies, the working hours are from 8 a.m. to 4 p.m., giving a total of eight hours per day or 40 hours per week for the five days, Monday to Friday. The finding of this research thus means that an average commuter who works in such a firm spends the equivalent of 75 per cent of a week's total working hours commuting."
Experts react
Speaking on the effect of traffic jams on people, a public health specialist, Kikelomo Sowore, said spending long hours in transit can affect people's physical and mental state.
"The effect of traffic could cause fatigue accompanied by headache and body pain. This is due to sitting for long hours. Staying in traffic affects mental health. People are sleep-deprived, stressed. Hence, leading to anxiety disorders and depression," she said. 
"Vehicle exhaust fumes can irritate the eyes and respiratory tract, and are a risk to health when you breathe them in. Carbon-fuelled engine fumes contain carbon monoxide, a poisonous gas. This could lead to cough and breathlessness. Also, this can trigger asthmatic attacks in patients with Asthma," she said.
A mental health expert, Mariam Bisiriyu-Daramola, said the pressure of an increasing gridlock work culture in Lagos State presently is perhaps the biggest and most pressing challenge to the mental health of the general population.
She lamented how the high population of people moving from the Island to the Mainland for their daily survival is alarming and really needs to be addressed.
According to her, the following may help reduce traffic stress and mental health: "Take personal responsibility for your work-life balance. Try to work smart, not long, thereby leaving work on time; this involves tight prioritisation. Allowing yourself a certain amount of time per task and trying not to get caught up in less productive activities, such as unstructured meetings that tend to take up lots of time and then spending extra time at work."
When HumAngle reached out to the Lagos State Traffic Management Authority spokesperson, Olumide Filade, he did not respond to calls and messages. 
—————————————————————————————————————————–
This is the first in a multimedia series titled 'Surviving Lagos,' where HumAngle highlights the challenges 'Lagosians' face every day to make ends meet and how spending long hours in traffic is affecting families. 
---
Support Our Journalism
There are millions of ordinary people affected by conflict in Africa whose stories are missing in the mainstream media. HumAngle is determined to tell those challenging and under-reported stories, hoping that the people impacted by these conflicts will find the safety and security they deserve.
To ensure that we continue to provide public service coverage, we have a small favour to ask you. We want you to be part of our journalistic endeavour by contributing a token to us.
Your donation will further promote a robust, free, and independent media.
Donate Here