Features
Human Rights
News
Survival Of The Broken: Agonies Of Nigerian Prisoners Released During COVID Lockdown
While in prison, they witnessed all manner of torture and injustice; and now that they are free, they struggle with stigmatisation as well as distressing news about their families.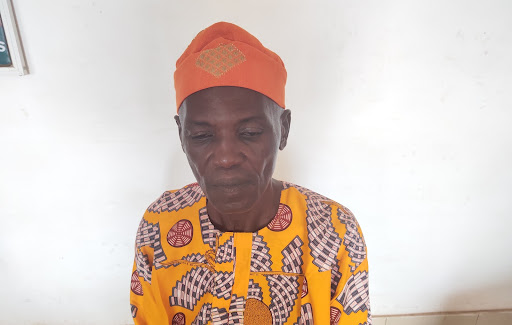 Oladimeji Alabi, 67, battles for survival after spending over 30 years in prison. Before his arrest in March 1992, he used to work as a taxi driver in Ibadan, capital of Oyo State, Southwest Nigeria.
His journey to prison started in 1991 when his passengers, four young men, discussed how to purchase a gun. He had volunteered to help. Oladimeji's father was a retired soldier and, after his death in the early 90s, his son had inherited his pistol.  
"I sold the gun to the boys who happened to be armed robbers for ₦1,400," he recalled. Aside from this, he sometimes helped the robbers to keep the gun. 
His relationship with the gang backfired on March 9, 1992, after they were arrested during a robbery operation at the Olorunsogo area of Ibadan. Three of the four robbers were killed in a gun duel with police. The only person who survived later led the police to Oladimeji's house.  
"I was arrested for being the godfather of the robbers and was taken to the police criminal investigation department at Iyaganku. I was later arraigned after three months of torture at the police cell." 
Oladimeji told HumAngle he spent six years awaiting trial at Agodi prison before he was eventually sentenced to death on May 29, 1998. 
Life in prison
Oladimeji said most Nigerians who go to Nigerian prisons are often treated like animals.
"I was not an exception. The savage treatment of inmates during my days was terrible. I was transferred to Abeokuta prison on the same day I was sentenced. I saw how humans were being dehumanised by fellow inmates and prison officials in a place meant to be a correctional facility." 
He also lamented over the overcrowding of his condemned cell which he said led to psychological and emotional trauma for him. Olademeji told HumAngle that he and many other inmates lost their liberties by being denied a decent environment. 
"I was kept in a pigsty cell where we usually sleep, urinate, and excrete in the same place.  There were times we could not eat because of the smell of urine right beside where we were sleeping. Many of those sentenced to death died before the day of their official execution due to the inhumane conditions we were subjected to," he said. 
To ensure that he didn't die of depression like many others, he enrolled for tie-dye training in prison and also attended bible study school. Oladimeji witnessed the killing of over 50 inmates on death row with him. He spent years anticipating when prison officials would invite him to the gallows for execution but that never occurred.
Interestingly, his death sentence was commuted to life imprisonment in 2011 by the late Isiaka Ajimobi, ex-governor of Oyo State. By 2019, he was committed to 30 years imprisonment. 
Fortunately for him, he was among those set free by the federal government in April 2020 when President Muhammadu Buhari granted pardon to inmates of the custodial centres of the Nigeria Correctional Service (NCoS) as part of measures to control the spread of COVID-19.
"My life is yet to be balanced since I returned from prison. I hardly have enough to eat and I cry anytime I remember all I passed through in prison."
Notorious Taiwo
For years, Taiwo Adedeji shared a filthy cell with prisoners on death row at the Abeokuta prison in Ogun State. At night they slept in a pile on the bare floor and yearned for the day they would be called for execution.  
Taiwo was a notorious armed robber on the streets of Ibadan in the early 90s. He was the leader of a four-man squad terrorising homes and businesses in the Oyo capital. He recalled meeting many innocent people in prison. They were serving jail terms for offences committed by Taiwo's team.  
His reign ended in 1995 when he was arrested at a robbery scene alongside others at the Olorunsogo area of Ibadan. One of them was shot dead by police and three others were arraigned on Nov. 10, 1995.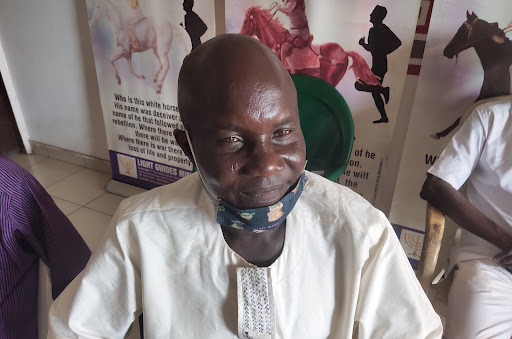 He said there were days prison officials would not go to court with suspects awaiting trial unless they paid for their transportation.
"If you dare to complain, they will beat you blue-black. They will force you to clear the toilets anytime you offend them. It was a terrible experience and I pray you don't experience such a thing in your lifetime," he told HumAngle. 
He was later sentenced to death alongside others in 1999. He recalled that no fewer than 70 people including innocents were killed in his presence at the prison.
Speaking on the challenges of the victims of wrongful conviction he met, Taiwo said, "There was a man that was arrested for criminality carried out by my gang. He was arrested for robbery but he was innocent because it was my team that robbed at the place where he was arrested.  
"I told him sorry in prison but when his family members came to beg me to tell prison officials the truth about the case, I kept mum. I was scared that my punishment in prison might be doubled. The man was later freed but I didn't make any extra confession. God just saved him." 
He also spoke on the difficulties faced during his stay in the prison: "They feed us with meals not fit for rats. You get watery beans in the morning, garri in the afternoon and, sometimes, a mix of garri and beans at night." 
He also said one of the three people sentenced with him died in prison as a result of inhumane treatment. Fortunately for Taiwo, his death sentence was commuted to life imprisonment in 2011.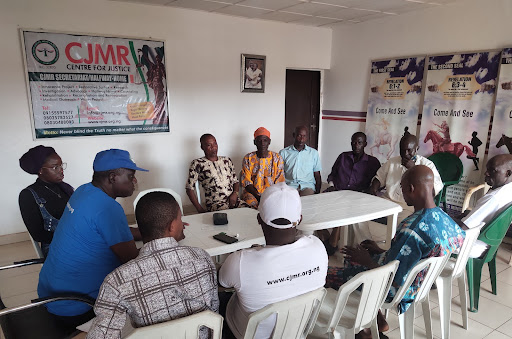 "I started writing to the government for amnesty and, by 2018, a federal government delegation came to check if those convicted by the military government were still in prison and they saw some of us. We told them about our plights and they left. Thank God for COVID-19. If not for the pandemic, I may still be in prison. I was freed on April 4, 2020, to decongest prison during the pandemic," he added.
He had five children when he was imprisoned but one of them died before his return. His wife and other children are currently staying with his mother-in-law, and Taiwo has since his return from prison joined them. 
"I am currently battling with stigmatisation with many people on the street calling me a prisoner. Some are even careful to relate with me because they don't want to be seen with someone convicted for armed robbery," he bitterly said.  
Godfatherism thrives in prison
"We were involved in various forms of hard labour during my stay in prison. I was, however, lucky to have godfathers who were also inmates at the condemned cell. They used to know me in my days on the street," Dele Akinyele, another ex-convict released from prison after two decades, told HumAngle.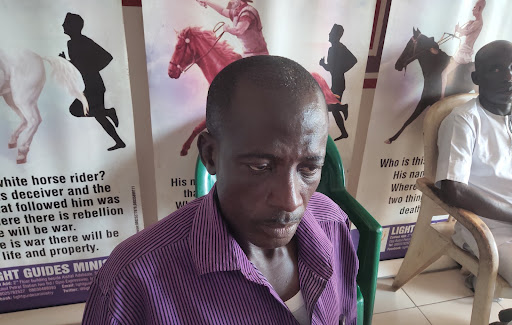 He used to be a member of a gang of armed robbers before his arrest. They were 11 young men in their early 20s. Dele was only 24-years-old during his prime as a robber terrorising the southwest region of Nigeria. 
"We were caught on May 13, 1995, during a robbery operation at the Mokola area in Ibadan. We were 11 but the police killed nine people when chasing us. They then took me and one other into their custody."
He told HumAngle he was arraigned days after and remanded in Agodi prison for four years while awaiting trial. 
"I was condemned to a death sentence in 1999 and I got to Abeokuta prison the same day. I met with some people who knew me in cell and I was happy to reunite with them. That saved me from the punishment in the cell. For 11 years, I was in a condemned cell where prison officials treated us like pigs.  
"I was commuted to life imprisonment in 2011 and eventually survived the storm in 2020. I gave birth to three children before my arrest but I only met the last born when I returned. My first and second born died after a brief illness when I was incarcerated." 
Poor treatment — a trend
Several reports indicate that Nigerian prisoners are often subjected to ill-treatment and torture. Amnesty International, an advocacy group, has also observed that people often face torture and cruel, inhuman, and degrading treatment while in custody at police detention centres and prisons.
Rights activist Subomi Azeez told HumAngle that prisoners observing a court sentence are not expected to totally lose their rights and should be treated as humans despite being confined.
"Prison officials are not expected to deny prisoners the right to dignity and, as such, they should be treated as humans. The government must promote enabling environments and treatment for inmates." 
More recently, Vice President Yemi Osinbajo lamented the deplorable state of the country's prisons. He argued that the dignity of the human person must be preserved, both within and outside the prison walls.
As part of measures to decongest the Custodial Centres nationwide in the wake of the COVID-19 pandemic and the dangers posed to the centres, over 7,000 inmates were granted amnesty in 2020.
The Minister of Justice and Attorney General of the Federation (AGF), Abubakar Malami, said a presidential committee headed by the Chief Judge of the High Court of the Federal Capital Territory (FCT), Justice Ishaq Bello, has identified many challenges in the nation's correctional centres and is working ways to address them.
---
Support Our Journalism
There are millions of ordinary people affected by conflict in Africa whose stories are missing in the mainstream media. HumAngle is determined to tell those challenging and under-reported stories, hoping that the people impacted by these conflicts will find the safety and security they deserve.
To ensure that we continue to provide public service coverage, we have a small favour to ask you. We want you to be part of our journalistic endeavour by contributing a token to us.
Your donation will further promote a robust, free, and independent media.
Donate Here