Development
Features
Sudanese Doctors Diagnosed Their Country And Prescribed A Revolution
When the Sudanese people trooped to the streets in Dec. 2018, frustrated by the country's worsening economy, physicians were at the frontlines in ensuring those grievances led to broader political reforms.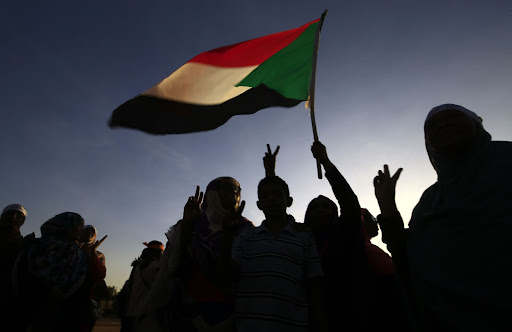 When Mohammed Nagi Alassam enrolled in medical school, it would have been hard to imagine him as one of the faces of a revolution that would years later, change the course of his country. 
Sudan has huddled under the boots of dictators for many years. Backed by Islamists, in 1989, Omar al-Bashir, then a 45-year-old rising star in the military, led other officers to topple the democratically elected government. He called it the 'revolution of national salvation' and claimed he was saving the country from 'rotten political parties'. He was at the helm of what is widely recognised as a totalitarian government even though he became president in 1993 and was re-elected into office multiple times. His administration was characterised by corruption, authoritarian rule, genocide, economic hardship, and allegations of supporting terror groups. Twenty years in, the International Criminal Court issued a warrant for his arrest over war crimes committed in his handling of the insurgency in Darfur — the first of such issued for a sitting head of state.
Finally, in April 2019, al-Bashir's watch in office stopped ticking. The people had had enough and the military, which had propped him into power, withdrew its support.
Protests had erupted the previous December over the tripling prices of bread and other harsh economic developments. As usual, the authorities responded with an iron fist, killing and teargassing demonstrators, cutting off internet access, making arrests, spreading disinformation, and imposing curfews. But there was a level of coordination that made these protests different from their predecessors. Much of that was thanks to the efforts of Sudanese doctors.
Alassam believes the seeds of revolution were sown in 2016. It was the year the Central Committee of Sudanese Doctors (CCSD) was formed as a parallel union to the state-regulated Sudanese Doctors Union. That November, the committee embarked on an industrial action that affected at least 46 hospitals and demanded better work conditions for healthcare workers. The government arrested striking doctors, including former union chairman Dr Hassan Karrar Mamoun who they accused of forming an illegal body. "There was a great shortage of staff and huge pressure from patients and their relatives who thought that this shortage was because doctors neglected their duties or didn't care enough," explained Dr Montasir Bashir, one of those who led the strike. "It wasn't true. All the budget was spent on the presidential militia instead."
Two years later, after the protests started, CCSD went on strike again and, this time, didn't call it off until after 207 days, making it the longest physicians' strike in Sudanese history.
The doctors were careful not to shut down the entire healthcare system, by exempting emergency cases and those requiring intensive care from the strike action. In the language of the protesters, it was a strike on cold and not hot cases, and this was the pattern in previous industrial actions.
Sudanese doctors' active participation in socio-political movements goes back many decades. They were involved in uprisings as far back as 1964 when the people revolted against General Ibrahim Aboud, forcing him to relinquish control to a civilian cabinet, and again in 1985 when demonstrations forced President Gaafar al-Nimeiry out of office.
"The union coalitions were the heart and soul of all of these movements and the doctors were in the core of these coalitions," Alassam observes.
He says why health professionals are so active in these agitations needs to be studied further. What is, however, obvious is that the Sudanese community traditionally looks up to doctors. The physician is respected and approached for advice in many communities.
After the al-Bashir-led government reacted by clamping down on its members, CCSD realised it could not achieve its goals without a much louder voice. So, it started working towards building a coalition with other professionals, who had similar grievances. This led to the formation of the Sudanese Professional Association (SPA).
The SPA too did not start out as a political movement. It focused instead on the welfare of workers, conducting a study on wage conditions and advocating for an improved minimum wage. And then, the Dec. 2018 demonstrations erupted. The masses were fed up with astronomical increases in the price of bread, fuel, and other basic commodities and quite naturally hit the streets.
"Then we decided that we should have a role in this movement. We should not let it fade away without better organisational leadership and that's how the story of the revolution started for us," says Alassam.
Doctors were not only a crucial part of giving structure to the spontaneous protests, they helped with medical supplies, set up makeshift clinics, and provided free treatment for injured protesters – all while risking their own safety.
As someone born in 1991, two years after the military coup that swept al-Bashir into office, Alassam has lived most of his life under a brutal dictatorship. People in his generation saw the authorities use religion as a tool to divide and conquer. They saw them stir up a war in southern Sudan, using the youth as fodder.
"The greatest feeling that I would say most of my generation felt throughout our lives is hopelessness," he says. "That's why the 2018 revolution opened doors and windows of hope for everyone. Everyone again could see themselves for the first time in a very, very long time actually living in Sudan, building their life and their future within the country."
Many Sudanese in the diaspora flocked back, some relocating with their businesses because they looked at the future and saw that it glistened with hope. Alassam believes this is what has kept the resistance going despite the over one hundred protester deaths and thousands sustaining injuries.
Despite the dreary passage of time, the spirit of the revolution remains undaunted. Similar protests that took place between 2011 and 2013 were violently suppressed. But this time, the people have grown more resilient to highhanded tactics from the dictator's playbook. They want a government that represents them and seem ready to give whatever it takes. So when the military authorities tested their resolve in Oct. 2021 by staging a coup and arresting the members of the transitional civilian government, even before General Abdel Fattah Al-Burhan, commander-in-chief of the armed forces, could make a statement, people were back on the streets, chanting demands for freedom, peace, and justice. They also continued to organise sit-ins at the army headquarters in Khartoum as if to twist the junta's tale.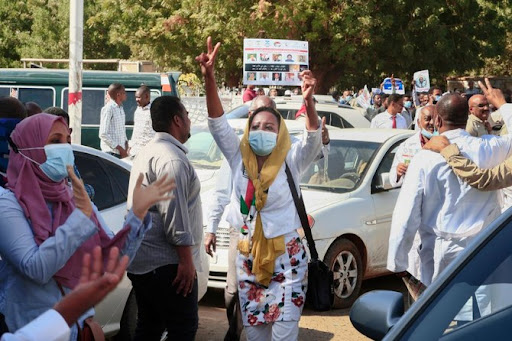 Doctors like Alassam have sacrificed a lot for the revolution. In 2019, during the record-breaking CCSD strike, Alassam was behind bars.
As a member of the SPA secretariat, he had gone on a Facebook live on Jan. 1, 2019, to announce the Declaration of Freedom and Change, a document designed to give the revolution a unanimous direction. This declaration culminated in the establishment of the Forces of Freedom and Change (FFC), an alliance of the SPA and other groups such as trade unions, political parties, civil society organisations, and rebel groups. The FFC, believed to be the largest political coalition the country has seen, would eventually represent the people during negotiations with the military authorities following al-Bashir's toppling.
Alassam was supposed to make the announcement alongside representatives of other pro-democracy groups who signed the declaration, but the government had got wind of what was happening and arrested some of them on new year's eve. Alassam went ahead anyway. Two days later, he also found himself in cuffs. He spent the following 98 days in the Kober Prison, one of Sudan's oldest prisons based in Khartoum and notorious as a detention facility for political prisoners.
The security agents wanted to find out who the other members and executives of the SPA were, who controlled the strings, and who released statements on social media. One of the ways the association had tried to safeguard its operations was to limit the number of its members known to the public. This, Alassam explains, was so that arrests could not stop it from working.
To break him, the military authorities would often say to him in prison that nothing was happening outside, the protests had stopped, and everyone had forgotten about him. At some point, they claimed that his mother was sick and admitted to the hospital, "so if you want to see her, you should just say this quickly, so that you can get out".
These tactics were ineffective partly because Alassam could call their bluff. He had access to some information through brief interactions with other prison inmates who had arrived after him and got authentic updates about the ongoing protests. He also heard the chanting of the protesters from his cell when they stormed the army headquarters on April 6, 2019, days before al-Bashir's ousting.
He was lucky not to have been tortured during this time.
"Here in Sudan, they do not tend to harm or physically abuse people who are already known because that obviously would bring a lot of trouble to them," he notes. "But if they detain you and you are not known, or no one knows you are with them, then they can go on with the physical abuse."
After the Oct. 2021 military coup, Alassam was detained again. Even though it lasted two weeks, much shorter than his first time in prison, he says the experience was tougher. This is because, unlike the first time when he stayed in cells with up to 20 to 30 people, he was all by himself.
A lodging facility in an academy run by the National Intelligence and Security Service (NISS) on the outskirts of Khartoum had been hurriedly converted into a detention centre. The room was tiny. It had a television, but it couldn't be switched on. The windows were tinted, so it was difficult to see through. The door was locked and soldiers always guarded the room. Sometimes, he could hear their conversations.
It was Alassam's first experience with solitary confinement. The days seemed endless. It was like time stayed still and nothing was moving. "At one point, when you don't know the time, you just feel lost somehow and you don't know what day it is or how many days you had spent."
Thankfully, he had picked some coping mechanisms from his time in Kober Prison. So he would roll a piece of paper, flatten it to get a pointed tip, and use this to delicately scratch the wall. He could use a piece of plastic too. Like this, he used a tally system to count the days whenever he thought 24 hours had gone by.
"That was one of the highlights of the day, actually. Me picking up the paper and writing on the wall," he says.
The food helped too. The arrival of breakfast and the second meal was like clockwork and this helped him keep a steady mind. Unlike the food, the adhan (Muslim call to prayer) was unpredictable. Sometimes, it would be recited. Other times, it wouldn't. So he hardly knew when the time was right for his daily prayers.
Not leaving the room was the hardest part. For two weeks, the small space was his world. Contrastingly, back in Kober, he was at least allowed out of the cell for about 10 minutes every day to stretch his legs.
Many other doctors have been imprisoned like Alassam since the strikes and protests started. Between January and April 2019, over 150 medical personnel were detained, many experiencing torture. And some have paid the supreme price. Dr Babiker Abdelhameed Salama, for instance, was shot dead by intelligence operatives in January 2019 as he approached them to ask if they could transfer injured protesters to a nearby hospital. The same week, another doctor, Muawia Khalil, was fatally shot in his home by security agents. That month as well, Mahjoub el-Taj Mahjoub, a medical student, died after he was tortured by the police.
"They blame us for the protests," one doctor said, adding that he had to stop carrying his identity card and phone so that security agents could not tell his profession. Another recalled a time he insisted he was a labourer after security agents chased him down.
The authorities have treated doctors with suspicion for many years, especially since they were at the frontlines of resisting al-Bashir's rise to power in 1989. The government at the time had arrested those who participated in a strike. One of them, Dr Ali Fadul, spent 52 days in detention. He was severely beaten and sustained multiple fractures to the skull that led to his death.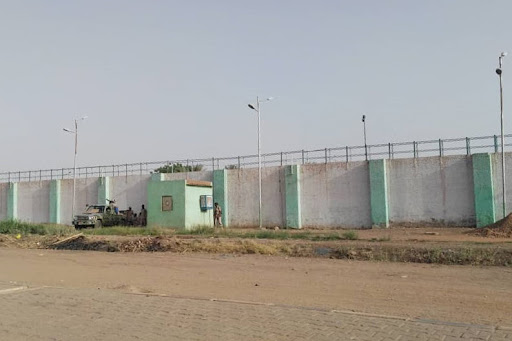 The revolution has yielded obvious fruits. The Islamist political structure has lost its grip, the morality police were disbanded, and women enjoy more freedom. Last December, over 40 political parties and groups signed a framework agreement with the military that paves the way for a transitional civilian government.
But many Sudanese have their suspicions, especially because the deal still concedes too much power to the military and does not touch on bringing those who abused political power to justice. So, protests have spilled into the new year, with people calling for the total fall of the regime and the return of the military to the barracks. Alassam too says the agreement is like a little reshuffling that gives the military more time to reorganise themselves. They have overthrown the transitional government before. What is to stop them from doing it again?
"Of course, we don't want to see another coup in Sudan. We hope that maybe this agreement could lead to something sustainable, to a successful democratic transition, but I think the signs are pretty obvious."
---
Support Our Journalism
There are millions of ordinary people affected by conflict in Africa whose stories are missing in the mainstream media. HumAngle is determined to tell those challenging and under-reported stories, hoping that the people impacted by these conflicts will find the safety and security they deserve.
To ensure that we continue to provide public service coverage, we have a small favour to ask you. We want you to be part of our journalistic endeavour by contributing a token to us.
Your donation will further promote a robust, free, and independent media.
Donate Here