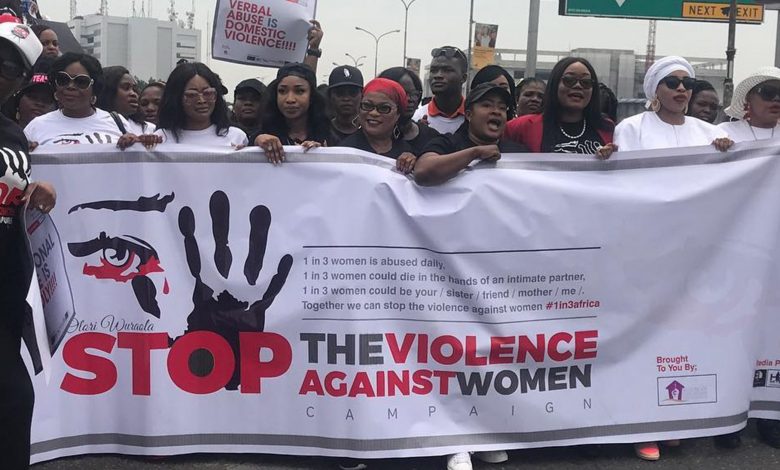 ---
Titi*, the last-child of nine children, was born into her family's struggles. Most of her childhood involved hawking to contribute to the family.
"Growing up was really hard. It was not a pleasant memory. We could hardly feed or get to have things as kids then. At some point I had to stop school and deal with a lot of things as they came. It was really hard growing up," Titi* explained.
Hawking became her daily routine around the Odogbo barracks, Ojoo, Ibadan, Southwest Nigeria, where she lived. "My sisters and I would separate to sell the Kunu drink and most times we always sold everything before going home," Titi said.
On Titi's eleventh-year birthday celebration, she thought to skip hawking so as to enjoy her day but, "if I do not go, there would be no food to eat in the house," she said.
"While hawking my 'Kunu' drink, towards the police quarters, in the joy of celebrating my birthday, a man promised to buy all my Kunu and gave it out to all his staff without me knowing he was giving a signal for them to leave the office."
"I waited to collect my bottles and money but I noticed that as they drank, they left one after the other. He then shut the door."
"I wanted to scream but this man was a Lieutenant, very big and muscular.  I demanded for my money but he kept saying he was coming."
Titi, who was ignorant of his intentions, was dragged into an inner-office containing files and documents. " If I had screamed there for hours, no one would have heard me," she narrated.
"He pulled off my clothes  and raped me in that office. After that, he paid me my money and I went home limping. My mother almost noticed but I told her I had walked over many hills to sell my Kunu for that day," she said.
Just like Titi, Seyi* was raped by a woman when he was five years old and got infected with a sexually transmitted disease.
"She gave me gonorrhea and my mum blamed me for playing too much. Little did she know," he told HumAngle.
When Seyi was eight years old he was repeatedly molested by a relative throughout the Christmas holiday but moved on without mentioning the incident to anyone.
Difficult to get help
Titi and Seyi are among the many Nigerians who have experienced sexual molestation during their childhood. However, most victims keep quiet due to risk of stigmatisation,  threats, or fear of retaliation.
"I was scared. I did not know what to say or how to explain the scenario. I did not know what to do because I knew he was my dad's friend and superior to my dad. I have seen the consequences several times. I have seen junior officers who fought senior officers and still got blamed."
"I knew whatever I would say, nobody would believe me. Nobody believed a girl at that time. They would say the girl lured the man. The following day I became sick and could not go to school because I was weak," Titi explained.
Titi said she vividly remembers all that happened; the face of the officer and his name but she lost her parents before she could summon courage to tell the story.
Seyi, on the contrary, has tried to move on despite being repeatedly abused four times before he became 23.
Bisi,* another victim, still suffers trauma despite being married with a child she protects daily to prevent recurrence. Her encounter with her landlord's son lasted for about four years.
"I could not tell anyone because my mum was a civil servant who leaves early and comes late at night while my dad, after dropping us off at school, also went somewhere. There was nobody I could tell because he said I should not," she said.
Sexual abuse in context
It is estimated that 35 per cent of women worldwide have experienced sexual harassment in their lifetime. While 40 per cent who experience sexual violence seek help.
A survey of rape cases monitored by the World population review revealed that South Africa has the highest reported cases in the world with 132.4 incidents per 100,000 people. The country is followed by Botswana (92.90), Lesotho (82.70), Swaziland (77.50), Bermuda (67.30).
According to World Health Organisation, almost one in three women (30 per cent) worldwide experience physical or sexual partner violence, or non-partner sexual violence in their lifetimes.
The organisation says women between 15 and 49 years, who have been in a relationship, report that they have been subjected to some form of physical and/or sexual violence by their partner which negatively affects women's physical, mental, sexual, and reproductive health, and increases the risk of having HIV.
Meanwhile, in the case of child abuse, UNICEF placed the statistics on six out of every 10 children who experience some form of violence, while one in four girls and 10 percent of boys have been victims of sexual violence in Nigeria.
Among the children who reported violence, fewer than five out of 100 received any form of support.
However, while some rural parts of Nigeria still battle increasing numbers of child marriages, there have been several under-reported cases of sexual molestation and violation despite having multiple laws to prosecute victims.
Not enough prosecution in Nigeria
Majorly, the five specific laws that deals with issues of sexual assault and violence in Nigeria are applicable to a particular region, state, or only those states who have domesticated it's application.
Under the Criminal Code, applicable to southern states, a person is charged for rape and defilement when consent is not obtained from the girl or woman or consent is gotten through force, intimidation and fraudulent acts.
For the Penal Code (PC), applicable to northern states,  intercourse with a woman without consent or instilled fear and danger can be attributed to rape. However, the PC puts clearly that intercourse with a girl below 14, with or without consent is rape, but explicitly states that when there is intercourse between a man and his wife, it is not rape.
The Criminal Law of Lagos State carries similar provisions with the other stated law but explicitly states that a man cannot rape his wife. The penalty across these laws is life imprisonment.
Meanwhile, the Violence Against Persons Prohibition Act, a legislative progression, states that rape is when a person, without consent, intentionally penetrates into any of the body part of the victim. Domestication is still slow with over 20 states yet to domesticate the law.
The Child Rights Act, Part 3- Section 31 and 32, provides that sex with a child is rape, which is liable to life imprisonment upon conviction.
Despite having these laws, United Nations Children's Emergency Fund (UNICEF) in 2015 reported that one in four girls and one in 10 boys in Nigeria had experienced sexual violence before the age of 18.
It added that of the children who reported violence, fewer than five out of 100 received any form of support.
A survey by Positive Action for Treatment Access showed that over 31.4 percent of girls  said that their first sexual encounter had been with outright rape or coercion.
The litigation assistant of Stand To End Rape, Nwamaka Mbagwu, said having the laws is not as sufficient as creating a safe space for survivors to report and get justice.
"Enacting laws to combat such crimes is as far as the Nigerian system has contributed," she said amd  recommended that a solid enforcement system for laws that punish sexual assault must be created alongside training and education of law enforcement agents, family members and the wider Nigerian society on the sensitivity of cases of sexual assault."
"Domesticate the VAPP Act in all states in Nigeria as it provides for the full spectrum of protection from sexual assault by expanding the definition. Domesticate the CRA in all states in Nigeria so that there is effective protection from child marriage," she added.
Also, the Executive director Education As a Vaccine, Bukola Williams said, "Nigeria does not have a strong and functional judicial panel. As we strengthen the response system, we must address the root cause and do more to prevent violence by teaching children in school and out of school about gender, gender inequality and power dynamics. We need sexuality education that is age appropriate and culturally responsive."
Names asterisked have been changed to protect the identity of respondents.
---
Support Our Journalism
There are millions of ordinary people affected by conflict in Africa whose stories are missing in the mainstream media. HumAngle is determined to tell those challenging and under-reported stories, hoping that the people impacted by these conflicts will find the safety and security they deserve.
To ensure that we continue to provide public service coverage, we have a small favour to ask you. We want you to be part of our journalistic endeavour by contributing a token to us.
Your donation will further promote a robust, free, and independent media.
Donate Here