Analyses
Armed Violence
News
Structures For Safe Driving In Abuja Become Operating Spots For Criminals
Although the Federal Capital Territory, Abuja, is perceived to be relatively safe compared to other parts of North-Central Nigeria, residents decry incidents of phone snatching, carjacking, assault, and robbery while driving or walking in certain areas around the city.
Fahad, along with his wife and sister-in-law, were ambushed by armed men when his vehicle suddenly stopped while driving from the Suburban town of Kubwa in Nigeria's capital city of Abuja to the commercial district of Wuse II.
The vehicle's faulty fuel gauge had prevented Fahad from knowing he was running low on fuel until it came to an abrupt stop towards the Nnamdi Azikiwe Expressway, not far from Zankli Medical Centre in Mabushi.
As they tried to contact friends and family to come to their aid, a gang of three carrying knives and sticks appeared from dark corners. "They threatened to stab us if we didn't give them our phones," Fahad recounted. 
After collecting their phones, the gang swiftly ransacked Fahad's car, stealing other valuables, and like ghosts, vanished to where they came from. 
Similarly, Uthman Samad who had parked his car in front of the Federal Road Safety Commission (FRSC) office at Zone 7 area of Wuse District to get his driver's license on Friday Dec. 3 returned to find his vehicle burgled.
"I left my car and went to the entrance of the commission where I was told to go and get a face mask. Before I went back to my car, the person I was supposed to meet called me to wait for him."
Samad said the whole thing took barely 10 minutes of his time, but as he approached his car he realized it had been broken into, his laptop, hard disks and other possessions stolen. 
"I was where I felt safe, right in front of a place with FRSC officers who are paramilitary. I could not believe that happened."
Many residents as well cannot leave their phones in plain sight while walking or in a car because phone snatching has become the new norm. 
For drivers and passengers alike, stopping at red-lit traffic lights with their windows down is distressing because this makes them easy targets for thieves who loiter around.
Phone snatching, mugging, auto theft, and even stabbings have become rampant around the Abuja Municipal Area, forcing residents to become apprehensive when driving on major roads, and pedestrians on edge, especially at night.
The Federal Capital Territory Counter-Terrorism Desk Office (FCT CTDO) has listed some areas as dens for miscreants and criminals. These include under the bridge between Area 11 to Unity House; the road towards Wuse Mega filling station, before GSM Village, under the bridge of Bolingo Hotel, and around the News Agency Nigeria office.
Other witnesses and victims have said that Jabi Airport Junction, Berger Roundabout, Mabushi, Life Camp Roundabout, are hotspots for petty crimes, especially at night.
The similitude of flashpoints 
HumAngle visited some of these flashpoints and found out that what they have in common are overhead bridges, speed bumps, susceptibility to traffic congestion, and nonfunctioning street lights.
Originally built to facilitate faster vehicle movements, what makes overhead bridges a den for criminals in these areas are how they create a cover on the roads beneath them, and how dark it becomes especially at night. Some also have crevices where perpetrators use to conceal themselves before they attack.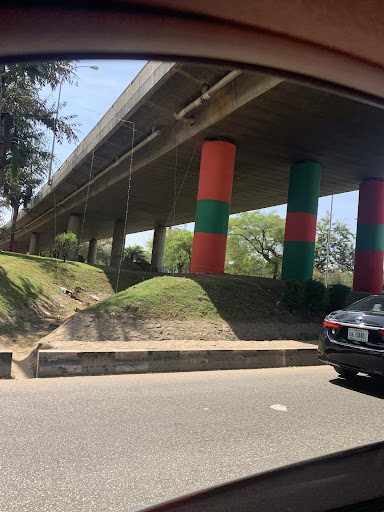 Multiple speed bumps at a point on a highway pose more safety threats in some areas than the function they were originally set up for. Drivers slowing down to drive over these bumps are vulnerable to assault and robbery.
At Jabi Airport Junction, authorities have had to remove the bumps that were there to curb attacks in the area. 
Similarly, traffic lights that create gridlock encourage thieves to quickly grab bags from car windows and snatch phones from drivers and passengers waiting for the lights to turn green.
This makes a lot of residents wind up their car windows or keep their belongings tucked away as a form of precaution.
Non-functional street lights are fraught with danger even in areas that are not flashpoints due to the lack of illumination on roads and streets. 
Despite the apparent darkness within the metropolis, which makes it easier for miscreants to intimidate unsuspecting residents and carry out criminal activities, there are hardly any police patrol vans in these places.
Some of these spots have a combination of two or more of these factors that enable criminals to assault commuters and pedestrians.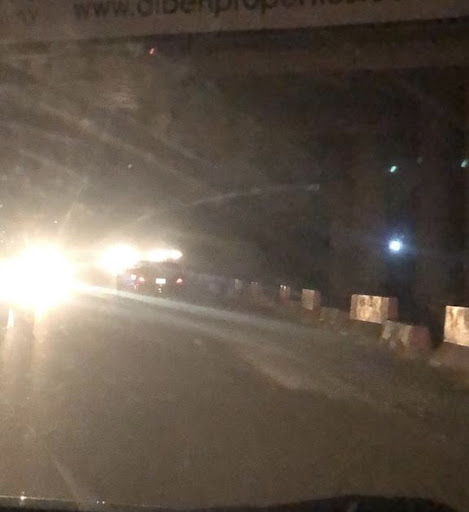 Some tactics and trends
Abu-dharr Ibrahim, a driver with Bolt, an e-hailing app, knows at least five people who have been at the receiving end of these crimes. He told HumAngle one of the tactics miscreants use to stop moving cars is by throwing raw eggs on car windshields.
"If by mistake you use the windshield wiper-washer, the fluid and the egg will mix and you won't be able to see ahead, and then you will have to stop," Ibrahim said, as he narrates the ordeal of his colleague who was attacked at Jabi Airport Junction. 
He added that the criminals also hijack unsuspecting drivers' cars, leaving them confused and in absolute despair.
Amina Gambo also witnessed a peculiar style of targeting cars along the Shehu Yar'adua Way around the Mabushi area of the city on her way home one evening.
"My husband and I were going home and we came to a traffic stop. Just like that, two boys approached the car in front of us and one of them went to the driver's side. I think they indicated to him that something was wrong with his tire because he was peeping out, trying to check through his window," she said.
While the driver was trying to examine his tire, which one  of the two boys indicated had a problem, the other accomplice was at the passenger's side of the car, putting his hand through the window to take the driver's phone. 
Although people tried to alert the driver, the thief successfully carried out his mission and ran away. 
Failed CCTV project
In 2008, the Nigerian Public Service Communication System (NPSCS) project was initiated by the then president, Umaru Musa Yar'Adua, and by Aug. 2010 the contract was signed for deployment.
The NPSCS was meant to cut across the 36 states in Nigeria and the FCT, executed by the Ministry of Police Affairs while the Nigerian Communication Satellite Ltd (NIGCOMSAT) acts as a consultant. 
The contract of $470m, an equivalent of N76b as of 2010 borrowed from China was awarded to a Chinese firm, ZTE Communications, for the installation of a video surveillance system and public security communication technology that would make  audio, video, and data information available for use by the Nigerian Police Force and other security agencies.
After the installation of solar panels and other components for the CCTV camera around the FCT, there were no traceable monitoring locations.  
Six years later, In 2016 when bombings suspected to be carried out by terrorist groups became more prevalent around Abuja, the mounted panels were already in ruins and the equipment meant to enable safety in the streets vandalized.
Although the federal government had plans to revive  the $470m NPSCS including the vandalized Abuja CCTVs, nothing has been done apart from Nigeria paying back the loan borrowed to fund the project.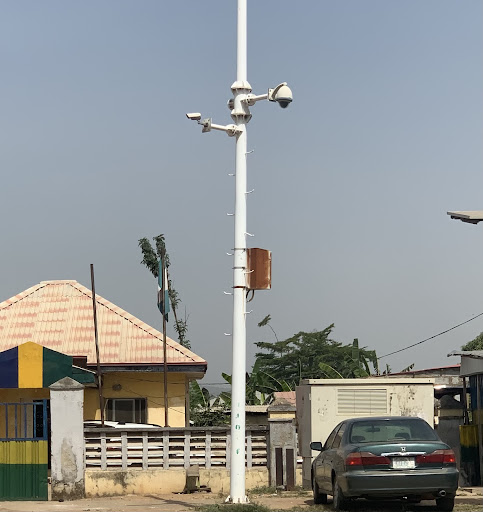 Security and protection around the city
Although the incidents mentioned in this report happened this year, the FCT Police Public Relations Officer (PPRO), Josephine Adeh, told HumAngle it was a thing of the past and that measures had been taken to curb it entirely
Acknowledging the security situation around the municipal areas of Abuja, Adeh in a phone conversation, said miscreants were being tracked and arrested on a daily basis, and for victims who had reported their cars being stolen, police personnel have been able to retrieve them.
"The FCT police command has deployed overt and covert policing strategies to ensure residents enjoy a peaceful FCT," she said.
Adeh added that flashpoints are not limited to the occurence of one criminality or the other. She, however, explained that areas that accommodate people in large numbers are prone to such cases.
"My advice is that as we the police are playing our part, residents should stay vigilant and make sure they provide extra security for their vehicles, such as pedal locks and car trackers."
On top of that, The FCT PPRO urged pedestrians who witness or are on the receiving end of phone snatching, robbery and assault to immediately raise an alarm. "We have our personnel wearing mufti in such areas," she revealed.
Meanwhile, Samad who got his car burgled at Zone 7 just six days before this report was filed, mentioned that on reporting his ordeal to the nearest police station, the Divisional Crime Officer (DCO) only took a statement from him and added that there was nothing they could do.
---
Support Our Journalism
There are millions of ordinary people affected by conflict in Africa whose stories are missing in the mainstream media. HumAngle is determined to tell those challenging and under-reported stories, hoping that the people impacted by these conflicts will find the safety and security they deserve.
To ensure that we continue to provide public service coverage, we have a small favour to ask you. We want you to be part of our journalistic endeavour by contributing a token to us.
Your donation will further promote a robust, free, and independent media.
Donate Here