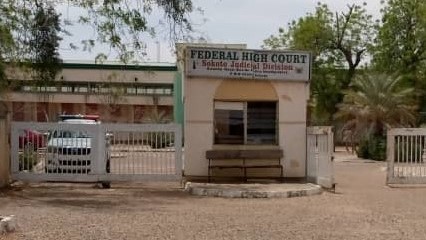 It's 1:13 pm, on a Wednesday afternoon in March. The pavement of one of the buildings in the court premises provided attendants at Sokoto State High Court of Justice shade from the scorching sunlight, allowing them to respond to people waiting to obtain affidavits. "That is not how to fill it. Don Allah [please], help me to see him through," a young man begged one of the deponents.
The young man who himself identified as Aminu hurriedly filled the general affidavit form. Aminu who doubled as an interpreter looked at this reporter and asked: "What is the problem? Change of name? Or a declaration of age?"
When this reporter explained that he needed an affidavit for a change of name and wondered if he needed to present a means of identification before the legal document could be issued, the young man replied that it was not necessary.
"There are no requirements. Don't worry yourself, just give him N100," another young man standing to the left of the reporter quickly chipped in.
One hundred naira was the official fee charged by the state government for a change of name affidavit.
He handed over a prepared format of the general affidavit form and asked this reporter to write his old name and the new name. In less than 10 minutes, this reporter acquired a new identity.
Sections 108, 115 and 117-119 of the Evidence Act of 2011 describe the procedural requirements for obtaining an affidavit. It provides that deponents are required to state their full name, trade, profession, residence, and nationality.
Specifically, Section 117(4) of the Act provides that "an affidavit when sworn shall be signed by the deponent or if he cannot write or is blind, marked by him personally with his mark, in the presence of the person before whom it is taken."
This implies that the deponent to an affidavit must appear in person before a Commissioner for Oaths.
But officials of the Sokoto State High Court acted in clear disregard for this requirement of the law. They routinely issue affidavits for the change of name and the declaration of age by proxy which violates the Evidence Act.
Obtaining affidavit for a fictional sister
This reporter was able to get an affidavit for a change of name and declaration of age for a sister who does not exist.
"Your sister? Where is she?" Aminu's colleague, a lady wearing a flowing hijab, asked.
"If you know her details, including her old names and new names, there is no problem," she responded after an initial reluctance that lasted only a few seconds. She was told the reporter's sister lived in a far-off part of Sokoto city.
She then issued a prepared form which this reporter filled. Some minutes after taking the completed form to the Commissioner for Oath, she returned with the legal document. The official seals of the state judiciary and the Commissioner for Oaths were boldly stamped on the document.
However, no photograph was affixed nor was a receipt issued. Similarly, a declaration of age was stamped by the Commissioner without the declarant first appending her signature on the document.
In borderline states like Sokoto, criminals and suspects from other countries could easily assume false identities by changing their names for as little as N100 to escape into the state while wanted criminals could do the same to evade justice in the state.
With this avoidable negligence, anyone could decide to fake or alter their identity to circumvent the administration of justice.
This reporter visited the court on three occasions to obtain the various types of affidavits. His experience shows that the State Government is also losing a huge amount of revenue to private pockets.
On each of the occasions, no receipts were issued to deponents to document their payments. Obtaining a receipt according to the Commissioner for Oaths also attracts a fee. This explains why deponents hardly request for it.
The two ways to obtain an affidavit are, one, by paying N100 without getting a receipt and, two, by paying N100 to N200 each for the affidavit and receipt.
At the Federal High Court, Sokoto Division, it takes just N1,400 to get an affidavit by proxy.
Unlike the State High Court, two copies of passport photographs were required before an affidavit could be obtained at the federal court. This reporter had earlier visited the division without any passport photographs and was turned down.
"Are you with your passport photograph? Without it, you won't be able to get a change of name," said a young man in a rather courteous tone at the court.
"Except for the photograph, there is no need for any other identification. Bring the passport to me tomorrow so I'll start working on it," he added.
For a while now, Nigeria has been grappling with curating a secure and central national identification system. To achieve this, billions of naira has been sunk into various data capturing exercises. The indiscriminate issuance of affidavits for change of names, however, threatens this effort and also spells doom for the country.
At the Federal High Court, Sokoto Division, getting an affidavit by proxy is as easy as can be imagined. The Commissioner for Oaths obliged to issue the document to a friend who was not available in person.
"Come along with her passport photograph. We will do it. But let her give you like Six Hundred or Seven Hundred Naira," he told this reporter in a telephone conversation.
In his office, some officials of the court were exchanging differing opinions on the fate of the judiciary in the face of the flagrant disregard to court orders.
Their voices fell and rose intermittently. He sat hunched over his desk, appending his signature on the files before him and would not join in the conversation.
As he adjusted his posture, this reporter asked if he could obtain an affidavit for a declaration of age by proxy.
"You know how much you'll be paying?" he said looking up as his forehead formed into a wrinkle.
"Yes, N1400," this reporter replied, "But I don't have cash with me, can I pay via a bank transfer?" He nodded in confirmation and headed out in about three minutes.
He came back after about 15 minutes with the legal document with the cashier stamp and a Remita Retrieval Reference (RRR) number boldly on it.
With the RRR, this reporter realised that the payment was made via REMITA ㅡ an e-payment platform used by the Central Bank of Nigeria for payment and collections of funds on behalf of the Federal Government of Nigeria for the Treasury Single Account.
"Can I sign it for her?" this reporter asked. He insisted that the document should be signed by the deponent. "She is in Sokoto, right? Then give it to her when you get back to sign," he advised before stamping it as the Commissioner for Oaths.
By printing the Remita receipt of the payment on www.remita.com, the payment details showed that only a total sum of N362.32 was made as payment into the government's coffer whereas this reporter paid N1,400 for the affidavit.
Of the N362.32, a sum of N200 was charged for the affidavit while N151 was for the transaction charges and N11.32 as the VAT on the charges. The detail of the balance of N1,037.68 did not show on the receipt. It is not clear in whose coffer the amount goes to.
Affidavit cannot be issued by proxy ㅡ High Court Registrar
When contacted, the Chief Registrar of the Federal High Court, Sokoto, who identified himself as Bulus, decried the act of the court officials under his watch, stating that an affidavit could not be issued by proxy.
Bulus stated that deponents must appear before the Commissioner for Oath to swear. According to him, the approved charges for obtaining an affidavit is N200; N100 for the oath and filling respectively which should be paid into the government's coffer instead of N1,400 which the reporter paid to one of the court officials.
"I don't know who issued the legal document, but I would love to, so I can address the matter because I don't allow them to do this thing. I'm unaware of this, and I have always warned them against it. An affidavit cannot be made by proxy, the deponent must be present before the commissioner for an oath," Bulus said.
"Moreover, the fee for affidavit is N100 and N100 for filing and the deponent is to pay these amounts to the Federal Government account by means of Remita. If any officials have done contrary to this explanation, send their names and a copy of the affidavit so that appropriate disciplinary measures will be taken against the officials."
"Some of these things have implications, and our court is not known for that. I would be glad if you could send me the names of the official who signed so I'll address it. We don't allow those shady practices," he pleaded.
Corruption within the corridor of the Nigerian judiciary is not only grossly embraced among the upper echelon, the ranks and files of the arm also wallow in the cesspit.
While transactions at the Federal High Courts are paid into the government's Single Treasury Account (TSA) to check fraud and promote transparency, court officials are inflating the fee beyond the approved charges.
The Federal Government's TSA is widely taunted as one of the most significant initiatives undertaken by any government in Nigeria to promote accountability, transparency and fight corruption in the management of public funds. But the actions of these court officials are sabotaging the fight against graft.
According to the Socio-Economic Rights and Accountability Project (SERAP), corruption remains endemic in the country and affects the majority of Nigerians despite the government's repeated commitment to fighting it to a standstill.
Also, Transparency International ㅡ a global civil society group leading the fight against corruption ㅡ fingered the Nigerian Police, Parliament, Judiciary as the most corrupt institutions in Nigeria in a survey titled "Global Corruption Barometer Africa 2019: Citizens Views and Experience on Corruption."
According to the survey which is the largest and most detailed public opinion survey of citizens' views on corruption in Africa, the graft is stifling Africa's economic, political and social development.
Sixty-nine per cent of those who participated in the survey stated that the police was the most corrupt institution, 60 per cent pointed at members of the parliament, while 51 per cent said it was the judges and magistrates.
They should face the music ㅡ Ozekhome
Alluding to the Biblical tale of Israelites' travail while travelling through the desert, human rights lawyer and legal analyst, Mike Ozekhome (SAN), said though corruption has become endemic in Nigeria, citizens must play their part in fighting it. This, he stressed via a telephone interview, could be achieved when citizens are aware of their rights and resist advances to corner due process while dealing with public officials.
"People should insist on their rights, consumers should insist on consumers' rights and protection. They should refuse to give bribes. I have never heard that anybody was slapped for denying a bribe. The bribe is given because the giver is also corrupt and wanted something to be done quickly," Ozekhome said.
He noted that the actions of the court officials are a clear tale of diversion despite the establishment of a central federal revenue system.
"In this scenario, let's say a thousand naira was paid, and it's discovered that 367 naira was what reflected, it means that they have a way of diverting the money even though the money was supposed to be paid into a central federal revenue. The officials involved should be reported to the relevant authority (chief registrar). It is a very serious matter."
He faulted the inability of the National Identity Management Commission (NIMC) to have a curated central identity database of Nigerians despite billions of naira being allocated for data capturing exercises in the country.
To be able to meet up with its mandate, the NIMC received an initial sum of N30 billion in 2010, three years after it was empowered to capture the identity of Nigerians in line with the NIMC Act.
While the Commission got N17.9 billion in 2011, it received N12.35 billion in 2012, and N7.19 billion in 2014. In the 2015 fiscal year, the Commission got N6.276 billion and N6.535 billion in 2017.
"I am aware that a national identity card central base was started about ten years ago with lots of money budgeted for it, what have they done with it?" Ozekhome asked, rhetorically.
"We're supposed to have a national identity card, registration of birth, death so that when it is time for census or policy formulation, the exercise would be a piece of cake."
Contact the ICPC ㅡ Malami's Spokesman
When contacted, the Special Assistant on Media and Public Relations to the Attorney General of the Federation (AGF) and Minister of Justice, Dr Umar Jibrilu Gwandu, declined to comment on the findings.
Jibrilu, who was in the middle of a conversation when this reporter put a call across on a Monday afternoon, asked this reporter to send his questions to him via WhatsApp messaging App.
After sending it as requested, he directed this reporter to contact the anti-graft agency; Independent Corrupt Practices Commission (ICPC).
"Please contact ICPC. Thank you."
---
Support Our Journalism
There are millions of ordinary people affected by conflict in Africa whose stories are missing in the mainstream media. HumAngle is determined to tell those challenging and under-reported stories, hoping that the people impacted by these conflicts will find the safety and security they deserve.
To ensure that we continue to provide public service coverage, we have a small favour to ask you. We want you to be part of our journalistic endeavour by contributing a token to us.
Your donation will further promote a robust, free, and independent media.
Donate Here