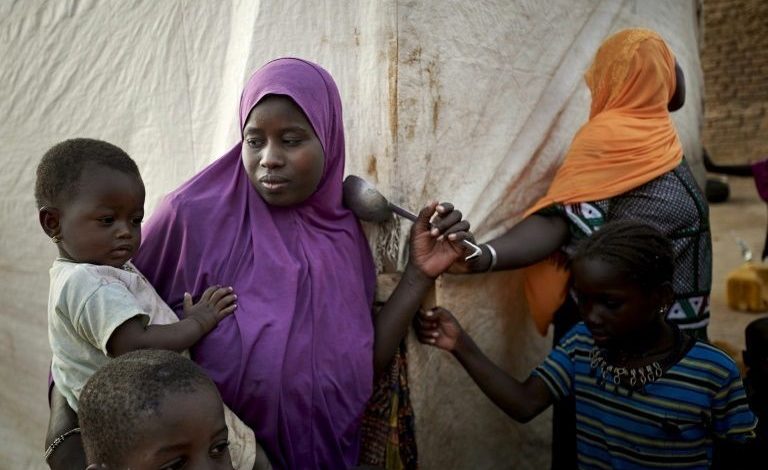 The practice where one man is simultaneously married to more than one wife, which is the most typical form of polygamy, dates back many centuries in Mali. It remains prevalent in some communities in the West African country till date despite colonial and external religious influences. And it is especially common among the Muslim population.
It is permissible for Muslims, who are estimated to comprise over 90 per cent of the entire population in Mali, to practise polygyny with a set limit of four wives to one man. The only condition imposed on the man is the fair treatment of his wives. This, however, is not always what obtains in Mali.
Many women suffer in this kind of marital relations and are sometimes victims of physical and emotional violence. Victims' accounts suggest that this is because of the unequal treatment of spouses by their husbands who often show greater affection for some to the detriment of others.
Aoua Sidibe (not real name), 40, is a victim of violence in a polygamous home. The second wife, she increasingly became distressed when her husband decided to marry a third wife. When she came into the conjugal home as a second wife, she could not imagine her life would take such a turn. It seemed as though her world suddenly collapsed on her feet.
"The day my husband, first of all, started seeing another woman, I started losing all the affection he had for me. I started feeling that he was distancing himself from me because he was no longer available for me," Sidibe narrated.
She had felt this behaviour was just transitory and hoped that, with the passing of time, things would return to normal. But she was mistaken and did not seem to understand the intentions of her husband, who had already started negotiating to bring in a third wife.
"Since my co-wife entered the house, I have no longer known peace. My situation in the family has become more and more difficult. My husband no longer looks at me as in the past. He has deprived me of my nights in favour of the new wife. I no longer benefit from money or my needs. Even to cook food in the house, I have to struggle by myself and any day I ask for money, he insults me and sometimes even beats me," she said.
Besides the ill-treatment, she added that her husband repeatedly accused her of infidelity and called her a prostitute.
"In spite of the fact that I have had three children with him, he thinks my fourth child is not his own. This hurts me a lot because I have always been faithful to him. It is he who has betrayed my confidence. He falsely accuses me, and this hurts me enormously," Sidibe told HumAngle.
She is not the only woman facing psychological assaults through accusations of infidelity from their husband, often without proof. 
Thirty-year-old Aminata Diallo does not envisage involving herself in polygamy again. Two years ago, she revealed, "I was the second wife of a man who had promised me heaven and earth. But after six months of marriage, I no longer knew the happiness of a joyful couple."
"My husband changed overnight. He was beating and insulting me at any given opportunity. For every little problem, he becomes furious. I understood that he no longer wanted me because he had financial problems and was finding it difficult to take care of us. I could no longer bear the violence, so I was forced to put an end to the marriage," she said.
According to the young lady, in Mali, violence against women is a reality with grave consequences on the lives of the victims. She thinks most men who marry several women do not live up to the criteria defined by their religion.
"Certain men marry many wives just to fulfil their sexual desires because they lie to their wives, and when the adventure becomes torrid, they jump into the unknown. Afterwards, they become unbearable and violent," she explained.
These women who suffer in silence are oftentimes marginalised by the families of their husbands, who interfere in the family's disagreement. The women eventually feel the only alternative available to them is to quit the marriage, if they are not in fact forced to divorce. 
In certain situations, the main trigger of the divorce is that the man no longer takes care of the needs of the woman and her children. 
Mariam Keïta (not real name) is in her second polygamous marriage after the death of her first husband. Comparing the two unions, she agrees that there were fewer problems in her first marriage. The only difference with her current marriage is that her husband is finding it challenging to meet up with his marital responsibilities.
"In my first marriage, we all ate together. There was no separation or violence. But in my present marriage, I have been undergoing enormous difficulties for the past eight years. I am tired because everything I say in the house or to my husband is not taken into consideration. My children also suffer from this situation because they are regularly beaten, and I have no word to offer," Keïta said, adding that even little gestures from her could build up into a quarrel.
"My husband has never assumed his responsibilities. If he were to do so, there would be less suffering, but he is the judge and party at the same time."
The International Journal of African and Asian Studies states that, in Mali, there have been "a lot of associated problems affecting people from polygamous families such as jealousy, misogyny, aggression, bitterness, invidiousness, denigration and bewitching". Polygamy is most common among animists, with 45.9 per cent of women and 32.4 per cent of men being in such marriages. Among Muslims, 42.1 per cent of women and 30.1 per cent of men are polygamous.
Many men who practise it in compliance with religious rights, however, do not consider the need for financial capability or the need for fairness in the marital home.
According to Amadou Dembele, a shoe salesman and husband to three wives, "The woman must submit herself to her man to receive the benediction of God. We say we have a right to four wives only because certain wives should know that we are not their private property."
Ousmane Diakite, a student in the Malian capital Bamako, said, "We are Moslems from polygamous families. Therefore it is just normal that polygamy interests us most in the Koran. That is what should satisfy the girls most."
Djeneba Guindo, however, thinks there is a tendency by men to cherry pick parts of the scriptures, which they find favourable, as well as misinterpret the instructions.
"These kinds of words are said by persons who have not truly understood the Koran because if the woman must be submissive to her husband, there are prerequisites that the man must respect. Thus they have not studied but only touched the surface of the Koran," said 22-year-old Lalaicha Maiga. 
A similar view is shared by Amadou Koita, an Imam in Bamako who said some men only make references to the scriptures when it suits them.
"They do everything to know the duties of their partners in a marriage. On the contrary, they do not even know in which surat [chapter] God talks of the sacred union of persons. That is why many people fail in their marriages because they have another different conception of the holy scriptures. In reality, they know nothing about what they say; they are a disgrace to society and religion," he emphasised.
Meanwhile, there are women who view polygamy in a less negative light. This is the case with Bamakan Sakiliba, who thinks that her husband marrying a second wife has freed her from certain obligations.
"The two days during which he sleeps with my co-wife permit me to take care of myself, to rest well, to give more attention to my children and my work without being disturbed. Polygamy suits me," she said, additionally suggesting that women must think of themselves and their children because they would be the big losers if their marriage fails.
"The man will merely begin life all over without being worried," she explained. "Since we cannot force them to change their objectives, let us live with them according to their perception of polygamy."
---
Support Our Journalism
There are millions of ordinary people affected by conflict in Africa whose stories are missing in the mainstream media. HumAngle is determined to tell those challenging and under-reported stories, hoping that the people impacted by these conflicts will find the safety and security they deserve.
To ensure that we continue to provide public service coverage, we have a small favour to ask you. We want you to be part of our journalistic endeavour by contributing a token to us.
Your donation will further promote a robust, free, and independent media.
Donate Here