Humanitarian Crises
Investigations
News
Someone Is Stealing Babies From Displaced Mothers In Northeastern Nigeria
Despite funding for the security agencies responsible for protecting them, IDPs in the region remain unsafe even at official camps. Recently, newborn babies have become the targets of a wave of theft.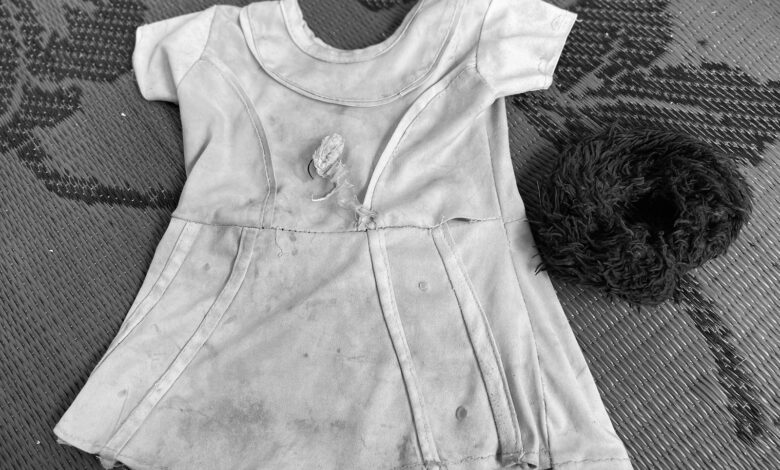 When she first went to the hospital after enduring the first phase of contractions, her back aching so much she could barely walk, stand, or even breathe, Amina Bukar was told she was not yet in labour.
"Go back home," the doctor said, handing her some painkillers. "Come back when you go into full labour."
That evening, the pain intensified. As she tried to shuffle her way out of her tarpaulin tent in the IDP camp in Bama, northeastern Nigeria, to ask her neighbour to help take her back to the hospital, she felt the head of the baby already weighing down heavily on her cervix. At the time, she was by the entrance of the tent, where I am now standing. From there, I can see hundreds of tarpaulin tents spread over the camp like a vast forest of whiteness. On any other day but today, I might have been able to appreciate the scene.
First, she stood there, she says, unsure how to proceed. Then, she shuffled back into the tent and, there, gave birth to Falmata.
Afterwards, her neighbour took her and the newborn to the hospital, where the doctor checked them and declared them healthy. He gave her an injection and some drugs before sending them home.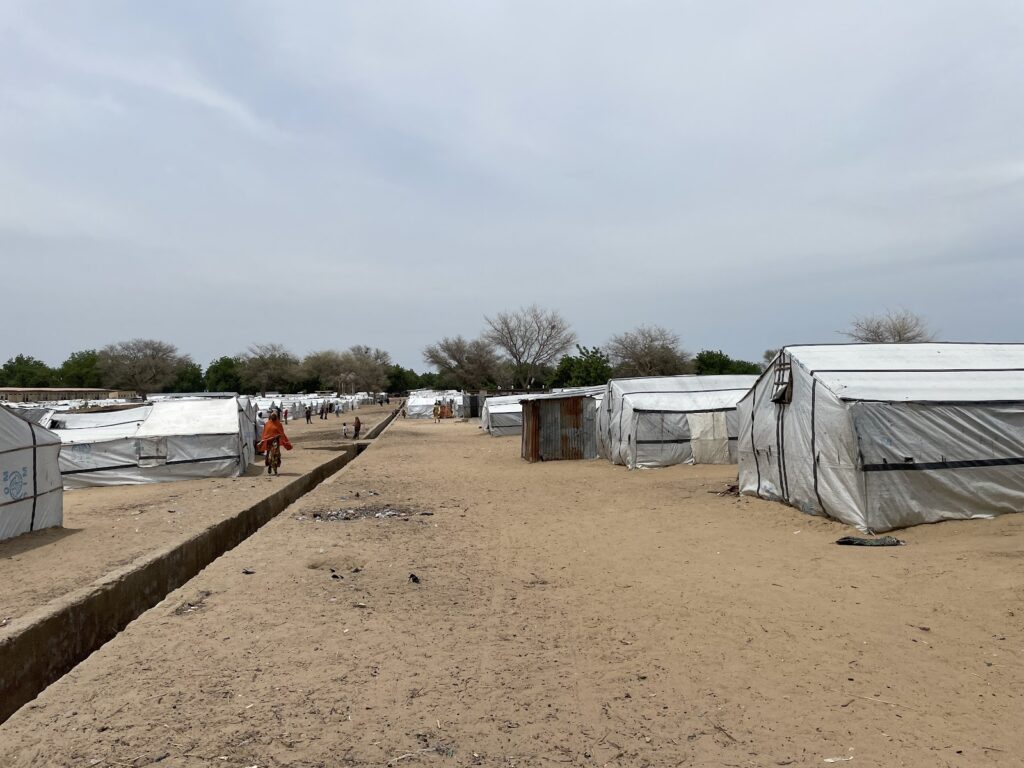 A year passed and Falmata grew into a happy, lively child. One day, during the Muslim Ramadan fast this year, when the water scarcity in the camp was at its thickest, Amina left the tent to queue for water. She left Falmata inside, sleeping.
"I felt like since we were in the camp here, which is home, and the baby was sleeping, it was safe to leave her unattended. What could happen? So I left her to go fetch water."
It seems crucial to her to reiterate that she had not been careless.
She returned about an hour later with her keg of water to find Falmata missing. Naturally, she tells me, she thought Falmata had crawled to a neighbour's tent.
"I went to my next-door neighbour to ask, but she was not there. So, I started going from tent to tent all around me, searching. Still, no baby. I started panicking."
The camp is like an entire village of displaced persons. Still, she went to as many tents as she could.
"I looked everywhere and flashed my torch at every corner, and people kept asking me: how can a one-year-old baby have crawled and reached here from your tent? But, you know, when you are tensed in a situation like that …"
She needed to know that she had searched everywhere. Then, slowly, it started to dawn on her.
Someone had taken Falmata away.
Amina went to the community heads around, including an Islamic cleric whose tent was nearby, and told him her baby was missing. "He said I should not panic, that whoever took her could not have gone far and that she would be returned very soon."
She suspects he reached out to the security men guarding the camp gates and informed them so they could ensure no one with a baby left. She spent the entire day wailing all over the camp, she says, and moving from one tent to the other, searching for Falmata.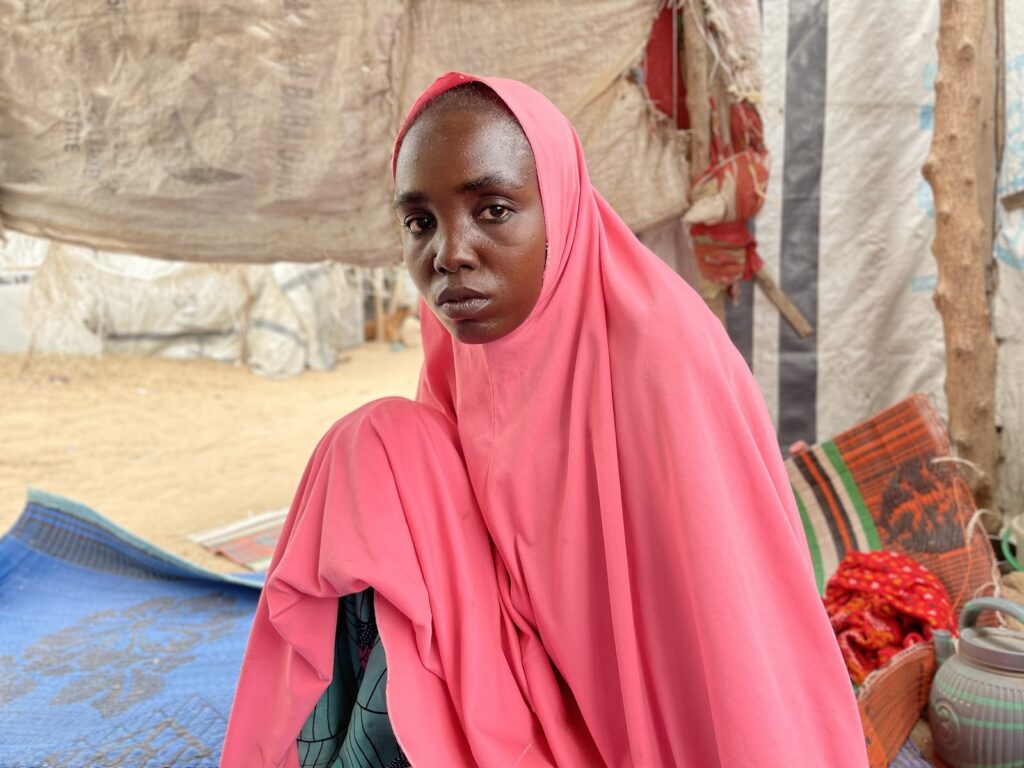 Finally, at 3 a.m. that night, she stood up to use the toilet. As she came out and tried to find her way back to the tent, she caught the shape of a wrapped and bundled baby near the backyard. She flashed her torch at the wrapped bundle.
And there lay Falmata.
Clothed in the same dress as that morning and placed neatly on the bare floor. By then, she was dizzy from crying. She grabbed her daughter and called out to other people, waking many of them up.
"The rest of the women asked me not to pursue the case or make noise about it, that I should just be grateful that I had found her."
And she was truly relieved and filled with gratitude. She was more grateful to have found her daughter alive because about a week before, she had heard the case of one woman whose son was also stolen right there in the camp. By the time the infant was found in a sack, he was dead. She had feared the same fate for Falmata and was relieved her fears did not come to pass.
But Amina's relief turned to dust in her mouth. Because 12 days later, Falmata died.
"I know they did something to her," she says. "I don't know what. Maybe they strangled her or beat her, or something, I don't know. But I am sure they did something to her."
She struggles to narrate this part. She places her head on one of her knees, her lips trembling from efforts not to cry. But she fails, and I think I see a tinge of rage somewhere in the sadness that has consumed her now.
She has many things in common with Yakura Gana, the other mother whose infant was stolen.
They are both internally displaced women in Nigeria's northeastern state of Borno. They are both widowed. They both laboured for 48 hours to bring their babies into the world. And they both had those babies stolen by unknown persons.
Yakura's baby was merely 15 days old, and she had named him Usman.
At around 10 a.m., she left the tent to have her bath. By the time she returned, Usman was missing. She was immediately alarmed because he could not have crawled anywhere. She searched everywhere but did not find Usman. She describes it as a moment of great distress.
"I had just lost my husband two days after giving birth, and my body was still sore from the prolonged labour of giving birth just two weeks before."
She was also 22.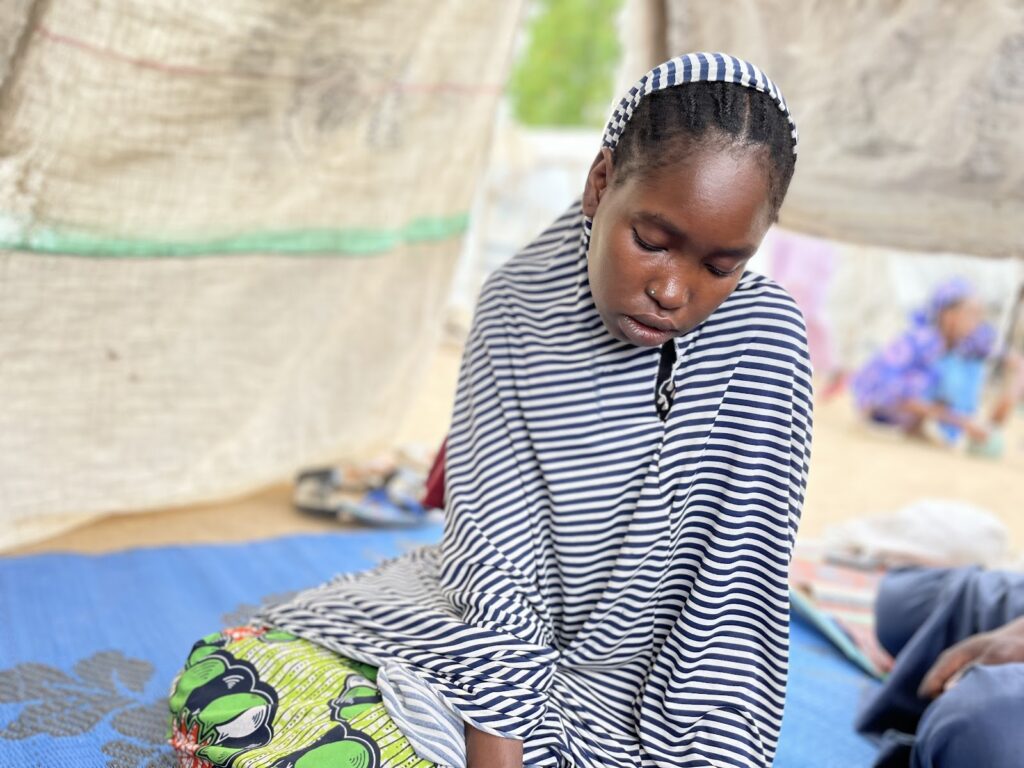 At around 6 p.m that day, as she dragged her body around the camp, searching, she saw something suspicious.
A woman was sauntering close to a fence with a heavy sack hung over her shoulder. Yakura could see from afar that there was a baby inside it. She called out to the woman, who turned around and, upon seeing her, began to panic visibly. Yakura attempted to scream, but it was not a very loud scream. She has a shallow voice. She had also been sickly and tired and hoarse from crying. Still, the woman seemed to realise that she had been found out, so she threw the sack on the floor and fled.
By the time Yakura reached the sack and opened it to find Usman inside it, he was already dead. His body was swollen, and he had some red patches all over. She thinks he suffocated and the scars resulted from the heat.
"I cried like no tomorrow," she tells me.
"I did not recognise the woman," she says of the kidnapper. "But it was not a familiar face. Maybe it was, I really don't know. I can't remember. I was very distressed."
When HumAngle reached out to the camp security officials for comments on these happenings and whether security measures were being taken to address them, they insisted that nothing like that had happened. However, when we contacted one of the camp's women leaders, she confirmed that it had happened and said it was expected that security forces charged with securing the camp would deny it.
It is safe to assume that whoever is taking their babies is domiciled within the camp and could be a neighbour or a family member. They can know when a baby has been left unattended and where, and successfully move it away from the tent.
During HumAngle's investigations, we found that similar cases have occurred across IDP camps in Borno and even in a camp in the northcentral region of the country. We also found that a similar case occurred in a camp in Konduga, along the road to Bama from Maiduguri. In the last two cases, the abductions were successful.
HumAngle could not independently investigate other possible cases of missing babies in all the other camps.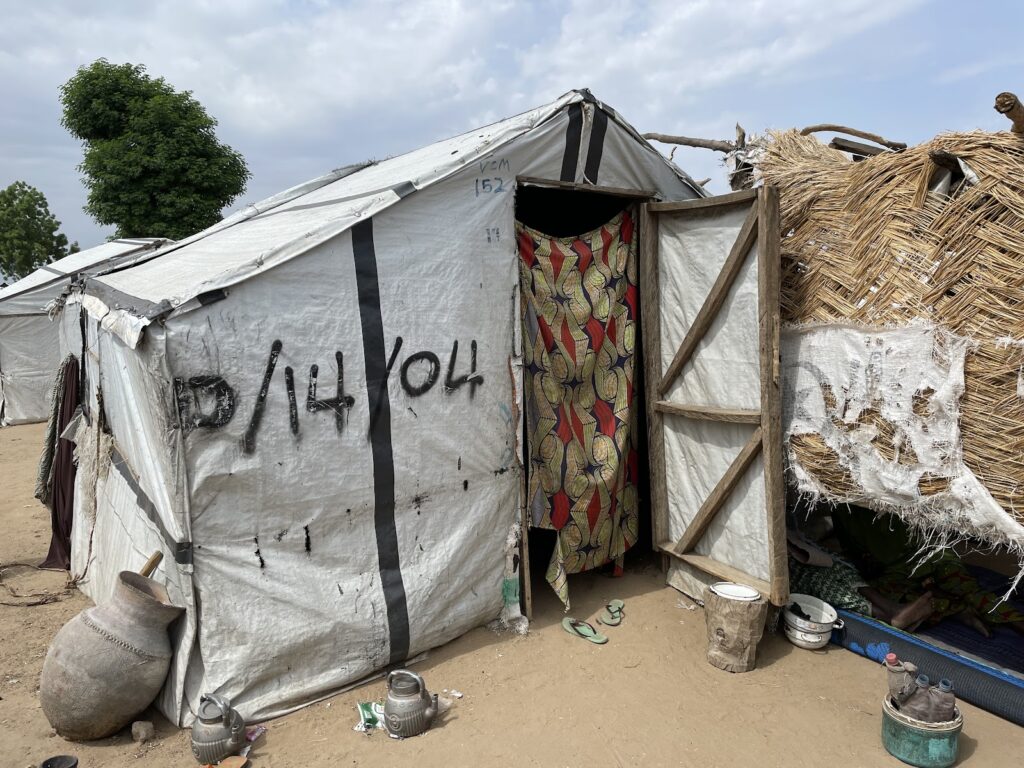 Since the Boko Haram insurgency first erupted in Northeast Nigeria over a decade ago, lives have not only been lost but destroyed. From young people who get abducted by the group and then recruited to those murdered at the points of attack. The insurgency has displaced over 2 million people in the country.
These 2 million people domiciled in official and unofficial IDP camps, and sometimes in host communities, are required to be protected and secured, now away from the non-state actors who made them flee their homes. But they continued to face various forms of insecurity in the camps too. It is why security forces and the military have introduced "security and vigilance measures" to help enhance IDP security. This has resulted in members of the Civilian Joint Task Force (CJTF) and vigilante groups being stationed at IDP camps to help with security.
The state governor approved ₦352 million ($846,887) in January last year for the CJTF operations. It is unclear how the fund was utilised as the information isn't publicly accessible.
Despite the allocation, several reports and research have shown that IDPs remain unsafe even in official camps. For example, HumAngle reported earlier this year that a solar-powered bomb was found in an IDP camp in Maiduguri.
HumAngle's calls and texts to Kamilu Sani, the police spokesperson in Borno, seeking to get his comments on these happenings, went unanswered.
But it is not only the police whose personnel are deployed in the areas. CJTF and vigilante group members man the camp in Bama where these cases of abductions occurred.
Babies being kidnapped and then found dead means that these units don't guarantee the security of IDPs. The vigilante group's denial of the occurrences implies that they are either genuinely unaware, in which case their efficiency will be put into question, or unwilling to admit it.
Some IDPs allege that they may be complicit.
HumAngle's GIS specialist, Mansir Muhammed, analysed the perimeter fencing around the camp, using photos and satellite data, and said that it was nearly impossible for a person to scale the fence without help, and so it is not a possible source of exit, especially when holding a baby.
"One person couldn't scale the fence," he said. "But if they had help — if someone else helped to push them up, they could."
Both Yakura and Amina are deeply traumatised by the experience, but so are many other mothers in the camp, especially single mothers, as their lack of partners leaves them more vulnerable. Their trauma has made them extra careful and vigilant, even as they remain unsure what the motivation might be. They think the babies are being taken away to be sold. What could happen afterwards, they do not know.
When I asked Yakura why she did not think to pursue the case, she said she did not see the need.
"The baby is already dead," she said, breaking into tears again.
Amina explains that many women in the camp have not felt safe and at ease since April when both cases occurred. There have always been cases of thieves cutting tarpaulin tents with a sharp object at night to gain entry and steal people's belongings, and they have nearly gotten used to the happening. But babies going missing is something they have been unable to desensitise themselves from.
And so they have resolved to lay a trap for whoever may be responsible.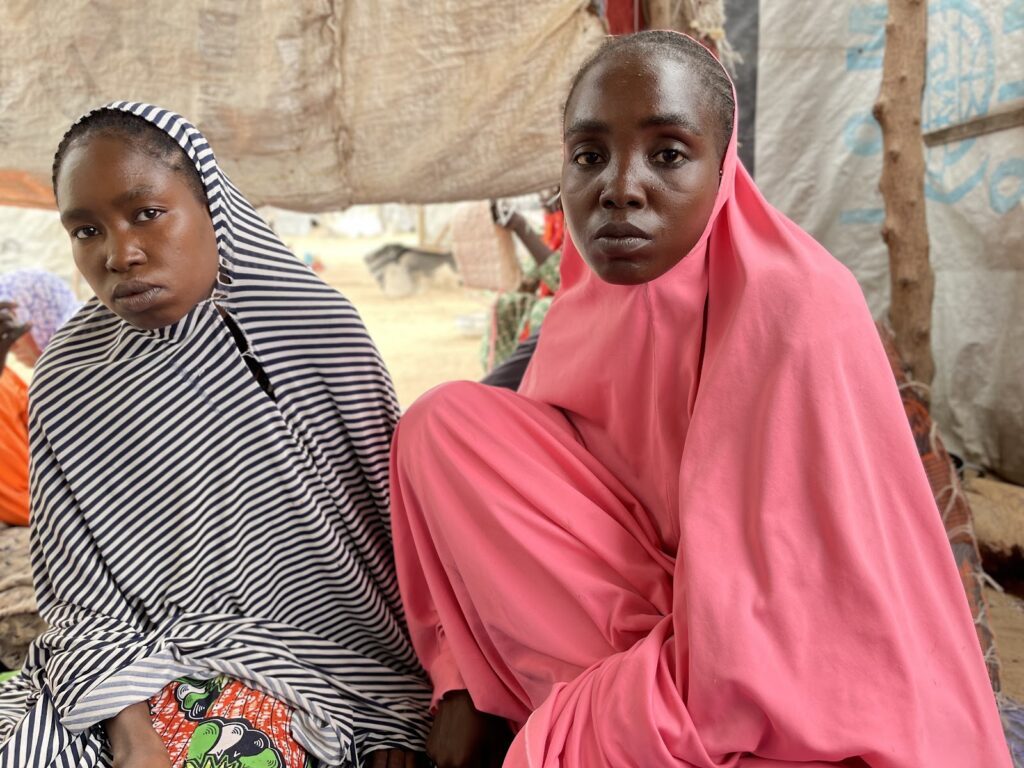 "Whoever is doing this, they will definitely do it again," Amina says. "Maybe they are just taking a break because the first two were unsuccessful. But they will do it again. So what we do now is that we are extremely more vigilant."
This does not mean that they leave their babies unattended.
"Sometimes, we deliberately leave the babies unattended in the camp, while someone hides nearby to observe what happens: if somebody will come and steal the baby. The person will definitely come back again."
Now, they wait.
---
This report was produced in partnership with the MacArthur Foundation under the 'Promoting Transparency in Insurgency-Related Funding in Northeast Nigeria' Project.
---
Support Our Journalism
There are millions of ordinary people affected by conflict in Africa whose stories are missing in the mainstream media. HumAngle is determined to tell those challenging and under-reported stories, hoping that the people impacted by these conflicts will find the safety and security they deserve.
To ensure that we continue to provide public service coverage, we have a small favour to ask you. We want you to be part of our journalistic endeavour by contributing a token to us.
Your donation will further promote a robust, free, and independent media.
Donate Here