Development
Displacement & Migration
Features
Some Nigerians Abroad Are Moving Back For Economic Reasons. Is This Reverse Migration?
Even though there has been a significant increase in the number of Nigerians migrating to the global West, some Nigerians who have schooled and lived in the US are returning to the country, largely citing economic factors as the reason.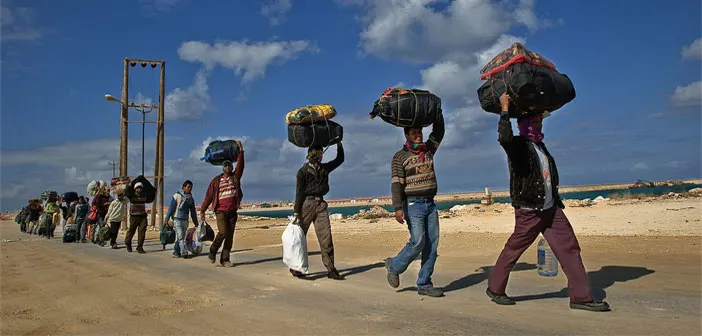 If given the opportunity, more than 7 out of 10 Nigerians would leave the country, according to a survey by the Africa Polling Institute. 
Many Nigerians are leaving because of few employment opportunities and rising insecurity in the hopes of more viable prospects abroad.
The latest report from the National Bureau of Statistics (2020) reported that youth unemployment for those aged 15-34 is at 42.5 per cent, with youth underemployment at 21.6 per cent.
Yet, some Nigerians who have schooled and lived in the US are returning to the country, largely citing economic factors as the reason.
Nneka's Migration Story
Business Analyst, Nneka Ofor, was born in Nigeria and migrated to the US state of Georgia when she was a child. Her father, a civil engineer, and her mother, a real estate investor, kept their connection to Nigeria. Every year they would visit their family home in Abuja. She relocated in 2009 because of the difficulty she had in building generational wealth in America. According to a Pew Research Center study, the net worth of typical white families was almost ten times greater than Black families in 2016. The US has a history of implementing discriminatory policies that have barred Black people from securing and sustaining wealth. These practices have created an inequity that has had lasting effects.
"Opportunity for real wealth is concentrated at the top, and even when you do obtain it, the laws are set up to easily take it from you. Relocation was a matter of long-term survival," Ofor said.
Ofor initially travelled to Abuja, the federal capital, as part of a study abroad program at the University of Georgia. She interned at an International NGO, hoping it would lead to employment. The NGO had promised to retain her, but every time she applied for a position they would give it to someone else. "Typically, Europeans got the good jobs. Nigerians got, at best, support jobs. I had the skill set and critical thinking ability to thrive there. I just kept being used by the system," she said.
After graduation, Ofor decided to apply for other jobs while volunteering at the NGO. She was a finalist for a sensitization project in Anambra State and was hopeful she would get it. "I was even willing to move to Anambra," she said. But when the interviewer asked her to pay N600,000 to secure the position she decided to continue working probono at the other NGO to expand her portfolio.
In 2011, she applied for a position at a business firm and moved into consulting. The firm wanted to rent furnished apartments to house staff and asked Ofor to assist in scouting properties. She received a five per cent commission and was amazed at how well she was compensated. "That was my two months' salary at the time…so I started thinking about making it a business," she said.
Ofor has since started her own real estate company which has 200 tenants in Abuja. She brings in 10 figures annually across four states in the country. Though moving has allowed her to create generational wealth, she admitted that integrating into a new environment is difficult when you're "one hundred per cent Nigerian and simultaneously not one hundred per cent Nigerian at the same time."
She asserted that Nigerians who have been abroad must know when to submit to the system, stating, "There is a certain superiority complex Nigerians from abroad come back with. Nobody cares about your moral or intellectual superiority. The only way to survive here is through grit, patience, and perseverance."
Michael's Migration Story
Michael Kayode was born in Nigeria and moved to Maryland when he was nine. He relocated to Nigeria in 2002 but relocated to Ghana due to its better infrastructure in 2020.
He left the US to spread his knowledge of technology in Africa. "I feel Nigeria and Africa can use technology to bring all Africans together and away from the shadow of the West," he said. He hoped for a sense of adventure and a chance to live in a society where race was not a source of insecurity.
He went to work as a web developer in Lagos, a major tech and economic hub in West Africa. Later, he would leave Lagos for Abuja because the state was overcrowded.
Kayode spoke further about his experience, stating, "I understand there's a great need to integrate Western culture into Nigerian culture or vice versa, but there seems to be a complete favour for the former." He says that living in Africa is difficult due to the high cost of interstate air travel, adding that "it could be cheaper." Though he prefers how large Nigeria as a nation is, the country's lack of employment opportunities is not sustainable. In 2021, he made the move to Accra. His decision to leave the US was a surprise to many Nigerians. Many people did not understand why he would give up the opportunities he had in the West.
Kayode has also met economic and social challenges in Ghana, saying the country tends to be hostile toward Nigerians. The xenophobia adversely impacted his ability to get an apartment. This experience led him to give up hope of living in a country where he wouldn't face discrimination. "I stopped expecting much from people," he explained. "I just look at it as something to study."
He also adds that he still faces economic pressures, recognising that both places have pros and cons. "Ghana is generally more expensive than Nigeria. I had to settle for an apartment for the same amount that could get me more in Nigeria or elsewhere. Ghana is smaller than Nigeria, so getting to places is easy; that's a win." He is still looking to work on a "meaningful" project in Africa, but says that it's "hard to gain support."
Kayode says he will return to Nigeria if there is an infrastructure initiative that can help make life better for people in the country.
Is Reverse Migration The Answer?
More Blacks/Africans are leaving the West for Africa and the Caribbean, with this reverse migration having its own term, Blaxit. Ghana hosted the Year of Return in 2019, a year-long programme where over one million people from the African Diaspora travelled to the country. So far, the West African nation has welcomed up to 5,000 Black American expatriates. Ethiopia's Prime Minister Abiy Ahmed, issued the #GreatEthiopianHomecoming challenge for Ethiopians in the diaspora to return, with the promise of citizenship.
The name, given by academic and human rights activist Dr. Ulysses Burley III, captures the exodus of this population back to their ancestral homelands.
Uchenna Obi, a Nigerian-American who relocated to Abuja in 2013 and works in international development, said there needs to be realism about making such a transition, adding that a decision cannot be made based on a few visits.
"Inflation is rising, people aren't happy, and you have to live in that. I encourage people to be well informed about the decision they're making. Coming from outside won't benefit you quickly," she said. 
---
Support Our Journalism
There are millions of ordinary people affected by conflict in Africa whose stories are missing in the mainstream media. HumAngle is determined to tell those challenging and under-reported stories, hoping that the people impacted by these conflicts will find the safety and security they deserve.
To ensure that we continue to provide public service coverage, we have a small favour to ask you. We want you to be part of our journalistic endeavour by contributing a token to us.
Your donation will further promote a robust, free, and independent media.
Donate Here