Analyses
Extremism
News
Soft-Jihad: How Terrorists Use Propaganda To Attract Local Support
To avoid repeating the mistakes of Shekau's faction, which used bloodshed to instil terror, the ISWAP faction of Boko Haram is now employing different propaganda methods such as providing support to locals and vowing to implement Sharia as a justice system without emphasising "hudud" - severe punishments like stoning to death for adultery and amputation for stealing.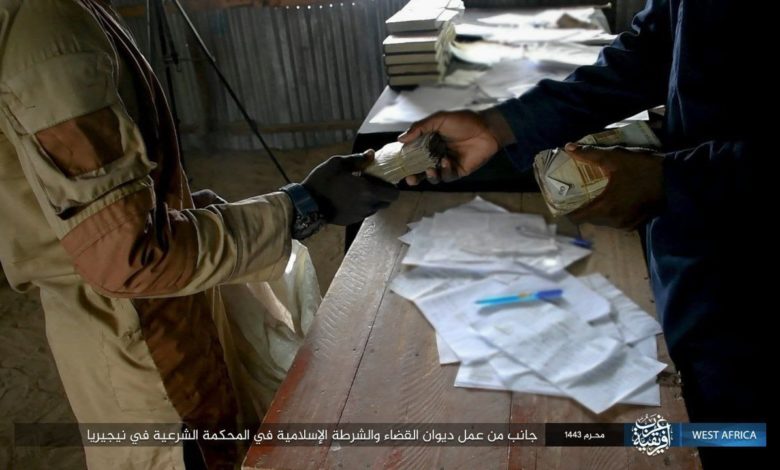 The Islamic State West Africa Province (ISWAP), a breakaway terror group from Boko Haram, recently released photos of its Sharia court in one of the Lake Chad provinces under its control. The images showed the terrorists dressed in their "uniforms" in a structure raised with a zinc metal, with a turbaned "Qadhi" (Sharia court  judge) seated on a chair, with heaps of huge Arabic/Islamic volumes on a table in front of him. 
The structure is an example of a typical Sharia court that can be found in a remote village in Northern Nigeria. Behind the judge stood an ISWAP flag, and two court secretaries sat by his side, taking notes and signing papers in Arabic, their adopted official language. 
Other images showed one of the terrorists receiving a huge sum of money from the court bursary as compensation from the "Diwanil Qadha'a Was Shurta" (Court of the Judiciary and Police) for an unspecified offence.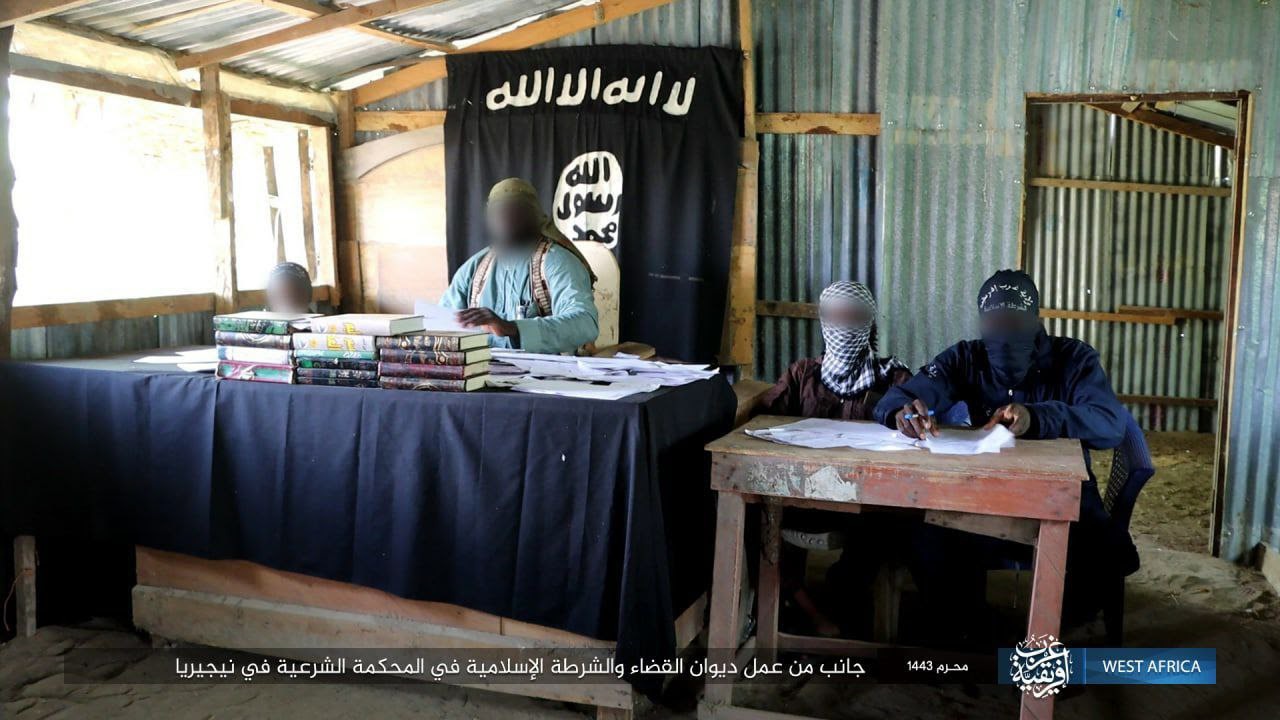 The images might be intended to entice members of the Jama'atu Ahlussunnah Lidda'awati Wal Jihad (JAS), the fugitive members of the Abubakar Shekau's faction of Boko Haram, to join the ISWAP militants rather than surrender to the Nigerian Army or the aggrieved member of the group. ISWAP had previously offered to welcome JAS fighters into its faction and to establish a court to compensate for the "terrorism" crimes committed by Shekau before he blew himself up, as Abu Mus'ab Albarnawi, the leader of the ISWAP described it in an audio obtained by HumAngle.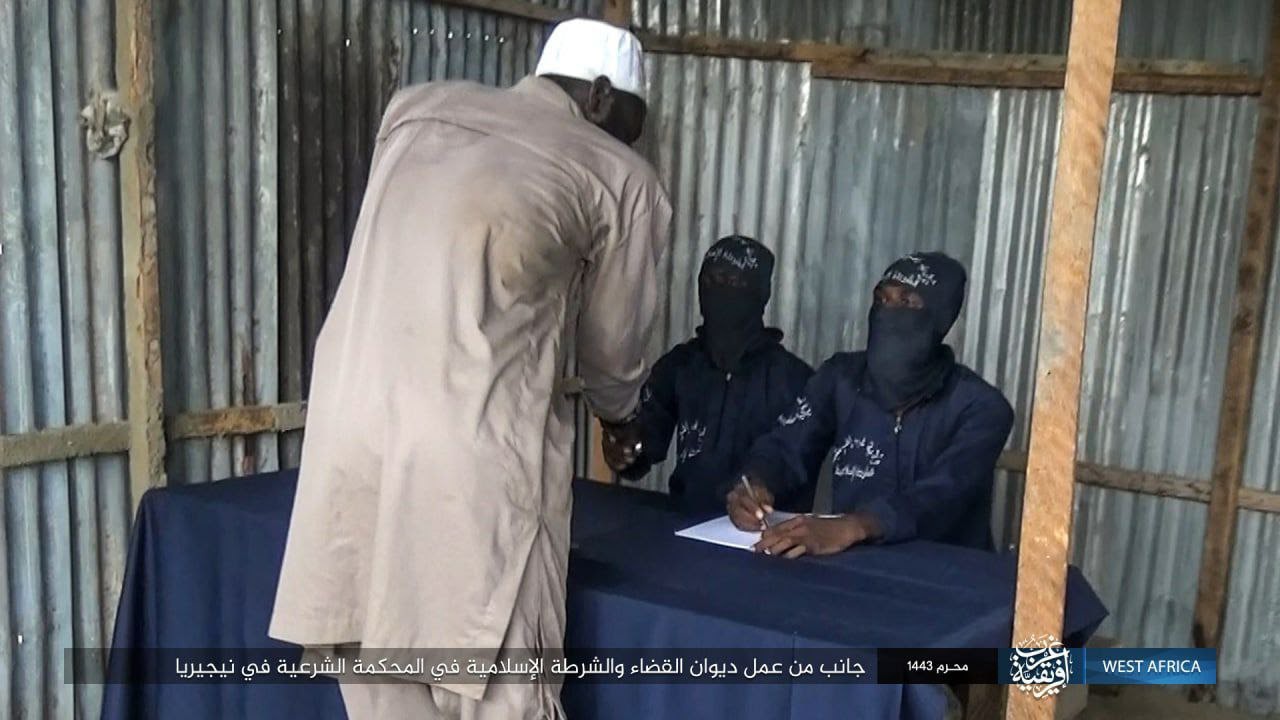 Since its inception, Boko Haram has grasped and exploited the views of many Muslims in Northern Nigeria who believe that justice can only be achieved by completely disregarding man-made laws and ideologies and accepting 'heavenly laws' through Sharia. 
Frustrated by injustice and generational inequality under successive Nigerian governments, terrorists blamed "yan boko" (western educated) for introducing a system alien to the cultural and religious milieu of the northern region, resulting in the destruction of pre-existing Islamic order and bringing suffering and poverty. 
ISWAP is attempting to be more strategic in its activities to divert from the brutal tactic of establishing Sharia rule that was followed by Shekau, which is regarded as harsh and excessive by even some members of Boko Haram. The group's propaganda campaigns attempt to portray the gang as a well-organised organisation with a strategy to implement justice in the regions under its control. 
According to some accounts, the group provides social amenities to some hard-to-reach parts of Lake Chad abandoned by the government. 
During the Sallah (Eid) celebrations (Muslim festivals), terrorists were observed distributing cash to youngsters as gifts, as many peaceful Muslims in Northern Nigeria do. In contrast to the regular videos released by Shekau's side showing young children brandishing guns and pledging to spill blood, the toddlers were seen cheerfully collecting money from the terrorists; a lecture session then followed for teeming masses in the province. 
Loopholes and manipulations: Historical roots 
Before declaring war on Nigeria's secular government, Boko Haram's founder, Muhammad Yusuf, laid some ideological foundations preparing his supporters for violent jihad – from rhetoric to actions. His major arguments were against democracy at a period when there were numerous debates regarding the concept among Muslims in Northern Nigeria. 
Although Yusuf attempted to establish his anti-democratic arguments as the primary cause of his radicalisation, numerous circumstances converged with mutually reinforcing variables in leading to the acceptance of his interpretation of Islam by many young people in Borno State. Many of the teens who have joined him in the radicalisation process have expressed their dissatisfaction with local and international political trends. 
Yusuf was able to recruit members mostly among disillusioned young people, unemployed secondary school and university graduates, and destitute children, primarily but not exclusively from Northern Nigeria. Its membership also includes some wealthy, educated, and influential individuals who embrace his radical ideals in an attempt to bring a 'change.' 
Religious motivations were at the heart of convincing people to join Boko Haram, according to a study performed by the United States Institute of Peace. This perception among individuals and organisations interviewed during the course of the study may be "driven by the fact that Boko Haram claims to be an Islamic group and portrays itself as a sect that denounces the Western style of education as un-Islamic and thus forbidden." 
'This is our creed'
Muhammad Yusuf, like other Jihadists around the world, began by providing theological justifications for labelling everyone who disagrees with his ideology as kafir – an Arabic word that means unbeliever and can lead to excommunication. The theological importance of the word is intended to be an "othering" strategy to deter individuals from publicly criticising a new worldview. 
Yusuf's ultimate goal was to use his understanding of Shari'a to replace secular democracy. He had also condemned the philosophy underlying western education, which he called colonialist and containing elements that contradict Shari'a, which forbids teaching or learning theories such as Darwinian biological evolution, Freudian psychoanalytical interpretation, and Durkheim sociological theories. 
Yusuf discussed democracy and national symbols in his "Hadhihi Aqidatuna Wa Minhaj Da'awatina" (This is Our Creed and Method of Proclamation), which he attempted to refute by quoting popular Salafi scholars such as Ibn Taimiyya and Ibn Uthaymeen, as well as international terrorists such as Abu Mus'ab Alzarqawy who opposed democracy.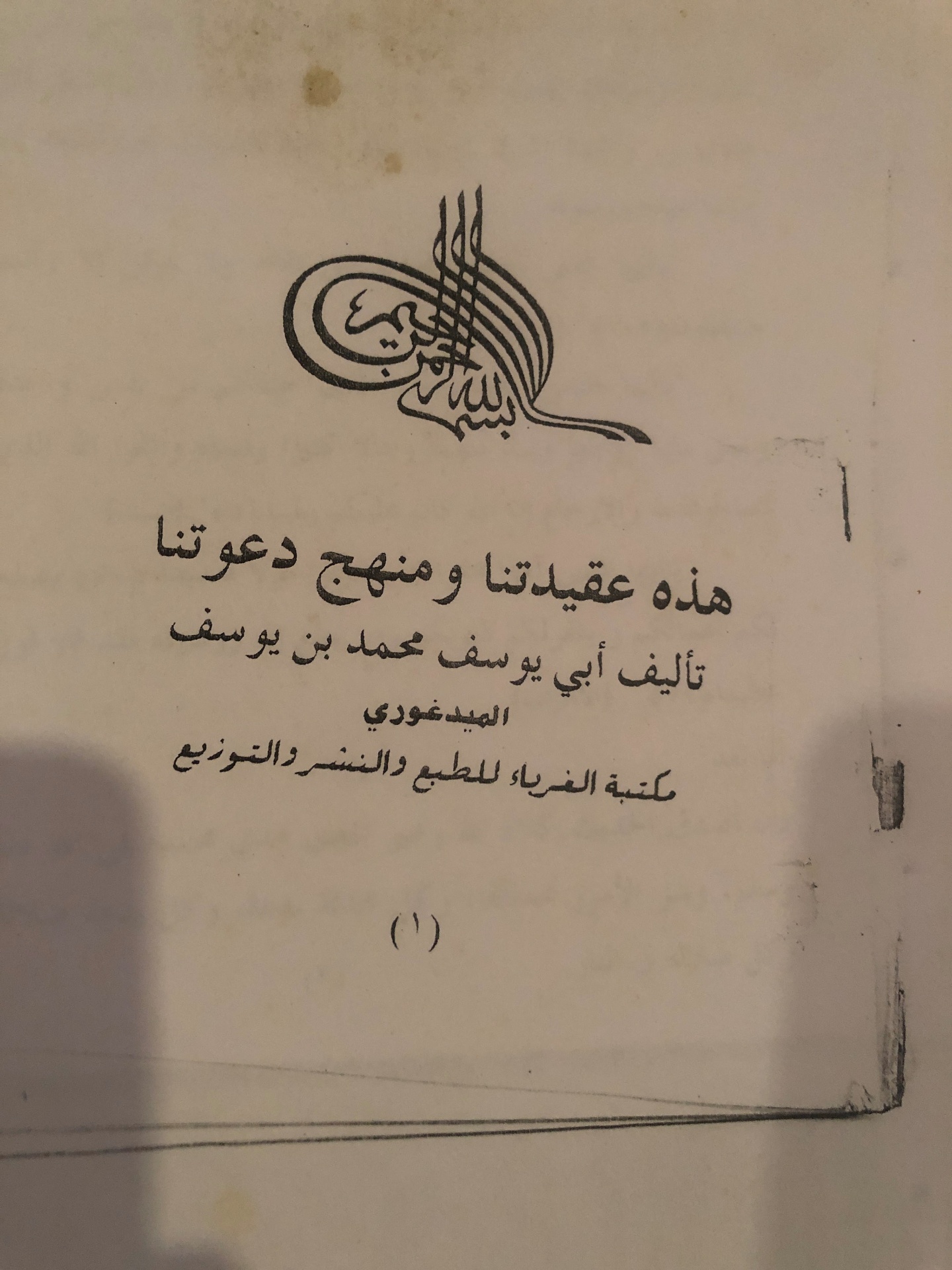 On page 37 of the book, he expressed his scorn for democracy and explained why he did not believe in it, saying, "We do not believe in democracy, which has appeared on the face of the earth at the hands of Allah's enemies, the Jews and the Christians." In the guise of liberty and popular rule, they claim to be Allah, but we know for certain that justice is based on what Allah has revealed, not on what mankind has invented as a system." 
Contrary to popular belief, Yusuf was not entirely opposed to western education, but he was opposed to some methods and principles taught in schools. In "Hadhihi Hujjatuna," he listed some of the "reprehensible" activities he opposed in secular schools, including mingling sexes, women adorning themselves, physical sports like football, women travelling alone without a male guardian, and the spread of unlawful sexual encounters (zina). 
Working under a secular government, Yusuf claimed, would imply complete obedience to its system and loyalty to its "polytheistic" ideas. He stated that everyone who worked for a secular government or taught secular ideology in schools had directly contributed to the formation of anti-Islamic governance. 
Yusuf's teachings gained traction in the North because of a pre-existing belief that 'Western education' in Nigeria was brought by British colonialists to undermine Islamic principles and sustain Western rule. Western education is still looked at by many people in Northern Nigeria as a necessary evil, hence the new emergence of two groups of people – one claiming "boko" is a necessary evil (Boko Sana'a) and the other accepting it for modernisation and innovation. 
---
Support Our Journalism
There are millions of ordinary people affected by conflict in Africa whose stories are missing in the mainstream media. HumAngle is determined to tell those challenging and under-reported stories, hoping that the people impacted by these conflicts will find the safety and security they deserve.
To ensure that we continue to provide public service coverage, we have a small favour to ask you. We want you to be part of our journalistic endeavour by contributing a token to us.
Your donation will further promote a robust, free, and independent media.
Donate Here