Analyses
News
Security & Tech
Smartphone Addiction: When A Vital Tool Threatens Health, Safety
Nomophobia - the fear of being without a mobile phone - has affected our mental health. The use of the device has also changed the way we interact with ourselves. No invention in human history has affected us as much as a smartphone.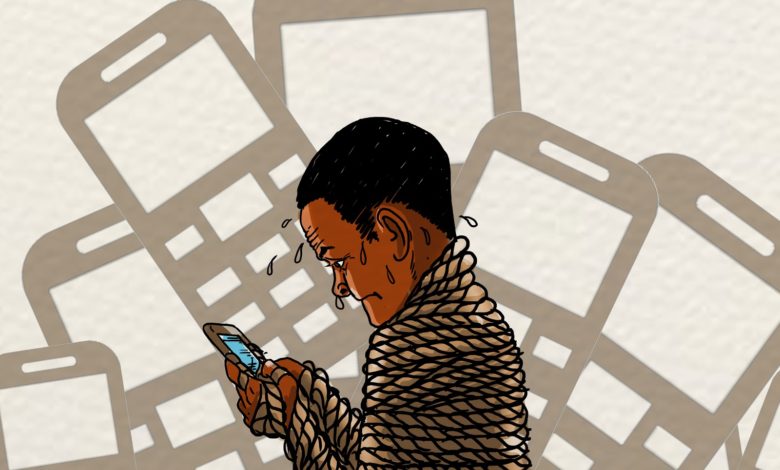 When Adeyemi Olatundun's alarm goes off at 6 a.m., the first thing she does after turning off the alarm is to check her social media notifications from the previous night. She then goes out of her room for morning prayers, after which she becomes inseparable from her phone. This marriage with her phone follows her to the kitchen, the bathroom and through the rest of the day.
Acknowledging her addiction, Olatundun, who is a legal practitioner, said, "I cannot think of a specific 'when'. But I cannot remember a time I have ever been able to not press the phone for hours non-stop. Be it during court sessions, office meetings etc, I can't just seem to want to put it down. I cannot help myself. I like to tell myself I am in control and can climb out the rabbit hole at any time, but we all know that's easier said than done."
Olatundun's phone addiction challenge is not an isolated case. According to the PEW Research Center, 67 per cent of smartphone owners have admitted to checking their phone for calls or messages even when it does not vibrate or ring.
GeoPoll, a global think-tank, conducted a survey across African countries which revealed that the use of social media platforms has become second nature to African Millennials' lives; WhatsApp and Facebook rank among the platforms with the most usage. 56 per cent have created and are most active on WhatsApp, while 31 per cent are active on Facebook. 
Not only do African millennials spend more time on their smartphones than on any other gadget on a daily basis, but they are also more likely to be on WhatsApp chatting. A majority (46 per cent) are actively engaged daily in at least one to three WhatsApp groups.
The addiction, as Aaminah, a student revealed, has affected her studying patterns. In Tiamiyu's case, she had tried to overcome the addiction. However, she told HumAngle that as soon as she mutes or turns off her phone, she "will turn it back on to avoid missing calls." She is constantly experiencing FOMO (Fear Of Missing Out). Tiamiyu also laments that addiction to her phone is a financial burden too, because of data cost.
Spotting phone addiction
Psychguides, an American addiction centre resource website, notes in a report that "although cell phone addiction is not yet listed in the Diagnostic and Statistical Manual of Mental Disorders, 5th Edition (DSM-5), research has compared it to gambling addiction, which has clearer diagnostic criteria and is included in the DSM-5."
The report states further that "at least 4 of the following signs and symptoms are thought to comprise criteria for cell phone addiction, and the problematic cell phone overuse must cause significant harm in the individual's life:"
"A need to use the cell phone more and more often to achieve the same desired effect; persistent failed attempts to use cell phone less often; preoccupation with smartphone use; turns to cell phone when experiencing unwanted feelings such as anxiety or depression; excessive use characterized by loss of sense of time; has put a relationship or job at risk due to excessive cell phone use; tolerance level depletion; need for newest cell phone, more applications, or increased use; withdrawal, when cell phone or network is unreachable, leading to anger, tension, depression, irritability, and restlessness," it concludes.
Does prolonged phone usage affect mental health?
Dr Yemi Obabire, a psychiatrist at the University of Ilorin Teaching Hospital (UITH), explained that phone addictions affect physical and mental health. In comparison to drug addiction, he said it can be as harmful or worse. 
When asked by HumAngle if people are getting medical help for phone addiction, he mentioned that "there isn't enough data for us [medical practitioners] to make proper diagnosis and recommend appropriate evidence-based intervention." He added, "But awareness is rising already and we look out for it [medical support]." 
While some believe phone addiction is tied to a lack of discipline, the increased rate of virtual workspaces, accelerated by the COVID-19 pandemic, has also put professionals on edge. Hammid, a journalist, mentioned that "basically, my work demands me to be on my phone 24/7. So it is always me being at the office in the morning and if not with my phone, it's my system."
Halimah Adisa, whose addiction moves her to tears, told HumAngle that she "get[s] bored when it [her phone] goes off. Sometimes, I cry if they don't restore the power on time."
While phone addictions are mental hazards, constantly being connected to the internet can have even more dire consequences. 
Phone pressing has even dire privacy concerns
In 2019, Thomas le Bonniec, a former Apple employer, revealed to the Guardian that the Apple voice assistant app, Siri, was used to listen to everyday conversations people were having, including "confidential medical information, drug deals, and recordings of couples having sex, as part of their job providing quality control, or "grading", the company's Siri voice assistant."
Despite the European Union (EU) having one of the best privacy protection laws, Apple has been able to get away almost scot-free with these allegations. 
There are allegations that the Google Assistant app is also listening to conversations. Amazon voice assistant, Alexa, is also guilty of listening to our most intimate moments, recording our patterns, gathering information from us, and using them to improve their products. Google, Amazon and Facebook have all been accused of monitoring our daily activities. 
Thomas, in his confessions to the Guardian mentioned that "the system recorded everything: names, addresses, messages, searches, arguments, background noises, films, and conversations. I heard people talking about their cancer, referring to dead relatives, religion, sexuality, pornography, politics, school, relationships, or drugs with no intention to activate Siri whatsoever."
What do they use all the data gathered for?
Prof. Yuval Noah Harari, an Israeli historian and author of three books (Sapiens, 21 Lessons For The 21st Century, and Homo Deus) analysing humans and our relationship with tech, in an interview with Wired, informs us that the data gathered from our overreliance on our mobile devices and the internet will be used to 'hack' us. 
He warned that "to hack a human being is to understand what is happening inside you on the level of the body, of the brain, of the mind, so that you can predict what people will do. You can understand how they feel and you can, of course, once you understand and predict, you can usually also manipulate and control and even replace. And of course, it cannot be done perfectly and it was possible to do it to some extent also a century ago. But the difference in the level is significant."
Prof. Harari added, "I would say that the real key is whether somebody can understand you better than you understand yourself. The algorithms that are trying to hack us will never be perfect. There is no such thing as understanding everything perfectly or predicting everything. You don't need to be perfect, you just need to be better than the average human being."
Speaking on the impact of reliance on the phone,  Tristan Harris, who runs the Center for Humane Technology, told Wired that he thinks "a good example of this [addiction and hacking] is YouTube. You open up that YouTube video your friend sends you after your lunch break. You come back to your computer and you think OK, I know those other times I end up watching two or three videos and I end up getting sucked into it, but this time it's going to be really different."
"I am just going to watch this one video and then somehow, that is not what happens. You wake up from a trance three hours later and you say, 'What the hell just happened?' And it is because you did not realize you had a supercomputer pointed at your brain. So when you open up that video you are activating Google's billions of dollars of computing power and they have looked at what has ever gotten two billion human animals to click on another video. And it knows way more about what is going to be the perfect chess move to play against your mind."
The stalking and hacking potential of our devices are not limited to voice assistants. The Google Chrome browser now almost knows us than we know ourselves, and the data gathered is used to trigger impulsive behaviours. 
Tristan also mentioned that "it is not that we are completely losing human agency and you walk into YouTube and it always addicts you for the rest of your life and you never leave the screen. But everywhere you turn on the internet there is basically a supercomputer pointing at your brain, playing chess against your mind, and it's going to win a lot more often than not."
Can we escape addiction and protect ourselves?
Phone addictions are a catch-22 situation; almost all the help you need now has been relocated to the internet. Your medical appointments, hacks, self-help and counselling can be accessed primarily through the internet. To fight your addiction is to submit to the algorithms, which then trigger you into more impulsive behaviour.
However, both Yuval and Tristan encourage that phone-users should be self-aware. To understand that they are hackable and that the algorithms are working all the time to gather the tiniest bit of information about us. Thereafter, we should practice having off times. 
Esther Ebeh, who spoke to HumAngle, has hacked this. She said she took charge of her addiction by changing her routines. She would "wake up, sit quietly and meditate on a scripture or song, pray, go for a run, bath, dress up for work, read two chapters of a book" before picking up her phone. 
By staying off the internet and away from her phone, it is more difficult for her providers to gather more data on her. 
As medical practitioners argue on the components of addiction with phone usage, users have a responsibility to protect their mental and physical health, as well as their privacy by actively controlling their addictions.
---
Support Our Journalism
There are millions of ordinary people affected by conflict in Africa whose stories are missing in the mainstream media. HumAngle is determined to tell those challenging and under-reported stories, hoping that the people impacted by these conflicts will find the safety and security they deserve.
To ensure that we continue to provide public service coverage, we have a small favour to ask you. We want you to be part of our journalistic endeavour by contributing a token to us.
Your donation will further promote a robust, free, and independent media.
Donate Here