Analyses
Armed Violence
Development
News
Sierra Leone: The Wounded Nation In Need Of Dialogue And Healing
The English-speaking West African country has enjoyed 20 years of peace and stability after the end of a civil war that lasted from Mar. 23, 1991, to Jan. 18, 2002. Now it is on the brink of yet another political dispensation and pre-war challenges are beginning to rear their ugly heads.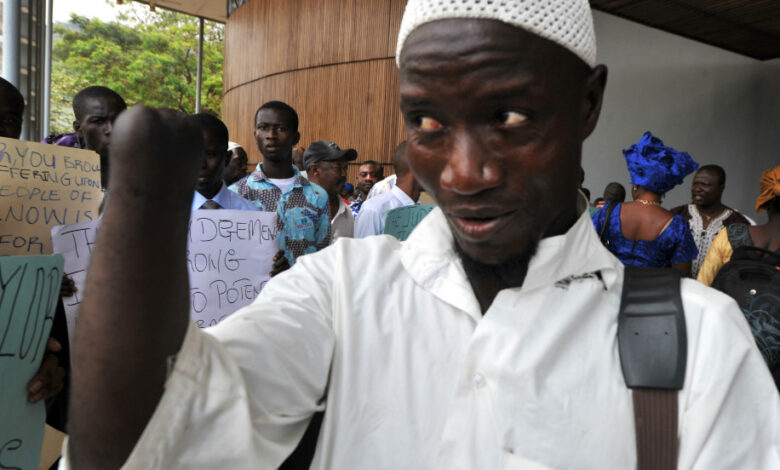 In March 2022, Sierra Leone marked 31 years since the first shots were fired to signal the onset of what would become a brutal war that lasted a decade. 
As a nation, Sierra Leone is still deeply wounded. The country's wounds were not just inflicted by the civil war, which started on Mar. 23, 1991, in the eastern town of Bomaru in Kailahun District but by the actions, utterances, and inactions of its leaders, its people, and those who claim to love it.
Since it gained political independence 61 years ago, Sierra Leone has been led by a succession of wounded leaders, run by deeply wounded institutions, and inhabited by scarred people. Some may argue that the wound even predates political independence, while others may ask what it really is.
What is this 'wound'?
The philosophical concept of the wounded dates back to ancient Greek times, according to Jennifer Selig (2009). In this case, it is used from the psychological and psychosocial perspectives. It is also used metaphorically to refer to our collective hurt as a society.
Sierra Leone's wound is not necessarily physical, although people with amputation and the war-wounded will disagree: It refers to a nation's psyche and emotional sufferings. A country of psychologically injured and emotionally scarred people battling with individual and collective lacerations.
The hurt has been both self-inflicted and externally induced, and no one has managed to escape it. Moreover, it is prevalent among the so-called "lumpenproletariat" and the relatively affluent. Almost every Sierra Leonean, particularly those living in the country, suffer from one trauma or another. Therefore, the product is a nation of traumatised and frustrated people.
In 2019, Nomfundo Mogapi, the then Executive Director of the Centre for the Study of Violence and Reconciliation (CSVR), explained this concept to a gathering of government and civil society representatives from countries across West Africa. She argued that our societies are wounded and traumatised and are being governed by wounded and traumatised leaders. She believes that many societies, especially African ones, struggle to live peacefully, harmoniously, and healthily because they are grappling with inter-generational wounds.
61 years after political independence
A wounded society is one in which almost everybody is aggrieved. It is a society populated by people with disenchantment and disaffection towards and among each other. But particularly towards the established structures of governance and statehood. It is a society characterised by deep distrust between the State and the people. It is a society where almost everyone is angry and despondent.
We are all wounded people, whether physically, emotionally, mentally, or spiritually. Almost every living adult in Sierra Leone has been directly or indirectly hurt by one aspect of the State or the other. Historically, we have been wounded through slavery, the slave trade, inter-ethnic wars, colonialism, and so on. We have been wounded politically through elections, political mis-appointments, political sackings and nepotism. We have been wounded economically – through the rising cost of living, lack of wealth distribution/circulation, inflation, uncontrolled spending and wastefulness, and an unfavourable business environment for the private sector to thrive. We are wounded by the vengeful politics and attitudes of both administrative and political leaders. We are wounded by the behaviour of our public officers for denying us services that ought to be basic and essential.
When a 17-month-old baby dies in a police cell where the mother had been detained for allegedly stealing a handbag, that experience wounds all other caring mothers in the society. We are wounded by the daily occurrence of police brutality and impunity. When a newborn baby in need of oxygen dies at the children's hospital for a lack of both oxygen and electricity, that experience wounds the conscience of all parents in society. We are wounded by a dysfunctional health system that is incompetent to provide healthcare services for the masses.
We are wounded by the utterances of our public officers who use data to misrepresent our lived experiences or dismiss our claims. We are wounded by the electricity distribution agency that cannot distribute electricity efficiently and adequately. We are wounded by the water company that is incapable of providing enough water for the consuming public. We are wounded by corrupt officials who spend billions of leones on frivolities. We are wounded by the justice system that is meant to provide judicial remedies to some of our wounds.
It gets deeper and appears almost impossible to heal because our societies are run by wounded institutions and leaders.
Wounded institutions
According to the Centre for Mental Wellness and Leadership (CMWL), wounded institutions have four main characteristics. Firstly, they are highly conflictual and intrinsically incapable of dealing with both internal and external conflicts. Wounded institutions such as those in Sierra Leone are failing in their mandate to resolve conflicts with their respective clients and service users. In most cases, the service users are left worse off and more traumatised after interacting with these institutions.
Another way wounded institutions display their tendency is by the divisions they cause and perpetuate. It is alleged that many public-serving institutions in Sierra Leone are divided along regional, ethnic, and political lines and affiliations. This claim may need further analysis, but political affiliation is the most prominent division in our wounded institutions.
The third element of a wounded institution is exemplified by how weakened they become over time, thereby unable to carry out their mandate. From the Electricity Distribution and Supply Authority (EDSA) to Guma, the National Public Procurement Authority (NPPA) and National Civil Registration Authority (NCRA), almost all our public institutions have been weakened by internal divisions, incompetence, square pegs in round holes and misplaced priorities.
Despite several attempts at institutional reforms after the end of the war, many of our public institutions remain victims of the Arrested Development phenomenon. As a society, Sierra Leone has not genuinely healed from troubled historical markers such as pre-colonial wars and inter-ethnic conflicts, slavery, colonial-era violations and abuses. The decade-long war arguably exacerbated the wound on many of these institutions.
But 20 years after President Kabbah declared "Di War Don Don," one would have expected to see significant progress. The various political changes and transitions after the war have not helped to fully heal the institutional wounds. A friend in one WhatsApp group even suggested that recent happenings in the country have worsened the wound. The "penda" is getting deeper and sorer, and the associated pains even deeper.
Genuine dialogue is the way forward
So, as we recently marked 20 years of "Di War Don Don," and celebrated 61 years of political independence, let us focus on what could heal our national wounds – dialogue. As we prepare for elections in June 2023, we need to ensure that we don't retreat into the trenches of war and atrocity. I am a firm believer in dialogic engagements. I believe that the most reliable path out of our current political quagmire is genuine dialogue between and among all interest groups.
My experience as a researcher of conflicts and crises in Africa and beyond has taught me that no nation has survived its challenges without a sustained and genuine dialogic process. As a society, we need to engage with ourselves in what Paulo Freire refers to as critical self-reflection, to learn and unlearn. Our leaders need to engage in a dialogue to listen, not defend and/or deflect. Ordinary people also need to engage with nation-building initiatives to transform society and our collective situation. Dialogue is the necessary pill that the country needs to heal.
---
The author is Director of the Africa Transitional Justice Legacy Fund (ATJLF), based in Accra, Ghana.
---
Support Our Journalism
There are millions of ordinary people affected by conflict in Africa whose stories are missing in the mainstream media. HumAngle is determined to tell those challenging and under-reported stories, hoping that the people impacted by these conflicts will find the safety and security they deserve.
To ensure that we continue to provide public service coverage, we have a small favour to ask you. We want you to be part of our journalistic endeavour by contributing a token to us.
Your donation will further promote a robust, free, and independent media.
Donate Here