Development
Features
News
She Went Out To Get Water But Came Back With Fractured Knee
Now, she relies on vendors to survive.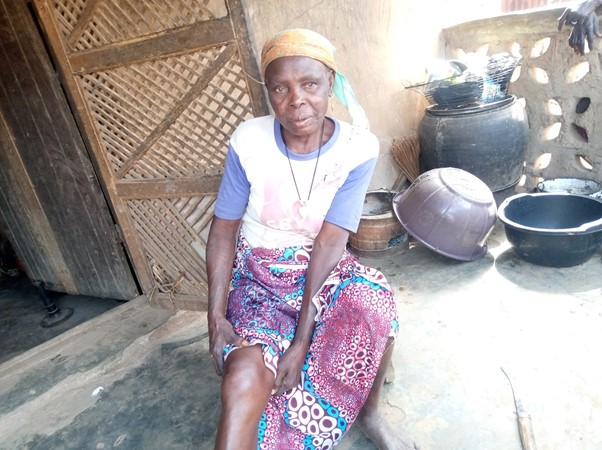 With unkempt hair and wrinkled skin that reflect her age, Aliyu Salamatu leans on the door frame as she calls Aliyah, her six-year-old grand-daughter to bring her a wooden box to sit on.  Her left leg shivers involuntarily and reverberates all over her body.
Salamatu lives at Pati-Dati, a rural settlement in Tsaragi, Edu Local Government Area of Kwara State, North Central Nigeria.
Up until a Sunday morning in late 2018, she used to walk through the hilly terrain that leads to Edogi Twanpa to collect water for her daily need. The village is over 30 minutes walk from her house.
She is a woman of steel beaten down partly by age and years of neglect. Her once glistening dark hair is now a shade of white stripes. Her eyes which were as brightened as a summer sun and firm arms now look pale.
Each time she walked unsteadily across the hill, laced between the surrounding villages of Edogi Twachi and Pati-Ado, she felt excruciating pains as she watched her frail legs duck the rocks and stones along her path.
One would have thought the widow in her late 50s, as she could recall, was getting clean water on each visit, but this is Pati-Dati where access to water is a luxury.
That particular morning, the sun had barely burst through when the mother of five took one of her old buckets and headed to the 'river'. She was late. Usually, women in the village head to the river with the call of the muezzin, summoning Muslim faithful in the village to Subhi prayer.
This allows them to scoop the cleanest of the shallow flowing water before women from surrounding villages besiege the spot.
There are two spots where the residents get water for their daily needs. Because she was late, Aliyu told HumAngle she opted for the one "closer" to the village – almost 20 minutes away from her house.
When she got to the spot, the water had already been ruffled by women who also settled there. To her far-right were women and young girls washing their clothes. She had to wait to allow the dirt to settle before dipping the bucket  into it.
By the time she had filled the bucket to the brim, she called on other women who helped to place it firmly on her head and she headed back home. But halfway through the sleepy road, she was struck by a tragedy which crippled her.
"I was coming back from the river when my leg slipped off the cliff," she said.
But it was not long before other women who were coming behind her discovered that Aliyu had suffered a fracture on her knee. Since that day, she depends on water vendors who source  water from the same open spots but ferry it to the village using bikes.
A 50-litre jerrycan of water goes for N200 and this puts a huge financial burden on vulnerable residents like  Aliyu who could no longer climb the hill.
"I can no longer go to the river to fetch water as others do. People like me now rely on water vendors to survive. In fact, I spend most of the money sent by my children on water," she said.
Dominated by the Nupe-speaking people who are predominantly farmers, Pati-Dati has been locked in the crisis of water scarcity for over 50 years, the community leader, Ahmadu Baba, told HumAngle. Now more than ever, everyone is worried because the dry season, when the water level is usually low, is creeping in.
The community of an estimated population of over 600 people relies solely on water  from the open, mostly topped with brownish dirt. This is despite the health implications posed by getting water from compromised sources. But no one cares.
The case of Aliyu is just one among many other hellish experiences residents of the village face on a daily basis.
Sheriffatu Muhammad, another resident of the village, almost left Pati-Dati when she had her last pregnancy a year ago. The strain of life without water became too grave that Sheriffatu told her husband she could not bear the pain of walking long distances while she was expectant. But the husband, a farmer, who is a native of the village, persuaded her to stay.
Not so long, a new lease of excitement dripped down the hilly village when Sherrifatu put to bed in the dead of the night but it was soon eclipsed.  There was no water in the house to take care of the mother and the newborn. Disturbed, the family had to turn to  neighbours who gave some water to clean them.
"It was very tough for me. I could not climb the hill when I was pregnant, I was buying water. When I gave birth to the child, because it was at night, we could not get water. It was those around that gave us water to clean the child. There was no water to even prepare what I, the mother, could eat. Some days after I gave birth to the child, I fell sick.
"Because of the water (problem), I told my husband we would have to relocate to another place where it is easier to get water," Sheriffatu said.
Throughout the period of her pregnancy, Sherrifatu told HumAngle she also patronised water vendors who visited the village from the central town, Tsaragi.
When HumAngle's correspondent visited the two spots, he observed that the village's source of water supply was divided into two. While a part was meant for collecting water, another part was dedicated to laundry and bathing.
Sodiq Makama is one of the vendors making brisk business out of the village's agelong travail. He is a native of Tsaragi in Edu Local Government Area of the state. Like his colleagues, any time he comes to Pati-Dati, residents of the village gather their jerrycans for him to supply them water.  He said he earned more than N3,000 per visit.
"If we drive from Dati to here, it is 15 minutes but it's 30 (minutes)  if we trek. Access to water is the most prominent problem in this village. We are mostly patronised by older women who may not be able to pass through the stress of collecting water from this place themselves. A gallon of water goes for N200," Makama said.
A difficult topography and the absence of government intervention are some of the factors contributing to poor access to quality water supply in the village.
"We don't know what is wrong. We got people to dig a well for us but within a month, the well dried up. It has been about four times this year and there is nothing to show for it. Whether it is those that are digging it that are not doing it well or something is wrong with the soil, we cannot say," the community leader, Baba, said, staring into the void with a famished hope.
The United Nations Sustainable Development Goal 6.1 (SDG6) calls for universal and equitable access to safe and affordable drinking water by 2030. The target is tracked with the indicator of "safely managed drinking water services" – drinking water from an improved water source that is located on premises, available when needed, and free from faecal and priority chemical contamination.
Nigeria is said to be making some progress in improving access to water, sanitation and hygiene to its population, with 70 per cent of Nigerians having access to basic drinking water services. However, the amount and quality of water for individual use is lower than the required standard.
The average amount of water each person receives in Nigeria is nine litres per day. The minimum acceptable range is between 12 litres and 16 litres per day, according to national standards.
The report, released by the Federal Ministry of Water Resources and UNICEF, said that about 60 million Nigerians or 33  per cent of the population, did not have access to clean water. The bulk of the statistics is in rural communities like Pati-Dati where access to clean water supply still gives rural communities hard knocks.
Abideen Olasupo, an SDGs expert based in Kwara state, said the figure might have been underreported. He stated that the lack of access to safe and clean water in rural communities was still much rife in the state as residents of most remote communities travelled long distances to get  water for daily need.
"It is worrisome that the state government is still at the stage of seeking support for SDGs after 18 months in office. Poor access to water in  remote communities is alarming. I visited some communities last month for a data driven project and couldn't imagine that people still travel miles before accessing clean water in Kwara.
"Available data also shows that the performance of the Nigerian government with regard to the provision of safe and clean water for all is low. We are still lagging behind in the attainment of these goals. Governments at all (levels up to) the ward  need to take the issue of hygiene, open defecation and clean water seriously. Assessing them at the moment, taking into cognisance what is obtainable across different remote communities, I will rate them below average," he added.
Not Only Pati-Dati
In 2018, the state said it spent N6.5 billion  on water projects aimed at improving supply in the state capital and indeed the entire state. This covers the Ilorin Metropolitan Water Project, and waterworks in Share/Tsaragi, Oyun, Obbo Aiyegunle, Elesinmeta, Pepele, Zambufu, Gbugbu and several others across the state.
But this does not stop residents of Ninguba, another rural settlement in Tsaragi, Edu Local Government Area of the state, from travelling more than 500 metres to collect water for their daily needs.
The first time Usmanu Muhammad saw a running tap was when he left Ninguba for the state capital, Ilorin, about 10 years ago. Before then, he grew up drinking water collected from compromised sources.
Now back in the village, the 30 years old farmer is working with the village's development association to ensure that Ninguba's residents have access to quality water supply but to no avail. Each time they dig the soil for water, it dries up.
"Ever since I was born into this world, I have not seen any other means of water supply than that open spot. I was told the village has a long history of inadequate water supply long before I was born. Women go to the spot in the wee hours of the day only to return with a bucket of water, spending hours.
"We made efforts to dig a well, about three of them, none of them had water. We drilled a borehole, it dried. We now depend on the stream. Even if we collect the water, we'll have to wait for it to settle before drinking or cooking with it," Muhammad said.
Like Pati-Dati, it is a similar case for women in Ninguba. They travel long distances with sweat trickling down their chins to get water. One of them is Adama Ibrahim.
The mother of seven told HumAngle she usually woke up as early as 6a.m. daily in order to get "clean" water from the stream. But any time cattle are herded to the spot before the people get to the place, the community goes without water for the day.
"Our lives depend on the stream. If we go out to fetch water, we have to add alum to the water or when there is none, we allow it to settle down before using it. It is very strenuous getting water, especially any time the Fulani herd their cows at the spot. At times, some people come back home empty. We drink, cook and wash with it,"  Ibrahim said.
Dying By Instalment
The problem of water security has health implications for residents of these communities.
Contaminated water and poor sanitation are linked to transmission of diseases such as cholera, diarrhoea, dysentery, hepatitis A, typhoid, and polio. Absent, inadequate or inappropriately managed water and sanitation services expose individuals to preventable health risks, the World Health Organization (WHO) has warned.
It estimates that some 829,000 people  die each year from diarrhoea as a result of unsafe drinking water, sanitation and hand hygiene. While diarrhoea is largely preventable, the death of 297,000 children aged under five years could be avoided each year if the problem of water supply is addressed, WHO stated.
"The children stool and vomit. And anytime we go to the hospital in Shaare, the doctors would complain about the water we give them to drink. But we have no choice. They'll even take their drugs with the same water," Muhammad, a mother of four and resident of Gwago, another rural community sandwiched between Edogi Twachi and Ninguba in Tsaragi, said.
What Could Have Happened – Expert
Gboyega Olorunfemi, principal consultant, Enviromax Global Resources Limited, stated that the drying up of a water source such as well or borehole as experienced by the communities, was as a result of "regional heterogeneity of aquifers."
The SDGs advocate stated that the understanding of the distribution and flow of groundwater which was controlled by geological factors played a major role in ensuring water security in the state.
"According to a generalised geological map of Nigeria, Kwara State falls in the PreCambrian Basement Complex  within the Lokoja – Ilorin area. This basement complex is said to be less developed and as such, the mean groundwater yield is affected. This effect makes an optimum depth required for a typical borehole in a basement complex to about 60 metres to 70 metres.
"Kwara State is closer to the Southwest  which plays host to the most crystalline rock bed in Nigeria and has been associated with borehole failure leading to groundwater abstraction. Factors such as non-penetration into the water bearing horizon has been attributed to borehole failure where technical exploration techniques are not employed prior to drilling
"It is appalling to note that not much has been done in putting this phenomenon leading and contributing to wells and boreholes drying up into critical perspective whilst several funds have been repeatedly deployed and appropriated without results and has led to water scarcity thus exposing the inhabitants of the community to water-borne diseases which in turn puts pressure on the primary health system," Olorunfemi said.
Olorunfemi added that the pressure on water supply had been exacerbated by the outbreak of the coronavirus pandemic. He, therefore, emphasised the need for stakeholders' engagement at the local level to cushion the effect in order to ensure the attainment of the social development goals (SDGs)
He said that the lack of coordination among the various agencies of the government to pool their resources was contributing to ineffective groundwater management in the country.
"Nigeria currently lacks policy coherence, central working institutional and legal framework. At least, there are more than 10 independent bodies in Nigeria handling water management or another. All of these expose us to the lack of coordination and cooperation to get the simplest job done.
"How do you explain that the 11 river basin development authorities do not have sufficient scope and hydrological capacity to facilitate effective groundwater management? There are enough laws without implementation and enforcement," Olorunfemi said.
He continued: "As long as there is no evidence-based research to determine the root cause of the drying up of well and boreholes in these communities, it has been established that availability of enough groundwater reserve does not mean boreholes cannot dry up. It means the government must declare an emergency in that region to find a lasting solution to make potable water available to the communities."
 A Government Without Cabinet
The Kwara State Governor, Mr AbdulRahman Abdulrasaq, said the state was working out strategies to provide safe and clean water for its citizens while also prioritising the SDGs.
The governor made the fact known when he visited the Minister of Water Resources, Mr Suleiman Hussein Adamu, in Abuja to seek the support of the Federal Government for the state to achieve the goal about four months ago.
Confronted with the outcome of the effort,  the Chief Press Secretary to the Governor, Rafiu Ajakaye, said he was unavailable to grant the reporter audience because he was sick.
He directed the reporter to the Kwata State Ministry of Water Resources.
"Good evening, sir. I'm not available for this interview at this time because I'm sick. You may please get across to the Ministry of Water Resources," he replied.
HumAngle reached out to the spokesman for the state Commissioner for Water Resources, Arinola Lawal, for an update. He also said he was out of town but would return on Monday,  Jan. 4,  to arrange an interview with the commissioner.
However, before the scheduled date, the  governor, Abdulrasaq, dissolved his cabinet.
---
Support Our Journalism
There are millions of ordinary people affected by conflict in Africa whose stories are missing in the mainstream media. HumAngle is determined to tell those challenging and under-reported stories, hoping that the people impacted by these conflicts will find the safety and security they deserve.
To ensure that we continue to provide public service coverage, we have a small favour to ask you. We want you to be part of our journalistic endeavour by contributing a token to us.
Your donation will further promote a robust, free, and independent media.
Donate Here