Featured
Features
Humanitarian Crises
She Lost Three Children Before The War, And Then It Took All That Was Left
In a world where families have as many children as possible so they can stand a chance against high fatality rates, war tilts the odds to incredible extremes — as in Yagana's case.
Yagana Mamanaye's life was complete, and then it wasn't.
She had everything she wanted. A home that embraced her. A husband who loved her. Children who brought her a garden of joy. A stable source of income. But, one by one, all those pleasures got sucked out and she was left with nothing.
First, it was the seasonal wave of malaria known to visit with force whenever it rained. A third of all malaria deaths globally are recorded in Nigeria, with an estimated 200,000 people losing their lives to the tropical disease last year. Children and people in rural areas are among the most vulnerable. People in Kumshe, Northeast Nigeria, where Yagana lived, often did not have enough money to visit hospitals or pharmacies. So, they relied on local medicine. Sick children bathed with and drank herbal solutions. But it did not always work. Some survived. Others, including three of Yagana's children, did not. One of them was five years old; another died aged only 30 months. She would rather not mention their names as if doing so would arm the memory with blades to torment her.
"I took some of them to the hospital, but they still died," Yagana says, staring at the floor. She contorts her face like she is about to shed tears but nothing comes out.
She fiddles with a piece of white thread as she talks, afterwards clasping her hands and looking absentmindedly into the distance, her expression a blend of resignation and resentment. It is clear she has descended into a dark place.
Were it not for the Boko Haram insurgency and the many ways it devastated the region, Yagana's other three children might still be alive and her husband, 60-year-old Wakil Abba, might still be with her.
The terror group had invaded and settled in Kumshe, a community in the Bama area of Borno State. Finally, in early 2016, as the Nigerian military was set to recapture the town after launching an offensive alongside Cameroonian forces, locals saw an opportunity for escape. After nightfall, about 60 of them ran east towards the border with Cameroon, about 8km away, and then sought safety in Kulujia.
"The Cameroonian military separated the men and said they would follow us later. At the checkpoint, one soldier fired gunshots. One man tried to run away and he shot him. The military randomly picked four men, including my husband, to go and bury the dead man."
That was the last time she saw Wakil.
The truck conveying the refugees back to Nigeria would arrive before the men returned from burying the dead. When later batches of displaced persons came from Kulujia, Yagana asked if anyone had seen her husband. They replied that the men who went for the burial did not return. She has not heard anything since. She does not know if the men ran away or have been detained. She has enquired from those at detention centres in the area, and no one has had any comforting information for her.
People going missing is one of the greatest fallouts of the Boko Haram insurgency, which has directly killed about 35,000 people and displaced nearly three million others. The International Committee of the Red Cross has over 25,000 active cases of missing persons in Nigeria and says the true extent is likely much worse.
As painful as Wakil's disappearance was, it was only the dawning of Yagana's ordeal.
The truck that picked up the refugees from Kulujia dropped them in Banki, a town that's a half-hour drive from Kumshe. The five months she spent in Banki had to be one of the toughest periods of her life. The family, like most displaced people, survived by begging.
"We had to beg the military to give up their leftovers. We ate and fed our children with this. One time, we heard they brought foodstuff to people in Bama and thought it would get to us. But it didn't."
Médecins Sans Frontières (MSF), an international non-profit, had in June 2016 noted that the humanitarian emergency in Bama town was "catastrophic".
"We have been told that people there, including children, have starved to death. According to the accounts given to MSF by displaced people in Bama, new graves are appearing on a daily basis. We were told on certain days more than 30 people were dying due to hunger and illness," said Ghada Hatim, then head of mission in Nigeria.
The group discovered that, out of 10 children, seven were emaciated and four were severely malnourished. Similar levels of hunger, sickness, and death were recorded in other recaptured towns, including Banki, Dikwa, Monguno, Rann, and Benisheikh.
In Banki, displaced people were not properly looked after. There wasn't even a formal IDP camp. Yagana's children became so severely malnourished that they needed a blood transfusion. But there was no blood nor a well-equipped healthcare facility available to treat them. Three-year-old Hadiza and six-year-old Babakura did not make it. Two-year-old Falmata pulled through.
Eventually, the military advised the IDPs to move to Maiduguri, the state capital, where it was easier to access humanitarian support. One soldier offered to transport Yagana so she could join her relatives in the city.
Falmata, the last-surviving child, died after they moved.
"She had a fever," the mother recalls. "We came to an MSF clinic here in Gwange. They said she needed a blood donation. Somebody donated to us; they had not finished using the blood when she died."
Due to the violent insurgency and all the events it has triggered, Yagana has not only lost her husband and children; siblings too.
After they were moved to Banki, the military screened the IDPs for possible Boko Haram members and allies. Mallam Masaa Mallambe was unlucky, Yagana says. "They picked him out alongside others, took them behind the town, and shot them."
Extrajudicial killings by the Nigerian military during counterinsurgency efforts are well-documented. The screening has also been accused of being opaque and biased against innocent civilians, as people who were abducted by Boko Haram or who lived under the terror group's control were also classified as suspects and tortured.
Another of Yagana's brothers, Abba Alhaji Bor, was hit during a military air raid on Kumshe just a day before they escaped to Kulujia. He died shortly afterwards. She has a sister too, Kawudi, who passed away in Banki too due to hunger and sickness.
Yagana's face furrows and flushes with nostalgia as she mentions the names. She then shifts her gaze back to the floor. Flies perch on and stagger across her face and the parts of her hands and feet not reached by her navy blue hijab, but she couldn't be bothered.
"I have no husband and no children," she says, her frail voice no louder than a whisper.
She adds that she currently takes care of two children left behind by her late brothers. The tears flow freely now. She repeatedly rubs them off her face with the hem of her hijab and clears mucus from her nostril.
Even though she is often in no mood to work, she is left with no choice. She does not receive any humanitarian assistance; yet she has an elderly mother and two orphaned children to look after. She copes by sifting grains for people at the market. She also takes offal of butchered animals and sells them. With this, she makes a daily average of ₦800 ($1.8).
If Wakil were around, she is sure she would not be under so much pressure.
Back in Kumshe, he farmed, traded in livestock, and drove a Toyota Canter truck, which they abandoned during their escape. Whenever he wasn't on his farm, he was taking care of the cows. He used to buy them as calves and feed them for about six months before taking them to the market. Yagana, too, participated in seasonal farming. The women had their own fields where they planted various crops, including okra, beans, and vegetables. They cooked some of the harvests and sold the rest.
Wakil is a tall, fair-complexioned man with the nine tribal marks typical of Kanuri people. He talked gently. He also has small eyes and a hairy chest.
"He was popular and known to be kind in Banki and Kumshe. Everybody used to call him Ya Wakil. He was friendly and kind to me," Yagana says.
After the Kulujia incident, confirming Wakil's status was especially tricky because he had lost his phone before their displacement.
"I would be very happy to see him. It's what I'm longing for; oftentimes, I see him in my dreams," she snivels. "We want the government or the NGOs to tell us where he is. If he is dead, let them tell us."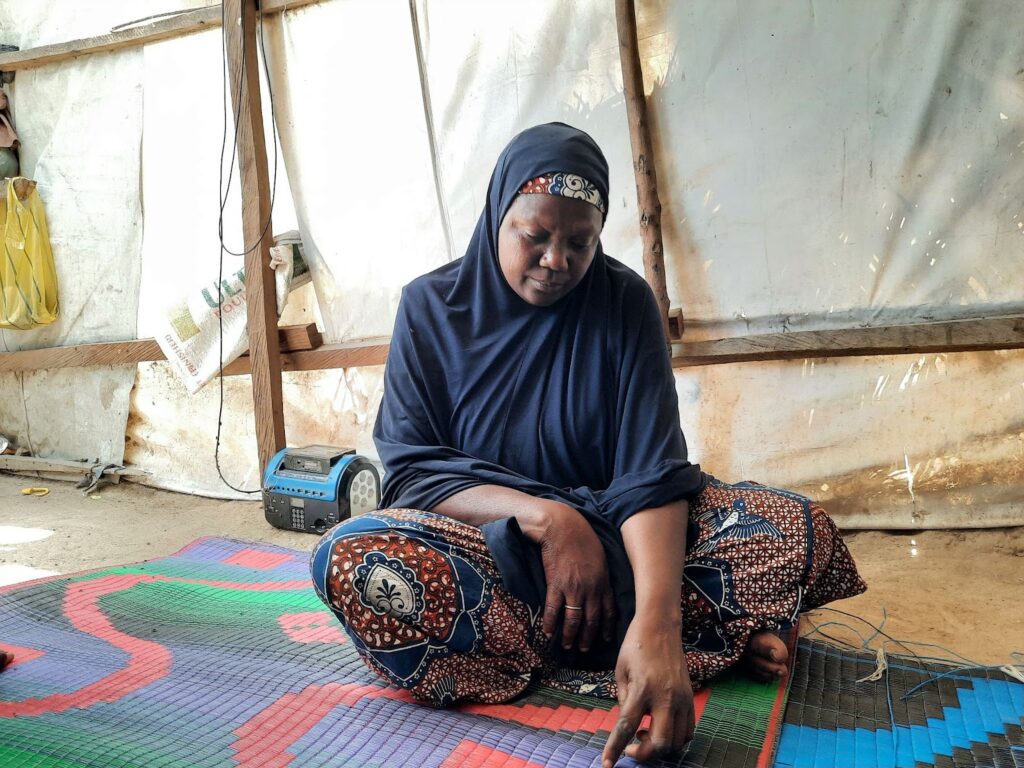 Anytime she is not at the market, Yagana busies herself with knitting caps at home. The traditional caps known as Kube take several weeks to make but bring sizeable profits. The only free time she has is whenever she sells one.
"That day and the following day, I get to buy what I need and rest. There is no rest after that."
Asides the money she gets from knitting, the activity allows her to socialise with other displaced women and distract herself from her depressing thoughts. She is shaken with worry anytime she is by herself. At night, she breaks into tears thinking of all that's happened. But during those moments with the other women, when she takes her time to plough colourful threads into the caps, she gets some relief.
Asked if she has ever talked at length to someone about Wakil since his disappearance, Yagana says no — "only you … I feel happy today talking to you about him because no one has ever talked to me about him as you've done."
The only psychological support she has received came from International Alert, a non-governmental organisation committed to peacebuilding. "They came, counselled us, told us that this is destiny, and we have to calm down and have rest of mind. They advised us a lot and it helped."
I ask her which is the most painful experience she's had since the war started. A fly dances across the bridge of her nose and moves to the border of her nostril, but again she is unbothered. A tear runs down spiritedly across her right cheek, then another. The last one simply settles below her eyelid.
"First is [the disappearance of] my husband," she responds. "But all are painful."
I ask what she would say to Wakil if she could send him a message. Her lips quiver for a few seconds but produce no words.
"We hope to meet again," she says finally.
"We are alive and may Allah bring you back."
---
This report was produced in partnership with the Open Society Initiative for West Africa (OSIWA) under the Missing Persons Register's Population and Amplification Project.
---
Support Our Journalism
There are millions of ordinary people affected by conflict in Africa whose stories are missing in the mainstream media. HumAngle is determined to tell those challenging and under-reported stories, hoping that the people impacted by these conflicts will find the safety and security they deserve.
To ensure that we continue to provide public service coverage, we have a small favour to ask you. We want you to be part of our journalistic endeavour by contributing a token to us.
Your donation will further promote a robust, free, and independent media.
Donate Here