Analyses
Gender
News
SGBV: Culture Of Silence Or The Justice System? Why Women Are Reluctant To Speak Up
The World Health Organisation estimates that one out of 10 children worldwide are sexually abused. Rape within the family is particularly difficult for the victim and, in almost 60 per cent of such cases, the victim was unwilling to report the abuser.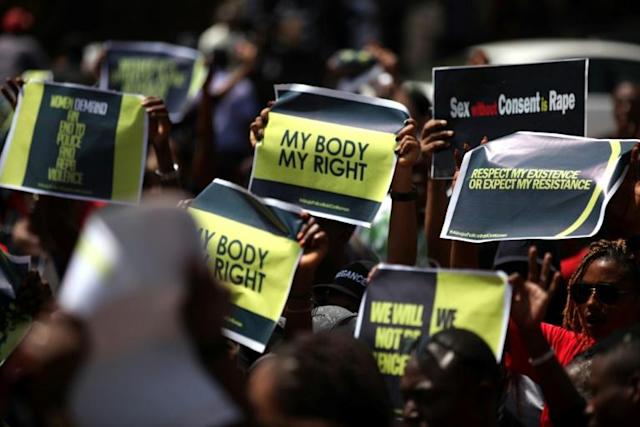 Chidimma (not real name) was only seven years old when her step-father, whom she had thought would fill in the shoes of a father figure she had craved for, began abusing her. He continued until she was 12.
"It started when my mother remarried because my father left before I was born. All the years my father was absent I watched my mom juggle a job and her business to raise my sister. I also saw my classmates' fathers pick them up from school everyday and always wondered how that felt," she told HumAngle.
"So when my step-father started abusing me, I didn't know how to tell my mom. I also didn't want to lose the one thing I always wanted. A father."
Chidimma, just like many victims of abuse in families, remained silent in order to protect the family image and relationship. Mothers remain silent if the abuser is the father, which interferes with a child's relationship with both parents.
Roughly 90 per cent of adolescent girls who report forced sex say that their first perpetrator was someone they knew, usually a boyfriend or a husband. But many victims of sexual violence, including millions of boys, never tell anyone.
The World Health Organisation estimates that one in 10 children worldwide are sexually abused. Rape within the family is particularly difficult for the victim and in almost 60 per cent of cases, the victim was unwilling to report the abuser. 
Chidimma could not tell anyone because she was not sure how her story would be received. "I feel like if my mom had told me about something like that, or was less strict, I would have opened up when it was happening," she added.
The now 25-year-old, having carried the burden and trauma for over ten years, just recently told her mother who did not welcome the news. 
"When I told her, she was initially angry. She confronted my step-father, reported him to my aunty, but after that, nothing happened. My mom came back to ask that I should forgive her for not teaching me better and forgive my step-father for his actions. He apologized too but that was where it ended," she narrated.
"I'm still trying to find my voice. I am still in shock, my heart is heavy. Why am I always a victim? All that is in my head now is to commit suicide," 26-year-old Juliana (not real name) who was raped by someone who is supposed to protect her, said.
On the evening of Wednesday 29, July 2021, Juliana had gone to what used to be her elder sister's home to get some crisp naira notes from her sister's husband for her baking business, when her biggest nightmare happened.
"He has a live band and he usually has new notes. I do send money to his account and he gives me new notes because I sell them and I also use them for money cakes," she narrated.
"I was waiting for him to refund the money I sent to his account, so I went to the kitchen to get water for paracetamol because I wasn't feeling too well. I got back to the sitting room and asked him to give me the money I came for, then he asked me to pass him his phone and the next thing he dragged me towards him and started kissing me. I felt like it was a dream because I didn't see it coming, I struggled till I was weak. He was so strong and I was ill. He eventually raped me. After getting over my childhood pain this happened again," she said.
Before she was  16, Juliana had been sexually abused twice. First by her pastor's son who carried out the act by threatening her with a knife when she was six. The second time it was an uncle.
She opened up to her family for the first time about her experiences but received no support. 
"He raped me and threatened me that I mustn't tell anyone so I had to play along with him till I left there," she added.
Juliana told her sister and her parents but they only asked her to "forgive him, let's settle as a family". But she wanted to take it up with the police.
Recently, HumAngle also reported how a 13-year-old girl was constantly violated but it was swept under the carpet by her father because her abuser, a university professor, would withdraw financial support for her education if it became public. 
Seeking  and getting justice
Just like Chidimma, Juliana and the 13-year-old, in a survey carried out by HumAngle, 90 per cent of respondents admitted that they have or know someone who has experienced abuse or harassment that made them want to speak out but only a few did or got justice.
Forty per cent of the respondents who said they have or know someone who has experienced a form of abuse said they spoke out to someone, the authorities or on social media, while the other 60 per cent said they did not report or speak up. They further went on to say that they did not speak up because they did not want to be judged, were young and naïve, did not want to be stigmatized, discriminated against or ultimately disappointed or soil their family's name.
"I was quite young and my family didn't want to soil their name and honour," a respondent disclosed.
"Imagine going to the police to report a case and instead of them to assist you in getting justice, it's the other way round."
Another respondent said she felt she would not be taken seriously, "I have heard and seen a lot of persons who go to the police to report a case and end up being judged before ultimately being extorted."
"I did speak up via Twitter but got no response, " another respondent added.
Looking back at the incident, 28 per cent said they were still okay with their decision to not speak up or seek redress, 42.9 per cent said they are not okay with their decision while 29 per cent said they were not really sure how they felt.
Among the 10 per cent who said they spoke, half of them did not really get justice. Twenty-five per cent said they got some form of justice while only about 25 per cent said they got the justice they sought. Also 100 per cent of the respondents said it is more difficult getting justice/redress as a woman.
When asked if elite women get justice/ redress easily compared to other women who speak up, 80 per cent said yes while 20 per cent believe it is difficult to generally get justice as a woman.
While 30 per cent of respondents are not sure if it is okay to seek help or justice from the authorities or public when they experience any form of wrongdoing against them, 70 per cent said it is okay to seek help.
Sixty percent said they were not satisfied by the level of response or justice they got while 20 per cent said they were a bit satisfied.  Another 20 per cent were satisfied with the justice they got.
"Both the broken justice system and the culture of silence contribute to why women don't talk about issues that affect them. I think parents should at an early stage orient their children about sex, without sugar coating or using inappropriate words to refer to their private part. Women should be encouraged to speak up, a lot of women die from emotional abuse and trauma because they are always told to endure and be patient," a respondent advised.
Expert opinion
According to Vincent Dania, gender activist and Coordinator Side by Side Movement for Gender Justice in Nigeria, there are several reasons why women and men don't speak up, however citing stigmatization or family honour and cost of getting justice posing the biggest challenge.
"For instance, a woman who has been raped will be careful about making it known, especially if she is not married, thinking that men will not want to marry a rape survivor. Also, that the shame of people knowing she was raped, no matter the circumstance, will be heavy for her to speak up.
"Parents always say don't wash your dirty undies outside. When incidents such as rape or assault happens within families, the family, in the name of honour, tries to keep the issue within the family as much as possible. Even for something as big as rape, which is a crime against the state, they tend to hide it so that the family name will not be smeared."
The cost of justice and evidence are other major issues that contribute to speaking up or seeking redress in Nigeria. 
"It's really expensive to pursue justice in Nigeria, from the back and forth to the police station to getting and paying the lawyer and the cost of gathering evidence.
"Getting evidence for gender based violence is really difficult. Some say after the act, you should snap yourself naked and present as evidence which can also be shameful. After all this the victim can decide to just let it go. The cost of getting the justice you seek is more than the outcome of that justice. Even when some NGOs or associations offer pro bono service, if you check deeply, they are not for free," Vincent Dania further explained. 
Another factor that affects why women don't speak up is the fear of being attacked by their aggressor.
"Let's say a woman who is a full housewife and depends on her husband for survival is being beaten by him, she remains silent as much as possible because she will return back to that house to meet her aggressor. And you know how slow the justice system is before any action is taken." 
Psychological link
A joint research carried out in 2020 showed that Neuroscience has proven that violent intimate relationships harm the brain, while very simple social experiences can change the brain architecture in positive directions.
Deborah Oluniran Adeniyi, a Counseling Psychologist, told HumAngle that the reasons people usually do speak up are both societal and psychological.
"When something terrible happens to somebody and the person is in denial, stating it or admitting that it happened is like accepting that it actually happened. Someone who was raped may not speak up to another person and think that if they don't pay attention to it, it will go away. Sometimes this pattern of thought makes victims not speak up because if they do they have to accept and deal with it. They also have to take responsibility towards getting justice. 
"Sometimes the mind prevents you from focusing on the bad event, so they just pretend it never happened."
She further explained that some people who experienced abuse when they were younger, because they couldn't make sense of it or deal with it then, pushed it far into the darkest part of their minds.
"And the truth is, your mind will protect you if you tell it to do so and only remember traces of it when forced to remember."
She added that psychologically when a victim speaks up, it releases them from the after-effects of the abuse they experienced. 
Deborah advises that speaking up also means a victim gets the opportunity to function well and adjust to life better than when they don't. 
"You also encourage others around you who may have had the same or similar experience. 
"Victims of abuse can reach out to organizations, who will take up the issue and get appropriate help. Social media also helps but it doesn't do much in preserving anonymity or speaking to a trusted friend who can help you.
"Speaking to the right person is always the best option. You don't get help by not speaking up. You eventually do more harm to yourself that way, and it affects other areas of your life. I can't recommend not speaking up, " she concluded.
Prevention is better than cure
Gender advocate, Vincent Dania, strongly advocates that more should be done to prevent cases of SGBV. "Prevention is still cheaper than cure or one going through the gory experience of speaking up,  also better and cheaper than pursuing justice."
He advises that the National Agency for Prohibition of Trafficking In Persons (NAPTIP)  should ensure that the framework to implement the Violence Against Persons Prohibition (VAPP) Act is put in place and domesticated across states in Nigeria. 
"It may not eradicate SGBV completely but it will curb and allow victims to get justice. The Act is one of the best laws regarding this issue," he said.
---
Support Our Journalism
There are millions of ordinary people affected by conflict in Africa whose stories are missing in the mainstream media. HumAngle is determined to tell those challenging and under-reported stories, hoping that the people impacted by these conflicts will find the safety and security they deserve.
To ensure that we continue to provide public service coverage, we have a small favour to ask you. We want you to be part of our journalistic endeavour by contributing a token to us.
Your donation will further promote a robust, free, and independent media.
Donate Here