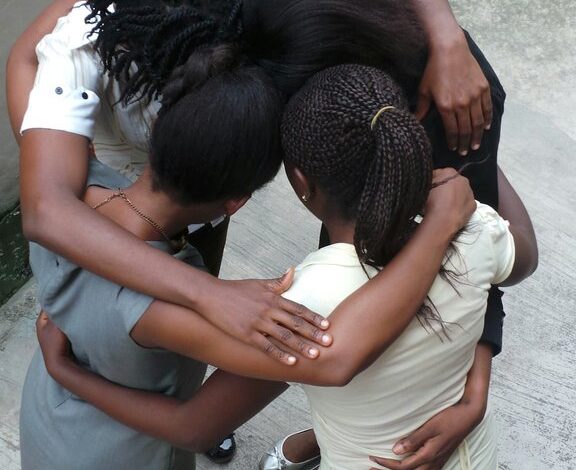 On Feb. 5, 2022, 14-year-old Favour was reportedly sexually abused by one 75-year-old Jimoh Ibeh around the Igando axis in Lagos State, Southwest Nigeria.
Narrating her ordeal, Favour said Ibeh started to harass her on Feb. 4, 2022. According to the teenager, the septuagenarian cajoled her to join him in a bush close to their home, where he then attempted to rape her but she ran away.
She said Ibeh called her to fetch water for him on Feb. 5 and when she brought it, he asked her to take it inside the house.
"Immediately I entered the house to drop the water, he locked the door and forced himself on me. When he was done, he gave me N1,000 to buy food for myself and my siblings. He had sex with me on two other occasions, and he gave me N1,500 for food on Feb. 9 and he said his son has money in a carton which he will give me money to buy food," she recounted.
Since her mother is late, Favour informed a female neighbour who alerted other tenants and the community leaders, but the community needed proof, "so they agreed that I should go for a medical examination at Idera Centre, Igando general hospital."
"It was Idera Centre that they alerted a human rights organisation, Advocate For Children and Vulnerable Persons Network (ACPVN), of the incident, and I was taken to a shelter home."
Shortly after, Police in Igando arrested the suspect, Ibeh, through the intervention of ACPVN for the offence of defilement. 
To Favour's discomfort, the abuser was released from the station. "The perpetrator and his family are bragging that nothing is going to happen as they can see he has been released. Mr Ibeh is roaming the community," Favour's father said.
ACPVN is currently handling the case to ensure Favour gets justice.
Favour's father said the abuser still moves freely. "Nothing has been done but I have gone to pick my daughter," he said.
Ebenezer Omejalile, co-founder of ACPVN, said, "We swing into action immediately. Our attention was called to the case and we will follow up till justice is served, which usually takes a while."
"For Ibeh's case, he was released based on health reasons and we are following up closely. We will make sure all the perpetrators of the acts face justice," he said.
Many still waiting for justice
Just like Favour, other victims who spoke with HumAngle have sad tales on their sexual violence cases, with justice looking unattainable, forcing them to continue living with the scars while cohabiting in the same spaces as their abusers.
As Favour still awaits justice, 14-year-old Mercy was also reportedly sexually abused by her guardian, Uchenna Anyanwu, on Saturday, Jan. 30, 2022, in Lagos, Southwest Nigeria.
She said that was the first time he abused her sexually but he had been preying on her before then by touching her breast.
She said the abuser is an acquaintance of the family, not a relation.
"When they were looking for someone to stay with them in Lagos, they came to my family to request for me. Uchenna's brother-in-law is my father's friend," she said.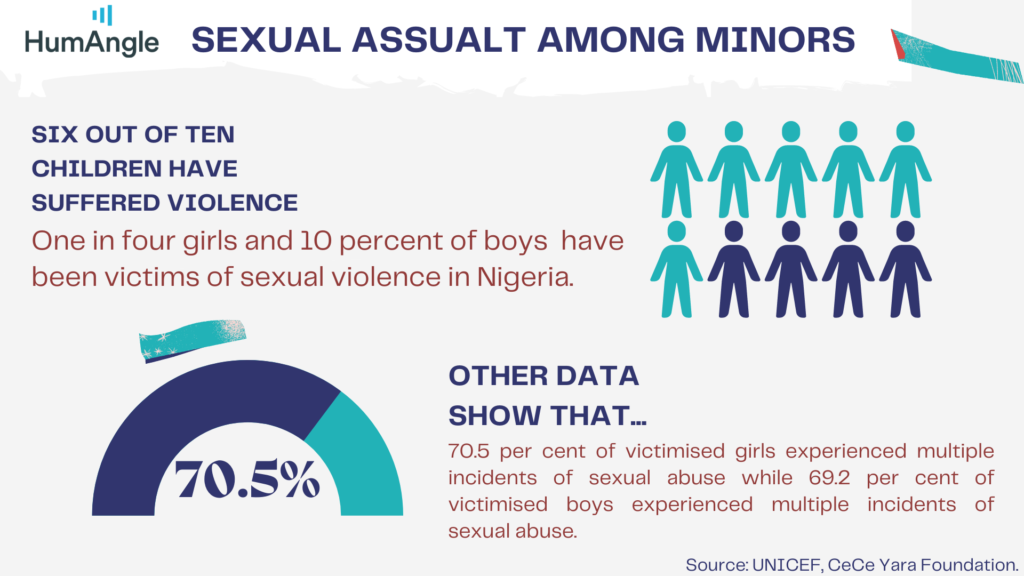 Statistics show that six out of every 10 children experience some form of violence – one in four girls and 10 per cent of boys have been victims of sexual violence. Of the children who reported violence, fewer than five out of 100 received any form of support, a UNICEF report revealed.
Data by Cece Yara Foundation, a child advocacy organisation, revealed that 70.5 per cent of victimised girls experienced multiple incidents of sexual abuse while 69.2 per cent of victimised boys experienced multiple incidents of sexual abuse. 4.2 per cent of girls who experience childhood sexual abuse received help.
Sexual abuse involves any type of sexual contact or behaviour that occurs without the consent of the recipient, especially against children, who are legally incapable of giving consent.
In Nigeria, child sexual abuse is an offence under several sections of chapter 21 of the country's criminal code. The age of consent is 18.
The Child Rights Act (CRA) states that sex with a minor is rape, and anyone who has sexual intercourse with a child is liable to imprisonment for life upon conviction.
It states that sexual intercourse with underage girls, or people with unsound minds, is the offence of defilement, and so technically a person could be charged for rape and defilement.
The CRA adopted by Nigeria in 2003 requires that the well-being of every child must be respected, considered paramount, and provides that sex with a child is rape, and anyone who has sexual intercourse with a child is liable to imprisonment for life upon conviction.
Currently, 28 out of 36 states of Nigeria have adopted the CRA as state law.
Nigeria signed several legal instruments to protect children against sexual abuse, including the Violence Against Persons Prohibition (VAPP) Act and the Child's Rights Act. The VAPP Act protects persons against sexual violence, the Child's Rights Act of 2003 focuses on children.
Despite the high rate of child sexual abuse in Nigeria, HumAngle can report that many states are yet to domesticate these laws. The lack of implementation of some of the enacted laws and treaties in the country can be said to be among the reasons for the increase in child abuse.
Findings by HumAngle show that most of the victims come and beg to be kept anonymous mostly because of stigmatisation in society and mental health disorder.
Why victims have not gotten justice
Funmi Falana, a human rights activist, said there are Special Offences courts dedicated to adjudicating exceptional cases.
"Unfortunately, there are lots of technicalities. For example, there is a need to preserve the underwear of the victim, because it is the clinical evidence of the underwear that we show as primary evidence. Most of the time rape occurs, victims usually do not remember to preserve the underwear."
She said there is a rule of procedure that also helps in solving rape cases.
"There is the rule that the evidence of the victim must be corroborated by the other evidence and you will agree with me that it is very difficult to get a third party to come and witness because it's not something you can invite a third party. Prosecution fails on this very one because third-party evidence is not always available," Falana said.
She alleged that a lot of damage is usually done by the Police. "Evidence is supposed to help you interview the people involved several times and ensure that the evidence must be the same all through, and any slight difference in the evidence of the victim leads to the failure of the prosecution."
Yinka Ogunmodimu, a lawyer also emphasised that prosecutions happen but because the crimes are offences against the state, there are often no diligent prosecutions.
He said victims try to avoid testifying during the court processes, so at the end of the day, the case is struck out.
Meanwhile, Hauwa Shaffii Nuhu, a legal practitioner, said Nigerian laws are inadequate when it comes to offences of sexual violence because "things that are very ordinarily obvious as sexual violence are not defined as sexual violence in a lot of our laws. For example, Nigerian law does not recognise the existence of Marital rape.
"There is also the fact that our law does not recognise that men can be raped. The only law in Nigeria that recognizes that is the VAPP Act and it has not been domesticated in many states. So even the people qualified to allege or report rape cases are few, and this affects the number of people who report at all."
"The definition of rape both in the criminal code which is applicable in the Southern part of the country and the Penal Code which is applicable in the northern part of the country, is quite limiting. There is no definition that acknowledges that men can be raped. Because the definitions always say that one of the primary things that you have to prove in order for a valid conviction to take place is that there must have been vaginal penetration by the man being accused," she said.
Despite all the laws in place amid efforts by rights groups to ensure offenders are prosecuted, Ibeh still lives in the same community with Favour and her siblings, while Mercy lives in close proximity with her abuser, Uchenna.
Sadly, these children continue to live in fear while the perpetrators live freely. This stresses the need that social norms must be altered through a community-based approach that focuses on prevention and deterrence. It also stresses that the justice system needs a reform.
---
Support Our Journalism
There are millions of ordinary people affected by conflict in Africa whose stories are missing in the mainstream media. HumAngle is determined to tell those challenging and under-reported stories, hoping that the people impacted by these conflicts will find the safety and security they deserve.
To ensure that we continue to provide public service coverage, we have a small favour to ask you. We want you to be part of our journalistic endeavour by contributing a token to us.
Your donation will further promote a robust, free, and independent media.
Donate Here