Development
Features
News
Rising Cost Of Commodities Making Living In Maiduguri More Difficult
With an already distressed economy further crippled by nearly 10 months of power outage, residents of Maiduguri in Northeast Nigeria, now face great hardship occasioned by the increasing cost of commodities.

Prices of commodities are steadily rising at the markets in Maiduguri, the capital of Borno State, in Northeast Nigeria. 
With Boko Haram insurgents still attacking hinterland communities, coupled with diminished spaces for income generating activities, residents closely observing the local economy say they don't expect the situation to change for the better any time soon.
"The price of an egg has kept on changing exponentially since January this year," said Nafisat Aliyu, an animal scientist and mother of four. 
"From June to date, the price of a crate of egg has persistently been on the rise — from ₦1,100 to ₦1,200, up to ₦1,700 last week. But as of Oct. 30, a crate of eggs now sells for ₦2,000." 
Koji Vandi, a provision retailer, said he could not "explain why the suppliers kept adding to the price per crate of egg. Last year, we sold at ₦900, or worse ₦1,100, per crate."
To many residents, eating an egg, which now goes for ₦80, is considered a meal for the rich and the middle class. Other commodities like pepper, tomatoes, and onions, considered essential cooking ingredients in most homes, are gradually becoming out of reach for many. 
Checks at local markets, known for cheaper prices of commodities, by HumAngle confirmed that the prices of groceries have reached an all-time high. 
A portion of tiny tomatoes, which are not more than 25 to 30 pieces, goes for between ₦500 and ₦1,000, unlike in the past when such quantities could sell for as low as ₦200. 
HumAngle learnt that a basket of tomatoes, which typically would be sold for ₦2,000 at this period of the year, sells for ₦12,000. 
"We used to buy a kilogramme of beef at either ₦600 or ₦700, but now if you don't have ₦2,500 you can't get the same measure," said Becky Kujulu, a local restaurant owner.
"A bag of Semovita is now ₦6,000 compared to the past few months when it was sold at ₦3,500," she added.
A bag of beans that cost ₦18,000 in 2020 is now sold at ₦100,000, while a bag of rice is now sold at ₦35,000, another source said. 
Even bread, the most common household delicacy, is gradually becoming out of reach for many in Maiduguri. 
The price of a loaf of sliced bread has now been increased from ₦400 to ₦500 or ₦600. The bakers are also found to be reducing the basic ingredients to sell loaves that lose their freshness before the next day. 
"We are finding it difficult to even sell the so-called modern oven-baked bread because customers would either complain about its price or its reduced quality," said Paul Takuma. 
HumAngle discovered that the high cost of commodities is not restricted to consumables alone. Many homes are resorting to high-risk alternative sources of energy to cook their meals as the price of cooking gas has tripled.
"To buy a 12.5kg gas-filled cylinder requires one to pay ₦8,000, while 6kg is now sold at ₦4,000," said Abdullahi Umar, a civil servant. Last year, residents could refill the bigger cylinder using ₦3,700.
"I have to resort to using charcoal to cook food in my home because it is not sustainable for us to use gas today," said Umar. He said though using charcoal to cook may be slower, it helps his family to manage their resources "in this era of high costs of the commodity in the market."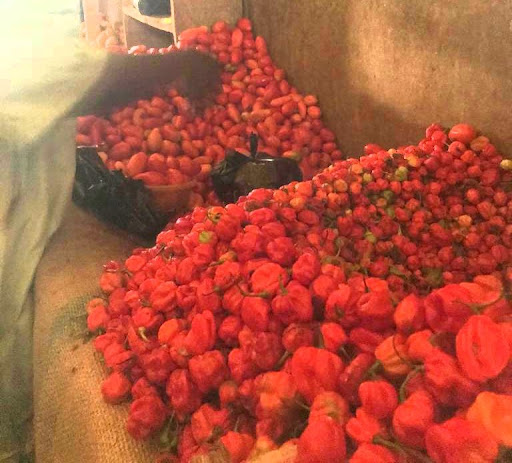 Many homes in Maiduguri are also suffering from the harsh economy that has been made worse by the lack of electricity supply from the national grid. Many residents have resorted to using petrol or diesel-powered generators to ensure that their homes are not only lighted, but their hard-earned perishable foodstuff is also preserved. 
Food preservation now comes at a price, HumAngle gathered. 
"The task of fuelling the generator for at least eight hours every day comes at an ungodly price," said Pauline Ibrahim, a retired civil servant. 
"Apart from fuelling the generator, one also needs to constantly service it by changing the engine oil at least every week; but a litre of engine oil which used to be sold for ₦800 is now ₦1,800," she said.
Frozen food merchants have lost much of their revenue because they lack means of cold-preserving their fish and beef. 
"We can only buy a small quantity of beef or fish which we are sure of selling in a day," complained Bala Dangwoshe, a local butcher. 
"Many of us have incurred losses due to lack of electricity to preserve our fresh meat; so now we have learnt the hard way by selling a little and making little profit rather than recording unnecessary losses."
Residents are worrying that the situation could be worse than this in the coming months because the Boko Haram insurgency has prevented them from producing food locally. 
The high cost of living and the weakening purchasing power of the residents has become a major concern for the state. For now, a large chunk of the arable land cannot be accessed for farming, especially in areas outside state control. 
The state government has commenced a massive return of internally displaced persons (IDPs) to their local government areas of origin, but those in the host communities remain in Maiduguri. The latter group are among those badly hit by the high costs of food. Many of them have, consequently, taken to alms begging as a way of life. 
David Steve, a Maiduguri-based monitoring and evaluation consultant, said the unfriendly economic climate in the city and Borno state generally was foreseen about two years back. 
"Having been dealing with a situation of no income generation activities for over a decade, surveys conducted about two years ago by many NGOs had warned about what we are facing today. Commodity prices are crazily skyrocketing against a stagnant purchasing power of the people." 
He said it is so bad that people are adopting "severe coping strategies like sex for work, sex for food, domestic robbery, parents rushing to give out their daughters in early marriages and street begging". 
Steve urged the government to back its commitment to revamping agriculture in Borno, and this should not be done only by asking vulnerable people to go into unsafe places to farm what they would eat. 
"I have not seen a situation where the government itself revolutionised agriculture by establishing mega farms of hundreds, if not thousands, of hectares of land that would be fully protected by the security forces. There is no way subsistence farming activities can sustain an ailing economy that is already troubled by conflict; it has to be a more deliberate effort led by the government and the organised private sector."
He added that the products harvested from these mega farms could be stored and released into the market with a view to bringing down or stabilising prices. 
"These are not times when private enterprises can effectively sustain the local economy without the full involvement of the government as a major player," he observed. 
---
Support Our Journalism
There are millions of ordinary people affected by conflict in Africa whose stories are missing in the mainstream media. HumAngle is determined to tell those challenging and under-reported stories, hoping that the people impacted by these conflicts will find the safety and security they deserve.
To ensure that we continue to provide public service coverage, we have a small favour to ask you. We want you to be part of our journalistic endeavour by contributing a token to us.
Your donation will further promote a robust, free, and independent media.
Donate Here