In his book, Jason Warner traces the emergence and evolution of nine Islamic State (IS) affiliates in Africa, from the first time the group officially declared presence in Libya to its recent intense operations in Mozambique.
The Islamic State in Africa: The Emergence, Evolution, and Future of the Next Jihadist Battlefront was published last year and was authored by Warner, assistant professor in the Department of Social Sciences at the United States Military Academy, alongside Ryan Cummings, Héni Nsaibia, and Ryan O'Farrell.
They examine IS affiliates with capacities to wage violence and sustain a durable relationship with IS Central through three stages: pre-bay'ah (before the declaration of the caliphate by first IS leader Abu Bakr Al-Baghdadi in 2014), during bay'ah (allegiance processes), and post-bay'ah (after the death of Al-Baghdadi in Oct. 2019).
According to the authors, this categorisation was done because of the significance Jihadists attach to the bay'ah (pledge of allegiance). It is considered a binding political and religious force that has united all the groups under a single caliph.
However, despite their open allegiance to IS, the authors have ignored other smaller groups that were unable to establish hierarchical leadership or maintain consistent ties with IS Central.
The authors sought to answer a crucial question regarding the puzzling rise of IS in Africa, despite the group's diminishing central operations, leadership gaps, and loss of territorial control in Iraq and Syria: "Why, if IS Central appeared to be in decline, did African provinces retain allegiance and why did they join?"
To understand this trend, the authors employed a multidisciplinary approach in analysing primary jihadi sources such as videos, audio, and other documents, although with a degree of caution due to their propaganda quality. They interviewed individuals exposed to the Islamic State, including former members, victims, and others who had first-hand knowledge of their activities, including governmental and non-governmental organisations.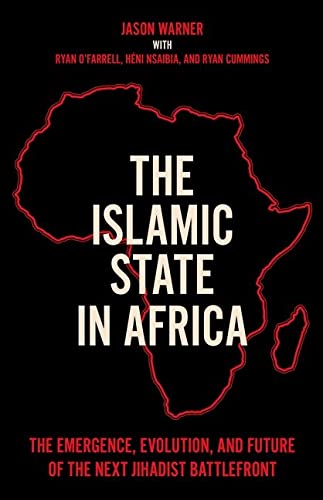 When the multinational operation against the short-lived Islamic State declared victory in reclaiming all terrorist-held territories, researchers and analysts argued that the victory was far from ending the IS operations or uprooting their extremist ideological base. At the same time that IS Central was fighting for breath in Iraq and Syria, the group was receiving bay'ah from members of other terror and Jihadi networks in Africa who were seeking validation and a theological pillar to launch attacks against authorities under a new identity.
Since 2014, Islamic State affiliates in Africa have demonstrated their readiness to be the next ground for the resurgence of the IS caliphate, to the point where their parent organisation has granted them the status of hijira and jihad, allowing the direct flow of transnational Jihadists into the continent.
Jihadists in Africa initially welcomed the Islamic State's existence from Al-Baghdadi's proclamation of a caliphate, which gave them a new view of an Islamic utopia, in contrast to what al-Qaeda offered. The declaration and an open invitation to allegiance made the new link possible. Many African jihadi groups attempted to join; some were accepted and some were either rejected or merged with other provinces.
Why do African groups join IS?
The authors argue that, despite having a different operational background and receiving little to no assistance other than appearing in propaganda messages, the affiliates in Africa have pledged allegiance to IS Central in what they termed a "democratisation of Jihad". They referred to democratisation in terms of expansion of choice in affiliation to a parent group by the local actors. This gave the groups a sense of global purpose and an ability to choose a new transnational Jihadi identity by joining IS instead of Al-Qaeda, which was hesitant to accept open allegiance.
Before the advent of IS, the authors gave the history of Al-Qaeda's presence in Africa, particularly in Sudan, where Osama bin Laden resided from 1991 to 1996 and created a business that he used to fund his campaign on the continent until he was expelled after pressure from the United States. Al-Qaeda accepted its first franchise in Africa in 2006 under the name Salafists Group for Preaching and Combat (GSPC), which later changed to Al-Qaeda in the Islamic Maghreb (AQIM).
From the time of Abu Mus'ab Al-Zarqawy to the day Abubakar Al-Baghdadi announced his leadership over the Muslim world as a new caliph following a schism with Al-Qaeda, the book's introductory chapter provides a comprehensive background into the emergence of the Islamic State.
The book argues that the call for Muslims to pay allegiance to IS opened the door to a transnational Jihadist network of provinces and supporters facilitated by the group. This mobilisation does not always mean a direct involvement in their affairs but the feeling of a sense of belonging to a larger but independent parent. This created a situation in which the state of the central operations had no direct impact on the condition of the affiliates since they did not completely depend on them.
In response to the question of why the Islamic State and other terror groups found Africa to be a fertile ground, the authors argue that Muslim-majority places with political dissatisfaction and economic corruption have a higher propensity to get on board and some African countries exemplify this.
Extremists are typically found in economically impoverished and marginalised regions. This is evident in the case of Northeast Nigeria, where Boko Haram emerged after numerous experts complained of poverty and pervasive corruption that led to a lack of employment, education, and other opportunities.
Pre-bay'ah period
The authors have examined the pre-bay'ah conditions that led to the formation of the affiliate groups. For instance, the emergence of the Islamic State in Libya was a consequence of the collapse of Muammar Al-Gaddafi's centralised leadership, which was followed by a complicated, contentious, and unsuccessful attempt to build a new Libyan state.
What would later become the IS affiliate in Libya was initially a group of Islamists from Libya called the Battar Brigade that fought Bashar Al-Assad in Syria. Following a dispute between Al-Qaeda and IS, the group and many foreign fighters in Syria switched allegiance to IS.
According to the authors, the Islamic State first established a foothold in Africa in 2013 through the Battar Brigade, whose fighters began returning home per IS orders and merged with other IS-friendly groups like Ansar al-Shari'ah to form Majlisis Shura Shabab al-Islam (MSSI).
Bay'ah period
During the Bay'ah period, the authors analysed how new affiliates were subjected to a waiting period referred to as "affiliate utility validation," during which IS Central would evaluate the usefulness of their affiliation.
This usefulness changes over time. Some groups may be granted immediate and direct affiliate membership, while others may be asked to wait or outrightly denied. The authors provided examples of pledged groups in Tunisia that were denied affiliation despite meeting the same criteria as the Islamic State in Great Sahara and Somalia.
The process of joining IS is relatively ad-hoc. The bay'ah typically arrives in audio, video, or textual formats via social media or other cryptic or non-cryptic channels of communication. Alternately, the group members can meet with an IS representative in person for a bay'ah.
"Once African militant groups determined that becoming formal affiliates of the Islamic State would be worthwhile, the process of pledging bay'ah for all entities remained generally similar, although the speed of their acceptance and the manner in which they demonstrated that they deserved elevation varied," the authors wrote.
Post-bay'ah period
Receiving formal provincial affiliation allows the new IS affiliates to act as "sovereign subordinates." This indicates that the affiliates will operate independently while remaining subservient to the central authorities and supporting the group's global expansion.
The authors have portrayed the relationship between IS and its affiliates as primarily spiritual with little material benefit. However, the groups benefit most from their ideological connection to IS Central. The parent group uses them for propaganda and expansion, while the affiliate group connects with them to feel a sense of belonging to a transnational Jihadi network.
___________
The book is a well-researched historical account of the evolution of IS affiliates in Africa from 2013, when the terror organisation first set foot on the continent, to 2019, after Al-Baghdady's death. The book examines the intricate relationships between the IS and its local affiliates.
Although its analysis concluded with Albaghdady's death, the authors acknowledge that they were aware some affiliate groups gained strength after his death, but they preferred to end the book on that note. The scope, which focused on the consequences and motivations of joining IS, did not explain why these affiliates rose prior to joining IS.
Academics, researchers, students, journalists, and other readers who wish to understand the Islamic State's presence in Africa or other Jihadi activities on the continent will find this book indispensable.
---
Support Our Journalism
There are millions of ordinary people affected by conflict in Africa whose stories are missing in the mainstream media. HumAngle is determined to tell those challenging and under-reported stories, hoping that the people impacted by these conflicts will find the safety and security they deserve.
To ensure that we continue to provide public service coverage, we have a small favour to ask you. We want you to be part of our journalistic endeavour by contributing a token to us.
Your donation will further promote a robust, free, and independent media.
Donate Here