Armed Violence
News
Retired Nigerian Army Chief Alleges Misappropriation Of Defence And Security Apparatus
The Founder of WISER laments on challenges facing Nigeria's counterinsurgency campaign.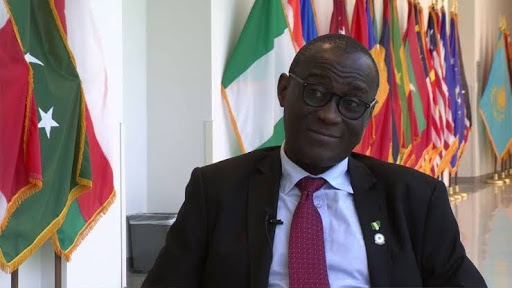 Saleh Bala, a retired Brig. Gen and the President of White Ink Institute for Strategy Education and Research (WISER) in an interview with Daily Trust highlighted the shortcomings and remedies to improve Nigeria's counter-insurgency and security efforts.   
The WISER President told the paper the Nigerian military has since become complicit, politicising counterinsurgency efforts, despite initial efforts to quell the insurgency.
He stated that the political statement made by the Muhammadu Buhari government, that 'Boko Haram had been completely dismantled and technically defeated' is, to any person with a military ear, a script written by the military for the president. 
"This was confirmed by the presentation of a fresh [Boko Haram] flag and a brand new Qur'an by the Tukur Buratai led army [claiming it belonged to terror leader Shekau] to the president to give the impression of the defeat of Boko Haram," said Brig. Gen Bala
When asked why the president, a former general, bought into the narrative, he replied that it fits his [the president's] political interest. 
"Even if he were a general today, he is a politician and that's what he wants to believe."
Bala added that "the president believes so much in himself that he only believes what is favourable to him and all those around him have understood that so they only tell him what he wants to hear."
The WISER founder also lamented that the military is doing absolutely everything wrong. 
"The military is pandering to political interests by selling the idea that they are in charge and defeating the terrorists, they are not. Consistently, units are being uprooted just as they used to be less than nine months after Operation Lafiya Dole was revived with the vigour of the new service chiefs." 
Bala expressed concern about the functioning of the country's intelligence services.  He said "the Governor of Niger State is saying that Boko Haram flags are being raised in Niger State. How are we sure they are the real Boko Haram, not copycats or bandits? Why is this coming from the governor, not the intelligence services?"
He added that within the intelligence services, there are very credible professional officers but that remains at the level of individuals.
When asked if the intelligence institution is not functioning the way it ought to, Bala replied that it was not functioning. "Otherwise, an organisation that has established and as much as raised a flag, there would have been information to the enforcement arm so that that would be challenged. But it is only coming as public information to you and me."
"If we have credible intelligence agencies, how could a band of hundreds of kidnappers ride on motorcycles for hundreds of kilometres and drive into a town, like Jangebe, like Kagara and lift two to three hundred students yet the Nigerian authorities cannot even identify where they are? How is it that with so much expenditure on the intelligence services for tracking technology that we cannot even use information from telecom service providers to triangulate from where kidnappers are making calls to negotiators?"
He also suggested that there was a need for a clear military doctrine, policy and strategy.
"The current service chiefs met the super camp operational strategy of the previous military top brass, have they made one statement to change that? I give them one credit that they have identified that we don't have the numbers and equipment to deal with this problem." 
"If you remember, we had the troop surge in Afghanistan to deal with the situation because a counterinsurgency just like force enforcement is a game of numbers, just like politics, just as the ratio of law enforcement is one policeman to 446 citizens, so is counterinsurgency. In Chechnya, the Russians had 26 force members to 1, 000 citizens. Tell me when last you heard of Chechnya. That is in terms of personnel, not to talk of equipment."
"To prosecute a counterinsurgency, you need an overwhelming infantry. The total declared number of the Nigerian Army is less than 200,000. So if you are proportionate by these numbers that you need 21 forces to 1, 000 citizens and you work it by the total number of displaced persons, which by 2017 was two million people, how many soldiers will you need to secure the physical space of Yobe and Borno alone? We don't have the numbers. We need a minimum of 500,000 infantry alone with essential equipment."
He blamed political control for the inability of the military to expand to meet its needs.
"It is the political decision also on the part of the military. The military may understand it, I am no more in the military so I don't know, but those who are there, I respect them and I am sure they will understand what I am saying but when you are a military officer, will you go boldly to the political leadership and speak to them in these terms?"
"Will a service chief go to the president and say, sir, within six months my soldiers will need to concentrate on the Northeast, that you need to have a new IGP who will have to capacitate the police to be able to take care of urban criminality so I can concentrate on my primary responsibility which is the defence of the territorial integrity of Nigeria?"
On misapplication of security personnel, the retired army chief stated that there is a misappropriation of the defence and security apparatus.
"Check out an average Nigerian minister, including the sports minister, I am not condescending to his portfolio, he has 15 policemen fully kitted with AK 47s, flak jackets and Kevlar helmets with four or five Hilux trucks. What is the threat, if not now that kidnapping has made them high visibility targets? If we have 42 ministers and on average each one has 10 policemen around him, followed by the lies we are told that the Nigerian Police is about 400,000 strong … there is a hidden number we are not being told … how many are we talking about?"
"So there is a total misappropriation or a state capture of national resources by the urban elite. Go to any village. How many police officers do you see there? Unless the elites agree that there is a clear and present danger and agree to relinquish that state and security apparatus that we have captured. Go to a big man's house in Abuja, you will see soldiers in bathroom slippers guarding a private residence when they should be in areas of threats."
On required changes, Gen Bala told Daily Trust, the theatre headquarters of Operation Lafiya Dole has no business being in Maiduguri. 
"You can't have a theatre commander sitting in Maiduguri when the theatre command should be either on the shores of Lake Chad or in Sambisa so that they can coordinate the super camps," he said.
When asked why headquarters was situated there, he replied that they never considered it important. "Just like the Nigerian elites, the officers' corps have an urban mentality. All those headquarters, all those camps. You have two-three barracks in Maiduguri [Giwa and Maimalari]."
"That theatre command should be a virgin place to even send a message to the insurgents that we are here with you."
---
Support Our Journalism
There are millions of ordinary people affected by conflict in Africa whose stories are missing in the mainstream media. HumAngle is determined to tell those challenging and under-reported stories, hoping that the people impacted by these conflicts will find the safety and security they deserve.
To ensure that we continue to provide public service coverage, we have a small favour to ask you. We want you to be part of our journalistic endeavour by contributing a token to us.
Your donation will further promote a robust, free, and independent media.
Donate Here