News
Reporter's Diary
Reporter's Diary: The Uneasiness Of Travelling Through Southeast Nigeria
This reporter was in Imo State, between April 20 to 26. Her account reflects the impact of seperatist struggle in the state, as well as the region.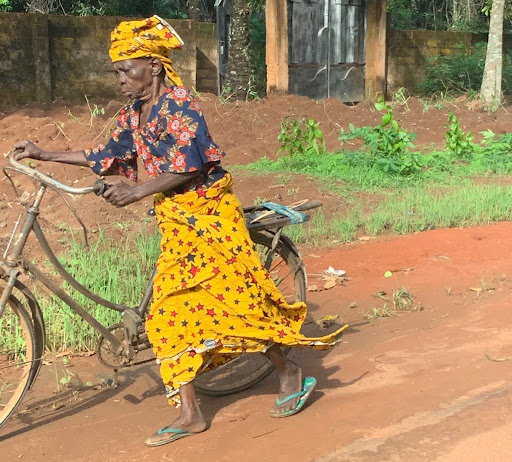 20/04/2022
"It's okay if we spot one or two motorcycles on this road but if they are up to five in number and are all ridden by young boys, I'm afraid we might be in danger," Chima says.
It is evening and we are driving along the Nnewi-Okigwe road, on our way to a community in Imo State, Southeast Nigeria. It is not Orlu, Orsu or any of the hot spots of crisis in the region and I am not here for a story. I have, in fact, taken a week-long leave to attend the Igbankwu (traditional marriage ceremony) of my relative.
We have been on the road since 6 a.m. WAT and Chima, my uncle, is behind the wheel. He noted that the absence of other vehicles on the road may be as a result of fear of armed groups or other factors that we may not know about.
He mentions another road which I cannot recall and casually tells us that he did not want to pass it because there is bound to be one or two rotting corpses lying there.
04:59 p.m.
We are anxious to arrive at our destination because of how long we have been cooped up in the car and also because we fear for our safety. I can sense the fear in the car. Personally, I feel a knot in my stomach any time we spot up to three motorcycles on the road because I fear Chima's assertion may turn out to be correct — that we may indeed find ourselves in hot soup.
Every now and again, an interesting conversation surfaces. Somehow, we subconsciously circle back to the distasteful reality that we may come under attack if we do not leave the area before nightfall. We ruminate over this for a while, reminiscing about the past — how one only feared the roads in the North and would heave a sigh of relief upon arriving the East. This was because, back then, we were less likely to run into armed gangs who would harm us.
"Just look at us, still scared even though we are already in the East. We should have been relaxed by now but with how things stand, we cannot relax completely, even if we get to the village we are going to. Nowhere is safe now," Chinasa, my uncle's wife, quips. Her statement takes me back memory lane.
I travelled a lot in my university days (2015-2019). I schooled in Awka, Anambra State and Onitsha was home to me, so I would constantly journey to and from Onitsha, almost on a weekly basis. With 42 kilometres separating the towns, the ride would sometimes be an hour long or a few minutes shy of two hours. It usually varied but it was okay.
Sometimes, I would set out as late as 6:30 p.m. and think nothing of it, even though I would be scolded at home for arriving at about 8 p.m.
Back then, I merely got irritated at the thought of sitting by a chatty passenger, a sweaty one, or at worst, one with an appetite for food with a strong odour. These were sincere issues for me but now, as I sit in the car with my relatives heading to Igbankwu, they all seem like silly things to have worried about.
Safe arrival
"Thank you Jesus," Chima and Chinasa murmur as the car drives into a large compound.
We have arrived at our destination and all is well with the world.
The next morning, I am jerked awake by a loud gunshot from a nearby compound. It is not what you think. It is not what I thought it was either.
I panic for a moment before my sleeping brain realises that I am in an eastern village and the gunshot is likely part of burial rites or Igbu efi, a final ritual to send off a deceased male in a family.
24/04/2022
Everyone must leave on Sunday
I go upstairs to ask for someone and her mother tells me that she has gone back to Lagos. She is not the only one; other people who have travelled a long distance have equally gone. I am halfway into writing it off as being work-related until I am told that it is because of the sit-at-home order.
I sigh as I remember that I too wanted to leave on Monday morning but will now leave on Tuesday because it is impossible to travel on Mondays.
01:30 p.m.
There is a wedding in the next compound and I listen to the loud gyrations absentmindedly. "Nne please we are ready for your second outing in your outfit o. Biko hurry it up so that I can go back to Onitsha o!" the MC of the occasion jokingly tells the bride. He repeats this about three more times — the wedding must be wrapped up on time so that those who have come from neighbouring states can go back home before Monday.
25/04/2022
Everything is planned around the order
It is Monday and we are all stuck at home because of the sit-at-home order by IPOB. From the second storey of the building where I am standing, I can see stretches of shops under lock and key as though in silent solidarity with the deserted roads. The roads themselves are so empty that when an occasional lone vehicle drives past, the buzzing sound and the near absence of life on the road makes it eerie. It is an uncommon sight for me to take in; I would learn later by a thorough description, that the state of the order in Orlu is even more severe, I become disturbed.
04:12 p.m.
I have just come back to my spot on the veranda and I see that one of the shops across the road has opened. Not long after, I see a party of young people dancing past the road, with a brightly coloured masquerade dancing in front of the party.
I learned later that movement tends to ease up in the evenings; it was, nonetheless, a rude shock to me because the East was nothing like this in my university days. I do not remember people planning their activities around any happenstance, except the rain.
Sources are afraid
I know I am not here to work but I tell myself that I must do a story. I will go to Orlu and speak to a few residents, get a couple of videos and pictures. I am in Imo State afterall.
I reach out to a colleague for sources and he sends me four contacts. Two phone numbers are not going through, so I am only able to get through to the other two. But there is a problem — they do not want to see me. I call him again to let him know that the sources are uncooperative.
"Did you tell them I would call?" I ask.
"Yes," he says, "but they are afraid to speak. I have a police officer that you can speak to." I thank him and end the call. I know the type of story I want to do, and it does not involve police officers.
I'm confused about what to do. I reach out to HumAngle's Editor-in-Chief to ask him if I should stay a few more days, find sources, and go to Orlu for my story.
"No," he says. "You cannot. Orlu is a hot zone at the moment. Even your sources do not want to speak, and for good reason too. It is a good thing that you called because speaking to them would endanger their lives and yours; even if you successfully get through to them and they agree to speak to you.
IPOB members might come after them and I do not want that."
I flip this over in my head and realise he is right. "If HumAngle wants a story from a conflict area, it is usually planned before the reporter departs, to avert danger," he continues.
"You can do a reporter's diary instead," he says. "Okay sir. Thank you."
26/04/2022
Departure
It is Tuesday morning and I am ready to leave by bus because my relatives whom I came with plan to stay one more week and I must resume work soon.
Last night somebody told me that a reliable transport company has a park in Orlu and "they go to Abuja straight, no stress."
So I head to the park early. I try to take in as much details as I can when the vehicle enters Orlu but there isn't much to see; there are Policemen on some roads and people are going about their daily business. We pass by a market and it is business as usual.
I get to the park and find they only have one bus for Abuja and it is already filled up, so I set out for Onitsha. Again, I remain observant as we drive through Orlu to Onitsha but I see nothing unusual, just people going about their daily business. The driver makes a turn and I begin to see remote places and lone farmers. "What would these people do in the event of an attack," I wonder to myself.
Nothing happened in Orlu, Orsu or any of the places we drove past so I am quite shaken when, at Ihiala in Anambra State, which I had presumed to be safer, the minibus driver had to stop a bit because an armed group had showed up there a few minutes back and he had to be sure that they had really left the area before proceeding.
The coast is clear, so we continue. The brief scare we have just experienced causes a discussion among the driver and two passengers; they talk about the menace that IPOB has become in the Southeast and how it will hopefully be a thing of the past.
We get to a road, and I still can't believe it at the moment but I am comforted by the traffic. I, who is usually irritated by traffic and bribe-seeking police who often cause them on highways, was comforted by both because it increased the chances of my safe arrival at Onitsha park. But as I write this now, it is in the news that a police officer was beheaded in Imo State and I wonder if the other officers who do not have much motivation would remain on the unsafe roads. I wonder if other travellers would enjoy the comfort that the presence of the state actors bring to weary travellers like me.
I get to the motor park at the popular upper Iweka in Onitsha and buy a bus ticket.
"Turu ugo lota," (travel, and return with honour) the billboard on the Niger bridge says, as we enter Asaba, South-south Nigeria. I have left the Southeast and I am on my way home to Abuja.
---
Support Our Journalism
There are millions of ordinary people affected by conflict in Africa whose stories are missing in the mainstream media. HumAngle is determined to tell those challenging and under-reported stories, hoping that the people impacted by these conflicts will find the safety and security they deserve.
To ensure that we continue to provide public service coverage, we have a small favour to ask you. We want you to be part of our journalistic endeavour by contributing a token to us.
Your donation will further promote a robust, free, and independent media.
Donate Here