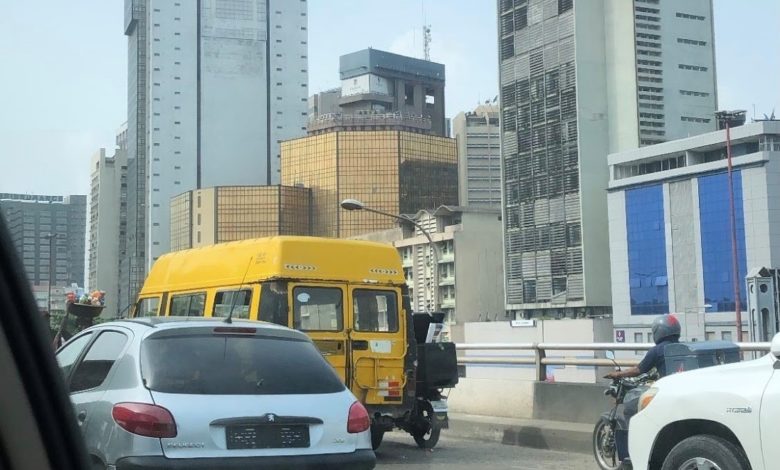 After living in Abuja for over 10 years, the move to Lagos had me wondering where I would start from. From all the stories I had heard about the city, the predominant picture I had was of how congested, noisy, dirty and how dangerous living there is. But then, a part of me looked forward to the hustle and bustle, a new wave of opportunities and people. It was like I was opening a new chapter, and so I embraced the negatives and positives of the move.
As soon as I landed at the Murtala Muhammed International Airport, the atmosphere was filled with what you would imagine in Lagos – it was smelly, and the moment you set your foot outside the terminal doors, you were met with shouting, honking, and taxi drivers desperately trying to get you into their cars.
As I made my way from the airport to Lekki where I lived, the difference between the Mainland and the Island was drastic, and the margin between the two areas could not be more opposite. From the moment you cross the Third Mainland Bridge, you can see that the Island is far more organised with the buildings grander and a lot taller. I had, unfortunately, landed during peak hours, around 4 pm, and so traffic had already begun to gather in clusters. The only luck I had on my side was that the traffic jam was in the opposite direction. But encountering the random "go slow" here and there was still inevitable. I did not get home until about three hours later that day, though, in Abuja, the same journey would have taken around 45 minutes.
After settling in, I was due to report to work after transferring from the Abuja head office to the Lagos bureau. Mind you, I lived in Lekki, while the office was located In Ikeja, just a bit further away from the airport. I recall each time someone asked me "where do you live?" and "where do you work?" my responses would be followed with gasps or looks of pity. At the time, I told myself they were probably overreacting – but they were not. My first trip to and from work confirmed that.
I was not comfortable with driving in Lagos, which made matters worse. Being a newbie in town and still unfamiliar with the potholes and roads outside my neighbourhood as well as the city's terrain, I resorted to using the ride-hailing apps, Uber and Bolt, for my trips to work.
Another thing no one told me was how expensive transport was in Lagos. Upon arriving at work, I was charged a ridiculously high amount of N4,000. I was gobsmacked. My return journey gulped around the same price. So was I going to be spending an enormous amount of N10,000 daily to get to and from work while also spending two to four hours on each trip? I immediately recognised I had a huge dilemma to face.
The dreaded Lagos traffic
Besides the daily traffic congestion encountered with trips to the office, when it comes to going out in Lagos, all outing plans are centred towards the traffic situation. I myself would begin by opening the Google Maps app to check all the routes, noting the ones with the least congestion and those that could get me to my destination in the shortest period. Despite what the map may show me, I always had it at the back of my mind that anything could happen before you even leave the house that could change the whole traffic situation. Most times, I would simply decide against going out and stay home to save myself the frustration and headache.
Even when you are in the car, it's always about manoeuvring, cutting, or considering what back ways or roads you can follow to find a way out of the seemingly never-ending rows of stationary cars. Either you or the driver is hissing and there is a building headache from the car fumes and stress.
Within the first two weeks, the stress was already visible on my face, and I began contemplating how I was going to adjust to my life here. After a while, I ultimately had no choice but to resign due to the impossibility of the situation.
Being on high alert
There were a few instances in which I felt I had to be on high alert, especially before traffic lights, approaching speed bumps, and while entering large potholes. This was mainly because of the swarm of people that seized the opportunity to lean into your car to beg. I was used to beggars in Abuja, but, in Lagos, the manner in which they approached the vehicle would often make you doubt your safety. They would come running as if they had preselected your vehicle. Asides this, they would press their faces against the glass, oftentimes only inches away from yours. If your windows happen to be open and luck was not on your side, you might just part with your phone, handbag or laptop bag if you keep them on the passenger's seat.
So if you're a first-timer in Lagos, always make sure your car doors are locked, windows winded up, and all bags are kept on the floor of the car. While some may be innocently begging for money to buy their next meal, others may have more sinister motives, forcing you to part with your valuables sometimes within an inch of your life.
Another thing I learnt upon moving to Lagos was not to make trouble with anyone. While I lived on the Island that happened to be safer than the Mainland, I heard stories of touts and area boys causing trouble in the streets, sometimes making you pay a fee to cross into their "territory". If you are less fortunate and get on their bad side, you could find yourself with a vandalised car and a horrible beat down.
What also can't be left out is the need of being obedient to those dressed in uniforms patrolling the streets especially late in the evenings and after dark. Once they catch the slightest hint of pride or overconfidence, let us just say many have not been so lucky to tell their ordeals. With the recent #EndSARS protests that grappled the country, a large chunk of the stories about police brutality and extrajudicial killings came from Lagos. So, advisably, to be on the safe side, dress down as much as possible, leave the flashy cars for your outings during the day and leave all gadgets at home if you will not necessarily be using them. Politeness may also be the key to having your life spared.
Everyday shopping in Eko
I was so used to Abuja's easy breezy lifestyle, where you could be anywhere literally in an hour flat, no matter how far, not to mention how easy-going everyone was and the relatively cheap transportation. I soon realised I could not even go grocery shopping on a whim. I had to intentionally plan when and where to go, giving consideration to the routes and possible traffic around the axis.
There was a market quite literally down the road from the house, a five-minute drive at most. But going there in a car at the wrong time could spell doom. I vividly recall when I went there to buy fresh foodstuff with the assumption I would be back home in half an hour. The trip to the market alone was an hour. I did not even bother parking as the only option would be by the side of the road.
I bought what I could from those selling at the roadside, made a U-turn and spent another hour before getting home. I truly felt like Lagos was cursed that day and decided I would just order from online grocery vendors to make my life easier unless I had no alternative.
So close, yet so far
Another part about life in Lagos that I found hard to come to terms with was how no one hardly came over, nor could you simply drop by to see family and friends. And this was not because you did not want to spend time with one another, but because of how, sometimes, getting from point A to point B in the state almost felt like a trip to another city.
I had a close cousin who lived in Lagos, FESTAC precisely, but throughout my stay, I was only able to visit her once. That Saturday, I left the house around midday and got to hers around 3 pm. This was without the weekday hustle and bustle. I could not even spend as much time with her as I wanted to because I was already anxious considering my journey back. So after a brief visit, I returned home, weaving through the large trailers making their way to Apapa and across the Eko Bridge, and finally getting home at 9 pm. Ironically, now the only time we get to see each other often is when we are both in Abuja.
Knowing I had a few aunts and uncles and some distant relatives in Lagos but never being able to see them made me feel practically alone in a city that was so alien to me.
There were upsides though, such as the days we could go restaurant hopping on weekend evenings or spend the afternoon at the beach. I could not deny the fact that Lagos had far more options compared to Abuja when it came to eating out. There were many more activities to engage in too. The only downside was the priciness of most restaurants, which was possibly due to the higher tax and rent rates in the state.
When I finally learnt earlier this month that I would be moving back to Abuja, the relief and euphoria that swept over me was indescribable. I was coming back home, to the calm and serenity I was used to. I was leaving crazy, stressful and traffic-packed Lagos. To an extent, it was too good to be true – that I was already leaving my Lagos life behind so soon, a life that I had sort of come to terms with although, admittedly, had never fully adjusted to. And so from "Welcome to Lagos," it soon became "Welcome Back to Abuja".
---
Support Our Journalism
There are millions of ordinary people affected by conflict in Africa whose stories are missing in the mainstream media. HumAngle is determined to tell those challenging and under-reported stories, hoping that the people impacted by these conflicts will find the safety and security they deserve.
To ensure that we continue to provide public service coverage, we have a small favour to ask you. We want you to be part of our journalistic endeavour by contributing a token to us.
Your donation will further promote a robust, free, and independent media.
Donate Here