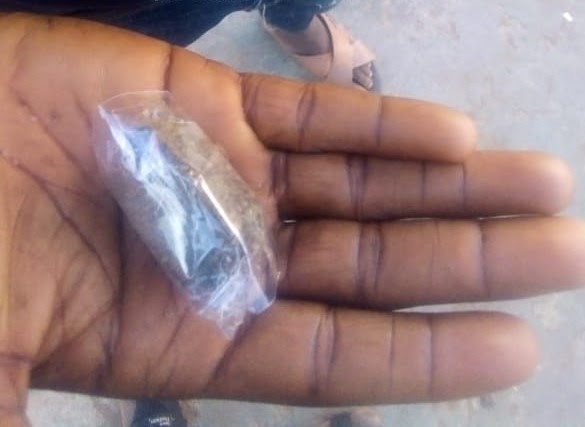 The sun was bright when I set out for the daring adventure at Okoolowo area, a place dreaded by many because it is notorious for marijuana business in Ilorin, capital of Kwara State in Northcentral Nigeria.
As I moved closer to the spot where some young men believed by many in the locality to be 'thugs' were sitting, smoke from their burning Indian Hemp popularly called 'weed' by the locals' covered everywhere. You do not need a soothsayer to know what transpires there–buying, selling and consumption of 'weed', though a banned substance.
A passerby could be heard saying "those guys are very bad. They've turned the filling station's corridor to their 'abete' (meeting point), collecting money forcefully from people, and smoking weed while openly disregarding its impacts on vendors close to them".
But I was certain of spending the next few hours with the 'bad guys', hence, I prepared myself for the good, bad and ugly.
As soon as I stepped into their area, one of the boys nicknamed Apete whose face was blanched with a burning wrap of cannabis in his hand accosted me and warned me to disappear before he would alert others.
The reason for his directive was unknown but I obeyed. From his coarse and darkened lips, apparent effects of years of smoking cannabis, he blew out white and grey smoke into the air.
Following that instruction, I left that place for one corner just around a filling station where the real buying and selling were taking place.
Inside The Wooden Shop Where It Happens
The dealer is a popular figure in the community known as Olomoda. Like every other trade, Olomoda also has some apprentices learning the best practices in marijuana business from him.
He operates in a wooden shop where only the initiated and familiar faces are allowed in to ask for Indian Hemp. Inside, there are other businesses taking place, one of which is betting. As his customers are picking 'Igbo', the vernacular name for Indian Hemp, a large number of them also stop to place money on betting, a practice locally known as 'Baba Ijebu'.
Till about 6 pm, people kept showing up to buy cannabis. While some left immediately after making the purchase, many others lurked around, sitting on a nearby fence to enjoy their 'smoke' as it is often called.
I did not have the gut to enter Olomoda's wooden shop yet I wanted to make a purchase of the weed. I summoned courage without letting my fear out. I asked one of them identified as Akile to get me one. He helped me to wrap it and smoked his under a tree, pointing me to join others on the fence to smoke mine.
The business thrives here and indeed it attracts customers from all walks of life and tribes. I could see Yoruba, Fulani, Hausa, Igbo and Nupes. The environment is known to be a stopover spot for travellers and tourists.
"What do you want now? If it's Sk, there is but N100 is for one. Or which place could you buy one parcel of SK for N50?'' asked Olomoda. "Reach me for my 'cabban' (cannabis) if you still need as many as possible," he told me when I eventually mustered enough courage to enter the shop.
At the end of our discussion, he entered his shop and gave me a parcel of marijuana when we agreed on a price.
Residents Express Worry
Residents of the area are not comfortable with the experience and are not keeping quiet either.
One of them, who identified himself as Abdulrahman Tijani, said: "Those bad men were using the front of my house as a smoking-joint before they later shifted from here.
"Those who are living in a house they're using its fence as their 'meeting point' are the ones that are mostly affected – even they're planning to move out because of those smokers."
Iya Lolade, another resident narrated her ordeal saying the experience was always unbearable whenever the smoke flowed indoors.
"And if we need natural ventilation, we stay in our backyard. The veranda becomes forbidden for us to stay due to the effect of the odour of marijuana," she added.'
Health Implications Of Smoking Marijuana
A 2016 study on rats showed that just one minute of secondhand marijuana smoke impaired lung function for at least 90 minutes. Secondhand marijuana smoke exposes one to many of the same toxic chemicals as smoking it directly does, the study said.
Secondhand smoke harms children and adults, and the only way to fully protect nonsmokers is to eliminate smoking in all homes, worksites, and public places, said the US Centres for Diseases Control and Prevention.
Usmau Mubaraq, a medical doctor, attributed some poor health conditions to secondhand smoke. He also examined how it could cause lung irritation, asthma attacks and strokes.
"The smoke can be breathed deeply into the lungs, which can cause lung irritation, asthma attacks, and makes respiratory infections more likely. Exposure to fine particulate matter can exacerbate health problems especially for people with respiratory conditions like asthma, bronchitis, or COPD," Mubaraq stated.
"The current body of science shows that both tobacco and marijuana smoke have a similar chemical composition and suggests that they may have harmful cardiovascular health effects, such as atherosclerosis (partially blocked arteries), heart attack, and stroke," he added.
For residents to escape these secondhand smoker's effects of marijuana, Mubaraq suggests that they maintain great distance from nearby cannabis smokers.
"Health is wealth, they should find a possible means to protect it," he concluded.
What We Are Doing – NDLEA
When contacted, Margaret Ogundipe, the head of the Forensic and Chemical Management at the National Drug Law Enforcement Agency (NDLEA), categorised Indian Hemp as a psychoactive substance that is in the league of other banned substances such as colorado and skushi.
"'Colorado', 'Skushi', 'Arizona', 'Edibles,' 'Legal High', 'Science Students' or whatever names they come by these days are new psychoactive substances," Ogundipe said.
"They are new emerging drugs that we at NDLEA are striving to keep up with. We are gradually building up intelligence to identify these new substances as well as mounting a sustained campaign to discourage our youths from engaging in them.
"No country in the world as of today, even with stringent laws and best rehab facilities, can say they have won the war against hard drugs. No, we are all combating the menace with a view to reducing it to the barest minimum."
NSCDC, Police Speak
Ajayi Olasanmi, Kwara State Police spokesperson, Ajayi Olasanmi told this reporter that the force would investigate the illegalities and irregularities in the community.
"I will inform the appropriate team to investigate and take necessary action please," Olasanmi simply said during a telephone interview.
Also, Ayeni Olasunkanmi, the Nigeria Security and Civil Defence Corps (NSCDC) Kwara State Public Relations Officer, said his team would respond to the menace as soon as possible.
Taking Indian Hemp Can Rise Crime
Studies have shown that there is a relationship between taking Indian Hemp and rising crimes.
The study evidence which was done from a Multiwave Longitudinal Study of Urban African American confirms that heavy adolescent marijuana leads to criminal involvement in adulthood.
It's stated that: Early marijuana use, especially heavy use, has been found to have negative long-term consequences, including reduced educational attainment, unemployment, early pregnancy, and poor health.
One serious potential effect of early use is increased risk of perpetrating various types of crime and becoming involved with the criminal justice system, which can have detrimental health and social effects. While marijuana use and criminal involvement (other than drug use) have been shown to be highly related. It is unclear if the strong link between drug use and crime is causal.
Instead, the association may be a result of shared risk factors that predispose an individual to both use drugs more heavily than peers and to engage in criminal activities, the study shows.
---
Support Our Journalism
There are millions of ordinary people affected by conflict in Africa whose stories are missing in the mainstream media. HumAngle is determined to tell those challenging and under-reported stories, hoping that the people impacted by these conflicts will find the safety and security they deserve.
To ensure that we continue to provide public service coverage, we have a small favour to ask you. We want you to be part of our journalistic endeavour by contributing a token to us.
Your donation will further promote a robust, free, and independent media.
Donate Here