Emergencies
News
Report: In Nigeria, COVID-19 Affects Local Farmers, Causes Food Scarcity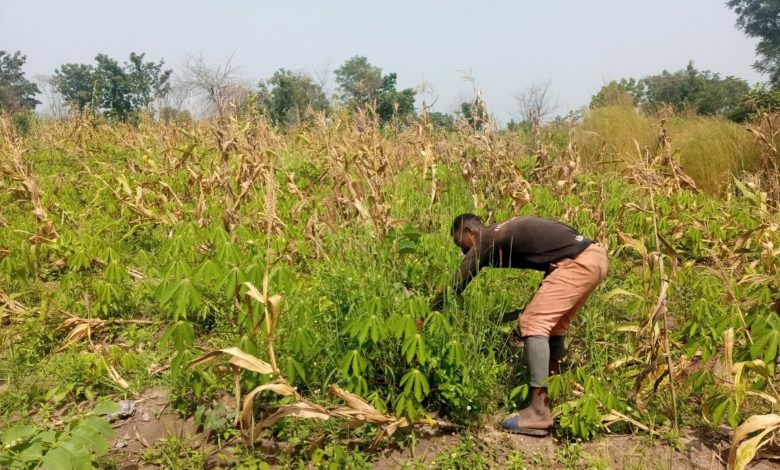 After her husband's death eight years ago, Rasheedatul Anafi, 42, for a sustainable way of living with her children. She decided to engage in farming to earn income and sustain her family.
In the decade after gaining political independence in 1960, Nigeria relied on revenue from agriculture for development but the next decade saw increase in oil income and the abandonment of the agriculture sector.
Adetunji Oredipe, a World Bank Senior Agriculture Economist, on September 6, 2019, said Nigeria's neglect of the agricultural sector costs the country about $10 billion annually.
In an effort to revive agriculture and shore up revenue and employment, Audu Ogbeh, Nigeria's former Minister of Agriculture and Rural Development, advised the youth to deepen their interest in farming before struggling for political positions.
Following this advice, Anafi hopedl that planting food crops like yam, okra, cassava, pepper and corn in a remote village in Moro Local Government Area of Kwara State, North Central Nigeria, would enable her to fulfil her dream.
The hope, however, ended following the outbreak of the COVID-19 pandemic. Like many other business owners, Anafi lost her business capital (over N1 million) invested in farming.
"The pandemic has really affected us; we lost many of our farm produce during the lockdown," she cried.
"There were no labourers to help us maintain our crops because of the movement restriction during the lockdown, this made my crops not to grow properly."
Anafi could also not harvest her cassava at the time- all of which got damaged in the soil.
Pandemic and the Damage
Nigeria recorded its first case of the novel coronavirus on February 28 and as part of efforts to curb the spread of the disease, the government banned all public gatherings three weeks later.
The ban on interstate travels that followed the pandemic outbreak stopped farmers and produce marketers from accessing farms. Harvesting was impossible, likewise, the transportation of already harvested produce. It was collateral damage for most small scale holder farmers that Anafi represents.
As the coronavirus crisis unfolded, the World Bank projected disruptions in domestic food supply and production, noting that the loss of incomes and remittances were creating tension and food security risks in many countries.
Many countries experienced inflation on food products, especially at the retail level, reflecting supply disruptions due to the ravaging pandemic, currency devaluations and other factors, with a greater impact on low and middle-income countries.
The United Nations World Food Programme also warned that an additional 130 million people could face acute food insecurity by the end of the year adding to the existing 135 million people who were facing food insecurity before the pandemic.
In 2018, about five million Nigerians in 16 northern states suffered from acute food insecurity, with Borno, Adamawa, and Yobe states accounting for more than half (60 per cent) of the total number of people affected.
A publication by PWC predicted that by the end of the first half of 2020, the number of people from 16 states suffering from acute food insecurity would increase to seven million.
Also, a survey by the Food and Agriculture and Organisation in March listed Nigeria among 44 countries that required external food assistance globally because of inability to procure food from local markets due to very low incomes, high food prices and bottlenecks in the distribution of agricultural products.
Similarly, the Nigerian National Bureau of Statistics (NBS) reported 1.88 per cent of food inflation in September from 1.67 per cent in August. According to NBS data, the average price of 1kg of rice increased by 40.69 per cent year-on-year and month-on-month by 2.30 per cent from N490.44 in July to N501.71 in August.
Farmers' Headache
Like Anafi, Aminu Buhari, who cultivates onions in Sokoto, Northwest Nigeria, ran into unexpected loss due to the COVID-19 pandemic.
He narrated how the pandemic made him lose his profit in the bags of onions he sold at a lower price over fear of the product spoiling while being stored longer than necessary.
"That time I was supposed to sell it for N5,000 but I sold a bag between N3,000 and N3,500. So I lost about N2,000 or N1,500 on each bag," he said.
He also recalled how the prices of fertilisers increased by about 100 per cent during the COVID-19 lockdown which equally contributed to the inflation of retail price for rice.
"For the unprocessed rice, before COVID-19, we did sell it for N7,000 to N8,000. But with increase in the price of the fertiliser during the lockdown, I had to sell a bag of rice for N15,000 or N16,000," Buhari explained.
For Mukaila Salaudeen, the pandemic was a disaster. His rice farm, cassava, soya beans and groundnut farms were damaged by herders who invaded them with their herds to graze during the restriction of movement imposed by the government to curb the spread of the disease.
"During that time, my cassavas farm of about four acres was destroyed and ravaged by the Fulani (herders) and I couldn't even get a tuber of cassava because when they were ravaging it, they were uprooting it for their cattle to eat," a very sober Salahudeen said.
"They had the opportunity of going out because they could not stay at home like us."
"Before I could farm again this season, I had to go on a borrowing from friends because if we look at the price of cassava, by the time you harvest and sell, you are going to get nothing less than N4 million to N4.5 million," he lamented.
Olabode Jimoh, the Eleju of Igbonla Kingdom in Irepodun Local Government of Kwara State, also revealed how COVID-19 stifled the economic activities of his subjects.
This was also the case with Yunus Mustapha, a National Certificate of Education (NCE) holder in English and Social Studies of Kwara State College of Education, Ilorin.
After several failed attempts to secure paid employment, Mustapha ventured into fish farming. At the time COVID-19 broke out, he had four large fish ponds in his farm at Sobi area in Ilorin East Local Government of Kwara State.
"During that COVID-19, we could not get feed for the fish due to the lockdown imposed by the government," Mustapha recalled.
"There was no market to sell the ones that were already mature for harvest because of no transport to take them to our customers in places like Maiduguri, Calabar and Kaduna.
"I used N500,000 to stock fish at that time with the hope of getting twice the money invested. But I hardly got N300,000 back when I sold them," he said.
Nihimatallah Aderemi, a farmer who cultivates yam in Gambari, Surulere Local Government Area of Oyo State, Southwest Nigeria, also cried over her losses due to the COVID-19 outbreak.
Aderemi said she lost a huge amount of money because the movement restriction prevented buyers, especially from the neighbouring towns, from coming to the market to buy her goods.
Like Aderemi, Jafar Sala, a tomato and onion farmer in Sokoto, narrated how there was no market to sell his farm produce during the lockdown. He is counting his losses.
Reasons Food Prices Are Going Up
Marketers as well as consumers at Kasuwan Daji, a popular foodstuffs market in Sokoto State, during a recent visit, attributed the rising prices of staple food items to the COVID-19 pandemic.
They expressed concern over the scarcity of staple food items such as rice, maize, onions and beans.
"When there was COVID-19, the potato market experienced poor sales and the product was very scarce," Aminu Runjin Sarki, the Chairman of Potatoes Sellers in Ramin Kura, Kasuwan Daji, said, "The price increased from N5,000 to N7,000 or N8,000 during the pandemic."
Food prices differ in markets and regions depending on availability.
Aishatu Abubakar, a food seller, expressed displeasure over the rise in vegetable prices.
She said, "The prices of vegetables (onions, tomatoes and pepper) are too high now. You can't get onions for N100. The least you can get is for N200.
"The onions you would've purchased for N1,000 before is now about N3,000. Before now, I bought N50 worth of onions but currently, the one I buy for N200 won't be enough," she said.
Meanwhile, Rofiat Abdulganiyu, a consumer who was at the market to buy foodstuffs, said: "The expenses are higher than what people are getting. For instance, something you were buying for N200 or N300, nowadays, N500 or N700 cannot buy it.
"Before now, we were buying a small basket of onions for N500 but when COVID-19 came, it increased to N2,500."
At Gambari Market in Oyo State, retailers of garri, a major staple food for the poor and middle-class citizens, said the price had increased.
A Bad Moment For Farmers
Mukaila Salahudeen, the Secretary of All Farmers Association of Nigeria (AFAN), Kwara State Chapter, said the pandemic led to unexpected losses for farmers.
He said produce worth millions of naira were lost to herdsmen who grazed their cattle on farmlands at the time of lockdown.
"During the lockdown, most of the farmers were not able to go to the farm and most of their crops like cassava and other bi-annual crops were ravaged by the Fulanis.
"So by the time the lockdown was relaxed, we discovered that these crops had been damaged," Salahudeen said.
Besides economic losses, he recalled that farmers also suffered personal losses as it was difficult for many to find what to eat during the lockdown.
"When you don't go out, you don't have enough to eat and the little ones you have destroyed. Government can't feed everybody. If they say they provide some foodstuff, how many farmers will they be able to satisfy?" he asked.
Salahudeen said the corresponding effect of what the pandemic did to farmers and their farms was the rising price of food items nationwide.
"When farmers don't have enough to produce, there won't be enough to eat. So, you expect scarcity. The farmers were locked down. In fact, if you lose a month without going to the farm that means it will affect the production. And if it affects production, people will not have enough to eat," he said.
On the promised palliatives to farmers by the government, the AFAN secretary said, "the government has been promising farmers palliative and we are still expecting it."
Theodore Ogaziechi, the spokesperson for the Federal Ministry of Agriculture and Rural Development, declined comments on the situation.
For weeks, repeated calls and text messages sent to his phone seeking clarification were not answered or replied.
Expert Weighs In
Femi Babatunde, a crop protectionist, blamed the fate of farmers during the lockdown on security agents, who were allegedly arbitrarily implementing the movement restrictions imposed by the government.
Babatunde said farmers' access to markets was also severely disrupted.
"Most Nigeria farmers are small-scale farmers and they don't have storage facilities, they had to watch their fruits and vegetables spoil or sell them off cheap to unscrupulous middlemen," he said.
"Even after the lockdown was eased, there were numerous reports from many farmers about harassment at police and military checkpoints.
"Women farmers were particularly vulnerable to this. Where farmers refused to pay bribes, security personnel seized or destroyed their produce," Babatunde alleged.
The atmosphere of harassment and intimidation on the roads, the crop expert said, also discouraged many food transporters from operating.
The transporters that were willing to pay bribes passed their additional costs to the consumers, he added.
"In addition to income loss by these farmers, they have to deal with a price increase for agricultural inputs such as herbicides, seedlings and fertilizers because the lockdown also affected the import and transportation of such goods.
" For instance, the fertilizer I purchased for my farm at N7,500 a bag just three months ago is now sold for N16,500 and all these equally contributed to the inflation in food price in Nigeria," Babatunde said.
To ameliorate the hardship farmers faced during the pandemic and its resultant effect on the scarcity of food in Nigeria, he implored the government to provide more palliatives and train farmers on modern agricultural practices.
---
This report is facilitated by the Wole Soyinka Centre for Investigative Journalism, (WSCIJ) under its COVID-19 Reality Check Project.
---
Support Our Journalism
There are millions of ordinary people affected by conflict in Africa whose stories are missing in the mainstream media. HumAngle is determined to tell those challenging and under-reported stories, hoping that the people impacted by these conflicts will find the safety and security they deserve.
To ensure that we continue to provide public service coverage, we have a small favour to ask you. We want you to be part of our journalistic endeavour by contributing a token to us.
Your donation will further promote a robust, free, and independent media.
Donate Here