Displacement & Migration
Featured
Features
News
Relief Materials Meant For Nigerian IDPs Are Ending Up In The Wrong Hands
The trend has become a source of concern for many as it is threatening the transparent and healthy distribution of material aid in the region.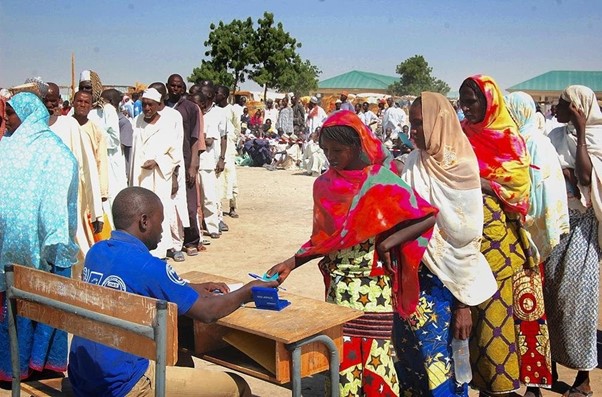 Passing themselves off as Internally Displaced People (IDPs), members of host communities in Borno, Northeast Nigeria, are lining up for aid originally allocated to direct victims of the Boko Haram insurgency.
Food, shelter, and other essentials of life have been the basic needs of IDPs since their influx into Maiduguri, Borno state capital, in 2014. They were driven out of their homes by the Boko Haram insurgency, which has plagued the Northeast since 2009 and has now claimed more than 37,000 lives while damaging billions of dollars worth of properties. 
Borno State, which has been most affected by the humanitarian crisis, was hosting over 1.6 million out of the total 2.18 million IDPs in the Northeast as of May 2021, according to the International Organization for Migration (IOM). The lingering task of catering for IDPs weighs heavily on the state government's budget and the current administration led by Babaganda Zulum has planned a closure of all displacement camps this year. 
IDPs were first fed directly from designated kitchens in the IDP camps by the federal and state emergency management agencies before non-state actors arrived. Increasing complaints about poor food quality compelled the humanitarian service providers to change their approach from direct feeding to the distribution of monthly foodstuff or stationing food vendors outside the camps. 
But this new approach is not foolproof either as there have been cases of donated food items and allowances getting diverted by members of the host communities who are themselves not displaced.
"There are some women coming from inside town who have tents here. They have been registered as beneficiaries. When they are distributing anything, you would see them in their tent posing as IDPs," said Abba Goni, an IDP from Marte Local Government Area (LGA) who resides in an informal camp in Old Maiduguri. He alleged that the camp leaders know the women are not real IDPs but have refused to take action because of their personal relationship with them. 
Abba is one of many displaced people complaining bitterly about host community members posing in the camps as IDPs to have a share in the food and non-food items donated to them. "We are constrained to speak out due to the fear of being delisted from the food ration register by conniving camp officials. Some volunteers of the aid organisations are conniving with local camp officials in return for favours from the illegal aid beneficiaries," he told HumAngle.
While it is uncommon to find host community members infiltrating formal IDP camps to get food tickets, the practice is rampant in informal settlements. The IOM noted in its latest Displacement Tracking Matrix (DTM) report that only 28 per cent of all camps and camp-like settings in the Northeast (2,397) are planned, while the rest are spontaneous — in other words, informal. In Borno, there are about 308 camps and camp-like settlements.
Unlike planned, officially recognised camps, not much attention is paid to informal camps by governments and aid organisations as they are often located in the middle of host communities and have loose entry restrictions. Leaders in such host communities are the first point of call for aid organisations seeking to make interventions. They rely on these community leaders for the proper identification of displaced people in need of assistance. 
IDPs, however, complain that the confidence reposed on these leaders has often been abused.
"About half of those on this queue are family and friends of the traditional leader of this area," said Modu Kurrammbe, as he waited in line to receive non-food items distributed by an aid organisation in the Customs area of Maiduguri. Kurrammbe is an IDP from Dikwa who resides in an informal settlement along Muna road. He added that some of them had already been told to go to the traditional leader's house after collecting the aid so they could share their portion with the person.
More and more displaced people are in urgent need of food-related assistance. According to the IOM, 79 per cent of IDPs in the Northeast identified food as their greatest unfulfilled need, the figure being slightly higher compared to the previous assessment. Non-food items were cited as the main unfulfilled needs in nine per cent of the locations, then shelter, medical services, and drinking water.
The World Food Programme (WFP) has been providing support in the area of food security to IDPs and refugees in the region for years. The United Nations agency has gradually been shifting focus away from the direct donation of food items to cash-based transfers (CBTs). Beneficiaries receive cash or tickets worth about N17,000. According to its 2020 annual country report, last year 1.6 million people benefited from the resource transfer of about $67 million.
The gains from this programme have lured many host community members to scramble for the food tickets by hook or by crook. This has led to the rising tide of corrupt practices and abuses by some IDPs, camp officials, and community leaders. HumAngle gathered that key perpetrators also include volunteers of aid organisations and members of the Civilian Joint Task Force (CJTF), a militia group formed in 2013 to fight Boko Haram members.
The trend has become a source of concern for many as it is threatening the transparent and healthy distribution of material aid in the region. One implication is that a great part of the donations do not get to the people most in need of them.
Fraudsters have crept into the food ticket space, turning it into a racket and siphoning a lot of money meant for victims of war in the process. 
"You can get the food ticket for N3, 000," said Yagana Fanta, a host community member living in Muna Kumburi. "It is worth paying for because you would get a monthly food package worth about N20,000 for the next six months. You pay through an agent and you would get the ticket in no time."
Mallam Hassan, a resident of the Shokari area of Maiduguri, identified one of those involved in the racket. "When you pay her, you will get a text message to confirm. But the tickets she was giving out were later found to be fake ones, and she was arrested a couple of weeks ago. Those who paid for the tickets did not follow up by showing up for the packages," Hassan said, adding that he thinks the police are still handling the case.
When HumAngle reached out to Edet Okon, spokesperson for the Borno Police Command, to confirm if arrests had really been made in connection with the malpractices, he replied that he does not speak to journalists he does not know. "If you want to have a relationship with me so I can talk to you, you have to connect with the journalists here on ground," he added.
Meanwhile, last October, IDPs at the Dalori II camp located at the fringes of the Maiduguri raised a similar alarm during an interview with HumAngle. The displaced people, who were wrongly accused of being Boko Haram members and were detained at Giwa barracks for many years, said they were sidelined as food donations were given to strange people brought from the host community who were not victims of unlawful detention.
The state governor, Zulum, has also repeatedly complained about the menace of residents making "dubious claims in order to take what is meant for IDPs". He was reported to have exposed 1,178 "fake IDPs" at different times in March during visits to various displacement camps.
Abubakar Ibrahim, a humanitarian affairs analyst based in Maiduguri, explained to HumAngle how the food distribution process involving IDPs typically plays out.
"In designated IDP camps, only the National Emergency Management Agency (NEMA) and some handful of NGOs like Save the Children and Action Against Hunger deliver food to IDPs. In temporary camps, Save the Children and Action Against Hunger issue food ration cards to IDPs," he said. 
"These organisations are sometimes sub-grantees of WFP and other major donors. The process is, the IDPs would submit their cards for biometric identification to designated food vendors in town who would then issue the food packages to them on a monthly basis. In places like Monguno, Konduga, Magumeri, Bama, and others where there are returnees, both aid organisations and the Borno State Government directly distribute foodstuff from time to time."
Abubakar confirmed that the corrupt practices first started when food vendors were in charge of distributing ration cards. 
"They gave out many cards to their friends and well-wishers and sold many to non-IDPs. But in the case of formal IDP camps, the aid organisations would physically issue the cards to IDPs, and during food distribution the food vendors would be asked to take the foodstuff to the camps," he said.
Abubakar went on to state that, during the distribution of the cards, some of the IDPs would invite their non-IDP-friends in town to join the queue to get the cards. Some would even travel from Maiduguri to Konduga, Mafa, or Magumeri to get the cards whenever they received news that cards would be distributed.    
"Bad eggs in aid organisations, especially volunteers and casual workers, have been reported to have printed fake tickets and sold them out," he said, adding that it would be hard for such operations to succeed without the help of insiders.
---
This report is a partnership between HumAngle Media and Premium Times Center for Investigative Journalism (PTCIJ) under the 'Accountability Journalism & Investigative Reporting for Deepening Democracy and Development' project.
---
Support Our Journalism
There are millions of ordinary people affected by conflict in Africa whose stories are missing in the mainstream media. HumAngle is determined to tell those challenging and under-reported stories, hoping that the people impacted by these conflicts will find the safety and security they deserve.
To ensure that we continue to provide public service coverage, we have a small favour to ask you. We want you to be part of our journalistic endeavour by contributing a token to us.
Your donation will further promote a robust, free, and independent media.
Donate Here