Development
Features
News
Solutions & Development
Rapid Diagnostic Test Is Helping Nigerians Fight Malaria, But There's A Problem
Rapid Diagnostic Tests (RDTs) for malaria could lessen the culture of self-medication based on symptoms among Nigerians due to their shorter waiting time and ease of use. However, health experts have noted several gaps in the innovation.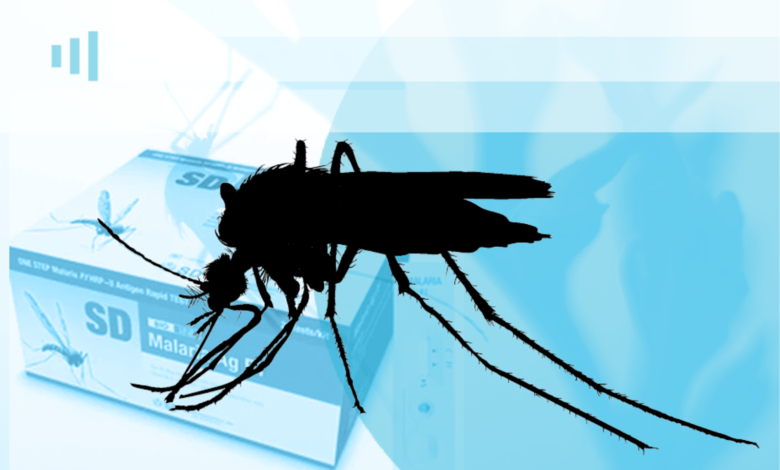 When 25-year-old Fatima Lawan started feeling shaky chills accompanied with recurring headaches, she found her way to a pharmaceutical store where she acquired a Rapid Diagnosis Test (RDT) kit that would let her know if she had malaria or not, within 10 to 15 minutes.
"Usually, I don't take medications till I know exactly what is wrong with me, so I bought it at H-medix (A pharmacy in Abuja, Nigeria's Capital), read the instructions and did it at home. It was positive," Fatima explained.
Malaria RDTs are an alternative to diagnosis based on clinical grounds, particularly where quality microscopy services are not readily available. It assists in diagnosing malaria by providing evidence of the presence of malaria parasites in the human blood.
Even when Fatima discovered that she had malaria, she sought a pharmacist's advice before she was given antimalarial medications. "I was better within a few days," she said.
Some Nigerians would rather self-medicate, rely on herbal medicine or even do nothing until they get better.
What survey shows
In a survey by HumAngle, 39 per cent of respondents who self-medicate with antimalarial drugs said they had never tested for malaria. Only 24.5 per cent of the 106 polled know about RDTs for malaria. Eighty-five (85) per cent of the 106 live in urban areas, while the remaining live in rural and semi-urban areas.
While 14 respondents use and prefer RDTs to microscopic testing, 69 respondents said they do not know which malaria test is usually done on them whenever they go to a laboratory or a hospital for diagnosis.
Those who use RDTs have attributed their preference to its cheaper cost, shorter waiting time, and ease of use, while five respondents said it was the brand available that pushed them to opt for the RDT instead of microscopic testing.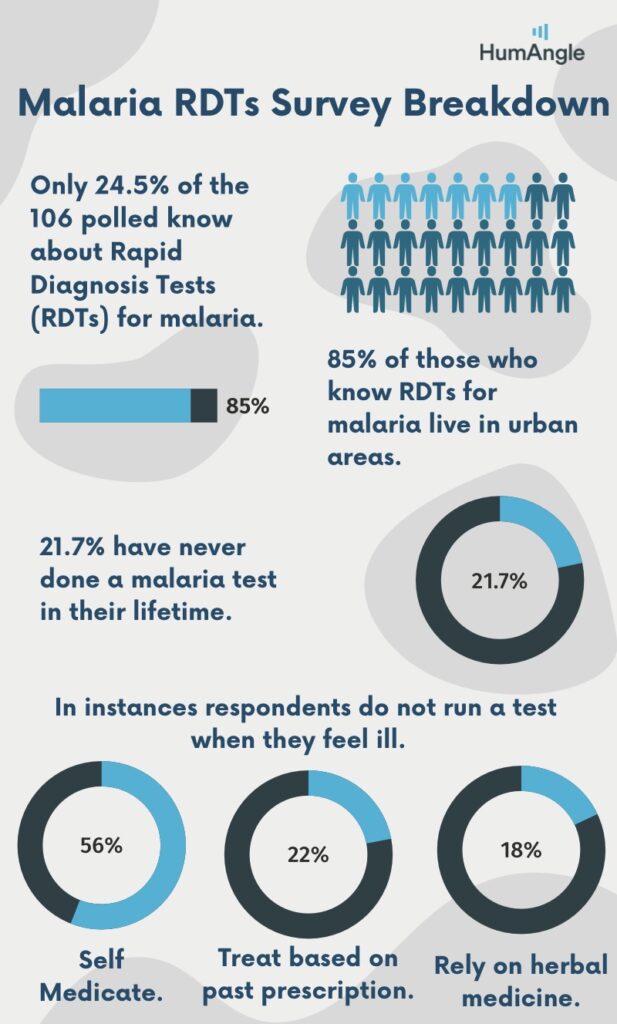 However, about one-fourth of those polled have never conducted a malaria test before. While 41.7 per cent said it was the cost of conducting a malaria test that hindered them from being tested, 25 per cent said the health workers they consulted did not suggest running a test for proper diagnosis. Three respondents said they do not like to be tested at all, and one responder claimed not to have ever felt malaria symptoms.
In instances responders do not run a test when they feel sick, 56 per cent self-medicate with antimalarial drugs, and 22 per cent were treated based on past prescription. Meanwhile 18 per cent rely on herbal medicines and two respondents said they did nothing until they got better.
Those polled were 54.7 per cent women and 45.3 per cent men. Respondents' ages ranged from 16 to 55 years, with 53.8 per cent being between 26 and 35.
What are RDTs?
RDTs are a point of care testing whereby diagnoses are made without delay.
Animashaun Olawale, a laboratory scientist and an epidemiologist, explained that several RDTs now detect infectious diseases and have been popularised due to microscopic testing being inaccessible in some areas across nigeria.
The World Health Organisation (WHO) has described malaria as a life-threatening disease caused by parasites that are transmitted to people through the bites of infected female Anopheles mosquitoes. Olawale added that Malaria RDTs detect antigens of the parasitic organism which causes malaria in the human body.
Olawale, who works at Primary Healthcare Center in Ajofebo, Oyo State, Southwest Nigeria, pointed out that RDTs work on the principle of lateral flow immuno-chromatographic antigen detection tests. "They rely on the capture of dye-labelled antibodies to produce a visible band on a strip often encased in a plastic housing referred to as cassettes."
In essence, when the specimen (e.g. blood) containing the antigen to be detected is placed on the sample pad, it soaks up the specimen fluid. The fluid then moves to the conjugate pad, which contains conjugated antibodies directed against the antigen. Here, the antigen-antibody (Ag-Ab) conjugate complex is formed.
The Ag-Ab complex continues to migrate across the membrane until it reaches the capture zone where the complex will bind to immobilised antibodies. As more and more Ag-Ab complexes are captured at the "test" line, the line becomes visible on the strip.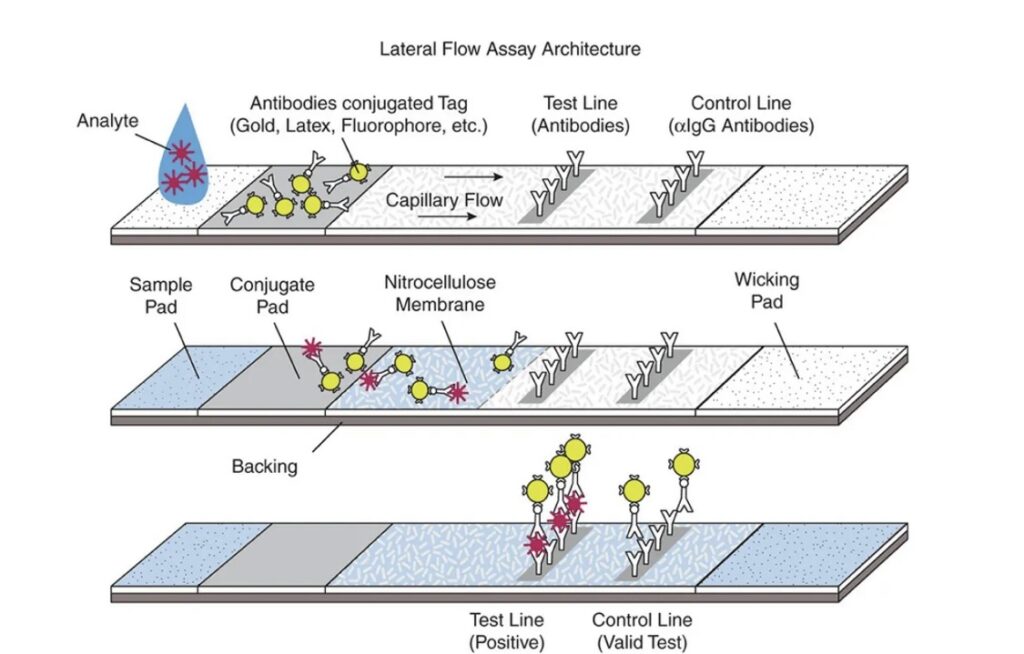 Olawale told HumAngle that RDTs for malaria have improved the availability of parasite-based diagnoses throughout the malaria endemic regions.
Malaria in Nigeria
Last year, Nigeria had the highest number of malaria cases of any country in the African region. It also accounted for 31.9 per cent of global deaths from malaria.
The damage caused by the malaria parasite in the human body is more than meets the eye. Dr Zainab Abubakar, a medical doctor, explained that apart from muscle pain, headaches, and fatigue, the disease can cause anaemia. "The parasites can infest your blood cells and cause it to break down, which reduces the supply of blood in the body," she says.
She also listed hyperbilirubinemia (jaundice), liver failure, kidney failure, and convulsions as some of its dangers in adults and children. "Its impact is almost the same in both adults and children, but could be even more harmful in children," Dr. Abubakar added.
While the disease can be prevented with well-functioning immunisation programmes, by using long-lasting insecticidal-nets, and maintaining good environmental hygiene, it is also curable. There are various antimalarial drugs; however, those commonly used are Artemisinin-based combination therapies (ACTs). "It is a combination of two or more substances that work against the parasite."
She further added that no clinical medication comes without side effects and this makes self medication a public health concern.
The culture of self medication
The habit of self medication among Nigerians is linked to the country's healthcare system, Dr Halima S. Nuhu, a public health expert, told HumAngle.
In a phone interview, Dr Nuhu explained that the shortage of personnel in health centres contributes to reduced quality of care which does not promote facility visits. "Imagine you have to wait for hours before getting to see a doctor when you can just go to a pharmacy and purchase a drug. Which is better?"
According to the WHO, the global standard for doctor to patient ratio is at one to 600, however, Nigeria's doctor to patient ratio is one to 6,000. This has led to a negative attitude by health care workers to patients, which leaves a number of people with the decision to medicate without consulting doctors.
The inappropriate malaria treatment-seeking behaviour is common amongst individuals because of its perceived 'plain' symptoms. "Sometimes people will visit a doctor, and without going through tests they can be prescribed drugs. They have no idea that doctors know classic symptoms of every disease." Dr Nuhu said. "Next time when they feel the same symptoms they would just get the same drugs without seeking medical advice."
She added that oftentimes there are diseases that have similar symptoms or that mimic other diseases, and without careful identification, can be misdiagnosed. She lists drug-to-drug interactions, drug resistance and dependency as one of the adverse effects of medicating without seeking medical opinion.
Dr Nuhu also described RDTs for Malaria as a 'lesser evil'. "It doesn't make sense that when an RDT says positive you should just go and buy an antimalarial," she said. "When it is positive you can take the results to a lab or a pharmacy for proper treatment."
Gaps in Malaria RDTs
Accurate malaria diagnosis is essential for malaria case management, surveillance and elimination, and Malaria RDTs are groundbreaking as they are usually inexpensive, simple to perform and do not require electricity. However, they have several limitations that may reduce its utility.
Olawale explained that there are about four types of species that cause malaria. "The commonest one in Nigeria and Sub-saharan Africa is the plasmodium falciparum [P. falciparum]," he said. "There are others such as the P. vivax, P. malariae and P. ovale, which the RDTs cannot detect all at once."
He added that a patient can have one particular species of malaria and, depending on the brand, may not be detected by the RDT, "giving what we refer to as false negatives."
Other factors such as storage, expiration and nondetection of the extent of severity may affect the accuracy of the results.
Olawale explained that in malaria microscopy there are four scores of malaria where the parasite may be scanty, or may carry plus one, plus two or plus three, "whereas with RDT it can only tell you positive or negative." He said that medical lab scientists generally prefer microscopic methods of testing as it is the 'gold standard' and helps with accurate diagnosis.
He advised that even when using the RDTs it is advisable to seek the assistance of a qualified medical laboratory practitioner.
---
This story was produced in partnership with Nigeria Health Watch through the Solutions Journalism Network, a nonprofit organisation dedicated to rigorous and compelling reporting about responses to social problems.
---
Support Our Journalism
There are millions of ordinary people affected by conflict in Africa whose stories are missing in the mainstream media. HumAngle is determined to tell those challenging and under-reported stories, hoping that the people impacted by these conflicts will find the safety and security they deserve.
To ensure that we continue to provide public service coverage, we have a small favour to ask you. We want you to be part of our journalistic endeavour by contributing a token to us.
Your donation will further promote a robust, free, and independent media.
Donate Here