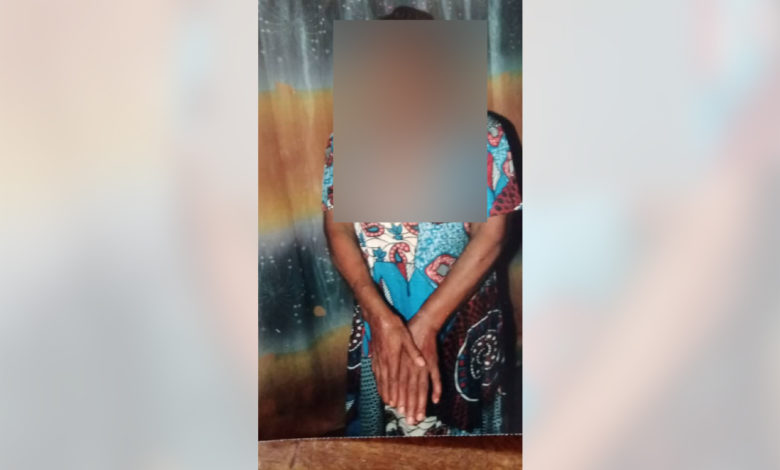 Civil unrest is brewing in Owu-Ijebu community in Ijebu East Local Government Area of Ogun State, Southwest Nigeria, following the battery of a 60-year-old woman by one of her relatives over a dispute relating to a family house. 
In Nigeria, Africa's most populous country, Gender Based Violence (GBV) is a topic that has often triggered agitations, protests and public discourse. 
It is no surprise that the assault suffered by 60-year-old Fasasi Rotimi is gathering support. Rotimi alleged that one Demola Taiwo, a 45-year-old member of her extended family, had on three occasions battered her with a horsewhip over a disagreement on the renovation of a house belonging to the extended family. 
The National Council of Women Society (NCWS), Ijebu East Chapter, a women's group committed to fighting for the rights of women in Nigeria is demanding justice for Rotimi, who it believes has been violated by Taiwo. 
The group and three others have petitioned the state command of the Nigeria police to investigate the matter and ensure that justice is served. 
In June 2020, gender equality advocates stormed the headquarters of the Nigeria Police in Abuja, Nigeria's capital to protest against sexual violence and other forms of violence against the female gender.
More than 200 protesters reportedly marched around the force headquarters, chanting slogans and wielding banners with inscriptions like: "Justice for all Nigerian girls and women";  "No means no"; among others.
Osai Ojigho, Director of Amnesty International Nigeria, in an interview with CNN, expressed concern over acts of violence tolerated by Nigerian girls and women.
"Violence against women is a national crisis in Nigeria. There are cases from homes, schools, places of worship, police cells, displacement camps. Nowhere is safe or immune to this violent crime against women,"
She proposed that authorities need a zero-tolerance approach to end acts of violence targeted at women.
Ojigho added that the approach should include strict enforcement of laws and prosecution of cases by security agencies.
The genesis of battery on Rotimi by Taiwo
The face-off between the two started when Rotimi challenged Taiwo, for trespassing into her father's house.
Multiple sources in the community told HumAngle that Taiwo beat Rotimi with a horsewhip for almost three days after an altercation between the two on the first day. This, Taiwo denied, insisting that it was the woman's son that beat him and inflicted injuries on him.
According to Rotimi, after the confrontation, Taiwo poured water on her and brought out a horsewhip from his car which he used on her.
"I saw him offloading blocks and I asked him what he wanted to use it for," Rotimi recounts how the fracas started. But, Taiwo responded by pouring water on her. 
"He wanted to repair two rooms defaced by his father, but I didn't know. I asked if the family was aware, then he poured water on me and started beating me with a horsewhip," she says.
"He would have beaten me the second day too if the Baale (community head) had not snatched the horsewhip from him."
When she confronted the workers on the third day not to work there until the matter was resolved by the King, the woman said she was brutalised till she fainted. "He poured water on me again, then he started beating me again. When I got to 'Ile Olowu'(the King's palace) I fainted and they took me to the hospital."
She also alleged that she was arrested but later released. However, her children who were arrested alongside her were detained till the next day. Witnesses who spoke to HumAngle confirmed her narratives. 
Iyunloye (not real name), a woman who witnessed the second day of the assault, confirmed that it was the community head who snatched the horsewhip from Taiwo as he was about to unleash another round of whips on Rotimi.
"I was coming from somewhere when the woman accosted me and asked if I had seen her block supplier. As we were talking, Baale Apaara parked his car by our side and greeted us. Then that man called Demola Taiwo was driving towards us too," Oyinloye recalls.
"He suddenly stopped and asked the woman where she was coming from. He said: 'are you not coming from my house? Have you not gone to drop charm in my house?'"
"Then the woman said 'why are you disgracing me everywhere?' I told the woman to follow me. Then he (Demola Taiwo) came down from the car with a horsewhip. He started beating her until Baale Apaara snatched the horsewhip from him." 
Gesinde, another witness who lives close to the victim's residence confirmed the allegation to HumAngle. "That woman was severely beaten till she landed in a hospital. I went to check her in the hospital. The man that beat him is Demola Taiwo, they also call him Poke."
Demola denies ever beating Rotimi
However, when HumAngle contacted Demola Taiwo, he denied ever touching the woman. "It was her son who beat me so much that I landed in a hospital," he said over the telephone.
When asked if there were eyewitnesses who could corroborate his defence, he said those who witnessed the altercation were his enemy and would support Rotimi.
"I did not touch her. If she claimed I touched her, tell her to get a doctor's report to confirm it," he further told HumAngle.
"There were people there as witnesses but all the people there are my enemies who did not want me to repair that house. That exact room was where I buried my father. But those people are my enemies like her, they are the ones supporting her," he explained.
"She brought a plank to attack me. I went to report her to her husband, and the husband warned her." He further alleged that Rotimi invited her son to beat him and his wife. "She invited her last born and that one started beating me and my wife. I have a doctor's report." 
Taiwo, however, reached out to a HumAngle reporter after some hours, announcing that "we have settled the matter." 
Protest by Owu women against Taiwo
Women in the community were unsettled by what happened to Rotimi as over 30 of them stormed the office of Community Development Initiatives (CDI), a  civil society organisation, to protest the alleged battery of Rotimi.
The women were led by Elizabeth Adelana, the President of the National Council of Women Society (NCWS), Ijebu East Chapter.
Adelana who lives in the same community where the incident happened also confirmed the battery. According to her, she witnessed the third day.
"It was the Friday assault that I witnessed. I was watching them from a distance. I saw Mr Taiwo beating the woman with a horsewhip, 'wee wee wee'. I started shouting, calling on people to separate them 'are there no men in this community?' I wondered," the NCWS president recounts. 
"When I got to the community centre to express my displeasure over the incident, I learnt that that was the third time he would assault the woman. I asked why they had not gone to the King's palace to report, they said 'Kabiyesi' had summoned the man but he refused to go."
She said the women were very angry and asked her to take action as the President of NCWS. "I led about 60 women to the palace of Olowu, the traditional ruler of the Owu-Ijebu people."
"The king was not there but we met his chiefs. While we were talking, the woman went down and fainted. The chiefs contributed N7,500 for the woman to be rushed to the hospital."
When HumAngle called the Olowu, Oba Michael Adeshina, he confirmed that the woman "was beaten" but called for caution, saying "the matter is complicated."
"I have not seen the woman, but I have been speaking with her children. However, when the man came here, he told a totally different story. The matter is very complicated and one has to be careful," the Olowu said. 
Civil society groups petition Commissioner of Police
Meanwhile, three groups have jointly written a petition to the Commissioner of Police in Ogun State over the matter, demanding that the allegation of battery be investigated and justice served. 
The groups, Community Development Initiative (CDI), Grassroot Development and Documentation Initiative, and Eric Adenaiya Foundation, in the petition seen by HumAngle said they had investigated the matter and confirmed that the woman was battered. They also said the victim's children who had gone to report the matter to the police were detained.
CDI assured the women that justice would be served on the matter.
The petition reads in part, "On Friday 26th Friday, 2021 some women from Owu-Ijebu in Ijebu-East Local Government of Ogun State led by the President Ijebu-East Local Government National Council for Women Society (NCWS) Comrade (Mrs.) T. A. Adelana and the Otun Iyalode of Owu-Ijebu, Chief (Mrs.) Ranti Oduwole led about thirty women to our office to complain a case of physical assault battery against one Mr Ademola Taiwo from Owu who was accused to have been molesting one Mrs. Rotimi Fasansi (60 years) for an upward of three consecutive days and conduct likely to cause a breach of peace in Ijebu East."
It also referenced the woman's arrest, mentioning that "curiously, the DPO of Ijebu-Ife Police Division ordered that the woman be arrested at the hospital on Monday and detained in the Police station till around 8 pm after which he detained eight others who are the victim's children and friends that went to complain to the DPO."
The group urged the Commissioner of Police to ensure that justice in the matter
"Kindly use your good offices to investigate this matter and see that justice is served in this matter by the prosecution in the Law Court. We have implicit confidence in you that you will act promptly and justly."
Gender-Based Violence is a matter of national concern
According to the World Bank, Gender-based violence (GBV) or violence against women and girls (VAWG), is a global pandemic that affects 1 in 3 women in their lifetime. It is estimated that 30-35 per cent of women have experienced at least one form of GBV in their lifetime since the age of 15.
Meanwhile, a study by the World Health Organisation (WHO) reveals that the problem is most prominent in developing countries where socioeconomic status is low and education is limited, especially in sub-Saharan Africa (SSA) countries.
Names of the witnesses were changed to protect them from possible victimisation
---
Support Our Journalism
There are millions of ordinary people affected by conflict in Africa whose stories are missing in the mainstream media. HumAngle is determined to tell those challenging and under-reported stories, hoping that the people impacted by these conflicts will find the safety and security they deserve.
To ensure that we continue to provide public service coverage, we have a small favour to ask you. We want you to be part of our journalistic endeavour by contributing a token to us.
Your donation will further promote a robust, free, and independent media.
Donate Here