Analyses
Featured
News
Security & Tech
Private Drone Use Will Improve Security; Is Nigeria Ready For It?
The presence of private drone security will eliminate several security threats in Nigeria, but is Nigeria willing to share its airspace for private use?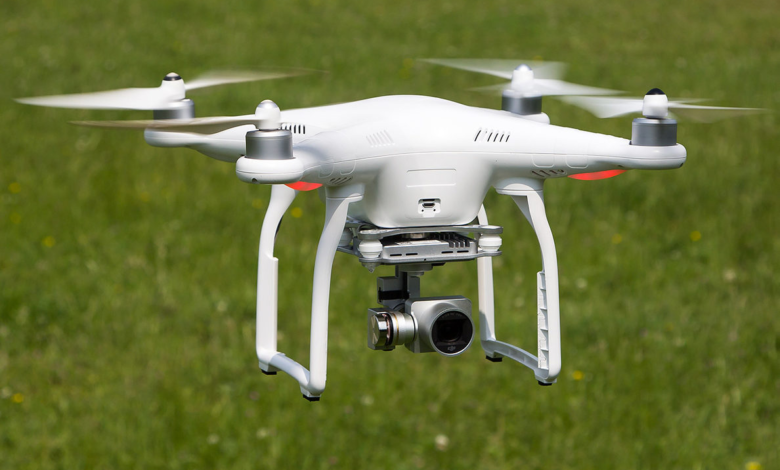 In July 2017, a convicted kidnapper, Jimmy Causey, escaped from a maximum-security prison in the U.S.A. Causey's escape was not discovered until three days later when Texas Rangers found him almost 2000 kilometres away from his prison. 
Investigations revealed that Causey was aided out of prison by a small drone that dropped off supplies for him. "Prison breaks" were immediately listed as one of the many risks that drones hold. 
When alarming cases like this are isolated, the immediate presumption is that drones are harmful and should only be used by governments for security purposes. But advancements in technology have proven that a safer society is a responsibility of both the government and the citizens. And everyone who can own drones should have one. 
The price of privatising drone security in Nigeria
Daniel Jayke*, a drone enthusiast who owns a fleet for mapping, photography, and other commercial uses, told HumAngle that the most expensive drone he owns is N12 million. That is more than the average Nigerian can afford. 
Helen Ashaolu*, another drone operator said she got hers for N250,000. Although hers is solely for filmmaking and photography, drones can have a different payload installed on them to carry out surveillance tasks. And this is where government regulations and licensing comes to play. 
Austin Joseph*, a GIS security consultant has had to register drones in Nigeria, and he says that it is easier to buy a drone than to use a drone, especially if it flies higher altitude. According to Joseph, "if your drone is flying 10,000 to 30,000 feet, you will have to acquire a license from the Civil Aviation Authority."
The Nigerian Civil Aviation Authority (NCAA) plays "oversight functions on Airports, Airspace, Meteorological Services, etc as well as economic regulations of the industry." Because of the high altitude that drones can go —flying as high as an aeroplane, sometimes— drone operators need to register with the NCAA to have access to flight information.
"Since it [drones] flies at the altitude of aircraft you will need to get flight patterns," Joseph says, before adding that "subsequently they will ask you to get consistent permits, pay certain amounts of money; and you don't even know the right place to pay to, there are no receipts."
NCAA also demands that all drone operators must be well trained, a position which Joseph agrees is "very good", before adding that a bigger challenge in Nigeria is that most of the money for permits and clearances are "settlement" which are not officially recorded, so you may end up paying more than once.
To ensure safety, Nigerian Meteorological Agency, NiMet, is also brought on board in the process, to provide accurate weather prediction, Joseph says, before adding that you have to "provide something [bribe]" before NiMet will give the needed data.
NCAA agents, according to Joseph, sometimes ask for the project details before giving a price or access to data. While these are important to ensure the drones are not being used for illegal activities, NCAA, according to Joseph, wants to know so they can assess how much they'll charge operators.
On paper, licensing is more expensive than it should be.
In 2016, Quartz analysed the cost of being a drone operator in Nigeria, as the government now requires that "operators [especially of high-performance drones] are expected to have registered companies with a minimum share capital of N20 million. In addition, drone operators will pay a non-refundable processing fee of N500,000 after which they will have to secure a security clearance from the office of the National Security Adviser."
This process will take between six months to a year to be completed.
Quartz noted that "operators granted security clearances will then be issued permits valid for three years but will have to pay an 'annual utilization fee' of $500. The process will cost a minimum of $4,000 over a three-year period compared with the $5 it costs to register drones in the United."
Drones for private security is more good than harm
In 2020, at the most influential tech event in the world, Consumer Electronics Show (CES), a drone-powered home system was unveiled by Sunflower, a security and tech company. 
According to Sunflower, "the Home Awareness System includes the eponymous Sunflowers (motion and vibration sensors that look like simple garden lights but can populate a map to show you cars, people and animals on or near your property in real-time); the Bee (a fully autonomous drone that deploys and flies on its own, with cameras on-board to live-stream video); and the Hive (a charging station for the Bee, which also houses the brains of the operation for crunching all the data gathered by the component parts)."
What this means is that the Sunflower system will coordinate security, give updates, charge itself and work as if it were a fleet of human guards on your property. It costs $9,950 (N3.7 million) to own one. 
Like the sunflower system, there are numerous other drone security systems that can cover large areas and give real-time feed to security operatives in a room where they are safe from the risk of 0n-the-ground assessment. 
The advantages these drones provide include; safety, efficiency, speed, lesser human casualty, omniscient vision, artificial intelligence, and work longer hours than human operatives. In addition to all of these, drones can do surveillance without alerting intruders. But what is the cost of using a drone for private security in Nigeria?
Will drones change anything?
Jayke told HumAngle that he does not "think more people having drones would improve security." He thinks only specific people should operate drones, adding that "there should be regulations over who uses and who doesn't. simply due to the concerns around aircraft safety, privacy, and airspace integrity. What should be done however is [to] make the process of owning and using drones seamless so those having it can have required documentation and training by extension."
Joseph expands on this that in countries like the U.A.E, "before you can fly drones, you have to be licensed. There is a drone pilot." He clarified that having only licensed and trained people operating drones for private security will help the government to "monitor" the users.
"It is not [about] restricting people from using the technology. It is about helping us to know what we have to do. While we are doing surveillance for security reasons, some people will do it for crime."
In many countries, including the U.S.A, drone usage, especially for private property protection is on the rise. However, because of the price of drones, the poor economic condition of Nigerians, and the loose regulation around drone ownership, one can only imagine if this is feasible. 
How much are Nigerians willing to pay? 
Kuje area council in Abuja, Nigeria's capital, has been a hub of kidnapping incidences. In a HumAngle report, it was revealed that residents have lost millions to kidnappers and robbers who have attacked different parts of Kuje. 
Some former inhabitants have been forced to abandon their multi-million naira homes because it is no longer safe to be there. At some point, residents have had to keep vigilance to protect themselves. Despite this, they have had a lot of blind spots which human eyes cannot cover.
The presence of a private security company, licensed to operate in such an area would give a superior advantage over the assailants. In another HumAngle report, we analysed how Drones/UAVs can be used for mapping terrorist routes, and locating terrorists. 
While the government is slow to achieve this, a private venture around Drone/UAV operation is a viable alternative to expecting ill-equipped Police officers, or volunteer vigilante groups to combat the insecurity. 
The expensive cost of drones is then shared as a rented service between inhabitants of the community, rather than as a one-time purchase by an individual. This can save Kuje and other insecure parts of the country. However, the government still has a role to play in this.
Nigeria needs to clear the air for private drone use
Joseph recommends that there should be a body for individuals or organisations who want to operate drones for private security. Ashaolu believes that "there should be restrictions" for certain airspace but private drones for security should be encouraged. 
"It will [not] only improve security surveillance, quick monitoring and assessment which will save time, cost and energy, it will also improve quick decision making and precision," Ashaolu told HumAngle.
Nigerian regulations on UAV/Drone usage for private security are still very loose. They are at best, on-the-go, as they are issued as circulars, statements and advisories. One of such is a statement from NCAA reads;
"[No] government agency, organisation or an individual will launch an RPA/UAV in the Nigerian airspace for any purpose whatsoever without obtaining the requisite permit from the NCAA and ONSA. The NCAA wishes to reiterate that all applicants and holders of permits to operate RPA/Drones must strictly be guided by safety guidelines. In addition, operators must ensure strict compliance with the conditions stipulated in their permits and the requirements of the Nig. CARs" (Nigerian Civil Aviation Regulations)."
Further advisory circulars were published in 2019 as updates to existing ones. While the circulars are promising, Nigeria needs a deliberate attempt at opening the drone industry to licensed security organisations. 
An introduction of a wholesome regulation will also usher in the creation of a proper database and a body to monitor the conduct of drones for private security. Jayke added that "if the Nigerian Security apparatus employ the use of suitable drones, it would reduce the security problems in Nigeria by over 60 per cent."
Names have been changed to protect the economic interests of the respondents.
---
Support Our Journalism
There are millions of ordinary people affected by conflict in Africa whose stories are missing in the mainstream media. HumAngle is determined to tell those challenging and under-reported stories, hoping that the people impacted by these conflicts will find the safety and security they deserve.
To ensure that we continue to provide public service coverage, we have a small favour to ask you. We want you to be part of our journalistic endeavour by contributing a token to us.
Your donation will further promote a robust, free, and independent media.
Donate Here