Development
Featured
Features
Poor Hygiene Facilities Contribute To Low Attendance Of Girls In School
Inadequate and unhygienic sanitation facilities in schools in Borno, Northeast Nigeria, are significant causes for the low turnout of female students. In some cases, they have to leave the school premises during school hours to relieve themselves, exposing them to danger.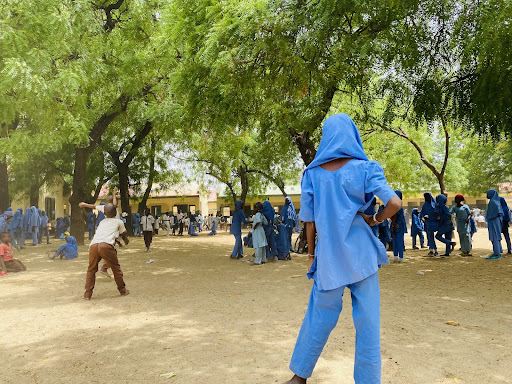 "I miss school for at least three days every month when I am on my period," says Khadija Mohammed Ibrahim.
"Because I will need to use the toilet during that time, and the toilet conditions are not favourable."
Khadija is a 15-year-old student currently in her third year of Junior Secondary School at Future Prowess Academy in Jere, Northeast Nigeria. The school offers free education to orphaned children, those who are vulnerable, and those who come from less privileged backgrounds. The student body encompasses a diverse range of backgrounds, including children who have been fathered by members of Boko Haram and those who have lost one or both parents due to the conflict.
The conditions of the toilets are so bad that not only does she have to miss school while she is on her period, she also often goes without drinking water to avoid having to go to the toilet even on days when she is not menstruating.
"I can't drink water at school for fear of needing to use the school toilet," she explained. Many other girls in the school abstain from drinking water during school hours and end up dehydrated, which leads to other illnesses that will stop them from going to school.
The dilapidated state of her school's toilets is a constant source of frustration for Khadija and other girls. With just three facilities to share among 432 students and 14 staff members, girls are left with no options but to stop answering calls to nature or miss school, while boys resort to open defecation as it suits them.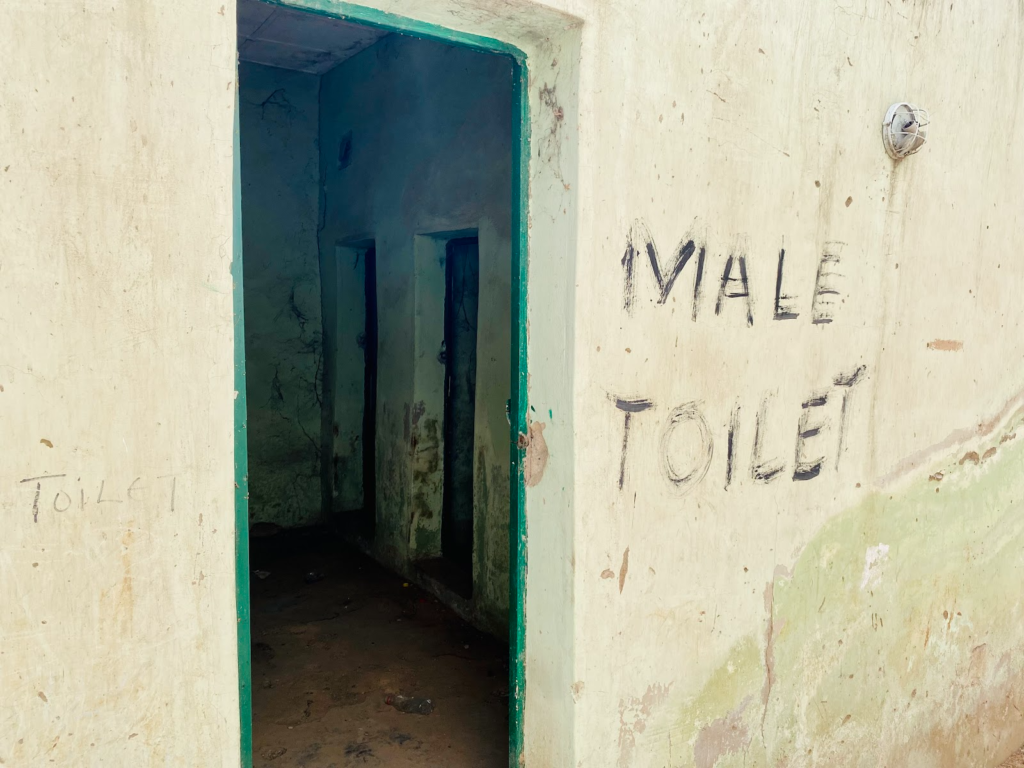 As far back as in 2014, a UNESCO report found that one in every ten school girls in sub-Saharan Africa miss school during their menstrual cycle. The reasons for this range from a lack of adequate sanitary facilities in the schools and inadequate access to menstrual hygiene products. Nearly a decade after this report, the situation is still the same in places like Maiduguri. While unsanitary conditions in schools affect all students, girls are disproportionately affected.
At Khadija's school, the conditions of the toilets are deplorable. Two of them had broken doors, leaving those inside exposed to the view of passersby. Another had no steps to climb, making it difficult and dangerous to the girls who dared to use it, and effectively impossible for those who might have any sort of mobility related disability.
The area surrounding the toilets is littered with dirt, empty water sachets, and used papers, creating an unpleasant sight and smell. The combination of broken facilities and unsanitary surroundings makes the use of the toilets an unpleasant and potentially hazardous experience for those who have no choice but to use them.
According to UNICEF last year, the absence of standard toilets with functional doors that can be closed when the toilet is in use means that girls are unable to use those toilets in ways that are dignified.
14-year-old Aisha said "The toilet gives me a dizzy feeling. I tried to manage it but I couldn't. I had to stop using it."
The pit latrine is dark and foreboding, with a musty smell that clung to everything. It was a scary place and one that many students avoid at all costs.
The windowless cramped toilet was no better. It felt like a hole in the ground, and Khadija often felt like she was sinking into it as she used it during her first year at the school. The lack of light further contributed to making it a claustrophobic and unpleasant experience.
The young girls who knew less about hygiene and privacy at Khadijah's school are seen using the doorless toilets; anyone passing by can see them.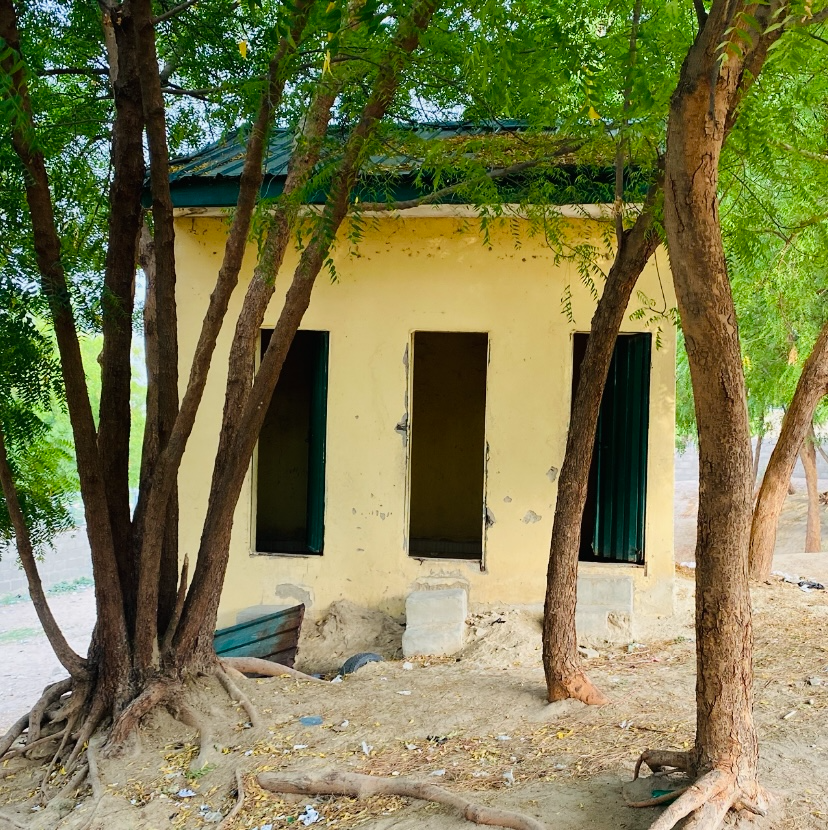 The situation is the same in secondary schools across Maiduguri, the Borno state capital. The toilets are unhygienic, cramped, dark, and scary. The girls in these schools also choose to miss school during their menstrual periods rather than use the unfavourable toilets. They also complain of stomach-related pain as a result of not taking enough water in the scorching heat in Borno.
The lack of adequate toilet facilities and menstrual hygiene management is a significant hindrance to the education of girls in secondary schools in Borno state. A girl who preferred to keep her identity undisclosed stated, "At times, when I use the school toilets, I experience itching in my private parts before school closes, sometimes leading to my absence from class for several days."
Punished for missing school
A teacher at Future Prowess Academy narrated how a 13-year-old girl suddenly got her period and had to leave the school to attend to herself. She went with a friend to a nearby house to clean herself up, then returned to school an hour after school had closed to retrieve her schoolbag.
Unfortunately, her teachers who were waiting for her had become angry that she had left the school premises without permission. The shy Hauwa accepted her punishment without revealing the reason for her absence to her male teachers. It was not until her friend came to her rescue and explained what had happened that the teachers understood the situation.
Unfortunately, the girls had already missed out on important lessons that day. If the school had proper sanitary facilities, the girl would have been able to quickly clean herself up and return to class. In a worst-case scenario, the girls might have been exposed to danger and assaulted outside the school.
Mairi Senior Day Secondary School has a total of 3,379 students, out of which 1,830 are girls. They all share only eight toilets among them. Similarly, Mairi Junior Secondary School has an enrollment figure of 5,831 students. Out of these 3,747 are girls who also share only 12 toilets for the whole school.
According to Mr Garba Gambo, the Principal of Mairi Senior day secondary school, his school is the second largest in terms of girl enrolment in Borno State. He said, "the school recently got toilets intervention but we need more for staff and the students too."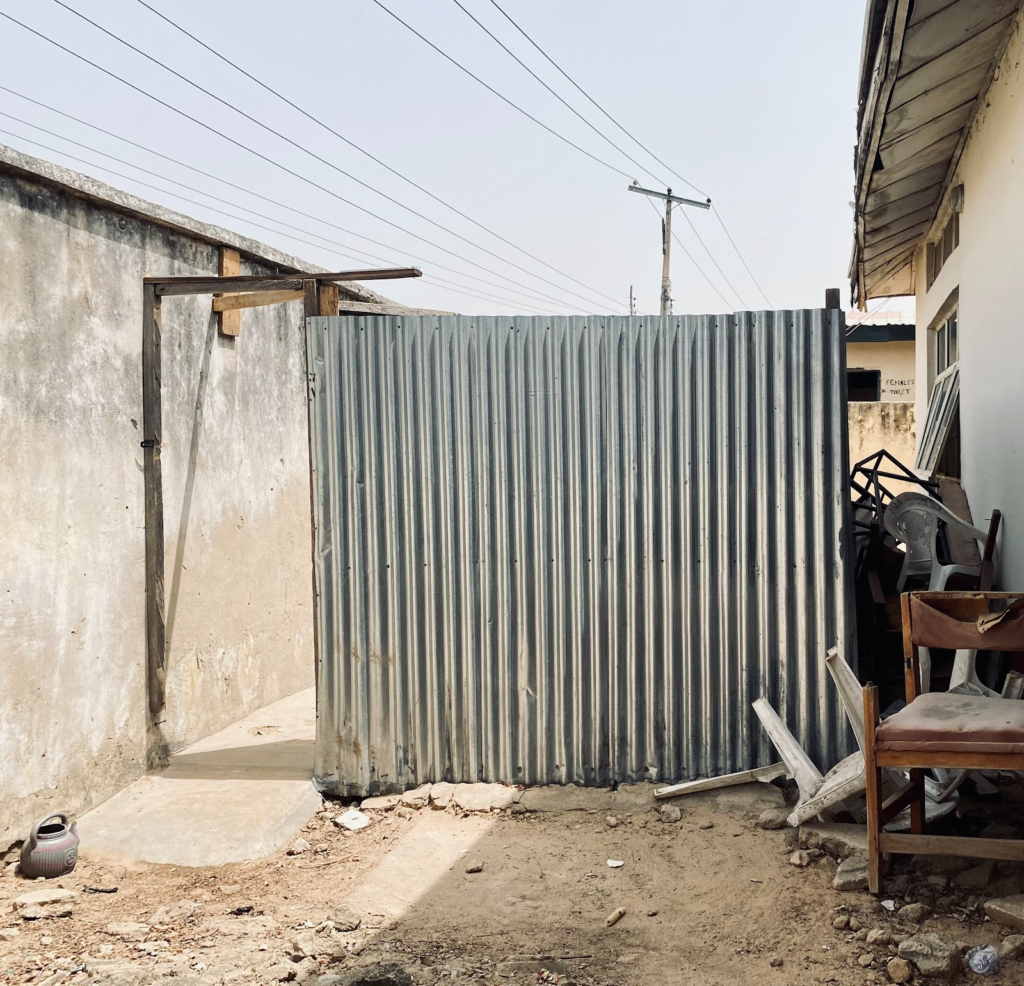 The students in this school, just like in Khadijah's school, say they have to choose between taking enough water at school and using the horrible toilets, which expose them to infections. Not drinking enough water also leads to stomach pain at the end of the day due to dehydration, they say.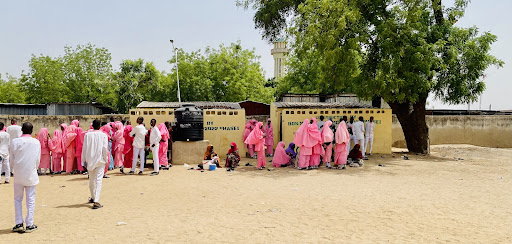 Any interventions?
The Adolescent Girls Initiative for Learning and Empowerment, (AGILE) is a World Bank-supported initiative led by the Federal Ministry of Education to enhance secondary education opportunities for adolescent girls aged 10 to 20. The project is being implemented in 6 different states in Nigeria.
The project invests in girls' education to improve maternal health, reduce maternal and child mortality and morbidity, improve women's agency, and contribute to community and national development.
But its attempt at providing hygiene facilities has been largely insufficient, especially in the toilet projects across schools in Maiduguri.
The new toilets intervention in Mairi Secondary School is from the AGILE project. But the quality of work has a short life span like the other toilets.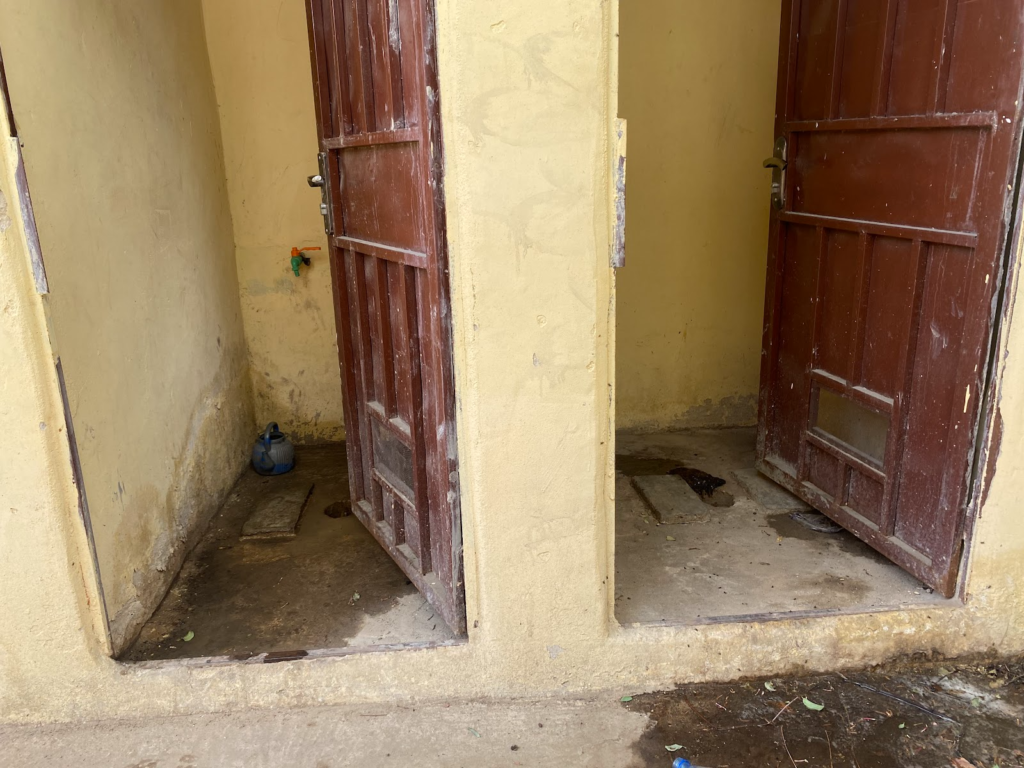 The toilets are small, cramped, and windowless. They are dark, with no source of natural light or electricity, making it impossible to see inside. The stench is overwhelming.
Hamma Wabi Usman, the assistant headmaster at Maimusari Primary School, expressed his concern about the inadequate supply of hygiene materials to maintain the school toilets. He also pointed out the degradation of the facilities, which have become a breeding ground for germs and diseases. He said, "We have to source money through Parent Teacher Association (PTA) to get detergents and other hygiene materials."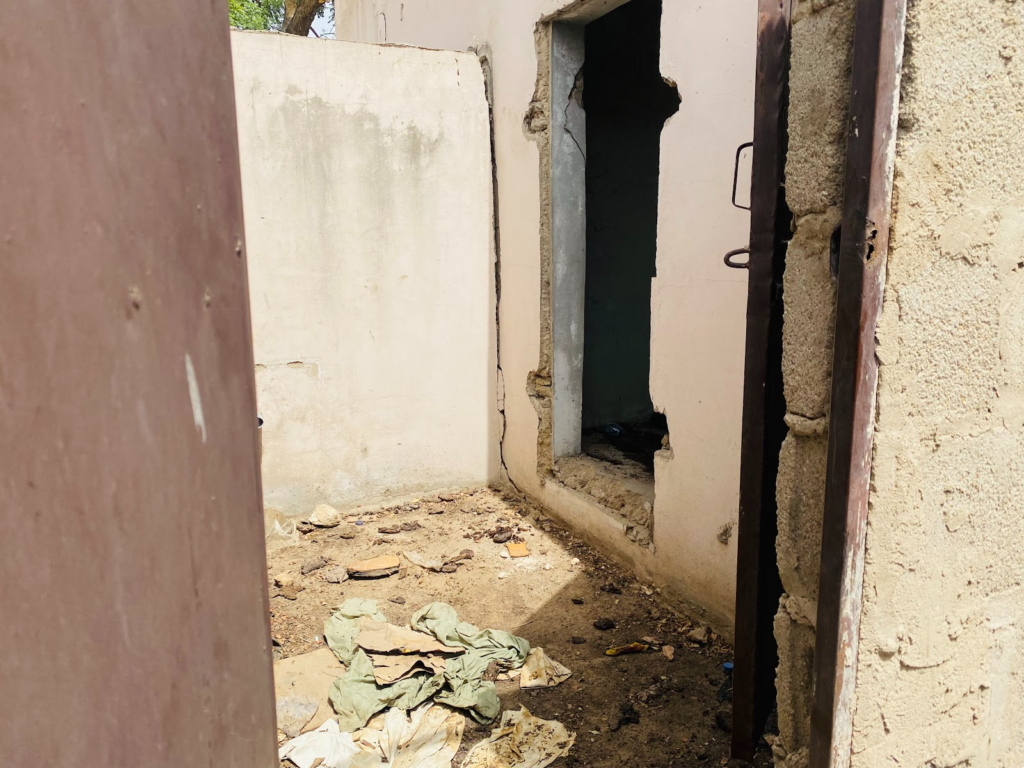 During the school visit, several toilets were observed, which had been constructed through interventions from the government, non-governmental organisations, and religious bodies. These poorly designed facilities, particularly for girls, lacked privacy and essential amenities. There is an urgent need for sustainable and properly maintained restrooms that prioritise student hygiene and well-being. The substandard nature of these toilets posed significant challenges.
Aisha Ali Indimi, the Gender Desk Officer at the Borno State Ministry of Education and the Focal Person for Guidance and Counselling of the AGILE project highlighted their efforts to enhance school facilities for girls in Borno State. As part of the AGILE project, they are currently constructing and renovating girl-friendly toilets in government schools across the region.
Furthermore, Aisha Ali Indimi emphasised the importance of creating hygienic facilities that cater specifically to the needs of girls. Schools with inadequate hygiene facilities will be revisited to ensure the provision of a safe and accommodating environment for girls. This will involve implementing proper Water, Sanitation, and Hygiene (WASH) measures.
Aisha Ali Indimi also acknowledged that some schools have already received hygiene interventions, but emphasised the ongoing need for additional support. The AGILE project will revisit these schools to provide further assistance and interventions as necessary and also check for poorly executed projects like the ones at Maimisari Secondary School.
In addition, the AGILE project facilitates conditional cash payments as part of its initiatives. This ensures that beneficiaries receive financial support for basic school needs such as uniforms, books and sanitary items for girls.
According to Dr Abba Aji, an educationist from the Department of Continuing Educational and Extension Services, the cultural and religious beliefs prevalent among girls in Borno State poses challenges when it comes to using hygiene facilities. Merely having a latrine is not enough; the location and availability of Water, Sanitation, and Hygiene (WASH) facilities are crucial. The lack of these amenities acts as a barrier for girls.
Dr Abba Aji emphasised the importance of educating both teachers and students on proper maintenance of the facilities once they are provided. Failure to do so can undermine the effectiveness and longevity of the facilities.
The implications of girls missing out on education extend beyond their circumstances; they have wider societal consequences. Dr Abba Aji said without providing the necessary education to girls, society as a whole cannot progress. Women, being the primary caregivers and educators of children, play a pivotal role in shaping the nation through education. Therefore, there is a pressing need to motivate the enrollment of girl children and recognize the correlation between their enrollment, retention, and the availability of hygiene facilities.
Dr Abba Aji lastly added; "basically there is a correlation between girl child enrollment and retention rates and the presence of adequate hygiene facilities in Borno state."
Barrister Zanna Mustapha, the founder of Future Prowess Community School, said: "Proactive measures to address the issue of hygiene facilities have been established and a committee dedicated to examining the matter." Mustapha said the process of fixing the hygiene facility will commence promptly.
He also said that the rest of the Foundation's schools have functional hygiene facilities in other locations.
---
Abubakar Muktar Abba is a 2023 HumAngle Accountability Fellow from Borno, Nigeria.
---
Support Our Journalism
There are millions of ordinary people affected by conflict in Africa whose stories are missing in the mainstream media. HumAngle is determined to tell those challenging and under-reported stories, hoping that the people impacted by these conflicts will find the safety and security they deserve.
To ensure that we continue to provide public service coverage, we have a small favour to ask you. We want you to be part of our journalistic endeavour by contributing a token to us.
Your donation will further promote a robust, free, and independent media.
Donate Here