Development
Features
Political Demolitions Cost Businesses Millions In Nigeria's Kano
Business owners in Kano are counting their losses after the looting that followed demolitions of commercial property by the state government. Police have made arrests, but the damage done to Kano's economy could be long lasting.
Before Sunusi Hassan could do anything, the looters descended on his shop and storehouses and stripped them bare. 
His stock of plastic household wares like buckets, tubs, pots and flasks, a big chunk of his family's livelihood worth millions of naira was gone.
When they heard the shops they rented in the Filin Idi, the Eid Ground in Kano city were to be demolished, Hassan and his brother Hamza dashed to save what they could. But as they were trying to load their stock from their stores, the new governor of Kano arrived at the shopping plaza to see it torn down.
The governor's security team chased the brothers away.
"We were not allowed to remove some of our properties, and as soon as some parts of the buildings were demolished, looters descended on ours and stole them," Hassan explained.
Crowds of young men descended on the partially demolished buildings, taking anything that could possibly be of value.
Frenzy
They grabbed up twisted metal from the piles of rubble left by the mechanical diggers before tearing the aluminium window frames and metal doors from un-demolished shop units. They knocked down walls and pushed their way into shops and stores and carted away everything inside.
The unchecked looting became almost a frenzy. At one stage the young men were stripping the rebar out of the half torn-down buildings at the Triumph Plaza in the Fagge district when the rest of the structure gave way, turning to concrete dust underneath their feet.
Men on the roof could be seen falling into the rubble and dust in a clip posted to social media.
At least one man has been confirmed killed over the two days of looting, before the police stepped in.
The chaotic scenes are a product of a disregard for the rule of law, according to observers.
Arrested development
This disregard goes back to the previous administration, the present governor says.
Soon after taking office as Kano State's new governor, Abba Kabir Yusuf said land that had been zoned for other uses had been parcelled out in an opaque process and given out to individuals his predecessor wanted to favour.
He directed security agencies to seize the buildings built on the land.
"We have noted that the last administration have sold lands in and around schools, religious and cultural sites, hospitals and clinics, graveyards and green areas, and along the city wall of Kano," the governor said during his inaugural address.
"We have also noted that they indiscriminately sold numerous other landed properties and assets belonging to Kano State within and outside the state to their cronies and agents. 
"I am announcing, today, that all these public places and assets that were immorally plundered and sold by the Ganduje administration should be taken over by law enforcement agencies, led by the Police, the DSS, Civil Defense, and Hisbah pending the final decision of the government."
Five days later, at 2 am on a Saturday, Governor Yusuf led a team from Kano Urban Planning and Development (KNUPDA) to demolish a multi-storey plaza in Nassarawa GRA's Race Course field. He waited by the roadside, watching as a bulldozer worked to demolish the structure.
The news of the demolition quickly reached people, and in the early hours of the morning, dozens of young people flocked to the demolished site armed with hammers and chisels. They went on a rampage, removing the steel rods, doors, windows, and other building elements that were either slightly damaged or fully undamaged.
'Barbaric destruction'
The opposition APC, the party of the man who sold off the land to the developers, former governor Abdullahi Umar Ganduje, called the exercise "cruel".
Shehu Maigari, the party's state deputy chairman, told reporters that the demolition is endangering the state's reputation as a business centre.
"This barbaric and wanton destruction of the people's means of livelihood by the state government calls for serious prayers from all well-meaning persons, as the people are now counting their losses in billions of naira," Maigari stated.
"Kano being a megacity and the commercial nerve centre of the northern region and other West African countries, is now facing a serious calamity from the NNPP-led administration."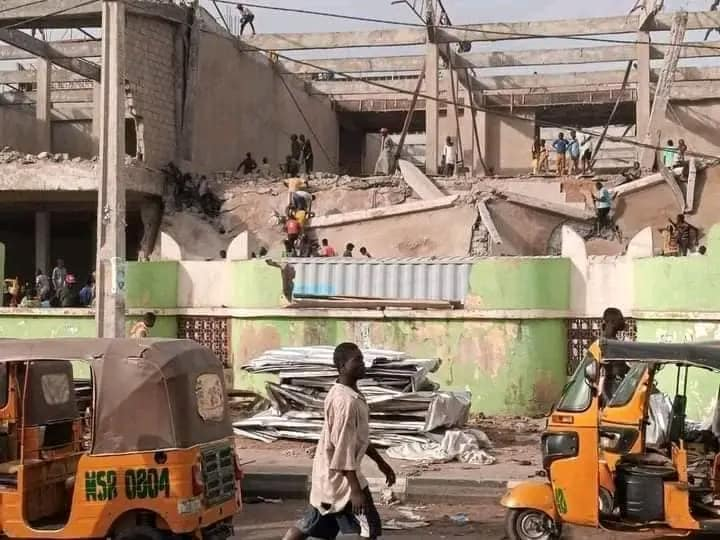 Tijjani Ahmad, a financial analyst and lecturer at Kano State Polytechnic, says the activities of illegal property developers were those that put renters in danger. The buildings targeted for demolition were illegally constructed, during a turbulent political period. 
"It's always up to an investor or a serious business owner to know where he's putting his money and resources," he said, noting that the current administration has campaigned against construction on waterways, school premises and against state urban plans.
"However, some people are unaware of the problems with buildings and therefore assume that because the previous administration gave them the land, the buildings would not be demolished," he told HumAngle.
In all of these situations, he said, the small business owner is on the receiving end. They need a place to rent and put his properties, and there is a risk involved in long term investments.
While acknowledging that Kano is a commercial city in need of more shops and plazas, he underlined the importance of expanding the city rather than building in a narrow region or on waterways.
"Some places are intended for residential use, while others are intended for schools. Not every location requires building shops," he explained.
He advised that business owners should be insuring their properties so as to avoid falling into the same situation again.
But they may find the high risk of it happening again means insurance companies won't cover commercial buildings, and even if they do, it might be too expensive.
Also, Muslims consider most forms of insurance to be usury, using money to exploit others, or a form of gambling, and is therefore unacceptable under Islam.
Paying the price
It is shopkeepers and businessmen, and those who might benefit from improvements in Kano's economic development, who pay the price.
Sunusi Hassan and his brother Hamza say they lost over ₦20 million in stock, representing about a third of their total business inventory.
"It will take time for us to recover," Sunusi said.
Ibrahim Shahrukhan, an event planner who rented two shops at the demolished Race Course Plaza, vented his frustration over the loss of over ₦6 million in event decoration items, including carpets and rugs he bought in Lagos and Saudi Arabia.
He posted a video on TikTok displaying the receipts and documents he had completed before renting the shops a few weeks ago. Shahrukhan voiced his disappointment at being unable to contact the building caretaker to speak to in a way they can cooperate to settle some of the issues.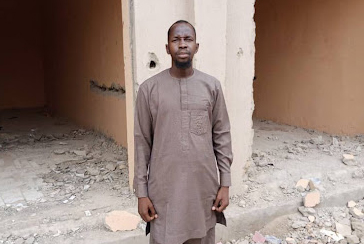 "Here are my receipts," he said. "All the decoration items I bought from Lagos and Saudi Arabia have been looted," adding that if they had known what was going to happen, they could have taken their belongings away. 
Abdussalam Muhammad, a trader selling plastic home goods at Eid Ground, was able to take all of his stuff before it was stolen, he witnessed looters stealing people's properties while the owners remained helpless watching as their properties were plundered.
"People were aware that the building would be demolished, but they assumed they would be notified prior to the exercise," he explained. "Those who lost their properties to looters were mostly those whose houses were far from the market or who had a large number of belongings," he stated.
The economic damage of these events will be long lasting. Not only have the savings and investments of entrepreneurial Nigerians been wiped out, the effect will last into the future.
Sunusi Hassan says the previous government played a role in making this situation worse, but the current administration bears a greater responsibility.
"They allowed looters to steal our properties for over 13 hours before the security was dispatched," he said.
During turbulent times, investment is discouraged because people might fear the risk that at any point their investment could be seized and demolished, broken into and looted.
Thuggery
The looting suspects used the demolition exercise to their advantage. When the police apprehended them they had valuable items such as air conditioners, doors, windows, and heavy-duty hammers.
The looting, according to Yakubu Musa, a newspaper columnist, shows Kano's perilous status in terms of political thuggery and street robberies. He believes it demonstrates the depths to which a lack of skills may lead young people.
According to him, the loss of fuel subsidies will eliminate most of what unskilled young do for a living in Kano state, particularly riding commercial tricycles, leaving them with nothing except plundering other people's properties.
"This is why you see them with hammers and chisels removing iron rods from buildings," he wrote.
After the initial demolitions, a wave of violence ensued as thugs infiltrated Wambai, a market close to the two sites of the demolition, targeting shops for looting.
Police were deployed and confrontations between the thugs and the police escalated, resulting in the death of one man who was struck by a car while attempting to flee.
Halt
Due to the increasing unrest and to maintain public order, the state government made the decision to suspend the demolition exercise.
This temporary halt, according to a source within the government who spoke to HumAngle, was essential in order to restore calm and ensure the safety of the public.
"The exercise will continue after order is restored in order to avoid creating another avoidable chaos while attempting to clear the city of the wrongs committed by the previous administration," the source said.
According to the source, the suspension of the demolition exercise would allow the state government to rethink its strategy and approach in finishing what it had started.
"This emphasises the importance of comprehensive security measures and greater coordination among law enforcement authorities to prevent looting cases and ensure public safety during sensitive times," he said.
"The government aimed to address the underlying issues that necessitated the demolitions while minimising the potential for further violence or loss of life," he continued.
Over a hundred suspects have been charged with property looting by the Kano State Police Command after invading various locations in Kano State. Some of them were arraigned by police on Tuesday, and more were taken to court on Wednesday, June 7.
According to a police statement, "some hoodlums, hundreds in number, were grouping and planning to loot properties of buildings/structures at Triumph Plaza," and 49 of them were arrested at that location.
But the action has come too late for most. The damage has been done.
---
Support Our Journalism
There are millions of ordinary people affected by conflict in Africa whose stories are missing in the mainstream media. HumAngle is determined to tell those challenging and under-reported stories, hoping that the people impacted by these conflicts will find the safety and security they deserve.
To ensure that we continue to provide public service coverage, we have a small favour to ask you. We want you to be part of our journalistic endeavour by contributing a token to us.
Your donation will further promote a robust, free, and independent media.
Donate Here