Susan Innocent* was merely 15 when she was allegedly raped by Pastor McDouglas Omosokpea of the Peculiar Generation Assembly Church at Oshodi, Lagos. The teenager tells HumAngle that for three years, the cleric sexually molested her repeatedly until she attempted suicide in 2019. 
Findings by HumAngle revealed that the cleric had invited the victim for prayer ministration, during which he first raped her. He didn't deny the allegation when confronted by the victim's mother.
HumAngle obtained various audio tapes where Omosokpea had asked for forgiveness. He also didn't deny wrongdoing when approached by this reporter.
Genesis
The victim's father lives in Italy. He had put his family in the care of Omosokpea, who started playing the role of a father to them. In late 2016 during worship service, he called for special prayers for virgins. Susan would have stayed back if she knew that coming out would make her the cleric's sex slave. But she couldn't have envisaged his real intention.
"The pastor became more frequent in our house after then. He told me that he loved the way I brought up my children and that he wanted my daughter to be following him out for ministry, which I obliged," the victim's mother said.
During one of his visits in 2017, Omosokpea invited Susan for an outreach in Oshodi. Instead, he drove her to a hotel where he raped her. After the act, Pastor Omosokpea threatened to harm his victim if she told her parents. 
Susan's mother observed that her daughter wasn't alright when she returned home. Still, she did not suspect rape. The cleric also called to inform her that Susan prayed well during their outing, hence her tiredness. 
"My daughter was scared and didn't tell me anything. I only observed that she was not always happy anytime the pastor came to invite her for ministry. I informed her father that she was being rude to the man of God and we warned her not to ever disobey him."
Omosokpea observed that Susan's parents were ignorant of his dealings with their daughter, so he continued to molest the underage girl in various hotels and, sometimes, on her mother's bed whenever his victim was alone.
Traumatised
Susan soon became traumatised, a situation that affected her academic performance. She gained admission into university in 2018, but found it hard to cope.
"The pastor even advised me to sow more seeds for God. There were times he asked me to bring my entire salary and I did so because I didn't want to lose my daughter," Susan's mother narrated. 
After securing Susan's parents' consent, Omosokpea regularly invited his victim for prayers, which gave him unhindered access to her body.  
"He would do a video call and show me his nakedness, asking if I didn't miss him in school. He threatened to kill me if I ever told my parents my predicament. It was a terrible period of my life," Susan told HumAngle.  
Things came to a critical point in 2020 when Susan told her mother about her decision to commit suicide. For once, her mother was ready to listen to her.
"The pastor came to my house during COVID-19 in March 2020 to take my daughter to a cybercafe for an online programme of the church. My daughter was reluctant but I shouted at her to follow the man of God. She returned very angry and when I tried to get near her, she shouted at me and told me that she hated me.
"I was shocked, but she went to her room and locked herself inside. I thought she wasn't happy with the way I scolded her to follow the pastor; but days after, she woke me in the middle of the night."
Susan cried as she showed her mother a bottle  of sniper, which she threatened to ingest if she didn't get justice. Sniper is a locally-made insecticide that has been used in several cases of suspected suicide, especially among youths in Nigeria.
After hours of persuasion, Susan told her mother that Omosokpea had consistently raped her from 2017 till the period of her confession. 
"I thought it was a dream and I asked if what she said was true. She told me that she was ready to poison herself if I didn't trust her and I fainted immediately," Susan's mother said. 
Revelation
The following morning, Susan's mother briefed the church administrators about the incident and they decided to confront their pastor with the allegations. He didn't deny; instead, he begged the victim's mother not to escalate the issue. HumAngle spoke with two top church officials present at the meeting. They confirmed that the cleric confessed to raping the victim repeatedly.  
Our reporter also obtained audio tapes of Omosokpea's confessional statement, pleading for forgiveness. In one of the recordings, he told Susan's mother, "I'm asking for your mercy. Just forgive me and don't judge me by my actions. I'm sorry for all that happened." 
A day after, he called his victim, asking her to plead with her mother not to escalate the issue to the police so that she [Susan] would not be stigmatised. He told Susan in another leaked recording, "I admit that I am evil, but, please, beg your mother."
Bizarre twist of events
Susan's mother informed her father, who immediately ordered Omosokpea's arrest. The incident was reported at Makinde Police Division, Oshodi, in April 2020.  Omosokpea was subsequently on the run for two months, while the officer in charge of the matter, Sule Gowon, asked the victim's parents for N100,000 to bring him out. 
"I was only able to provide N30,000 and they could not still provide him. I was, however, surprised when police came from Zone 2 to arrest me. On getting to the police station, I was detained alongside my daughter for alleged defamation. We were told that Pastor Omosokpea had petitioned Zone 2 that we wanted to dent his image," the victim's mother stressed.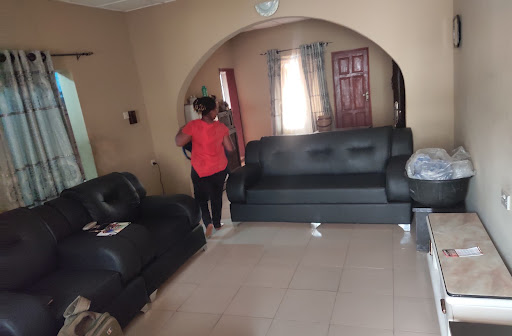 HumAngle learnt that Omosokpea told the police that his repeated assault of the minor was based on consent. The police, however, arrested him and detained him at Makinde division.
Questionable consent
The victim is underage, which makes the cleric's claim of consent invalid. Lagos is one of the states in Nigeria that has domesticated the Child's Right Act. according to Nigerian laws, underage persons are unfit to give consent for sexual acts, and so even if it were to be proven that an underage victim gave consent, it would be regarded as rape. In such a circumstance, it is referred to as statutory rape. 
According to sections 358 and 359 of the Criminal Code Act – Part Five, anyone who commits the offence of rape is liable to life imprisonment. Again, an attempt to commit the offence is felonious and the offender is liable to a 14-year imprisonment upon conviction.
Also, Section 31 of the Child's Right Act 2003 stipulates that a person who commits an offense of 'defilement' is liable on conviction to life imprisonment.
Omosokpea was arraigned before a magistrate's court in Ogba, Lagos in June 2020. Since maximum prison could not admit more inmates as a result of the COVID-19, he was remanded in police custody where he spent several months while awaiting the advice of the Director of Public Prosecution (DPP).
Police connivance
While in custody, Inspector Sule allegedly urged Susan's mother to let go of the matter and set the cleric free. The officer 'advised' the victim's parents to take monetary compensation from Omosokpea and bury the case.  
A lawyer, Ademola Owolabi, told HumAngle that police investigations into rape cases are disturbing, considering how perpetrators bribe them and get officers to pressurise survivors to settle cases outside the scope of the criminal justice system.
HumAngle obtained an audio tape of one of Inspector Gowon's many visits to the victim's mother, saying, "This man (Omosokpea) one die o. We can't take him to prison because of COVID-19. He called me and asked me to beg you that any amount you want to collect, he would pay so he won't die in the case.
"I've spoken to him and he is ready to pay. His wife has come to beg me and they've been on my neck for two weeks now. That is why I came to tell you what he wants. I'm not a party to that, but I will advise that since he realised his mistake…Even if you want a million naira, I will tell him to pay you."
HumAngle reached out to Sule for reactions to the allegations leveled against him. He did not deny. He simply asked our reporter to call back for a proper explanation of his role in the negotiation. He has since stopped responding to calls and text messages.
The Divisional Police Officer (DPO) at Makinde Police Station, Francis Ebhuoma, did not also respond to enquiries about the alleged connivance of his officer with an alleged rapist.
Questionable bail
Following the refusal of the victim's mother to succumb, HumAngle findings revealed that Sule, in connivance with Omosokpea's lawyer, went to the High Court in Ikeja to seek his release on a special circumstances, lying to the court that the cleric was showing symptoms of COVID-19. 
Without waiting for DPP's advice, Omosokpea was released on bail on Dec. 20, 2020. The cleric was said to have gone back to Oshodi, jubilating, with police escort, alleging that he had been discharged based on submission of 'no wrongdoing.' He has since moved his church to Ibeju-Lekki axis of Lagos.
A year later, justice remains elusive, as Omosokpea moves freely. The victim's family, on the other hand, had been forced to vacate their residence in Oshodi due to shame. 
"The police have been working hard to kill the matter, alongside the pastor. I want justice for my daughter and that's the best prize I can offer her as a mother," Susan's mother said as she shed tears. 
'My detention akin to that of Joseph and Obasanjo'
HumAngle contacted the cleric for reaction. Interestingly, he did not deny. Rather, he said, "I don't want to talk about this matter." 
When confronted with an audio tape of his confession, Omosokpea said, "If they like, let them go to CNN or BBC, I won't say anything. A warrior does not fight in his own house. I don't want to talk because I don't want to be in the newspaper. Since you have my audio tape, why are you calling me? I just pray that we meet in sound health in 2022."
Asked if he considered his remand in detention for months as injustice, he said, "As long as it brought promotion to Joseph in the Bible and made Obasanjo to become president, there's no problem. My going to detention was a blessing because God used me to bless a lot of people. It was another ministry."
In his reaction to the cleric's bail, a lawyer, Adesina Ogunlana, argued that the high court was not wrong to have granted Omosokpea's bail on health grounds. 
"The court is not an investigative body. It relied on the fact before it and since there was no counter-affidavit on the part of the police or DPP, the court would grant the prayer. Police can lie and often connive with court registrars to destroy records. It was simply a connivance."
N37,000 hush money
In another encounter, a 17-year-old rape victim at Ibeju-Lekki, Lagos, Ruth, narrated what she described as "the most horrifying episode" of her life. She told HumAngle that police connivance with her alleged rapist made her doubt that rape was a criminal offence in Nigeria. 
She said the police 'edited' her story so savagely that it was no longer hers. They doubted her enough to even detain her and her parents for reporting the incident. Now, all she can think of is suicide.
Ruth was running an errand for her mother on June 18, 2021 when she was allegedly accosted by a community chief, Mutalim Agbaje, who reportedly raped her. Before then, she said, Agbaje had, for long, been asking her to be his lover, a request she claimed to have rejected, and had also briefed her mother about.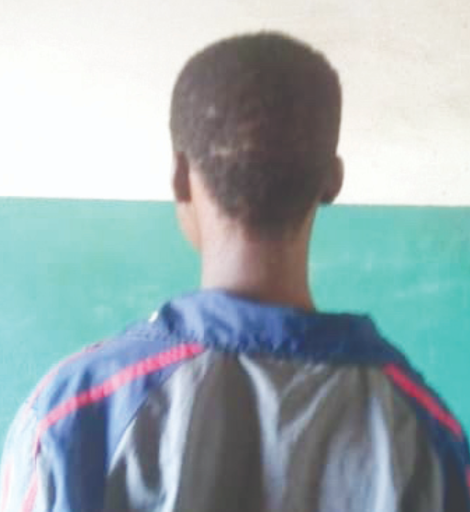 Despite efforts to distance herself from Agbaje, she was caught in his web. Explaining how it occurred, Ruth said that Agbaje blew a white substance which looked like powder on her face and she became dizzy.
"I woke up in an uncompleted building in the bush, with bloodstain from my private part, and my underwear was torn. An elderly woman later appeared with a white handkerchief and cleaned the blood from my privates. She admonished me not to cry and also warned me to keep what happened as secret to avoid stigmatisation," Ruth narrated.
She said the advice from the woman discouraged her from telling her parents when she got back home. The victim's mother told HumAngle that she noticed that her daughter acted differently when she returned home but efforts to make her speak proved abortive.  
"I observed that my daughter stopped being cheerful from that night and most times, she was lost in thought to the extent that you have to shout her name loudly about three times to gain her attention," her mother said.
"Eventually, she spoke out almost three months later in August. We went for a church programme, but she left without informing me. I was angry and I spanked her when I got home. It was at that point that she told me that we didn't really care about her because if we did, we should know that she was passing through pain. She then narrated what Agbaje did to her." 
Encounter with police
After informing the victim's father of the incident, they decided to fight for their daughter by reporting to Akodo Police Division on Aug. 21, 2021. The police ordered the arrest of Agbaje but he came alongside other chiefs in the community.  
"Agbaje confirmed to police that he jokingly called my daughter his wife, until he was told of the rape allegations against him," victim's mother recalled. 
"He denied raping my daughter; and the police ordered my daughter and I to leave the office, so that they could have private discussion with him. Not long after, they told my husband to drop the case."
Following the refusal of the victim's parents to drop the case, police asked Ruth to go for a medical examination to substantiate her claim. The family did so at Akodo General Hospital, but the result was not given to them. Rather, it was given to Ben Omosorobi, the officer in charge of the case. After getting the medical report, the officer asked the family what they wanted so that the matter could be settled amicably.
Controversy
The victim's father, who was a member of Oodua People's Congress (OPC), a Yoruba civil group, told HumAngle that he got a call from the group's coordinator who asked "me to bring the case to the OPC meeting, instead of the police.
"The OPC members pleaded with me to withdraw the matter from the police since Agbaje had come to beg them. Since I didn't give a definite answer, they threatened me and I was scared. They asked me how much I spent on the medical test and other run-around of the case and I told them it was N37,000. 
"To my surprise, one of the friends of the accused got my account number from the OPC chamber and sent the money before I got home. They sent the money so I wouldn't feel bitter that they asked me to withdraw the case from the police without compensation."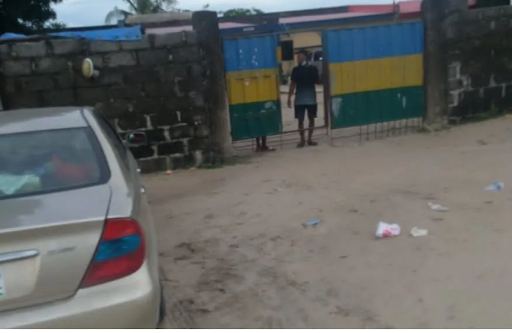 On Aug. 23, 2021, the victim's father returned to police to withdraw the matter. He stated that his wife was against the decision but that "Agbaje and his cohort had threatened to ruin my family if I refused."
When contacted, Agbaje confirmed to HumAngle that the sum of N37,000 was paid to the victim's father by one Morufu Apena who happened to be his friend. 
Asked why the family was compensated when he was sure he didn't rape their daughter, he said, "We have resolved this matter. I am surprised that they are still pursuing the matter further. The money was simply for the medical test carried out on the girl who accused me. It was just to ensure that the matter did not drag further. I didn't want to pay because I knew I didn't commit any offence, but my friends and family decided just to pay."
When questioned further, he told HumAngle that he would ask his lawyer to call our reporter for further explanation. Two weeks later, he failed to do so. Agbaje did not respond to subsequent calls on the matter.
Humiliation
Ruth was left traumatised and the case took a new twist after her mother, who was determined to get justice, petitioned the State Criminal Investigation Department (SCID), Yaba. The SCID called for the case file but for weeks, Akodo division failed to transfer it.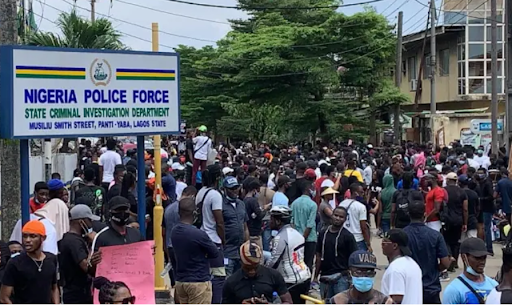 "The police officer in charge of the matter, officer Ben, even fought my husband for that. During this period, Agbaje ran away for three weeks," Ruth's mother added.
In response to the victim's mother's move, Agbaje also wrote a counter petition at the Force Criminal Investigations Department (FCID) Annex in Alagbon.
"While we awaited the next action from detectives at SCID, my husband came with some men who claimed to be Agbaje's lawyers. I refused to listen to them, but they forcefully entered my house, handcuffed us and we were driven to FCID Alagbon.
"Without any investigation, police at FCID accused my daughter of attempting to spoil Agbaje's name and threatening his life. I opposed this vehemently,  saying he raped my daughter. Despite our defence, we were locked up in different cells till the next day. 
The following morning, the police in Alagbon said we should bring N150,000 to run a fresh test on my daughter and N40,000 for our bail. We could only pay for bail and they warned us against pursuing the matter further," victim's mother stressed. 
HumAngle contacted the officer in charge of the case, Ben Omosorobi, but he responded: "The family have gone to Panti and I don't want to talk about the matter. If you have any enquiries to make, come to my office."
Our reporter visited the station but Omosorobi refused to grant the interview that was scheduled to take place. HumAngle also reached out to the state police spokesperson, Adekunle Ajisebutu, who did not provide details of the matter. 
Trend
Controversy surrounding rape has made very few victims to speak out. A poll conducted by NOIPoll, a public opinion and research organisation based in Abuja in July 2019, revealed that 85% of Nigerians know someone who has been raped in the past and the rape victims were particularly minors and teenagers.  
According to UNICEF data, one in four Nigerian girls are sexually assaulted before the age of 18. A 2017 investigation revealed that more victims are finding it difficult to get justice because the wheel of justice continues to grind slowly and favours the rich. 
In 2017, NBS provided the last statistics for specific crimes. The agency said that 2,279 cases of rape were recorded by police across the country that year. Most victims have, however, lost interest in reporting rape cases because of lack of confidence and perceived corruption of the police. 
An Islamic cleric in Osun, Habeebulah Abdulrahman, reportedly raped a 16-year-old girl in 2019 but claimed that she was his wife. After reportedly employing the police to harass her family, they agreed to an out-of-court settlement.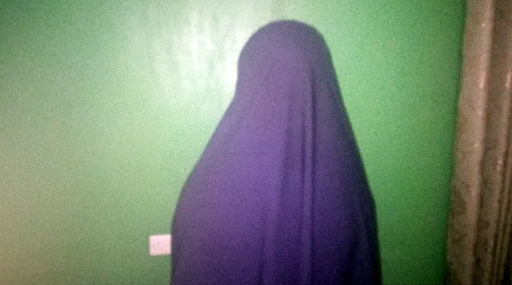 In Feb. 2019, Maryam Awaisu, an #ArewaMeToo movement leader, was arrested by police for sharing posts naming alleged rapists on social media. Apart from police harassment and lawsuits, many women who accuse men of rape in Nigeria are themselves defamed and labeled as liars or sluts.
In her reaction, Osai Ojigho, Director of Amnesty International Nigeria, noted that "the fear of not being believed, or even being blamed for being raped, is creating a dangerous culture of silence that prevents survivors from seeking justice."
Authorities' actions
In June 2020, the federal government declared a state of emergency on rape and sexual violence in all 36 Nigerian states, an action triggered by brutal rape cases across the country. Barakat Bello was raped and killed in her home in Ibadan; Vera Uwa Omozuwa was also a victim in Benin City; and a 12-year-old girl was raped by 11 men in Jigawa.
Minister of Women Affairs, Pauline Tallen, said rape cases across the country were embarrassing. She admitted the loopholes in some of the laws against rape such as failure to domesticate the Violence Against Persons Prohibition (VAPP) Act, 2015. 
In Nov. 2021, Justice Minister Abubakar Malami, said the government was committed to establishing special courts to tackle Sexual and Gender-Based Violence (SGBV) cases.
Activists wade in
Ojigho, however, argued that it is appalling that rape survivors face a torturous ordeal to get justice, which only adds to their pain.  She said the 'state of emergency' by the government is an empty declaration, which has so far done nothing to protect women and girls in Nigeria.
"Girls continue to be failed by a system that makes it increasingly difficult for survivors to get justice while allowing perpetrators to get away with gross human rights violations… Children, who are increasingly becoming targets of sexual violence, face particular challenges in reporting these crimes because of a lack of reporting process that is child-friendly."
She also advised that all reported cases of rape must be thoroughly, promptly, and impartially investigated and perpetrators must be prosecuted, and if convicted, sentenced with appropriate penalties.
Speaking on the way forward, Samuela Isopi, EU ambassador to Nigeria, said, "The specialised SGBV court is a best practice, and state governments should consider having as many courts in their states as possible." 
She also emphasised the need for training of judges, lawyers, and other stakeholders who will be working in these special courts.
---
This report was facilitated by the Wole Soyinka Centre for Investigative Journalism (WSCIJ) under its Report Women! initiative with support from the Open Society for West Africa (OSIWA).
---
Support Our Journalism
There are millions of ordinary people affected by conflict in Africa whose stories are missing in the mainstream media. HumAngle is determined to tell those challenging and under-reported stories, hoping that the people impacted by these conflicts will find the safety and security they deserve.
To ensure that we continue to provide public service coverage, we have a small favour to ask you. We want you to be part of our journalistic endeavour by contributing a token to us.
Your donation will further promote a robust, free, and independent media.
Donate Here