Features
News
Plastic As Tuition: A School In Lagos Is Reducing Waste, Providing Quality Education All At Once
Recognizing the hazards of indiscriminate disposal of plastic waste and the high numbers of out-of-school children in their community, two sisters decided on a plan of action. They founded a school that partnered with a cleanup organization, and allows parents to pay their ward's fees with empty plastic bottles.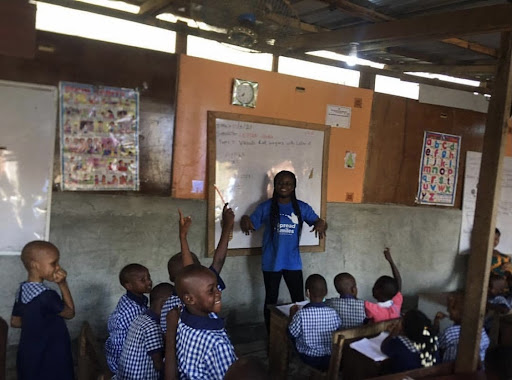 "The best thing to have ever happened to me" was how Onuka Blessing described her ability to pay her children's fees with empty plastic bottles through the 'Recycles Pay' Educational Project. When Blessing isn't trading in Tejuosho market or frying akara (bean cakes) for sale by the roadside, she picks discarded polyethylene terephthalate (PET) bottles in her neighbourhood.
"I am usually the highest collector," she said proudly. "They deduct everything my children will need to learn from what I am able to collect, and before they say I should bring again, I have picked more and kept."
Initiated by the African Clean-up Initiative, a non-governmental organization, the 'Recycles Pay' Educational Project allows parents/guardians to cover portions of their wards' school fees by gathering and taking plastic waste to recyclers who work alongside Isrina Schools.
Blessing's son, Johnson, is currently in Primary Three and has been attending Isrina Schools since kindergarten. Her daughter, Mercy, graduated in 2019.
Founded by Grace and Rose Amuzie, Isrina Schools is a private primary school located at Ajegunle, a well-known community in the Ajeromi-Ifelodun Local Government Area (LGA) of Lagos State, Southwest Nigeria.
Blessing said before her children were enrolled in the school, they barely ate two meals in a day because a big part of her savings went into paying their tuition fees, coupled with house rent, and other expenses.  
"I am a widow and nobody was helping me. Only God was seeing me through those expenses. I don't even know how to express how much has been taken off me," she said.
Another caregiver, Rose Ekpoto, shares the same delight. After her daughter-in-law passed away and her son developed a stroke, the burden of raising their offspring fell on her shoulders.
69-year-old Ekpoto is also a widow. Too old to maintain a business or a job, she excitedly tells HumAngle how the 'Recycles Pay' project has helped her and her grandchild.
"It helped me a lot. Before, whatever money we get is spent on school fees. Now after we gather the plastic bottles, we have money to get us more food and to buy her books."
Christabel was a student of Isrina Schools from 2017 to 2021 when she graduated and moved on to secondary school. Before she was enrolled into Isrina, Ekpoto said the cash gifts she received from organizing prayer sessions in her home in Ajegunle was what she used to pay her granddaughter's school fees. 
Due to Christabel's remarkable academic capabilities, she received the Rehoboth Solid Dream Foundation Academic Scholarship which will see her through secondary and tertiary education. 
Her intelligence would have gone to waste if not for this program, Ekpoto believes. Her granddaughter is currently in Junior Secondary School (JSS) One at Blevour College, Lagos.
The Amuzie sisters
Grace and Rose Amuzie also grew up in the slums of Ajegunle. Witnessing the alarming number of out-of-school children in the community due to poverty, Grace, who is the youngest, started giving summer lessons to children in their neighbourhood for free. She was 15 at the time. This attracted positive feedback from parents, and soon, Isrina Schools was born.
Established in 2016, Isrina Schools started as a volunteer-driven project. For the first four years, Grace and Rose depended on donations and their personal funds to run it. 
Rose, the older Amuzie sister, said they themselves were sponsored throughout their education by someone who was not their primary caregiver. "What keeps us going is the thought that someone worked hard to see us through school and we need to do the same for others," she said.
Isrina Schools started with just four pupils who were all admitted into Primary Two, but by the end of 2019 the school had a total of 50 pupils. This was before the 'Recycles Pay' Educational Program. 
With the advent of their partnership in 2020, Isrina School currently has over 120 pupils. "The parents are very committed to collecting the plastics," Rose said. 
However, one of the challenges Rose and Grace face apart from being in a residential compound where tenants move around  – which can be distracting to the pupils – is the lack of space to store all the plastics gathered. 
"Sometimes the recyclers delay pickup, and with frustration from the landlord we would have no choice than to take the collected bottles back to the dumpsite." 
Rose and Grace do not only run the school, they also host a plastic sensitization program once a year to teach the community about the harm of indiscriminate disposal of waste. "We also make sure children do not pick empty plastic bottles themselves and the parents avoid dumpsites and canals for their own health and safety," Rose said.
She further explained that Ajegunle is littered with dirt. "Waste is literally everywhere in this neighborhood and so we urge them to pick the ones in their immediate environment." However, in cases where a parent is unable to collect enough plastic, the school allows them to fill in the gap with cash.
The tuition for new students is N15,000 each, and N5,000 for returning ones. Isrina Schools has recycled over 5000kg of PET bottles and admits children from creche up to primary Five.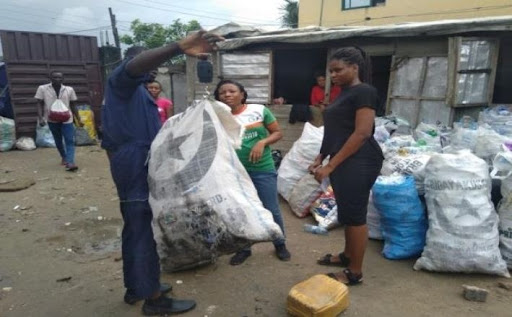 Filling multiple needs with one deed
In Apapa Ajegunle, where Rose and Grace grew up, decaying infrastructure, high population density, underprivileged residents, and heaps of refuse are the community's panorama. The harsh living conditions have made residents such as Ekpoto Rose and Blessing Onuka feel as if the state and the federal government have abandoned them.
"There's nothing the government has done for us. I wish the government would step up," Ekpoto said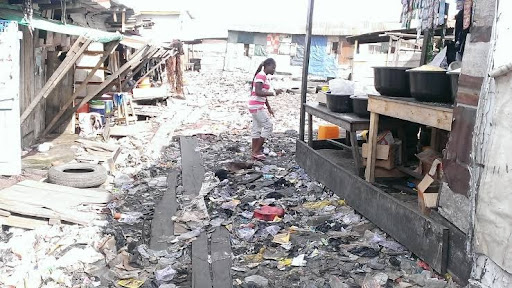 Basic education also suffers in this environment. School proprietors who are motivated to give the best form of education to disadvantaged children are cut short by parents' inability to pay. This is why Rose and Grace have structured their school to address multiple adversities; lack of quality education, poor sanitation, and extreme poverty.
An open admission model has also been set in place to help parents enroll their wards seamlessly. "A parent can just bring their child, we assess them and put them in a class that fits their knowledge," Rose said. 
Yet, she discloses that due to space constraint they are only able to admit a maximum of 10-15 children per session.
The reality of plastic waste in Nigeria 
Since the 'Recycles Pay' Project launched in Dec. 2018, it has partnered with both private and public schools in Ikorodu, Yaba, Surulere, Ilupeju, Mushin, Onipanu, Epe, Lekki, and other low-income communities across Lagos so far.
It maintains an easy approach whereby parents bring a bag of empty plastic bottles, it gets weighed and the worth is deducted from the child's fees.
Onyelekwe Blessing, the communications officer of the African Cleanup Initiative stated that the average tuition fee for a child in a low-income school amounts to N10,000 per term, which sums up to N30,000 in an academic year (three terms). 
"It takes 1500 kg which is equivalent to 1.5 tonnes of PET bottles to cover a child's fee for a year," Blessing disclosed.
This means that a kilogram of empty PET bottles (without caps) is N20 and since the average weight of a single bottle is 9.9 grams, a kilogram equals 101 empty bottles. This, in turns, means that parents need to collect 50,500 plastic bottles on average to completely cover one term's fees for a child. This suggests how plastic waste has become endemic.
As the population in Nigeria progresses, the quest for a better life has contributed to the consumption of goods and services which ends up generating tonnes of waste.
In terms of plastics, their durability and cost-effectiveness have made them suitable for the packaging of food, drinks, etc. 54 per cent of plastics imported and produced in Nigeria are being used as packaging material. This makes PET bottles the dominating material in any dumpsite.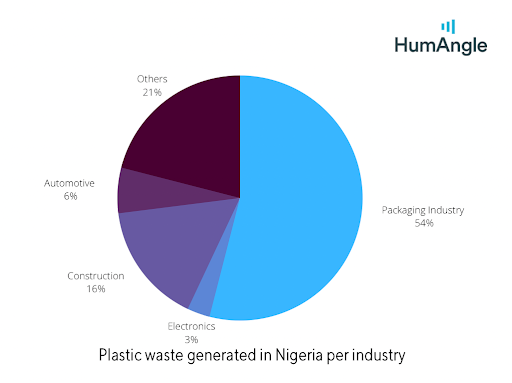 Despite its versatility, plastic packaging is merely used for a day or two before it is discarded.  The environmental impact involved in its improper disposal is atrocious. Plastic waste takes 500 to 1,000 years to fully decompose.
Although the Nigerian government has set up policies from the National Policy on the Environment in 1999 to the National Policy on Solid Waste Management in 2018, and many others in between which are still in existence, an updated National Policy on Plastic Waste launched in 2020 shows that former policies' effectiveness has not made much difference.
Some of the goals for the latest policy is aimed at achieving the reduction of plastic waste generation in the environment by 50% by the year 2025, banning single-use on the go plastic (styrofoam packs, straws, disposable cutlery, etc.) from January 2025, and ensuring that all plastic packaging companies meet criterions such as products being biodegradable or reusable by 2030. 
Although policies and other cleanup initiatives are doing their best to reduce plastic waste, early last year the Minister of State For Environment, Sharon Ikeazor, revealed that over 1.5 million tonnes of it are still being generated annually. This is verifiable as cities in Nigeria still remain visibly dotted with heaps of plastic waste.
---
This story was produced in partnership with Civic Media Lab under its Grassroots News Project.
---
Support Our Journalism
There are millions of ordinary people affected by conflict in Africa whose stories are missing in the mainstream media. HumAngle is determined to tell those challenging and under-reported stories, hoping that the people impacted by these conflicts will find the safety and security they deserve.
To ensure that we continue to provide public service coverage, we have a small favour to ask you. We want you to be part of our journalistic endeavour by contributing a token to us.
Your donation will further promote a robust, free, and independent media.
Donate Here