Development
News
Tales Of Poor Single Mothers During The Coronavirus Pandemic (Part One)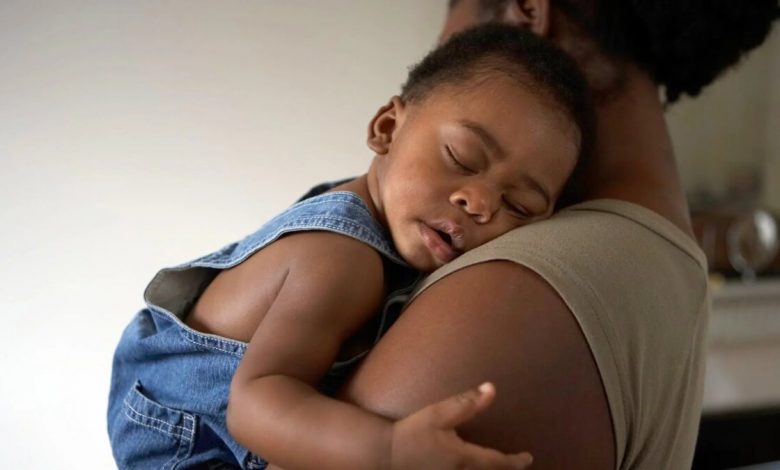 Biola, 34, is a mother of four, living in one of the high density neighbourhoods in Lagos. With no predictable income and the responsibility of fending for her children, she lives each day on the edge. Companionship and support, things that several married women take for granted are only in her imagination as she worries about how the next meal will come.
Tales of Abandonment
Her husband abandoned their matrimonial home sometime in 2018. Sometimes when she felt overwhelmed, Biola tried speaking with her husband by telephone.
"I tried calling even before the coronavirus lockdown. He doesn't pick my calls," she said, adding: "I don't know if he is in Lagos because he doesn't stay in one place. He is a mechanic. I don't know where he is now."
In an attempt to re-order her life, Biola borrowed money from a micro finance bank to start a small business. She kept on diligently with her business and ensured that the little profit she earned prudently managed to feed the family.
But with the COVID-19 pandemic, markets are effectively shut and even if they were open, not many buy children's undies which are her
articles of trade. "It has not been easy at all ever since the lockdown," she said.
She moved with her children to live with her aged mother in Ajegunle, another slum in Lagos. There is an eerie drain to the tone of her voice that altogether triggered a concern.
Maybe it was the fear of the unknown. "I just managed to get two "paints" (measures) of garri and one "derica" (measure) of beans. It is whatever I am able to provide that my mother will manage," she said.
"Since Thursday, the little things I bought, we have finished everything," she told HumAngle. "That is what is sustaining us till now. It is the last food in the house I will cook tonight."
Asked what the children would eat the next day, she merely declared some personal faith, saying, "God will do it. He has been the one doing it."
Sensing a sign of concern on the reporter's face, Biola added: "I am sending messages to some of my friends to plead with them to save us from hunger. I know God will surely do something."
COVID-19: Magnifying Existing Social Injustice
The pandemic is affecting everyone harshly but particularly in different ways to men, as with women, the married and unmarried. For instance, Alice Abe, a mother of four, and single parent, moved into her family's ancestral home at Sibiri, Badagry.
Her husband abandoned her and the children and eloped with another woman in September, 2019. The eldest of the children is 13, followed by others who are nine, five and three years old respectively.
"He has not been providing for the children. I have been the one doing it. I lost his contact. He has not been calling me, though his son called him sometime in January. He said he doesn't have much for now," she narrated.
Alice works as a secretary in a private company and gets a monthly income of N16,000. The income, in the light of her daily responsibilities, is stretched. Everyone living in any urban community in Nigeria will understand the weight of such income in the face of spiraling cost of foodstuffs.
Contending With New Voracious Appetites in the House
With the lockdown, one of the first things Alice noticed was the sudden voracious appetites of the children.
"I bought a quarter bag of rice but now there are not more than two "derica" (measures) left. Garri is finished, the indomie is finished, the spaghetti I bought is finished. I don't have yam tubers, it is only the two "derica" (measures) of rice that are left," she told HumanAngle.
"Yesterday and today, they (children) drank garri. I gave them some money because I have borehole in the house. I used to give people water free but since the lockdown, I started selling the water (at N10 per container). So, after collecting money for water, I gave them to buy garri to drink when they were complaining that they wanted to eat so that at night we can cook one derica of rice for us to eat," she said.
Alice has managed her children's increased appetite by warning them of the dangers of yielding to hunger regularly. She, however, encouraged them to learn to drink water more often as a way of quenching hunger.
"When I buy buckets of water N20 we can use it for a whole day. It is tap water and we buy it in a bucket and keep at home. We have a well in our compound but we go outside to buy drinking water.
"We buy from people who buy from water tankers. The water is actually N10 per bucket, we buy two buckets but pour the water into another bucket which has a cover and use it for a whole day.
"Where I fetch water from is about three to four compounds from my building. We drink the water like that without treating it. And we have been drinking it for the past six years," she explained.
She washes her hands everyday because she does not want her children to fall sick. "I don't have money to buy sanitisers, so I get 'ogogoro,' (local gin) to wash our hands every 20 minutes," Alice said.
Family to the Rescue
With the stock of food in the house running out, Alice found herself at a crossroads. She made a phone call to her brother and narrated the dire situation. He told her to move in with his family at Ejigbo, a high density community on the outskirts of Lagos.
The experiences of Biola and Alice highlight some of the pains several families are contending with but which are mostly veiled in public analyses and conversations on COVID-19 that frequently focus on infections, spread, statistics and exhortations to required behaviour codes.
Solution
Dr Frances Attoh, Associate Professor, Sociology Department, University of Lagos, said the lockdown had a lot of consequences, not only for single parent families, but for small scale entrepreneurs because Nigeria was a daily income economy. She said 80 per cent of Nigeria's GDP was not captured under the formal economy.
"So, if people who are dependent on daily income are locked in for four weeks, the consequence is that those who have small capital will eat into it because nothing comes in.
"Sociologically, how it is going to affect single parent families, especially women, is the feminisation of poverty. Poverty has a female face. Why?
"If you look at 99.9 per cent of these women you are talking about, they don't have good education. They neither have a good education nor a good vocation.
"So, these women were either almost totally or 100 per cent dependent on their husbands while they were living with their husbands. Don't rule out the fact that even when their husbands walked out on them or when things were normal, some of these women also had male friends who were helping out.
"The lockdown does not allow those men to come and help them out because those men are now with their families and whatever little money they have, they too will also be trying to manage with their own families. That is where those women will be worsted," she says.
Attoh said the way forward for single mothers in this category was for them to become economically independent.
"The answer to their problem is for them to tie their shoe-straps, get up on their feet and try to become economically independent.
"There are men who are single parents, they have their children with them but no women or friends. These men are not coming on Facebook begging for money because they are economically independent," she said.
She noted that women living with their spouses were better off because no matter how bad the situation could be, they put the two incomes together and it helped them make a headway.
"Those women who are out there with just their children, if they will tell you the truth, they are side-chicks for married men who try to assist them from time to time. But, this situation does not warrant that type of assistance because those men cannot go out."
"Or the little they have, they also want to keep for their families and spend for their families. The COVID-19, if they are smart, is a time for them to reflect because we are going to have a new normal. We can never go back to how things used to be before this COVID.
"COVID is a small problem with what we are going to tackle in the next one year when all this is over. We will begin to look at the economic effect of COVID-19 and I can tell you, it is going to be massive.
"Women need to go through reflection and introspection and then ask themselves: 'is this the way my life will be?' "They want to depend on one man that will be giving them N50 to N100,000 and the truth is that it won't pay your bills. It's not possible."
Ms Morenike Omaiboje, Programmes Director, Women's Consortium Of Nigeria, who raised her three children as a single parent, said if such mothers were not economically buoyant, it was likely to be very tough.
Drawing from her own experience, Omaiboje said she had a good job, yet was not able to save money. Her major anxiety though was that her children were always strolling out and she had to lock one of them out several times.
"At 62 going to 63 years, I am still doing a lot. I am still the central focus when it comes to finances and that is a lot.
"I am always wishing that help is coming from anywhere. I have never been into men right from time but quite a few of my female friends have been wonderful without me even asking, they help. I have never asked anyone for anything."
Omaiboje said being a single mom at a time the world was grappling with a deadly disease was a unique situation and advised women in such situations to use this as an opportunity to reflect on how to attract multiple streams of income into their lives.
"They must look at their strengths…should not always put their minds on their uncles, sisters, aunts will help them because those people will fall back into my category of retiring one day, then what happens?"
This report was facilitated by the Wole Soyinka Centre for Investigative Journalism (WSCIJ) under its COVID-19 Reality Check Project.
---
Support Our Journalism
There are millions of ordinary people affected by conflict in Africa whose stories are missing in the mainstream media. HumAngle is determined to tell those challenging and under-reported stories, hoping that the people impacted by these conflicts will find the safety and security they deserve.
To ensure that we continue to provide public service coverage, we have a small favour to ask you. We want you to be part of our journalistic endeavour by contributing a token to us.
Your donation will further promote a robust, free, and independent media.
Donate Here