Development
Featured
Features
Humanitarian Crises
News
Orphans, Vulnerable Children, Struggle With Nigerian Systems, Family Rejection
Thrown into circumstances that leave them vulnerable and without familial protection, orphans and other vulnerable children in Nigeria have to navigate inefficient systems as they find their places in the world.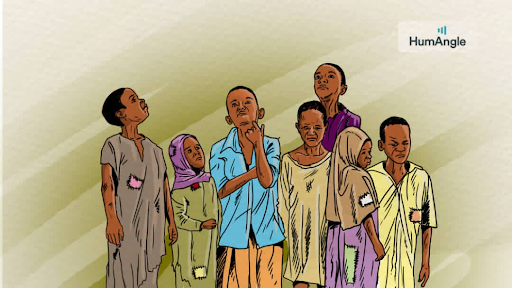 Shade* dreams of meeting her mother. At night, she imagines an oval-faced woman with lots of hair who looks like her. Shade is often overcome with grief because imaginations are all she has left. 
Oftentimes, the feeling is not happiness, or sadness, or even hatred. She says she sometimes does not know what to think or feel – it is like a void.
Shade has little memories of her birthplace, "but it is a rural village in Kwara State's Ifelodun Local Government," she says. Shade's village, like others in the state, survives on light commercial agriculture and hunting. 
The literacy vacuum in her village soon manifested as Shade was accused of being a witch. This put Shade in a life-altering situation.
"An underreported dimension of Orphans and Vulnerable Children (OVCs) in rural places," says Mrs. Ajayi, a field staff of the Kwara State's Ministry of Women Affairs, "is the role of ignorance. Families, and inevitably children, are easily tagged as cursed or bewitched."
Shade's mother, who got pregnant at 16, died the day she was born, leaving her with her father who was about to turn 20. To feed his child, he would knock on doors, begging for food scraps. He soon found a job as the journey companion of a truck driver. 
They lived in a tight-knit community and he would sometimes leave her with a neighbour and go on work trips. 
One day, the 12-wheeler truck was intercepted by highway robbers. The robbers killed the driver and Shade's father. It took a while before the community knew what had happened to him. 
Abandoned, alone, and fighting
Shade, who was barely five years old at the time, began fending for herself by begging. She slept in front of shops when they closed and hung around beggar spots. 
Some members of the community reported her situation to authorities, starting with the Police and some Non-Governmental Organisations (NGOs) that visited her community, which is miles away from town.  Before she turned six, Shade was placed in the Kwara State Child Reception Centre.
A Child Reception Centre (CRC) is any place that is officially set aside for caring for children, especially Orphans and Vulnerable Children (OVCs).
According to a report by UNICEF in 2008, there are 17.5 million OVC in Nigeria, out of which 9.7 million are single or double orphans.
In another recent joint report by WHO, UNICEF, and The Lancet. Nigeria ranked in the bottom 10 for child flourishing, ranking "174 out of 180 countries, below Afghanistan, Sierra Leone and South Sudan."
However, the undetailed data even in its magnitude does not tell the story of how much trauma OVCs face in Nigeria. "The data isn't the truth", says Mrs. Ajayi.
According to the World Bank, OVCs can be single orphaned or double orphaned. A single orphan refers to children who are fatherless or motherless while double orphaned are those without both parents. 
The international organisation further defines OVCs as children who are orphans, separated from their parents, living with caretakers who have illness, disabilities, trauma, substance addiction or abusive habits and having normal families but special needs that even well-functioning parents will need help to address. These needs include, but are not limited to trauma, disability and behavioural problems.
Most states in Nigeria define OVCs more concretely. In Kwara State, North-central Nigeria, where Shade resides, the Ministry for Women Affairs and Social Development has a list of "children who qualify for institutionalised care." They include motherless, abandoned, abused, lost, and mentally ill children. Children in the middle of heated custody battles, paternal disputes and those who escape or are saved from trafficking are qualified to get help from the state. The children are most times kept in reception centres or institutionalised.
Under numerous child rights laws, including the United Nations Child Rights Act, the institutionalization of OVCs is discouraged, and said to be the last resort. Where necessary, it should be for the shortest time possible. 
To avoid, or at least reduce institutionalisation, both government and privately-run orphanage homes have to take action and precautions to make sure they have plans for familial or societal reintegration before taking in any child. 
If the problem is within the child's primary/nuclear family, except in the case of disputes, the first step will be to seek out members of the extended family and initiate adoption by them. If the extended family does not adopt the child, they sign an agreement stating how long the reception centre would be responsible for the child. Once the time is complete, the child is repatriated to the family. 
If a family member cannot be seen, the reception centre takes the responsibility of the child and begins making plans for adoption, or at least fostering by a different family. While fostering is care given for a particular amount of time, for adoption, a child is taken by a family other than its biological family. Adoption is permanent and the child is given the same right as a biological child.
Orphanages try, but do not provide enough protection
At the City of Refuge, a 4-year-old orphanage located at Pipeline, Ilorin; the home has faced problems ranging from difficulty in securing funding, to difficulty in securing rental accommodation because house-owners refuse to rent apartments to them for flimsy reasons.
"There is a lack of policies providing social security to OVCs in Nigeria, so running an orphanage is being ready to cater for the responsibilities of as many children as the orphanage has," says Precious, a caregiver at City of Refuge.
In the government care centre, Shade was filed as a double orphan who was to be repatriated to her extended family when she clocked 15. She lived in the reception centre all through her childhood. She worshipped regularly at a catholic church and went to a public school in the same neighbourhood as the orphanage. 
"To be honest, I had a fairly fine experience," says Shade, "I have countless memories of children who had worse experiences to tell."
A 2016 desk report by SPRING noted that the population of orphans in Sub-Saharan Africa increased from 28,400,000 in the year 1990 to 39,200,000 in 2000, and subsequently 60,000,000 in 2013.
According to the "Children on the move, children left behind" report by UNICEF, 1,072,000 people have been displaced in Borno, Adamawa, Yobe and Gombe due to the Boko Haram insurgency, out of which 55% are children.
The same report noted that 1 in every 4 suicide bomber is a child.
"In the absence of institutionalized care, OVCs become victims of social vices, and might later become perpetrators of such vices," says Oyediji.
When Shade clocked 15 and was about to get into SS2, the centre contacted her extended family. They reneged on their promise of taking custody. At the same time, a private orphanage home was opening up and needed helping hands with the little children. The government transferred her custody to that home. At the new home, she became a parent to many children. 
One of her major tasks was to coach the children after school. This is to augment the poor education they got from the public schools they attended. Children in government-run orphanage homes usually attend public schools to avoid marginalisation and stigmatisation. 
For stakeholders of private homes, the decision to send children to public schools is due to shortage of funds. "We send our kids to public schools because of lack of funding," says Reverend Gabriel Oyediji, President of the Association of Orphanage Homes in Nigeria (ASOHON).
He does not agree that public schools reduce stigmatisation of OVCs and added that, "public schools can also expose kids to bullying and other vices, which can make them more sensitive about their backgrounds."
Government allocates an annual budget to tend to its social services and this includes CRCs and projects like women and youth empowerment. Government centres are also more popular among the general populace, which predisposes them to more donations and aid by NGOs and independent philanthropists. 
"The only source of survival for most private homes is charity. Because funding depends on charity, there are wild fluctuations in the performance of private homes, often to the negative side," Oyediji added.
Finding new homes for orphans
Infants are often considered the best candidates for adoption. The chances of adopting or fostering an OVC reduces as the age increases. Ironically, the 2013 Nigeria Demographic and Health Survey (NDHS) found that the percentage of orphaned children increases rapidly with age, from 4.2% in children under five, to 16.1% among children age 15-17.
At the surface, the Nigerian OVC situation is pervaded by ignorance and lack of concern, both by society and the government. The most notable indicator of this is the absence of data and policies addressing the social security of OVCs in Nigeria.
While reporting this story, this reporter observed that gender contributed to OVC treatment. One thing noticed was that most orphanage homes and reception centers had more females than males.
"The gendered nature of our society is such that the society ascribes certain attributes and places certain expectations on boys and girls. These societal constructs still impact differently on OVCs. For instance, the prevalent male child preference in some societies may lead to more male OVCs having better access to education, nutrition and other services than female OVCs. It is more likely that you will see male OVCs engaging in strenuous child labour than their female counterparts. Conversely, female OVCs are more likely to be victims of sexual violence than their male counterparts, and you may have more female OVCs ending up as house helps because the society sees women as those responsible for care and home-making in the homes," says Dr Godwin Odo, a child protection specialist with UNICEF Nigeria.
"The gender of an OVC may also play a role in determining whether or not they are taken into alternative care. A childless couple may decide to adopt a male child because they want someone who will continue with the family lineage in the future while another couple may decide to adopt a girl because they feel that she may face less ridicule from relations in the future and will not be involved in inheritance battles."
Due to lack of data, there's no clear metric to measure how many kids make it due to foster or adoptive care.
"I can tell you that less than 20% of OVCs get fostering or adoption", says Mrs. Ajayi. "Who will adopt who?" She asks.
"The lack of clear legal and policy frameworks as well as bureaucratic bottlenecks has made the adoption and fostering process very cumbersome. This has also resulted in people resulting in alternative but illegal ways of sourcing children. The high levels of child trafficking and outright sale and purchase of children in the society may not be unconnected with the difficulties in formal fostering and adoption," says Dr. Godwin.
Most of these kids grow up in institutionalized care with little to no psychosocial support other than the one provided by their professional caregivers and occasional visitors.
OVCs face so much that sometimes, "repatriated kids come back to the CRCs," says Hajia Yusuf Abibat, an officer in charge of the Kwara State Child Reception centre. 
She noted that sometimes, the problem is the lack of the abstract rather than concrete. Even when repatriated back to society, the vacuum for emotional and psychosocial support might not get filled.
"The first step would be a more conscious society, we need a society that acknowledges our existence, that wonders: what happens here?", says Mrs. Ajayi. "If there's going to be any improvement, it has to start from the society, not the state."
"A lot of challenges faced by OVCs arise from social norms and perceptions held and sustained by members of the society. A social norm change campaign will go a long way in reorienting the public and inducing behavioural change towards improved welfare for orphans and vulnerable children," agrees Dr. Godwin.
"UNICEF and other UN agencies, as well as numerous NGOs have been implementing programmes in relation to OVCs," says Dr. Godwin. "However, these interventions only highlight models that work with a view that the government to make the necessary investments to scale up the interventions across the country."
"I know about the Child right act by the United Nations, I also know about the National Priority Agenda for Vulnerable Children 2013 – 2020, but they're not reflecting here," says Shade.
Shade's future might yet be promising
Despite the pandemic, Shade took her West African Education Council (WAEC) and Joint Admissions and Matriculations Board (JAMB) exams in 2020. 
While filling the form for her JAMB exam, her first choice was to study Law at a federal university, but knowing this is a far-flung dream, her second choice was to attend a College of Education. 
For her, it has been a long road to this point and she is looking forward to using the tiny windows of opportunities available to complete her tertiary education. 
On the 7th of February, 2021, Shade got admitted to study English in the Kwara State College of Education. 
The session is yet to start but Shade is hopeful as her education is to be sponsored by City of Refuge Orphanage Home. 
She hopes to help people in the future too. 
*Names have been changed to protect the identity of OVCs.
---
Support Our Journalism
There are millions of ordinary people affected by conflict in Africa whose stories are missing in the mainstream media. HumAngle is determined to tell those challenging and under-reported stories, hoping that the people impacted by these conflicts will find the safety and security they deserve.
To ensure that we continue to provide public service coverage, we have a small favour to ask you. We want you to be part of our journalistic endeavour by contributing a token to us.
Your donation will further promote a robust, free, and independent media.
Donate Here