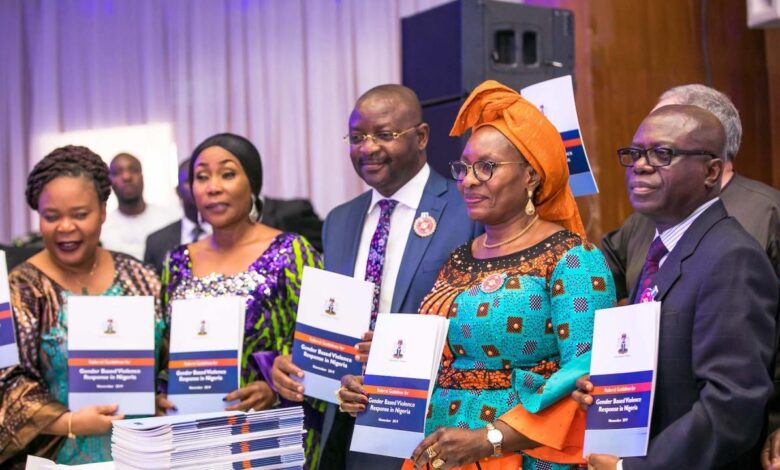 Only 10 states out of the 36 states in Nigeria keep databases of those convicted of sexual offences in the country.
The states are in: Southwest Nigeria; Lagos, Ogun, Ekiti; South-south Nigeria; Bayelsa, Edo, Akwa Ibom; Northeast Nigeria; Bauchi, Adamawa; Abia (Southeast), and Kaduna (Northwest). However, only Lagos, Ekiti, Edo, and Akwa Ibom states publish the full details of the offenders to 'name and shame'.
Sadly, these registers are not updated regularly, defeating their purpose, and giving rise to calls for a national register that will be monitored and updated frequently.
In 2019, the Nigerian Government launched its first National Sex Offender Register to name and shame rapists and offenders of other forms of violence against persons across the country.
The National "Sexual Offender Register" is managed by Nigeria's National Agency for the Prohibition of Trafficking Persons (NAPTIP) and is funded mainly by the European Union.
A sex offender register is a list of all convicted sex offenders in a state. Sex offender register generally includes the offender's address, physical appearance, and criminal history.
As part of efforts to provide a one-stop solution to reporting, curbing sexual offences, end the high rate of violence against women and children in Nigeria, the Sex Offenders Registry was introduced to deter people from committing such acts. It was also to ensure that most companies check the records of a would-be employee if his name is on the register.
Data on cases of conviction is scarce or not readily available in Nigeria, where patriarchal traditions stigmatise victims who speak about their abuse. According to United Nations International Children Emergency Fund (UNICEF), one in four girls in the country has experienced sexual violence by the age of 18 and hardly received any form of support.
One in 10 women in Nigeria has experienced physical or sexual violence at the hands of an intimate partner in the last 12 months, according to UN.
State performances
Since 2020 when Edo State launched its sex offenders register, only 139 cases had been reported. Out of these, 118 cases are in court while the state government secured 21 convictions. Currently, Edo State is the only state that linked its Sexual Offender Register to the National Sexual Offender Register.
Abia State only launched its Sexual Offenders Register launched in 2021.
The Adamawa State Government launched the Sexual Offenders Database (SOD) to hasten Sexual and Gender Based Violence (SGBV) cases in the state in March 2022.
Akwa Ibom State also publishes sex offenders register under the Akwa Ibom State Violence Against Persons (Prohibition) Laws, 2020
Before the national register was launched in 2019, the Ekiti State Sex Offenders Register was opened in 2013 as part of measures adopted to curb sexual violence in the southwestern state.
Aside from publicly shaming sex offenders, other measures put in place by the Ekiti State government include disqualification of convicted sex offenders from applying for Prerogative of mercy, compulsory psychiatric tests for offenders in cases where the victim is a minor, and pasting placards of sex offenders in their last place of abode or prominent places in their local government headquarters.
However, the Lagos State Ministry of Justice added the details of 206 persons convicted of sexual offences between April 2020 and April 2021 to the Lagos State Sexual Offenders Register. The sex offender register in Lagos was opened in 2014.
Having a database of all those prosecuted for sexual violence since 2019 means Nigerians are finally holding perpetrators accountable and taking an important step towards tackling abuse against women.
The register comes with a service provider register that allows people to report new offenders through an electronic-based system and a section for suspects cleared of sexual allegations that is only available to law enforcement agencies.
"Now, other states need to look at the Edo model and replicate it so that all the sex offenders are properly documented at the same time in one place, said Dorothy Njemanze, a women's rights activist and founder of the Dorothy Njemanze Foundation.
"Then, it's a big problem that cases have not been updated a few times because we called for judgement cases immediately after the lockdown but up till now, that case is not presented on the national sex offenders register and so it's a big problem."
Njemanze bemoaned the action of the authorities in charge of the sex offender register.
She said it is important to update the lists so that they will be accessible for all Nigerians.
"In the sex offender register, some people's pictures are not there. So the essence of the sex offenders register is to help document sex offenders because of tendencies of them repeating their crimes and to also check whom they employ as a caregiver to take care of disabled children. So we need to make sure sex offenders register functions well."
Since the launch of the national sex offenders register in 2019, about 602 cases have were reported nationwide, 120 cases verified, 38 persons convicted and 359 service providers registered.
Users pay to access sex offenders register
Searching the website using the name of a published offender, HumAngle found out that the website is updated often. However, the sum of N500 is required to search the register for reported and arraigned cases.
According to the website, after payment, and entry of the search details, an email will be sent with the search result. The searcher's personal information will be held with the utmost confidentiality.
Lagos, Edo, Ekiti taking lead in naming and shaming of offenders
For now, only Lagos, Edo, and Ekiti states are notable for the name and shame of sex offenders.
When the Violence Against Persons (Prohibition) Act, VAPP Bill, was signed into law by former president Goodluck Jonathan in 2015, many were sceptical whether it could do the work it was expected due to challenges associated with domesticating laws in Nigeria.
Today, while 18 out of Nigeria's 36 states and the Federal Capital Territory have adopted it with various modifications to combat rising cases of violence against people, the law is still struggling in 17 states, majority of which are in the northern region of Nigeria, as parts of the Act contradicts the existing Penal Code.
Section 1(4) of the VAPPA provides that a register for convicted sexual offenders shall be maintained and accessible to the public.
The extent of this Act is however restricted as other states of the federation are yet to implement the Act into various states' laws. The implication of this is that individuals are unable to know just who they interact and associate with.
The states that have passed the law at the legislative level but are yet to get executive assent include Adamawa where it was passed on March 1, 2021; Bayelsa, where it was passed on Feb. 17, 2021; Imo State, where it was passed on July 27, 202; Kebbi passed on Sept. 30, 2021; Kogi passed it on March 22, 2021; Plateau on Dec. 24, 2020, and Rivers where it was passed in Jan. 2020.
Nine states are yet to pass the law at the legislative level despite a series of advocacies and there seems to be no political will towards this. The states include Borno, Gombe, Kano, Katsina, Niger, Sokoto, Taraba, Zamfara, and Cross River.
Meanwhile, 19 states have passed the Bill and it has gotten executive assent and is now a Law. They are Federal Capital Territory where it got assent on May 23, 2015; Abia on Oct. 1, 2020; Akwa Ibom on June 19, 2020; Anambra in 2017; Bauchi in 2020; Benue on May 28, 2019; Delta on Oct. 7, 2020; Ebonyi in May 2018; Edo on Aug. 5, 2021; Enugu in April 2019; Jigawa on Feb. 24, 2021; Kaduna on Dec. 1, 2018; Kwara on Sept. 24, 2020; Nasarawa on Jan. 21, 2021; Ogun in 2018; Osun on Oct. 11, 2021; Ondo on July 15, 2021; Yobe on Dec. 20, and Oyo on Feb. 26, 2021.
Two states; Lagos and Ekiti have Protection Against Domestic Violence Law and Gender-Based Violence Prohibition Laws respectively. In Lagos, the Domestic Violence Law of Lagos State was passed in 2007 while Ekiti passed the Gender-Based Violence (Prohibition) Law in 2019 and the two laws have some of the provisions found in the VAPP embedded in them.
Recommendation
Kelechi Ofim, a gender rights advocate, said every state that adopted the VAPP Act must have a Sex Offenders Register that is accessible to the public.
"The VAPP Act stipulates that the state maintains a Sex Offenders Register detailing the information about a convicted sex offender. It's a matter of law," Ofim said.
"Therefore, this serves the purpose of deterrent by publicly shaming these offenders, and of course, informing the public of the identities of the criminals to know the limits of engaging with them. Such persons shouldn't be employed as caregivers, teachers or allowed to be close to children. That's the essence of having the Sex Offenders Register."
He lamented that the register is hardly up-to-date, and "it's not a good thing."
"Just recently, I engaged a top official of the Ministry of Justice in one of the states where the VAPP Act has been adopted and operational. He revealed that there is no Sex Offenders Register in the state despite acknowledging some persons have been convicted for the offence," Ofim said.
He said the Sex Offenders Register should be specific for each state but should be synchronised with the National Register, "some of these criminals tend to be permanently on the move. Once they become notorious in a particular place, they relocate to the next town. If the register is synchronised, they will have nowhere to run to."
Ijeoma Okereke-Adagba, a human right advocate on gender issues said violence will reduce across the country if all states publishes the sex offender register.
"If I know that if I'm caught and punished for a crime, then I'll stay clear of it. But if on the other hand nothing is done, then what's the purpose of the register? Naming and shaming of perpetrators will deter them from committing such acts," she said.

---
Support Our Journalism
There are millions of ordinary people affected by conflict in Africa whose stories are missing in the mainstream media. HumAngle is determined to tell those challenging and under-reported stories, hoping that the people impacted by these conflicts will find the safety and security they deserve.
To ensure that we continue to provide public service coverage, we have a small favour to ask you. We want you to be part of our journalistic endeavour by contributing a token to us.
Your donation will further promote a robust, free, and independent media.
Donate Here