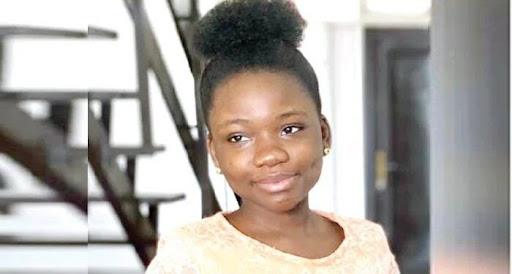 The death of Keren-Happuch Akpegher, 14-year-old student of Premiere Academy, Abuja, Nigeria's capital, has thrown up more controversies and a few lessons. 
The Police are not forthcoming with their findings into the cause of her death despite initiating and concluding an autopsy examination. Her aggrieved mother cries for justice while the school pleads innocence. The public wants to know what killed Keren six months ago. 
Activists are dragging the police and the school over a possible manipulation of facts and eventual cover-up. They want the Nigerian lawmakers to commence an investigation into the death of the teenager.
The genesis
Keren was a Type 1 Diabetes patient who lived on daily injection of insulin to keep her sugar level under control. She started taking insulin when she was nine-years-old. Her mother, Vivian Akpegher, is also diabetic. 
Type 1 Diabetes is usually diagnosed in children and young people which explains why it's often called juvenile diabetes. 
She was taking insulin injection twice daily – in the morning and in the evening, supervised by the Academy's health workers. With a glucometer, she measured her blood sugar level twice a day and later once in a week. 
Keren kept a notebook where she recorded her blood sugar level each time it was measured with the device – it was 114NG on Thursday, June 17, when she last measured it while in school.
According to Web MD, an online publication focusing on medical issues, Type 1 diabetes is a condition in which your immune system destroys insulin-making cells in your pancreas. The website listed shaking and confusion, rapid breathing, fruity smell to your breath, belly pain and loss of consciousness (rare) as signs of emergency with Type 1 Diabetes. 
Symptoms include increased thirst, frequent urination, hunger, fatigue, and blurred vision. While there has been no cure for the disease, its treatment aims at maintaining normal blood sugar levels through regular monitoring, insulin therapy, diet and exercise.
On Thursday, June 17, 2021, the late student had complained of red eyes, which is part of the complications. 
"On the 17th, after her blood sugar test and taking her insulin in the morning, she came to the clinic later that evening to complain of a red eye. She used to have it once in a while," said Grace Salami, the matron at Premiere Academy who was overseeing the student. 
She would later release the student to see an ophthalmologist on Saturday, June 19, because her mother had called to request that she be allowed to see the doctor. 
"So, when she called on that Saturday and asked me to bring the child to Nisa Premier [Hospital], I immediately agreed, and a nurse took the child there to see an ophthalmologist," Salami recalled in an interview with HumAngle. 
After the hospital visit, Keren returned to school with three eye drops that the ophthalmologist gave her but had at the clinic pleaded to go home with her mother. 
The matron said Vivian Akpegher came to pick her daughter from the school that Saturday, because the late student said she would come back the following day, Sunday. 
"…she came in and picked the girl in good condition. Apart from the red eye, she didn't have any other complaints," Salami said.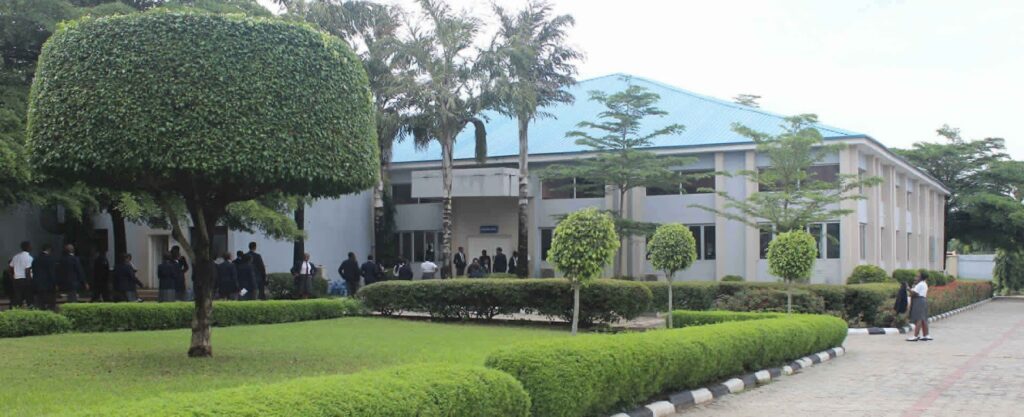 The controversy
It is not clear what happened between when Keren got home and when she was admitted at Queens Hospital at Wuse Zone 6.
Her mother and the matron have different accounts of what happened to the late student. While the mother says her daughter took the insulin on Sunday, the matron says the teenager could only become hyperglycemic if she didn't take her insulin.
"Sunday morning. She even came down to the fridge, took it out, the insulin she was to take and showed him that. She showed it to my brother because my brother was downstairs. 'I'm taking my insulin.' And the injection she used is still in her room. She took her insulin," the mother recalled.
But Salami expressed shock when she was told in a telephone call that Keren was delirious and was at the hospital. 
"The mother called me on Monday morning to tell me that the girl became delirious that Monday morning and, on the phone, I was asking her a lot of questions: How? What did she eat over the weekend? Did she take her insulin?" the matron said in an interview. 
HumAngle found out that poor adherence to insulin therapy by patients can lead to significantly high levels of blood glucose and then to psychosis. Acute hyperglycemia is known to alter mood state and impairs cognitive performance in patients with diabetes mellitus, according to Innovations in Clinical Neuroscience, a medical platform. Patients with diabetes mellitus experiencing ketoacidosis or hypoglycemia have also been shown to experience delirium, the platform noted. 
But Keren, according to her mother, was raped, because, at the hospital, a decaying condom was found in her. This allegation immediately colours the path of establishing the factual medical information and procedures in Keren with dark, emotive framing.
"…at the hospital, during the medical examination, a condom was found in her, particles of a discharge were tested to be condom. And then dead spermatozoa were found in her urine," the distraught mother said.
Her mother could not bring herself to accept narratives by the management of Premiere Academy that Keren might have died as a result of not adhering to her insulin dosages while at home. Rather, she and the Coalition of Gender Based Violence Responders, a civil soceity organisation based in Abuja are alleging that Keren died from sepsis resulting from sexual assault she allegedly experienced in the hands of a pedophile in the school.
Curiously, the medical personnel at Queens clinic from where the direct process of handling the hyperglycemic emergency switched into a story of "condom particle" have remained in the shadows, their medical procedures in handling the patient shielded from public scrutiny. Efforts by the press, including HumAngle, to speak with the clinic's personnel have been repeatedly rebuffed.
Keren's history of hyperglycemia 
Twice before she was admitted as a student of Premiere Academy, Keren was admitted for hyperglycemia but was well managed on both occasions, Salami said.
According to her, the student's medical record which the school requested before she was given admission contained this history.  
"Keren joined us in April 2019 in JSS 2, she had her JSS 1 elsewhere. She came in with the health condition of Type 1 Diabetes mellitus," the matron revealed. 
"There is this medical form that we give to parents to fill to let us know the baseline medical data of their children and this was the one the mother and doctor filled. It was there we got to know that she was …"
"Then when we asked if the student had been admitted into any hospital before and the reason for admission, the answer was yes, hyperglycemic crisis in Type 1 Diabetes Mellitus." 
That is to say, the crisis that claimed her life now, she had it before she came to the school in JSS 2. "My guess is she was properly managed then and recovered from it," Salami maintained.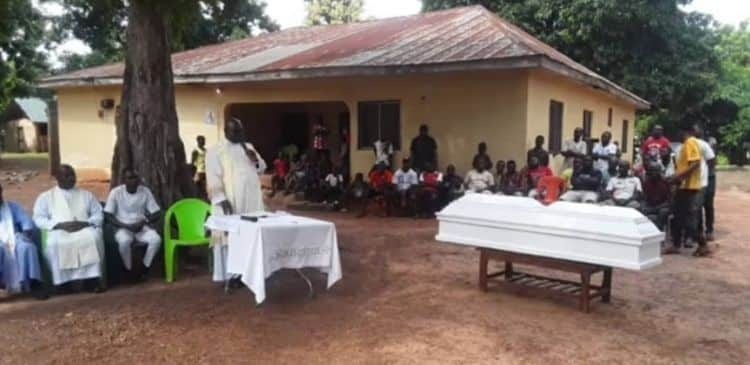 Did she die of medical negligence?
So, did Keren die as a result of a condom found in her? Was it a cover-up for something unexpected by the hospital? 
An analysis of her medical report sighted by HumAngle revealed that she developed a fever while at home and vomited once while her mother noticed a strange behaviour featuring irrational talks. 
The urine and vagina tests, according to the clinical summary, showed numerous dead spermatozoa, following a claim by the attending doctor that there was copious thick milky discharge and expression of rubbery material (condom) from the vagina when he wanted to pass a urethral catheter.
The report further showed that a diagnosis of septicaemia secondary vaginitis and hyperglycaemic crisis was made.
It revealed that she was treated with intravenous infusions, soluble insulin on titration, intravenous ceftriaxone, intravenous flagyl, intravenous 10mg diazepam, statum dose and largactil (chlorpromazine), 25 mg statum dose, intravenous paracetamol, intramuscular chloroquine and piriton.
Three of these drugs – diazepam also known as Valium, Largactil and piriton – are sedatives. Diazepam is a sleeping pill used to treat anxiety, largactil is said to have a prompt and effective action as a sedative. It is a psychiatric medication that belongs to the class of drugs called phenothiazine antipsychotic. Ceftriaxone, one of the drugs administered on her, is a cephalosporin (SEF a low spor in) antibiotic that is used to treat many kinds of bacterial infections, including severe or life-threatening forms such as E. coli, pneumonia, or meningitis. 
But there is a warning that it could have adverse effects on patients having diabetes, liver or kidney problems, according to Drugs.com.
It advises that patients should drink 'plenty of liquids to keep your kidneys working properly while using ceftriaxone'.
It is plausible that the three sedatives and the antibiotic sent her into a coma, from which state she later passed on. Keren died at 2:25 a.m. arguably in a coma, after spending 22 hours on admission, according to the report.
A team of medical doctors in a government hospital in Abuja also queried the drugs administered on the late student when she was at Queens Hospital. "Why was a diabetes patient at the point of emergency given chloroquine, piriton, diazepam and lagarticl all at the same time?" one of the doctors who didn't want to be named for ethical reasons said. 
They wondered about the kind of test carried out by the attending doctor on the patient that led to the drugs prescribed and administered on the girl.
"For a 14-year-old girl having Type 1 Diabetes, her BP 165/160 and Blood Sugar- 8.9 mmol/dl were too high and we did not see any drug that the doctor used to bring down the BP," another doctor said.
According to the findings from the interim autopsy carried out on the late Academy student, she had cerebral oedema – swelling of the brain, pulmonary oedema – excess fluid in the lungs, and acute congestion of the liver.
"The high BP and blood sugar level were too much for her age and they could be responsible for the cerebral oedema," a doctor who examined the interim autopsy report told HumAngle.
"The same thing happened to the lungs and the liver, and mind you, the liver was supposed to be detoxicating the body, but was also malfunctioning as shown in the report."
The hospital said they found a decaying condom in the late student which triggered sepsis. 
The doctors argued also that it is also possible that the high blood sugar level, high blood pressure and sepsis could have caused cerebral oedema, excess fluid in the lung, and liver malfunction that could cause the death of the patient, since no explanation of the causes were not stated in the interim autopsy report.
"She likely died from water pooling into her organs like the brain, lungs and liver because the kidneys weren't working in what is called acute kidney injury likely from the severe infection and diabetes ketoacidosis," said another medical doctor in a private practice in Abuja.
"The autopsy identified the water congestion into the brain (cerebral oedema), lungs (pulmonary oedema) and the liver."
Facts about her last moments
Meanwhile, with available facts around her last moments sewn together, the truth could come to the open, bringing the intriguing story of a teenager's tragic death to a convincing conclusion. 
Findings by HumAngle revealed that a Type 1 Diabetes patient can develop hyperglycemia if they fail to take insulin injections. 
What is hyperglycemia? Hyperglycemia (high blood glucose) means there is too much sugar in the blood because the body lacks enough insulin. 
Associated with diabetes, hyperglycemia can cause vomiting, excessive hunger and thirst, rapid heartbeat, vision problems and other symptoms. Untreated hyperglycemia can lead to serious health problems, according to the Cleveland Clinic. 
It says, "If hyperglycemia is left untreated in people with type 1 diabetes, it can develop into ketoacidosis, where ketones, which are toxic acids, build up in the blood."
"This condition is an emergency situation that can lead to coma or death."
The Premiere Academy's matron said Keren complained about her eyes which was the reason she went to the hospital and later went home. The eye problem was part of the aftermath of hyperglycemia. Her mother also said that she vomited on Saturday, the night of June 19. 
Cleveland Clinic and other medical platforms have said that hyperglycemia can cause vomiting and also "alter mood state and impairs cognitive performance".
This tallies with her mother's account of her behaviour at home especially with regards to her mood. "…she was very reserved that weekend. The Saturday I brought her home, she basically went straight ahead to sleep. She did not talk. She did not eat that Saturday," she narrated in an interview with HumAngle. 
Hyperglycemia is known to cause delirium in patients – a psychotic situation where they (patients) show "mental disorder in which thought and emotions are so impaired that contact is lost with external reality".
When she was taken to the hospital at about 4 p.m. on Monday, June 21, Keren was restrained before she could be attended to according to her mother. "She was still struggling by the time she got there," she said. The 'struggling' suggests that she was already delirious which is also one major fallout of hyperglycemia. 
She also confirmed that the late teenager was given medication, though she did not state what kind of drugs was administered on her and if she was given some doses of insulin to calm her down. "We were waiting for the medication to take effect because she was asking why she was restrained."
In a related case, a 36-year-old patient was treated with benzodiazepines and insulin to manage her 'organic psychosis'. The patient was educated on the importance of adherence to her insulin therapy, says Innovations In Clinical Neuroscience.  
It states that the psychotic episodes in the patient had no associated histories of fever, infection, high caloric intake, or substance abuse.
What an health expert said
According to Chiedozie Achonwa, a pediatric endocrinologist, who spoke to HumAngle, for Type 1 diabetic patients, one of the problems they have is the fact that they are very susceptible to infection. "Generally, diabetes is a risk factor for infection," Achonwa told HumAngle.
Asked if such patients can develop sepsis, he said, "I cannot answer how soon Type 1 diabetic patients can get sepsis because I have not seen one that has been raped before but type one diabetes makes it very easy to be susceptible to infection."
He did confirm that non-adherence to insulin intake is a risk factor. 
"People with type one diabetes when they are exposed to any type of stress, their blood sugar can actually go high; stress releases what you call cancer regulatory hormones to the body, so any kind of stress can increase their blood sugar," he said.
"Or if the person does not adhere to their insulin intake and the blood sugar continues going up, then the person can end up with what we call diabetic ketoacidosis, which is the very stage of complication in diabetes."
---
Support Our Journalism
There are millions of ordinary people affected by conflict in Africa whose stories are missing in the mainstream media. HumAngle is determined to tell those challenging and under-reported stories, hoping that the people impacted by these conflicts will find the safety and security they deserve.
To ensure that we continue to provide public service coverage, we have a small favour to ask you. We want you to be part of our journalistic endeavour by contributing a token to us.
Your donation will further promote a robust, free, and independent media.
Donate Here