Human Rights
News
'Once Arrested, Just Forget It': Anambra Residents Recount Bitter Experiences Of SARS Brutality
The detention facility at Awkuzu, many have disappeared without explanation after their arrest and detention. The facility is described as "burial ground for many unlucky youths" in Anambra State.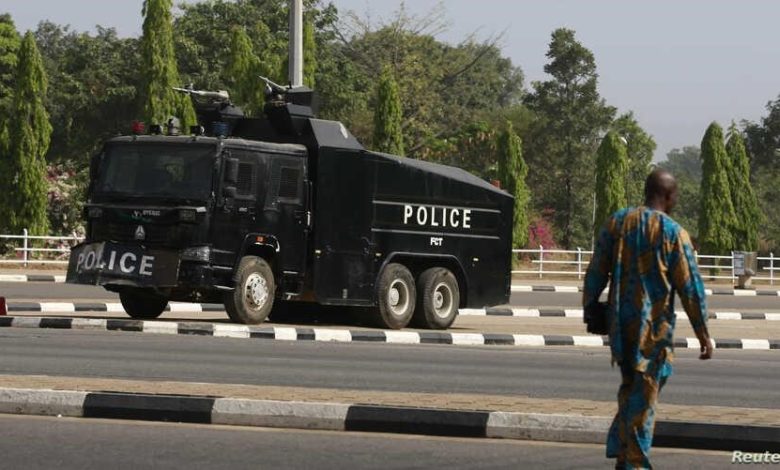 Eight years ago, Iloanya Chijioke John attended a child dedication service organised by one of his friends in Ajali, Anambra State. Operatives of the Special Anti-Robbery Squad (SARS) from Awkuzu Police Station raided the venue and arrested all the young men present.
Immediately the news reached them, Chijioke's parents visited the detention facility and spoke with their son, but could not secure his release.
Since that arrest on November 29, 2012, Chijioke has not returned home. According to his parents, CSP James Nwafor, the officer in-charge of the unit at the time, later denied arresting or knowing the young man.
"His parents are still praying and hoping for his return," Savn Daniel, who shared the story, tweeted on Thursday. "All attempts to see or know the whereabouts of Chijoke, dead or alive, have proved abortive."
Nwafor's profile on Facebook states that he is the former commander of SARS in Anambra and current Senior Special Adviser to the Anambra Governor on Security. Calls placed to his line by HumAngle were not answered nor has he replied enquiries sent via text to two of his phone numbers.
Daniel said, after tweeting Chijioke's story, he received calls from many other victims of SARS brutality, one of them describing Nwafor as a "deranged blood thirsty killer".
He added that the reports he got suggested that until his retirement, the CSP was known for unlawful killings, disappearances, conversion of suspects' properties to personal use, and demand of "outrageous bail bums in exchange for people's freedom".
"Victims who narrowly escaped being killed at Awkuzu SARS unit are saying they were forced to drink their urine in order to survive on a daily basis," Daniel said.
The lawyer's tweets triggered reactions from many Nigerians who, or whose friends, have had a close shave with the operatives, causing SARS Awkuzu to trend on the microblogging platform.
"In September, 2012, I went for a burial in Nnewi. On my way back to Awka I was arrested in Abagana by Awkuzu SARS," one Anambra resident tweeted.
"These evil men swapped me with someone, obviously a criminal, I was paraded as the supposed suspect for days in Anambra state."
Describing the detention as inhuman, he added that he would have been killed but for the help of a police officer who established his innocence.
Another young Nigerian wrote that when he was in Nigeria, he was detained at the Awkuzu for three months for a crime he did not commit.
"Every morning at 5a.m., they'll wake us up to carry the corpses they killed the night before. They refer to the corpse as meat," he tweeted.
There is no indication that the human rights abuses at the station have ceased.
Ebube said she lost a friend to the brutality of the SARS officers in 2018.
"Once Awkuzu SARS carry you, just forget about it," she tweeted on Thursday. "Once had a friend that was unjustly locked up. The day we went to visit him I felt like crying."
She continued, "They had tortured the daylights out of him; something we call 'odi ndu onwu ka mma'. He said his manhood is tied with a rope and he is kept upside down and then they will drag his manhood so he will confess to a crime he didn't commit.
"He stopped seeing clearly with one of his eyes due to the torturing. He was just a young boy with struggling parents so he couldn't pay the amount they requested. Last we heard of him, they said he had been transferred to another place. Till today, no news about him.
"Guy was legit crying saying he didn't do anything; you know that moment when you feel like your end is near. He said early mornings, they call some prison inmates out and you won't see or hear about them again."
Banti, one of the six students of Madonna University arrested in January, 2019 and detained for six months for speaking against the management, also narrated his experience.
"Akwuzu was a hell of a place. They don't allow anyone to visit us. Even if your parents bring food for you, they will eat it. I almost died there," he wrote.
"I only ate 5 ukpa and drunk about five pure water [sachets] for the one week I spent there before we went to prison. Where we sleep, we urinate there, we eat there, and we bathe there. The whole floor was sticky because of blood that had dried up, and we slept on that same floor."
He added that the "booze", who is the longest-serving member of a cell, occasionally bought ukpa for all the cellmates.
"I was in cell 2 then and our booze had spent 5 years there," he said.
Akpi Okafor said one time in 2012, SARS operatives mounted a roadblock by 10p.m. and arrested young boys who were returning from a viewing centre. He was lucky to have tripped inside road drainage.
"The three guys I know that they caught didn't make it back home till today," he tweeted. "Once you enter Awkuzu SARS, it will take a miracle for you to make it out alive."
Amnesty International recalled on Friday that it had written to the Inspector-General of Police on three occasions since November, 2018 about the need to investigate allegations against the Awkuzu detention facility "but received no response".
The international NGO had released a report in June documenting cases of torture, ill-treatment, and extrajudicial killing committed by operatives of the special police unit across Nigeria, including Awkuzu.
"The complete failure of Nigerian authorities to bring an end to the gross human rights violations perpetuated by the Special Anti-Robbery Squad or to bring any SARS officer to justice is shocking and unacceptable. Nigerians are outraged by the systemic human rights violations perpetrated by the SARS with impunity," Director of Amnesty International Nigeria, Osai Ojigho, had said.
"The systemic use of torture and other ill-treatment by SARS officers for police investigations and the continued existence of torture chambers within the Nigeria Police Force points to an absolute disregard for international human rights laws and standards."
Here are other tweets from the conversation:
The Son of a Charismatic Brother had his fingers smashed in with a hammer as part of an interrogation. He lost 4 fingers.

His Crime? Branching to watch a Champions League Match after Prayer meeting!

Six years down the line, he's still looking like a ghost. https://t.co/LNxIl340Ms

— Nwata a n'ayọ Eze (@PasqualStan) July 9, 2020
https://twitter.com/DumbAss98871256/status/1281307010407989248
My kid brother was arrested n detained in #AwkuzuSars after being tagged a cultist. Nigga was only 23 n was coming back from OKO POLY where he schooled to Aguleri our hometown. If not for the interference of my Uncle the Chief Of Staff Anämbra State. My kid bro woulda bn history https://t.co/8uYpB1YGql

— @edu_handsome (@IRepEduhandsome) July 9, 2020
Just imagine. SARS is used to intimidate people in Enugu. Once they collect their pay, These bastards shoot your leg first and ask questions later. That's what we know them for.

— Lois Truly (@loistruly) July 9, 2020
For those not in Anambra or nearby, trust me you wouldn't want to know want Akwuzu SARS stands for. Its a slaughter zone, a butcher ground. https://t.co/tpy2AKpElj

— Man_Elect (@gbriel_01) July 9, 2020
My Dad was a high ranked police officer. I'd never forget the way he was cringing so bad telling my mom and I the terrible things he saw the day he went to meet a colleague there. Those people are plain evil. https://t.co/5jMmzulg3u

— Harley (@miss_ezeani) July 9, 2020
You can't be a student of Anambra State University, Igbariam without hearing of Awkwuzu SARS or having first hand experience with them.
Let me not talk about the innocent young boys(students) they killed while I was still in school and the ones arrested without any reason. https://t.co/bNQ04f2012

— Ada (Four_Eyed_Igbo_Girl) (@Vivisleek_) July 9, 2020
I was born & brought up in Onitsha.
Awkuzu SARS are the worst set of humans on earth, they kill young boys WITHOUT trials. The worst is that sometimes the families of the boys won't even know because Awkuzu SARS kill within three days of detaining. https://t.co/gh2r9VXEzv

— Nwoke Ozubulu. (@SirPhil94) July 9, 2020
My own is that these men always take dead bodies of young men to Nauth for confirmation & deposition into the mortuary. Nobody questions them. They brand these young men criminals; and their eyes are always bloodshot. These extrajudicial killings need to STOP! https://t.co/yH35a11sIP

— Oogway (@astuffia) July 9, 2020
I served in (Anambra) OYI LG,Awkuzu I can Confirm to you that this Sarz People are wicked than Buhari Governments.They kill for fun and a students of mine once told me how his uncle was arrested and taken to the SARS office Awkuzu and till date he was not found… https://t.co/396WtffKkV

— ADETAYO (@kingtested) July 9, 2020
https://twitter.com/OBIORAOFFICIAL/status/1281148304911466496
Many years ago… I learnt a man wanted to discipline one of his stubborn sons by handing him over to Awkuzu SARS.
When next the man came to check on his son, sadly they have killed him already. That place is really a dungeon https://t.co/MDB71bbDvn

— Chika Sylvester (@PhenomChika) July 9, 2020
https://twitter.com/OlawaleNurain/status/1281237571851431937
Not only spent 6 months in jail, but witnessed many inmates killed. It was one high priest that asked one of the SARS operatives where they were taking the boy to, before he opened up to him. Saying if they can get 50k he would be released.

— UmehWrites Media (@UmehWritesMedia) July 9, 2020
Another wicked SARS is the Umuchukwu SARS. They terrorise the entire Orumba North and South LGA of Anambra. They pick people every where at night and huge sums are paid for bail https://t.co/JALsafcvpP

— Onyemaechi (@NwaforUche5) July 9, 2020
---
Support Our Journalism
There are millions of ordinary people affected by conflict in Africa whose stories are missing in the mainstream media. HumAngle is determined to tell those challenging and under-reported stories, hoping that the people impacted by these conflicts will find the safety and security they deserve.
To ensure that we continue to provide public service coverage, we have a small favour to ask you. We want you to be part of our journalistic endeavour by contributing a token to us.
Your donation will further promote a robust, free, and independent media.
Donate Here