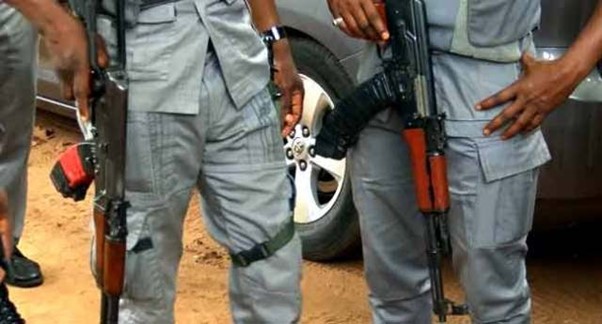 Ibiyemi Mutiu  was at a viewing centre watching the English Premier League with friends on Boxing Day, Saturday, December 26, 2020, when he heard screams of "Customs dey come…."
Most people scampered for safety, as is always the case when the customs officers invade border towns in Ogun State, Southwest Nigeria, wielding guns and live bullets in hot search for smugglers. But Mutiu was not lucky to find an escape route before a stray bullet pierced his chest – he died instantly. He left behind a child, a wife, and an aged mother.
It was reported that the customs officers invaded the Oke Ola community in Ilaro, Yewa South Local Government Area to arrest smugglers. There was a shootout between the officers and the smugglers and a stray bullet allegedly from the customs men killed Mutiu, while several others reportedly sustained varying degrees of injury.
"They just came and opened fire on the guys," said one of the residents, who does not want her name in print.
Although major news outlets reported that one person was killed in the incident, HumAngle reliably gathered that the death toll had risen to three. Olanrewaju Oluwaseun and Lanre Esho who were also hit by stray bullets that day later died in the hospital.
A week earlier, precisely on Tuesday, December 22 at Kikelomo street of Ayetoro, Yewa North Local Government Area, one person was reportedly killed by a stray bullet when customs officers stormed the community to evacuate alleged smuggled bags of rice. The deceased was identified as Sola Soga.
On Wednesday, December 30, another family was thrown into mourning when a young man identified as Juwon Mumuni was crushed to death by the vehicle of some customs officers who were in a hot chase of suspected smugglers in Osu village in Obafemi Owode Local Government Area of the state.
Thirty-five-year-old Mumuni was a betting agent and also worked part-time as a motorcyclist to feed his wife, two children, and mother.
Ganiyu Kusimo, a legal practitioner who spoke on behalf of the family expressed sorrow over the death of Mumuni. He wondered how his young wife and aged mother would cope without the man who had been their breadwinner.
"He was going to the main road on his motorcycle, which he used as another source of income for his family when he was caught in the web of the Customs officers chasing smugglers," Kusimo said.
"He was at the junction when he was crushed by their vehicle as the driver lost control while driving recklessly."
"His body was badly damaged… He sustained serious injuries that affected his ribs and his legs were dragged on the ground which led him to bleed at great length. His face is also damaged beyond recognition."
Kusimo further explained that the officers helped carry the badly injured Mumuni to the Federal Medical Center in Idi Aba, Abeokuta, but left his body there when they realized he had died.
On the eve of the New Year, one Sabitu Rabiu was reported killed by the Customs Officers at Oke Odan area of Yewa South Local Government Area.
Fear Grips Residents Of Ogun West District
For residents in the Ogun West senatorial district of Ogun State, the grey uniform worn by men of the Nigerian Customs Service signifies death.
A customs officer is seen by the people of the district as an agent of sorrow, anguish, and tears.
The region shares a border with the Republic of Benin which makes it a route for smugglers. Towns such as Idiroko, Ipokia, Imeko Afon, Oke Odan, Owode, Ado-Odo, Ejila-Awori, Ilaro, among others are within the district.
According to residents of these towns, the customs officers invade them at regular intervals to hunt for smugglers who allegedly smuggle contraband goods through the various border routes in the region.
Many children have become orphans, aged parents have lost sons and daughters, while young ladies have been made widows, as a result of incessant clashes between customs officers and smugglers. The people are perpetually apprehensive.
"They usually come heavily armed with AK47. Whenever our children are about to come out of school, our hearts are troubled, we usually check around to observe the environment and see whether customs or smugglers are not around, said Babatunde Yinusa, a resident of Ilaro.
"We have been living in fear; to move out of our streets to the main road is something we fear doing, because we don't know what may happen; bullet can hit one from any angle."
Yinusa said that Customs officers invade border towns regularly, and leave innocent people dead or injured. He wondered why the smugglers could not be engaged at the border before they entered the towns.
He also wondered how contraband goods get past the numerous checkpoints in the border routes leading to major towns in the state.
Hardly would there be a week that there won't be killing on Ogun West soil by customs officers.
"They claim they can enter anywhere to take any contraband goods. They should stop the shootings, we are not smugglers; we have our own businesses. They should find a way to deal with the smugglers, but they should stop the shootings in communities," Yinusa said angrily.
"On a daily basis, rice are passing every hour, if they don't pass by bikes, they pass by cars. Who are those allowing those on? Do we have official smuggling, arranged smuggling or VIP smuggling? That is what we don't know."
"There are at least three checkpoints of customs from Ilaro to Papa, where these smugglers pass everyday. There is one checkpoint at Ogeyi, there is one before Ajegunle junction."
Akinsanya Afeez is a survivor of a stray bullet from customs officers. He narrated how he was hit by a stray bullet in 2019 on his way to his home town in Abule Oke, Yewa North Local Government Area. He was in the bush when a stray bullet pierced the left side of his body. But he escaped death by the whiskers.
"I live in Sango area, but I usually vote in my hometown in Abule Oke in Ibese ward. A day before the 2019 election, I was driving to my hometown," Afeez recalled.
"Before getting to Papa, I had a flat tire. I opened the booth to get an extra tire, but I noticed that the extra tire was flat too. I took the extra tire to go and pump it at Papa; then I heard gunshots."
"I heard smugglers and customs officers were engaged in a gun duel. I ran into a bush to hide. I was in the bush when a stray bullet hit my left side, close to my chest. It was by the mercy of God that I didn't die. It burnt my left side. There was a slight cut by that side. I had to go deep into the bush to hide."
Ogun Assembly Seeks National Intervention
But members of the Ogun State House of Assembly are also not comfortable with the news coming from border towns in the state. They have sought interventions from both the state and federal governments on what has become killings in the Ogun West district.
Representatives from the troubled towns presented their grievances to the state House of Assembly during a plenary session on Wednesday, December 30, 2020.
The representatives -Adegoke Adeyanju from Yewa North I constituency; Bolanle Ajayi from Yewa South; Wahab Haruna, Yewa North II, Lamidi Musefiu, Ado-Odo/Ota II and Sikiratu Ajibola from Ipokia/Idiroko- all submitted similar complaints against the Customs Service.
The lawmakers lamented the invasion of communities and quarters in their constituencies by customs officers, who have turned the region to a war zone by killing innocent people in the guise of hunting for smugglers.
Responding to the presentations, Olakunle Oluomo, the speaker of the House, called for the immediate interventions of political leaders in the state and at the national level.
On the same day, youth from the region stormed the Government House in Abeokuta, the state capital, to protest the incessant killings by Customs Officers in the border towns.
The youth protested under the aegis of the National Youth Council of Nigeria (NYCN), Ogun State chapter. HumAngle obtained a memorandum submitted by the protesters to the House of Assembly and the office of the governor.
"It is highly regrettable that the young and old in Ogun West senatorial district can neither walk freely on the streets nor work on the farmlands owing to the continuous fear of stray bullets. Our situation has become so worrisome that we no longer sleep at home with peace of mind nor move freely as customs officers and the entire JTF now laid siege on our communities," the memo reads.
"Between Oja-Odan to Ilaro to Papalanto to Sango to Idiroko, a journey of about 40km, we have over 60 checkpoints of customs, JTF, Police, Road Safety, etc, who are on daily basis extorting and harassing our people with guns. This intimidation is highly unbearable, dear Mr Governor, it is time to divert all needed attention to save the lives of our people."
While responding to the protesters, the Speaker noted that the Assembly would call for a stakeholders' meeting with all concerned individuals and groups to put an end to the killings in the district.
Residents Of Border Towns Aid, Abet Smugglers – Customs PRO
In a telephone chat with HumAngle, Hammed Oloyede, the Public Relations Officer of the Nigerian Customs Service, Ogun Command 1, accused residents of the border towns of shielding smugglers.
Oloyede apparently did not deny that Customs officers kill innocent residents. Rather, he argued that the locals record casualties because they take sides with smugglers and often join in attacking men of the NCS.
"The aspect of suppression of smuggling is enforcing compliance to government's fiscal policy and one thing I understand over time is that when our men are carrying out their legitimate duties; whenever they intercept smugglers, contraband goods, it is an unfortunate thing to see the smugglers being supported by members of some certain communities with all sorts of dangerous weapons to attack officers on their duties," he said.
When asked why the smugglers could not be apprehended at the border while conveying contraband goods into towns, Oloyede argued that the borders are too porous to prevent such, hence the need for patrols in residential areas.
"The smugglers use the unapproved routes to smuggle contraband goods. You should understand that our borderlines are so porous and we are trying our best to make sure that we man the porous borders," he said.
"When we find out through intelligence gathering, we intercept and try to make arrests. It is because of their resistance and so many of their antics that always lead to some of these problems we encounter."
He urged members of the public to cooperate with Customs officers when on duty to intercept smugglers.
"One thing everybody must try to understand is that we have the mandate to carry out some responsibility, a statutory responsibility of generating revenue, and suppression of smuggling," he said.
---
Support Our Journalism
There are millions of ordinary people affected by conflict in Africa whose stories are missing in the mainstream media. HumAngle is determined to tell those challenging and under-reported stories, hoping that the people impacted by these conflicts will find the safety and security they deserve.
To ensure that we continue to provide public service coverage, we have a small favour to ask you. We want you to be part of our journalistic endeavour by contributing a token to us.
Your donation will further promote a robust, free, and independent media.
Donate Here