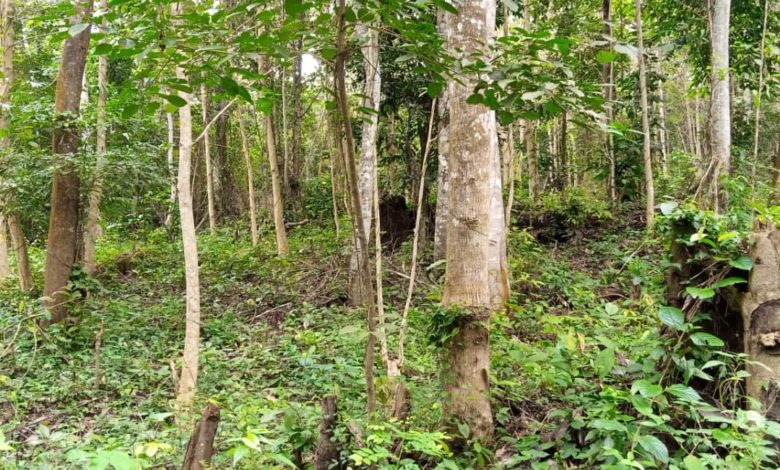 In spite of the fact that forests are major contributors to the existence of man through protection of the environment and sustenance of food production and life, man remains the ultimate threat to the existence of trees and other species in forests. 
In Ogun State, Southwest Nigeria, like in other parts of the country, forests are being pillaged by populations which ought to benefit from them, a HumAngle investigation shows.
Among those destroying the forests are illegal loggers, farmers,  settlers and community leaders with the connivance of government officials who are reluctant to enforce regulations meant to protect the environment, HumAngle learnt.
According to the Director-General of  Nigerian Conservation Foundation, Dr Mutari Aminu-Kano, Nigeria has lost an estimated 96 per cent of its forest cover since independence.
Aminu-Kano explained that Nigeria was losing about 400,000 hectares of its land to deforestation annually.
The director-general who spoke at a ceremony in Lagos in January 2019, expressed concern over the alarming rate of deforestation, which was negatively impacting the environment and causing millions of animals and plant species to lose habitation.
"Nigeria currently has only 4 per cent cover, 96 per cent is gone. Nigeria is no longer green, it is now brown. We have facts and figures telling us to do something at the level of the government, religious organisations, communities and as individuals," Aminu-Kano said.
Omo Forest Reserve 
Omo Forest Reserve is a tropical rainforest located in Ijebu East Local Government Area of Ogun State. It occupies an area of 130,500 hectares (322,000 acres) and sits along the boundary between Ogun and Ondo states.
It was acquired as a protected reserve by the government in 1925 and served as home to over 200 species of trees and animals such as elephants and chimpanzees, many of which have migrated due to illegal logging and poaching.
HumAngle gathered that apart from illegal logging of trees, the major cause of deforestation in the reserve is farming. A visit to the reserve shows that it is inhabited by over 8,000 settlers, many of whom are farmers and who exploit lands in the reserve for planting cocoa, banana, oil palm, among others.
One of the officials at the government quarters in the forest, who acted as a guide for the reporter but did not want to be named, alleged that illegal loggers often invaded the forest in the night to fell trees.
He explained that some parts of the forest were approved for logging by the state government to licensed loggers but illegal loggers encroached into other parts of the reserve to fell trees.
"While we are done with the day's job, they come in the night to fell the trees. They are usually armed and ready to attack anyone who confronts them. If you see any unmarked tree, it is those illegal loggers that fell them," the middle-aged man explained.
He said that the settlers were also culpable in the depletion of resources in the forest "because they are farmers and hunters." 
HumAngle observed that a large part of the forest serves as cocoa plantations owned by the illegal settlers.
Another source, a civil servant with Ogun State Ministry of Forestry, alleged that some officials had complained to the ministry on the activities of illegal loggers and farmers in the forest but "the government is not interested in addressing the issue."
"The government would rather watch illegal deforestation continue than evict those settlers," she said.
Meanwhile, one of the settlers in the reserve, who identified himself as Soji, said he was aware that illegal loggers came into the forest, "mostly from Osun and Ondo states." 
When asked if he was aware that his settlement and farming in the forest were illegal, he said he did not know until the government issued a quit notice to the settlers  "many years ago."
"Hunters used to come here to kill animals until we settled here and we are farming. The government people came to warn us against killing of animals and felling of trees, they said it is illegal and we have stopped doing all that. We also promised to plant trees to replace the ones we felled,'' Soji said.
Olawale, another settler and cocoa farmer,  boasted that he could not be evicted because he paid taxes and royalty to the head of the settlement.
"What is illegal settlement? We pay tax to government people, we pay to our Baale (local chief) too," he said when queried on his activities in the reserve.
Early in the month,  HumAngle reported the state government's discovery of an uncompleted bridge  inside the reserve, which was allegedly being built by illegal loggers
The 50-metre long bridge was reportedly being built across Oluwa River on the boundary in Omo Forest Reserve between Ogun State and Ondo State.
The bridge was discovered during an inspection by officials of the state Ministry of Forestry, led by Tunji Akinosi, the Commissioner.
Akinosi who alleged that the bridge was being constructed by illegal loggers, "for easy transportation of the state's forest resources to neighboring states," ordered settlers in the reserve to pull down the structure before his next inspection visit.
Meanwhile, a magazine report quoting satellite data from the University of Maryland (UMD), says Omo Forest Reserve lost more than 7 per cent of its tree covers between 2001 and 2018.
"So far in 2019, UMD has recorded more than 2,000 deforestation alerts," the report added.
Onoja Joseph, the Director of Technical Programme at Nigeria Conservation Foundation, was quoted as saying that "there may not be Omo in the next 10 years or so if efforts are not intensified and sustained" to protect it.
Deforestation in Ogun rubber plantation 
Similarly, in some forest reserves in the Ikenne area of the state, which used to serve as rubber plantations, HumAngle found that the situation was not different from Omo's.
While the plantation has been abandoned by the state government, the forests are being depleted by farmers and 'omo oniles' (self-acclaimed land owners), who sell land to people for settlement. 
Rubber exportation used to be a source of revenue for the defunct Western Region Government before Nigeria's oil boom of the 1970s.
HumAngle gathered that several hectares of land in the plantation have been illegally sold by the 'omo oniles' to unsuspecting buyers, while the rubber trees are being felled without any control from the government.
Parts of the plantation have also been occupied by farmers who plant cassava, maize, vegetables, among others.
One  'omo onile,' popularly known in the Araromi area of Ikenne Local Government Area as Alhaji Rabiu, insisted that the land occupied by the rubber plantation belonged to his forefathers. He said the land was 'taken away' from his family by the government of the defunct Western Region.
HumAngle learnt that some of the residents have been served quit notices by the state government to vacate the land, while their houses had been marked as "illegal structures."
Agriculture, Population increase, Poverty Responsible for Deforestation
The Food and Agriculture Organization (FAO), a United Nations agency, in its State of the World's Forest, 2020 Report, blamed the high rate of deforestation in Africa and other parts of the world on population pressure, poverty, agriculture and the high demand for timber. 
It said that about 70 per cent of global cocoa supply originated from West African smallholder farmers, following which many poor farmers were forced to convert forests to cropland.
"The demand for timber is so great that illegal logging will remain a major concern for the future of forest resources unless consistent efforts are made globally to control it.
"The most significant driver of deforestation (both legal and illegal) is demand for land for agricultural production; this pressure is also the most likely to contribute to large-scale illegal logging," FAO stated.
The report added that activities in the forests were largely responsible for climate change as well as flood, draught and damage to species and ecosystems.
It also identified economic and social impacts, saying the "African Development Bank (ADB) values the detrimental economic impact to Africa of illicit trade in natural resources at approximately 120 billion dollars a year – an amount equivalent to 5 per cent of the continent's Gross Domestic Product (GDP). Of this amount, approximately 10 per cent falls within the forest sector."
Lack of enforcement of forestry laws a challenge – Expert
A climate reality leader, Esemonu Gerald, blamed the reckless depletion of forest resources in Nigeria on the lack of enforcement of laws by the government.
Gerald, who is the Regional Lead (West Africa), Global Shapers on Climate and the Environment, said law enforcement institutions that should tackle deforestation were either not in existence or did not have the capacity to enforce existing laws.
He said, "It boils down to governance issues. Institutions are weak. If we are talking about illegalities, it means there should be a way of doing things. If you don't have enforcers to enforce your laws, everything goes. 
"The capacity to enforce laws in Nigeria is quite low. If you cannot ensure the protection of humans, how do we talk about the protection of non-humans?
"I think illegal logging is created by weak governance, if we want to do better, we have to strengthen institutions, build capacity and get more resources for enforcers so that they can do their job."
He urged the government to ensure proper enforcement of forestry laws and also partner with civil society organisations to sensitise people to the dangers of deforestation as well as the climate and the environment.
Government refuses to comment
When contacted for comment, Tunji Akinosi, the Ogun State Commissioner for Forestry, neither picked his calls nor replied to a message sent to his mobile phone on the issue.
---
Support Our Journalism
There are millions of ordinary people affected by conflict in Africa whose stories are missing in the mainstream media. HumAngle is determined to tell those challenging and under-reported stories, hoping that the people impacted by these conflicts will find the safety and security they deserve.
To ensure that we continue to provide public service coverage, we have a small favour to ask you. We want you to be part of our journalistic endeavour by contributing a token to us.
Your donation will further promote a robust, free, and independent media.
Donate Here