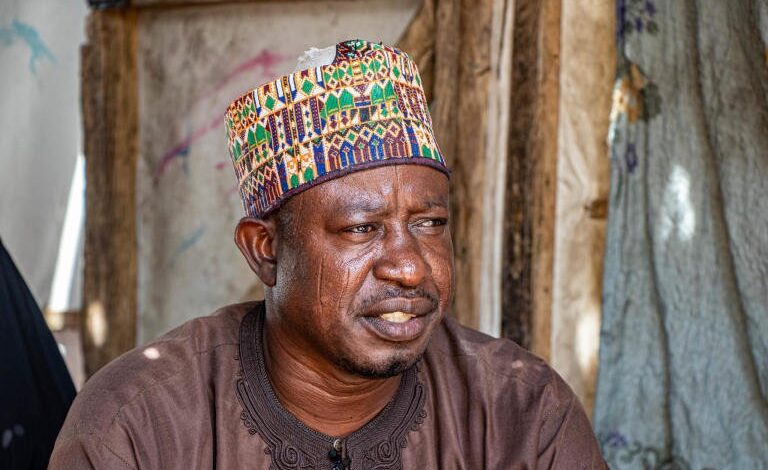 In north-east Nigeria, violence and insecurity have forced over two million people to flee their homes. Many are living in displacement sites that have been threatened with closure. Norwegian Refugee Council spoke to Bukar, a displaced man living in Maiduguri, who, like many others, is afraid of being forced to return home prematurely.
Bukar remembers the day well. It was a Tuesday. 11 February 2014. On that day, gunmen stormed into the village market and started firing indiscriminately. As soon as he heard the shots, he knew what he had to do.
The grim reality of these frequent attacks mean that escape plans are usually well thought-out in advance. Bukar knew that he would have to separate from his family and flee alone. Women and children weren't usually the targets of these attacks, but able-bodied men were often killed on the spot.
So, on that fateful day, as the gunshots rang out all around him, Bukar fled immediately to a nearby village. He spent the night there anxiously waiting for the sun to rise so he could go back to his own village and reunite with his family.
The following morning, he returned home. He searched frantically for his family, but they were nowhere to be found. A neighbour told him that they had fled to the bank of the river and spent the night there.
Everything lost
Bukar made his way to the river, where thankfully his family was waiting for him.
Now, they needed to decide where to go. Returning to their village was out of the question. This was not the first attack, and he was sure it would not be the last.
"Armed men would come into town to take whatever we had," says Bukar. "If you had a car, they would steal it and use it to carry their loot away. They would kill herders and steal their animals. If you had vocational skills or owned a business, you could be targeted. And they would start shooting non-stop in all directions."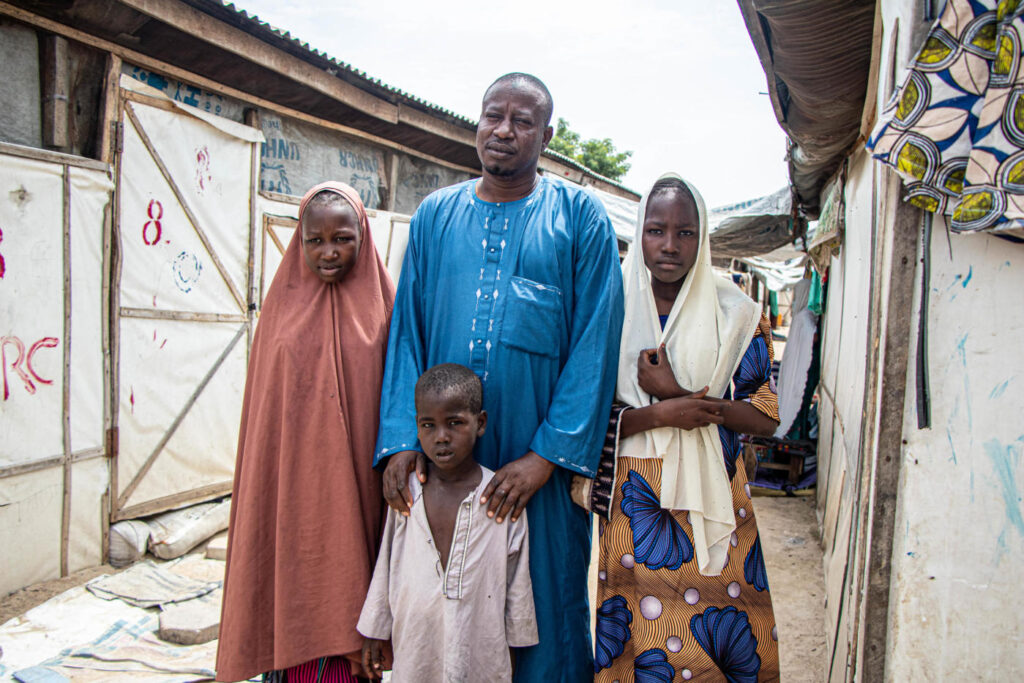 In this particular attack, Bukar's family lost everything they owned. "We lost all our property," he says. "We lost our animals and they burnt down our home."
The family chose to head to Maiduguri. With a population of over four million people, Borno State's largest city was sure to provide safety, Bukar thought.
Bukar's family was among the first displaced families to arrive at the displacement site. At the time, the site was used as a garage, but Bukar says the landowner took pity on the newly displaced arrivals and sent the mechanics away to allow them to stay. More and more people arrived, and makeshift shelters were built. Now, more than a thousand people are living here.
"When we arrived in Maiduguri, we were expecting to stay here for only one or two months," remembers Bukar. "We thought that eventually peace would return, and we would go back to our village…. We are still unable to go back."
Life in the camp
Conditions in the displacement site are dire. The narrow walkways that separate the rows of tents are filled with young children who should be in school but are instead knitting hats or selling small items. Not only is the site congested, but there are also too few toilets.
The European Civil Protection and Humanitarian Aid Operations (ECHO) has provided much-needed shelter assistance, which has helped to alleviate some of the congestion. However, life is still tough for inhabitants, who often complain of a lack of food. Although government agencies distribute food in the camp, Bukar claims this food assistance is too infrequent and insufficient.
"Back when we were in our village, we were farming, fishing, and we had our business," remembers Bukar. "We did not need anybody to provide anything for us, and we took care of our problems by ourselves. But now that we are in the camp, we eat only what we are given."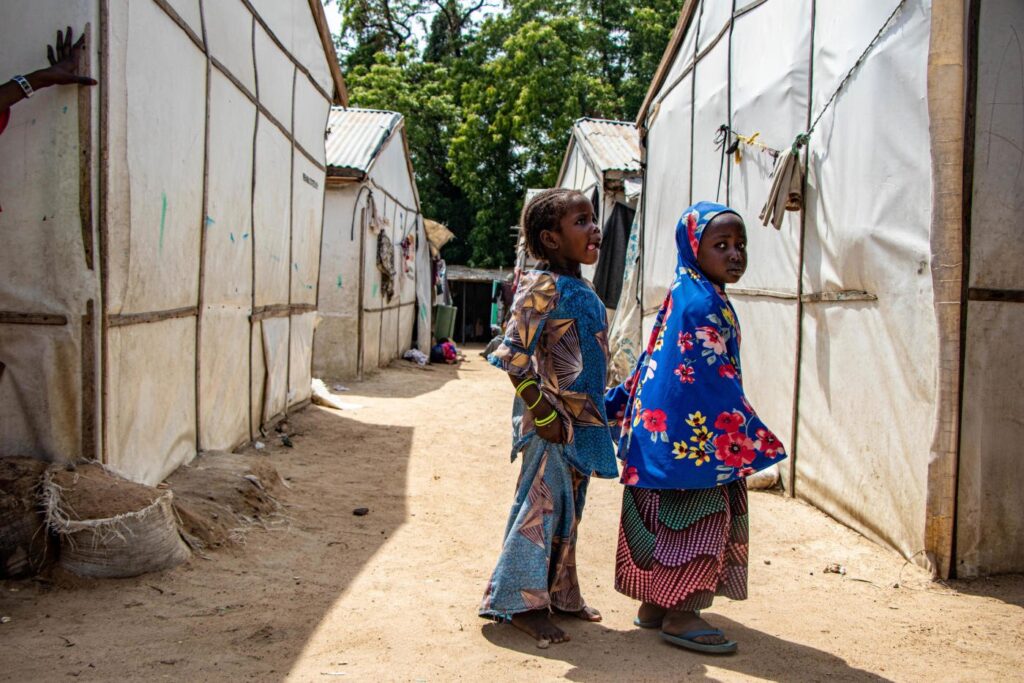 Things have also been difficult for Bukar's family members. His 14-year-old daughter Fatima is being discriminated against by her peers at school.
"My friends in school do not want us to sit close to them because we are displaced," says Fatima. "At break time they won't allow us to buy things until they are done buying first. When we complain to our teachers about this, they don't do anything. This is what we face. They push us around and stay away from us because we are displaced."
Not safe to return home
Despite the tough situation that Bukar and his family face as displaced people in Maiduguri, they are still not ready to return home until peace is guaranteed in their village.
Bukar looks forward to a self-reliant life back home. A life in which he can farm his fields and feed his family without depending on anyone for handouts. But until he feels safe, he is not ready to make the return journey home. He is too afraid to leave the displacement site even to farm, much less go all the way back to his village.
"We cannot go out to the fields to farm because of the armed men," says Bukar. "Even now, when we go to the fields, we are worried about what might happen. If there was peace in my village, I wouldn't spend one more night in Maiduguri, I would go back. I do not want to depend on others."
Although Bukar and many other displaced people have stated that they do not yet feel it is safe enough to return home, a recent political announcement suggests that very soon, they may have no choice.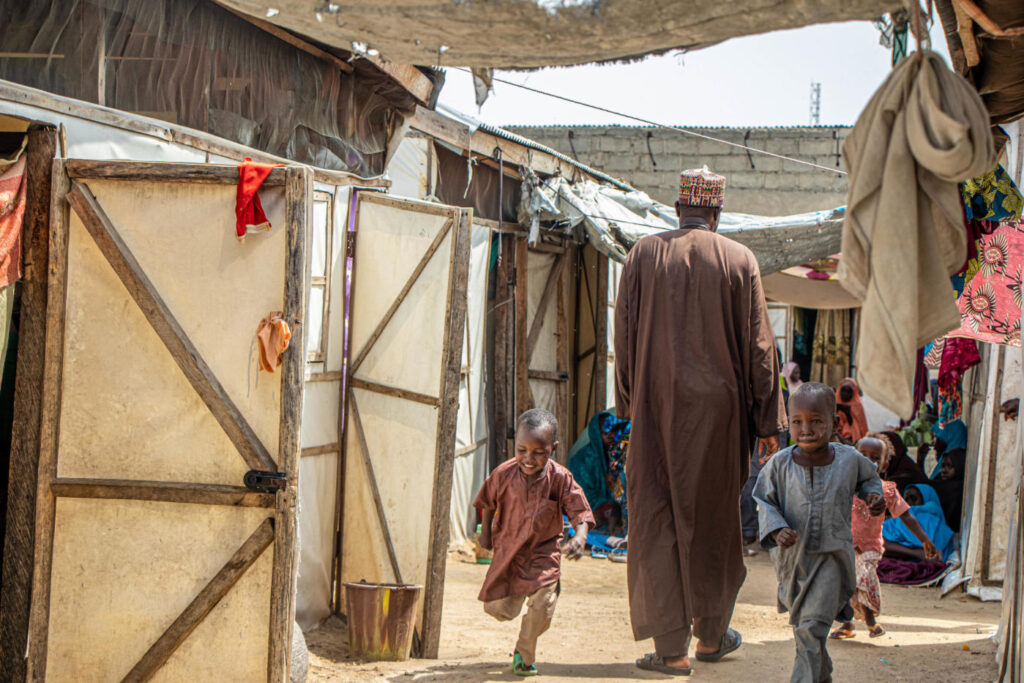 Camp closures
On 22 October 2021, the governor of Borno State announced that official displacement camps managed by the government in Maiduguri were to be closed by the end of 2021.
Citing the improved security situation, the governor claimed that this measure was to allow displaced people to finally return to their villages of origin. Reports now show that the process is now underway, with six camps in Maiduguri and Jere already closed down.
Although the displacement camp where Bukar is currently located is an informal camp, and technically not affected by this state government decree, Bukar nervertheless fears that all camps will eventually be closed, and that he may soon be forced to return to his village.
But as Bukar's testimony has made clear, such a return would be premature. State authorities must ensure that plans to close displacement sites are only implemented if and when areas of return are safe and displaced people themselves have confirmed their wish to go back.
If returns are carried out before the right conditions are in place, people like Bukar may be unable to work to provide for their families, and humanitarian actors may not be able to reach them to provide support. Families may be forced to flee their homes a second time and risk going through the hardship that they have faced all over again.
Any efforts by authorities to close camps and ask people to return home must ensure that these returns are voluntary, safe and dignified. The needs, interests and indeed the rights of families like Bukar's must be at the heart of the conversation.
---
This report was originally published by Norwegian Refugee Council.
---
Support Our Journalism
There are millions of ordinary people affected by conflict in Africa whose stories are missing in the mainstream media. HumAngle is determined to tell those challenging and under-reported stories, hoping that the people impacted by these conflicts will find the safety and security they deserve.
To ensure that we continue to provide public service coverage, we have a small favour to ask you. We want you to be part of our journalistic endeavour by contributing a token to us.
Your donation will further promote a robust, free, and independent media.
Donate Here