Features
Humanitarian Crises
News
'No Longer Able To Sleep': Scheduled Camp Closure Rattles More IDPs In Borno
IDPs in one of the unofficial camps in Maiduguri, Northeast Nigeria, have been hit with anxiety following an announcement by the authorities weeks ago that they would soon be asked to leave.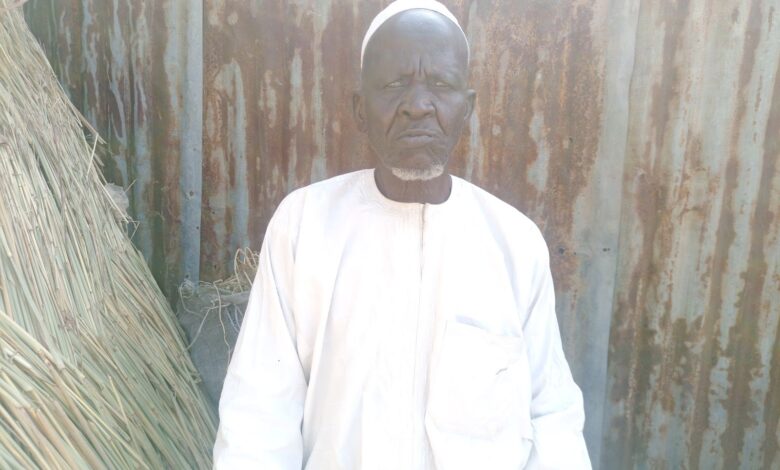 It was late afternoon in Maiduguri. The cold wind of the early harmattan had just given way to the sun's resilient heat. 
Bulama Ali, 70, sat in front of a makeshift tent to enjoy the little shade provided by his pavilion's corrugated iron roof. A kettle of water was placed before him by a child who immediately hopped back to join other kids gleefully drawing water from a hand-pump borehole in front of the displacement camp. 
It was obvious that Ali, an IDP from Damboa and the head of displaced people at the Kashari camp, was getting set for the late noon Muslim prayer. The call to prayer could be heard from across the road, about 200 meters away.
But Ali had not touched his kettle yet as he looked across the expanse of land across the borehole, not minding the discussions going on among five younger men sitting around him. Someone had to touch his arm before he jolted back to acknowledge this reporter's greeting. 
"He has not been himself since the day Governor Zulum came to announce that we would soon be asked to leave this place," said Ibrahim Mohammed, 28. 
Ali had been appointed head of the Kashari Filinbol IDP because he was among the first to settle in the open land about four years ago. 
The camp is not one of the official camps in Borno State. And so the IDPs do not get regular palliative support from the government and the non-governmental organisations. 
Last year, the Borno state government acquired the lands around the camp where the statue of a mega school was built. The school was amongst the projects President Muhammadu Buhari commissioned during his last official visit to Borno last week. 
Governor Zulum was at the site of the school project where workers were working against the clock to ensure all was set for the president's arrival.
After his brief inspection, Governor Zulum reportedly drove into the camp to meet the IDPs who filed out to welcome him. But to their surprise, the governor was not there for pleasantries as he simply informed them that their time was up and they would soon be officially moved out and asked to return to Damboa.
The land they occupy has become state property and their presence may not be welcome during the president's visit. 
"I have never been so disturbed with the sad news brought to us by the governor that we would soon be leaving this camp. Since then, I hardly could sleep because I worry about what would happen to my people if they go back to unsafe locations," said Ali. 
"I am an old man now, and life or death does not scare me because I have seen many horrible things even in my old age. I have lost many loved ones during the numerous attacks on our communities. But my fear is for my people here, especially the younger ones, that they may have to go through that horrible experience again. We worry because up till now, the road that links Damboa and Maiduguri has been abandoned even by the security operatives. After all, it is a very dangerous road." 
Most of the IDPs from Damboa Local Government Area (LGA) are either camping in Damboa town, which is the headquarters, or squatting in host communities in Maiduguri. 
While most of the IDPs at the Kashari camp are from the LGA, their villages are in remote places far away from the safer metropolis.
HumAngle learnt that there are about 64 towns and villages in the LGA, spread under two major districts: Damboa and Ajigin. All of these villages, except for the few that are located along the Chibok axis, are either completely displaced or under the control of terrorists.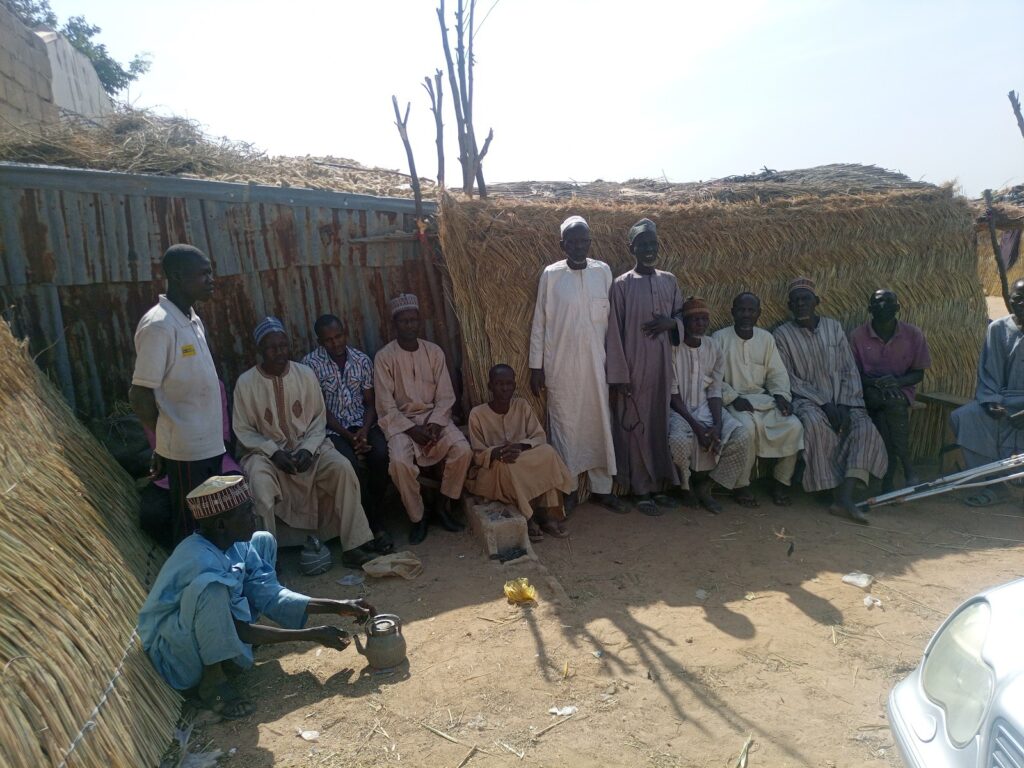 Mustafa Bulama, one of the middle-aged IDPs, has been at the camp for over four years and wished he had other choices.
"Many of us here don't fancy the city life; we prefer our simple life in our villages where we cultivate the food we eat and sell some in the market to buy things our family needs. It was a good life of pride and dignity," he said. 
"Begging is not part of our culture. That's why many of us here ignored the IDP camp, thinking the displacement would be for just a short while. But things turned out differently; the Boko Haram insurgents refused to go slow on their hostility in the hinterlands, so we have no choice but to continue living here."  
Bulama said many of them who ventured to go back to their villages, to find out if it was safe to return, never came back.
"It is either they were killed or captured by Boko Haram who are still controlling most of the villages in Damboa," he said. 
Fatima Ba'kaka, a mother of five, lost her husband during a terror attack on their village about four years ago. "We fled from our village near Wajiroko to this place after Boko Haram militants came to kill some men including my husband who refused to join them," she narrated. 
"We decided to put up here in Kashari Filinbol, and since then I have been taking care of my children on my own. I do menial jobs for people and some of my children do the same as well to keep us alive. Sometimes we go to people's farms to work and get paid."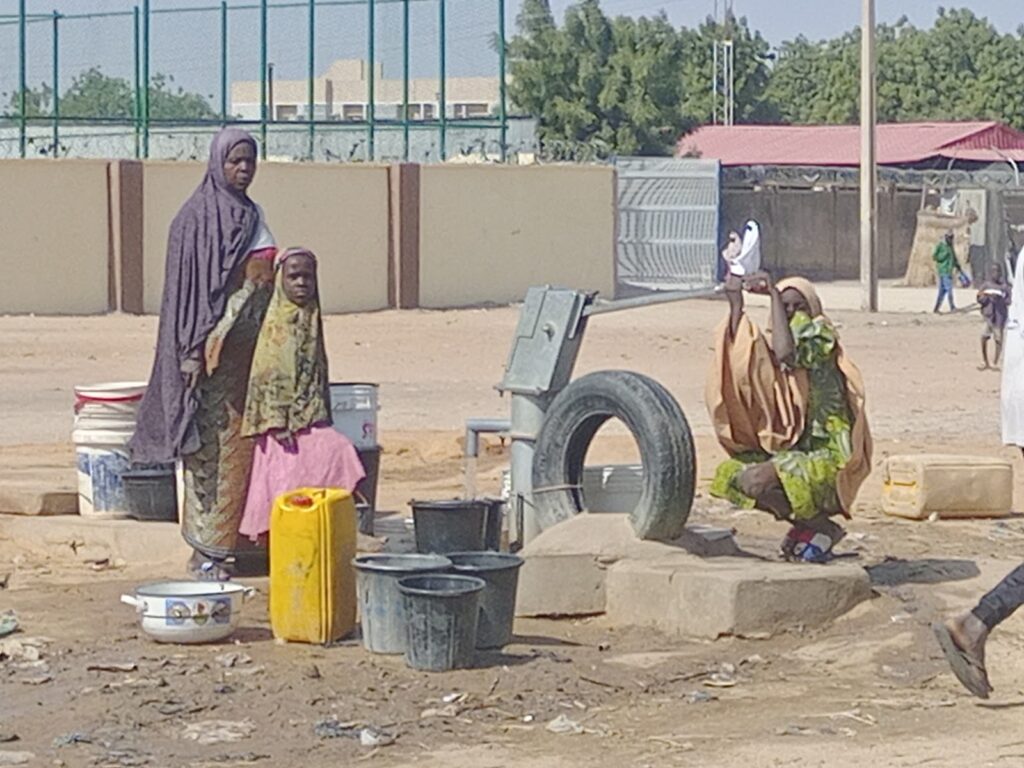 "It's been a life of torture for most of us here because we were not used to idling life or begging or waiting for some NGOs to come and give us food; the people of Damboa are known for farming. But here we are in camps because Boko Haram has taken over our communities and the government cannot do anything about it," Ba'kaka said, echoing Bulama's statement. 
She added that she has no quarrel with the governor's directive to leave but she fears they may be returning to a place already overflowing with displaced people.
"But if they insist that we should go, we have no choice but to comply — even though we know very well that our lives and safety can only be secured by God whom we will all look up to for His protection. The last time we came running to Maiduguri, even the soldiers could not help us," she said with eyes filled with tears. 
Most of the IDPs at Kashari camp said their biggest worry is the lack of food and financial support to start life all over again when they finally leave for Damboa. 
"It's been four years now, and some of us are already getting adjusted to life here. Some of us have a place or two to go and struggle to bring food back to the family," said the camp leader, Ali. 
"If we are to return to Damboa, it will mean starting from square one again. Many of us would have chosen to remain in Maiduguri, but we don't have the resources of paying the huge amounts they ask for rent here." 
The Borno State Emergency Management Agency (SEMA) had informed HumAngle that they have supported about 115 households to return to their communities this year as the government speeds up its plan to close all camps within the Maiduguri metropolis by the end of December 2021. 
"There is no going back on the government plan to close all camps in the Maiduguri metropolis because that is the best way forward if we must build the people's resilience and help them to rebuild their destroyed livelihood," said SEMA Director-General Yabawa Kolo.  
"It is in the wisdom of the government of Borno state, which is ably being led by His Excellency Professor Babagana Zulum, that our people cannot continue to live in IDP camps, especially now that the security situations are improving. We need them to go back to their normal lives and once again reclaim their lost dignity and pride as self-reliant people." 
She said though the return of IDPs to their ancestral homes is optional, the vacation and permanent closure of camps are "non-negotiable". 
"We make sure we imbibe the core principle of returning people in displacement is brought to bear in what we are doing now.  That's why we made it open for the IDPs to make their choice of either returning to the reclaimed communities or choosing to stay here. And the government has given the needed support to all of them regardless of which option they choose. And about 60 per cent of them had for a long time wanted to return home."
---
Support Our Journalism
There are millions of ordinary people affected by conflict in Africa whose stories are missing in the mainstream media. HumAngle is determined to tell those challenging and under-reported stories, hoping that the people impacted by these conflicts will find the safety and security they deserve.
To ensure that we continue to provide public service coverage, we have a small favour to ask you. We want you to be part of our journalistic endeavour by contributing a token to us.
Your donation will further promote a robust, free, and independent media.
Donate Here