Development
Featured
Features
News
Nkoli: A Female Cab Driver's Experience Earning A Living In Abuja
Taxi driving is known to be a male dominated profession in Abuja, Nigeria's capital city. So when a woman like Chinazo Nkoli sits behind the wheel of her green cabbie, heads are bound to turn.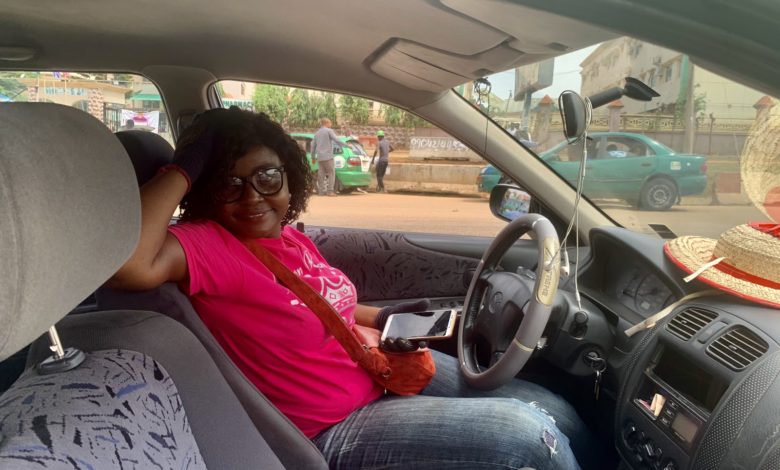 If you are lucky, you might run into her one day if you happen to ply the Jabi-Lifecamp route of Abuja regularly. Beautiful, jovial, and sharp, Chinazo Nkoli is well known by the drivers and motor park touts in that axis.
Everyday she comes out with her green painted 'Berekete Family cab,' and moves with her male counterparts in the race for daily sustenance.
The picture of a female cabbie on Abuja's busy roads might be hard for an average Nigerian to conjure, but Nkoli gives life to this image everyday.
Her loud call of "Jabi! Arab! Berger! Wuse!" is just as loud as that of her male counterparts. Nkoli, whose driving appears to be smooth and effortless, says she has been in the business of cab driving for over ten years.
When she first came to Abuja in 2003, she had not intended to be in the city till 2021. She had only come to visit her brother but plans soon changed. "When he relocated, I stayed back here," she explains.
So, Nkoli, a native of Ogbaru Local Government Area (LGA) of Anambra State had come all the way from Onitsha to the nation's capital and has, instead of going back as planned, become one of the few female taxi drivers in the city.
The conducive and welcoming nature of the FCT is the major reason she made the decision, she says.
Being bullied
As a woman, Nkoli gets a different reaction from people who engage her services.
Nkoli meets four categories of customers: those who are fascinated by a woman as a commercial driver, those skeptical of her choice of occupation, those intrigued by her ability to render the required service, and people who want to take advantage of her.
While Nkoli finds some of their reactions and conduct amusing, she equally finds it hurtful. In April 2021, Nkoli had experienced something which had greatly angered her, and probably still does.
A man had boarded her taxi at Berger, with the intention of getting off at Wuse. The trip, she says, costs a hundred and fifty Naira (N150). Upon their arrival, the man had handed her the sum of  N100, instead of the generally known fare of N150.
When Nkoli hesitated and reminded him that the fare cost N150, the man flared up and told her in a very rude manner to accept the N100.
"Abeg take this money woman! You too like money!" the man had shouted at her.
"That got to me. I would have left the money for him but his words hurt me. When I kept insisting that he pay me the regular N150 fare, he began to tell me that he has been a commercial driver himself, since the 90s," Nkoli narrated, still visibly irritated.
Nkoli said that she alighted and confronted this man who was insistent on making away with her money by intimidating her.
"Most times, they will want to take advantage of you because you are a female. They do this because they think that you can't do anything to them. I don't like being bullied or intimidated. I cannot take that," she said.
Object of fascination
It is one thing to be bullied and intimidated, but it is entirely another to be the object of fascination and bewilderment.
When some persons see Nkoli beckoning on passengers like her male colleagues would, they stare in undisguised awe at her, for as long as they can.
While some of the onlookers end up inside her cab, a good number prefer to board the taxis belonging to male drivers. Their choice, Nkoli tells HumAngle, springs from a place of distrust and fear. Some people do not trust her driving skills as a woman, and this may be as a result of the stereotype surrounding women's ability to drive.
Again, some are afraid of boarding her taxi for fear of being duped.
Once, a woman had boarded her taxi at the Jabi area of Abuja, but had instantly become uncomfortable when she realised that it was a woman behind the wheel.
"The woman's counternace showed that she was uncomfortable, she probably thought that she had boarded a 'one chance car' (a car used by criminals)."
But Nkoli does not feel offended by people who have such assumptions about her  because, according to her, most 'one chance' operators use female drivers to lure their victims.
In the case of the frightened woman, Nkoli understood the woman's fears but had equally found it amusing. When the woman alighted at her destination, the passengers in the car joked about it. 
"One had said that the woman will go to church now and give testimony of how she escaped from one chance operators," Nkoli says as she laughs.
Nkoli told HumAngle that she is mostly trusted by those who frequent the Lifecamp-Jabi axis because some of them have come to know her as a genuine driver.
Female cabbie amongst men
How does a woman who works as a cabbie conduct herself? "Like a woman, that's how," Nkoli says.
Because the business of taxi driving is one dominated by the male gender, one will naturally be inclined to wonder how a female would cope in the field. She does not put on gowns, because they are not practical, considering her occupation.
For Nkoli, the  experience is somewhat tricky. She tells humAngle that some of the male drivers act funny towards her.
"Some of our drivers look at me like oh! So you want to follow us and compete for passengers?"  she says and demonstrates.
HumAngle experienced this first hand. When Nkoli was beckoning passengers at the Lifecamp bus stop, a male driver who was grumpy and irritated, was seen trying to make sure that her cab got passengers so that she would "get this car out of here."
Baba, Nkoli's elderly passenger who was impressed with her, observed that the driver was angry at Nkoli for picking up those he considered "their customers." 
"They are angry that she is taking a bulk of their customers," he said and then laughed.
Nkoli told HumAngle that some of the drivers make jest of her at times, but she pays them no mind. Amidst all of this, she still gets on well with them. They joke and hail each other like good friends.
"At the end of the day, all of us just play along. That is just it," she said.
Morale boost from strangers
Occasionally, Nkoli comes across individuals who are greatly impressed with her choice of occupation. These individuals express their awe in the most amazing way. Baba (father), an elderly passenger of Nkoli's, is one of such persons. 
Baba had already entered the cab the first time they met, before realising it was driven by a woman. He was not economical with words when he showered praises, words of encouragement, and prayers on her .
When she had trouble finding change for a customer, he opted to pay the passenger's fare. A while after, he opted to pay for yet another passenger, in addition with his own fare. On top of all these, he still told Nkoli to keep the change.
Once, a man in a Sports Utility Van (SUV) had observed her from across the road and had beckoned on her.
He looked like "a big man," so she approached him, half afraid, but was surprised when he handed her the sum of N3000 after telling her that he was impressed with her. This was the first time she received monetary encouragement from a stranger.
She equally recalled how an impressed bystander had recently handed her N1000. 
"Another man saw me at the bus stop as I was calling my passengers. He told me that he was not going in my direction, but that I should just take this N200," she recalled with a smile.
"Women can be successful at anything"
Nkoli does not dwell on the peculiarity of her job. Everyday, she gets up and goes to work, not as 'a female taxi driver,' but as a driver. She believes that any woman who intends to venture into the business of driving taxis can be successful at it.
"When some women tell me that they cannot do something, I tell them not to utter those words until they have tried first," she said.
Nkoli wants more women to break the status quo like she has.
"I would like to encourage other women to engage themselves in more professions that are predominantly male. Let us dominate. Let's come out from our hiding place.
"I don't want us to succumb to the social orientation that makes us stay away from certain professions. I implore all women to come out. Some of those professions that are predominantly male were not made to be so," she insists.
---
Support Our Journalism
There are millions of ordinary people affected by conflict in Africa whose stories are missing in the mainstream media. HumAngle is determined to tell those challenging and under-reported stories, hoping that the people impacted by these conflicts will find the safety and security they deserve.
To ensure that we continue to provide public service coverage, we have a small favour to ask you. We want you to be part of our journalistic endeavour by contributing a token to us.
Your donation will further promote a robust, free, and independent media.
Donate Here