Analyses
News
Security & Tech
Nigeria's Space Agency Says Nigeria's Satellites Cannot Track Terrorists; It Is Right
A statement from the new DG of Nigeria's space agency revealed that NASRDA lacks the capacity to use satellites for security surveillance. The DG was right and this is harmful to Nigeria's space future.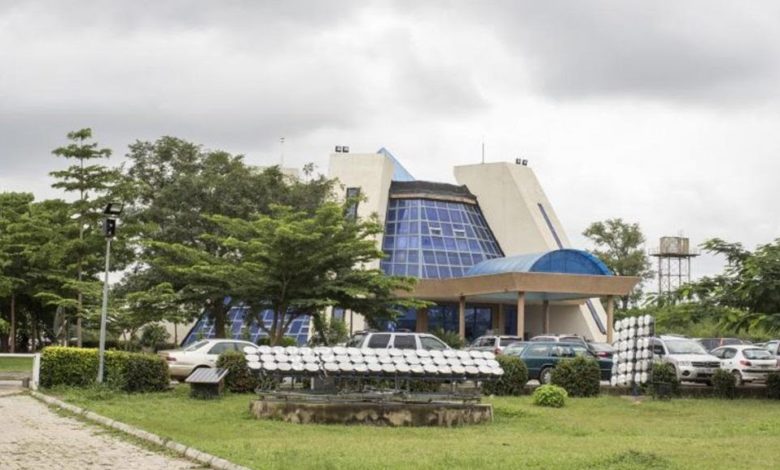 Listen to this story

On May 5, at the peak of parents and concerned citizens asking for Nigeria to deploy satellite in tracking terrorists' movements in Kaduna, Northwest Nigeria, where mass abductions had taken place, the National Space Research and Development Agency (NASRDA), the agency responsible for Nigeria's space operations, made a statement. 
According to NASRDA's new Director-General, Halilu Shaba, Nigeria cannot track terrorists because "the [Nigerian] satellite is not static where the insurgency is taking place. That is why one satellite is not adequate. What Nigeria has; there are some two satellites doing two different things."
"We have a High-Resolution imaging satellite and Medium Resolution imaging satellite. The activities of the bandits could be when the satellite was away from Nigerian borders, so that is why we are advocating for more satellites for Nigeria," he said.
To understand the effect of this statement, one must first understand what a static satellite is and why the Nigerian satellite is unable to effectively track criminals.
Understanding Nigerian satellites
In Sept. 2003, Nigeria officially joined Algeria, Egypt, and South Africa as the only African countries to have launched a satellite, when it launched the NigeriaSat-1. Nigeria paid $13 million to United Kingdom-based satellite technology company, Surrey Space Technology Limited (SSTL ltd), and the satellite was launched on Kosmos-3M rocket from the Plesetsk spaceport in Russia.
The low-earth micro-satellite had a five-year lifespan and was launched for Earth Observation (EO) purposes. This means that it would monitor Nigeria's terrains, provide adequate data to help predict disasters, and also help Nigeria to monitor its borders and better prepare for attacks.
In 2006, NASRDA reached out once again to SSTL for another EO satellite and it soon received NigeriaSat-2.
The objective of the NigeriaSat-2 mission is to provide high-resolution imagery in a swath width of 20 km. NigeriaSat-2 also carried a continuity "payload" to continue with the work NigeriaSat-1 was doing. The imagery of both spacecraft would serve as a catalyst to the development of Nigeria's NGDI (National Geospatial Data Infrastructure) programme. 
By 2013, the two satellites had sent over 1,400 images. These images, apart from assisting in studies on flooding, erosion, deforestation, desertification etc, are also invaluable in planning security operations and emergency response. 
Satellite payloads
Satellites also operate with what is called a payload. 
The payload is the cargo of equipment the satellite carries into space to do the work for which it is being launched. EO satellites, like NigeriaSat-1, carry a payload of imagers or cameras that take pictures and send them down to the Control Station on the ground. NigeriaSat-1, with its six imagers, had a Ground Sampling Distance (GSD), as spatial resolution is called in the satellite industry, of 32 metres. This means that it can only "see" objects on the ground bigger than that. 
Although NigeriaSat-2 was also a mini-satellite, it was still supposed to support food supply, agricultural and geology applications, as well as mapping and security applications. 
But there was a problem, one which would not come to light until years later when Chibok girls were kidnapped.
Nigeria operates the Defense Space Administration (DSA) as an appendage of the Defense Headquarters. It was established to develop and manage military space technologies, support Nigerian military operations both within and outside the country as well as security agencies responsible for internal security through the use of satellite. Also, DSA provides resilient and affordable space and cyberspace capabilities for the Nigerian Military and other security and law enforcement agencies. 
To make Nigeria's security capacity better, in 2011, Nigeria launched the first satellite built by an African country, the NigeriaSat-X. The satellite was intended to complement existing satellite infrastructure and to improve the security of foodstuff, lives, and land in Nigeria. 
In April 2014, Nigeria's satellite security capacity was tested when 276 students were kidnapped in Chibok, a community in Borno state, Northeast Nigeria. 
Nigerian satellites were deployed to help locate the kidnapped girls. Nigeria used its Sat-X and Sat-2 to monitor the movements of the schoolgirls and the Boko Haram terrorists who kidnapped them. The attempts to recover the girls would, however, face a hindrance because the satellites (Sat-2 and Sat-X) only have a 2.5-metre resolution and were "static." 
This means that the satellites could only cover a small fraction of Nigeria at a time, and as the earth continued orbital movement, Nigeria's satellites lost the terrorists. The images Nigeria had, were also not good enough to adequately understand the terrain.
Speaking to HumAngle on the capacity of both satellites, David Oni, a satellite technology analyst, said, "Nigeria Sat-2 and Nigeria Sat-X are both mini and microsatellites and are not equipped for sophisticated EO missions."
Nigeria has had other options
While the country has acknowledged the need to enhance its satellite capacity in the past, not much has been done. Former DG of NASRDA, Dr Francis Chizea, had in 2020 mentioned that Nigeria was planning to launch new EO satellites that would have higher payloads and give better imagery. 
It is, however, not the only country operating a satellite covering parts of its territory. Superpowers like Russia, U.S., U.K., and China have satellites that orbit Nigerian space as well. 
Additionally, as a member of the Disaster Monitoring Constellation of SSTL by virtue of patronage, Nigeria has access to satellite data owned by other countries orbiting its territory. 
This, therefore, means that Nigeria should not be totally blind from terrorists and bandits marauding across the country. 
At the peak of the search for Chibok girls in 2014, a former U.S. top diplomat on Africa, Johnnie Carson, told reporters that the U.S. could provide some aerial satellite imagery of the area to help with the search.
"We have satellites that pass over this region they can in fact be effective and also helping to track and also airplanes that can do some very useful work," said Carson.
A week later, L.A. Times would report that "'imagery from U.S. surveillance drones and satellites has shown suspected bands of Boko Haram militants setting up temporary camps and moving through isolated villages and along dirt tracks in northeastern Nigeria"
Unfortunately, U.S. officials would refuse interference because "a 1997 law prohibits American forces from working with foreign military units that have been accused of chronic human rights violations. The law has prevented U.S. officials from dealing with a Nigerian counter-terrorism unit that has experience tracking Boko Haram."
The DSA, in collaboration with NASRDA and other security outfits, would have been able to track and recover the girls, but somehow, did not. And the lack of adequate satellite capacity was once again blamed.
This is despite Nigeria's space programme being one of the most heavily funded in Africa. 
NASRDA gets too much and provides too little
In a 2020 African Space Industry report, it was revealed that Nigeria's total satellite expenditure stood at $648 million, contributing about 16 per cent of the continent's satellite expenditure. Only Egypt (34.25 per cent) outspent Nigeria, with Morocco coming close at 14.8 per cent. 
As of 2020, Egypt had launched nine satellites while Morocco had launched only three. Nigeria, on the other hand, had spent on six satellites, most of which were either out of operation or did not provide adequate imagery for security (although some are communications satellite operated by NigComSat).
Unlike Nigeria, Morocco carefully made its satellite purchases. To maximise cost and get good results, the Moroccan government ordered two high-resolution Earth observation satellites—Mohammed VI-A and VI-B—from France in 2013 after an intergovernmental agreement between the two countries.
With two satellites, the Moroccan government can collect imagery of the same location with higher frequency. The Mohammed VI-A and VI-B satellites are the most capable optical surveillance satellites owned by any African nation. The entire programme, including two satellites, launch services and ground support, reportedly stood at $597 million.
This means that despite Nigeria having spent more and having more satellites, the Moroccan satellites will provide better security data than the West African country's satellites.
Oni, commenting on the differences, said, "Nigeria's EO satellites in comparison to other African countries is sub-par. Mohammed VI-A and VI-B are very powerful considering their payloads in contrast to NigeriaSat-2 or NigeriaSat-X."
"The Nigerian satellite," he added, "therefore do not have the capacity to monitor bandits' movements the way Nigerians think it would."
Oni shared the sentiments of Dr Chizea that "with a new satellite equipped with better payload, Nigeria can do border control in addition to other basic EO duties."
A further dive into the Africa Space Industry report revealed that, as of 2020, only one space agency has more funding for management and research than Nigeria ($54.67 million): South Africa ($168 million). Egypt, Nigeria's close competition has a budget of $40 million. Morocco, despite having better security surveillance, ran its space agency with just $1.4 million. These costs are, however, not the same as satellite expenditure. 
The lack of capacity, therefore, is not directly related to funding. Asides funds made available by the Nigerian government, Nigeria is also part of collaborative projects like the Japanese BIRDS satellite, which provides satellite technology capacity for partner countries.
Will it get better? 
At the moment, this is the status of Nigeria's six satellites: NigeriaSat-1, NigComSat-1, and EduSat-1 are no longer in orbit, with only NigComSat-1R (a communications satellite), NigeriaSat-2 and NigeriaSat-X (EO satellites) still functional.
NigeriaSat-2 and NigeriaSat-X reached the end of their design life in 2018, although still functioning at minimum capacity. NigComSat-1R will reach the end of its design life in four years.
When Dr Chizea was the acting DG of NASRDA, he presented a paper on the urgent need to replace the satellites to Nigeria's highest advisory body on science, the National Council on Science, Technology and Innovation (NCSTI), during its 18th meeting held in Abuja in Dec. 2020.
The NCSTI then passed a resolution asking the Federal Government of Nigeria to replace the satellites by 2021.
With NASRDA having a new DG, Nigeria may be getting NigeriaSat-3 and NigeriaSAR-1 to replace the current EO satellites or administrative bottlenecks may delay the procurement. While the space agency tries to figure out its path out of this, Nigeria continues to pump money into a space project that is barely doing a quarter of what it was intended for. 
*An email sent to NASRDA to get more information on its projections for the coming years was not responded to. 
---
Support Our Journalism
There are millions of ordinary people affected by conflict in Africa whose stories are missing in the mainstream media. HumAngle is determined to tell those challenging and under-reported stories, hoping that the people impacted by these conflicts will find the safety and security they deserve.
To ensure that we continue to provide public service coverage, we have a small favour to ask you. We want you to be part of our journalistic endeavour by contributing a token to us.
Your donation will further promote a robust, free, and independent media.
Donate Here