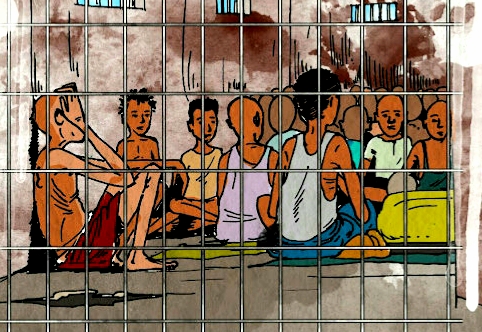 Rasheed Balogun was heading to the market to support his mother at her fish store in the Ajah area of Lagos, southwest Nigeria, when he heard a gunshot. He instinctively ran for safety. But the police arrested him.
This was on May 20, 2021. Rasheed and six other men were taken to the Ajiwe Police Division, one of the stations in the Eti-Osa Local Government Area of the state.
At first, the police accused them of being part of the #EndSARS anti-police brutality protests, which turned violent after hoodlums became involved. They were also accused of being part of the burning of police stations in Oct. 2020.
Without taking their statements or allowing them to see a lawyer, the security personnel drove the arrested men to the office of the now-disbanded Special Anti-Robbery Squad (SARS) in Ikeja.
Rasheed told HumAngle he was tortured, stabbed in his hand and on his back, and dumped in a cell where the inmates subjected him to rounds of beating — his experience similar to those of other victims of police brutality in Nigeria.
The following day, the investigating police officer (IPO) in charge of the case, allegedly told them they were arrested for armed robbery and cultism. Despite denying the allegations, the police forced them to write statements confessing to the crimes. They used these confessions to extort bribes from the men's parents.
Days later, the police released the men arrested at the same time as Rasheed, after money changed hands.
Rasheed's mother was unable to raise the amount the police demanded. He had to spend more time in detention. His torture continued too. On several occasions, his hands were tied behind his back.
At least five people died in front of him while being tortured in the jail, he said.
Rasheed remains in custody.
Video confession
The detainees' treatment violates local and international law, including the UN Declaration on the Protection of All Persons from Being Subjected to Torture and Other Cruel, Inhuman or Degrading Treatment or Punishment.
Nigeria's constitution also stipulates that no person shall be subjected to torture or to inhuman treatment.
"Following the repeated deaths in the cell, the police boss instructed them to release detainees or take us to the court. It was when they were planning my arraignment that an Inspector took an Android phone to do a video recording," Rasheed said.
"He placed a locally-made gun in my front and forced me to say I was using the gun for robbery. At first, I disagreed, but he tortured me with a cutlass to do as instructed, so I had no choice."
HumAngle contacted the officer involved. The inspector did not deny torturing Rasheed when HumAngle put the allegation to him. He only maintained that Rasheed was involved in robbery and cultism. He refused to say that he had obtained any evidence to prove this accusation. He denied receiving any bribe to free people arrested at the same time as Rasheed.
The Nigerian Police have a history of brutality and disrespect for the rule of law. Its officers have been accused of disregarding the human rights of accused persons, violently suppressing protests, infringing on fundamental rights, and corruption.
Many young Nigerians like Rasheed say they have either had a bitter experience with the police or know someone who has. In Oct. 2020, many people thronged the streets to protest against the activities of SARS, a rogue police unit notorious for extrajudicial killings, torture, enforced disappearances, and extortion.
The protesters called for the abolition of the squad. As the protest gathered momentum across the country, especially in Lagos, authorities dissolved the special police force.
But years after this announcement, many are still being arrested without evidence of wrongdoing, tortured and neglected in prison, a development that suggests the absence of far-reaching institutional reforms since the protests.
Police sources told HumAngle that while the SARS squad was disbanded, its members continued to work as regular police officers while using old SARS facilities.
Ayo Ademiluyi, one of the lawyers who represented #EndSARS protesters in 2020, said: "The disbandment of SARS does not translate to police reform. The officers dropped their old names but maintained their human rights violations acts in their stations."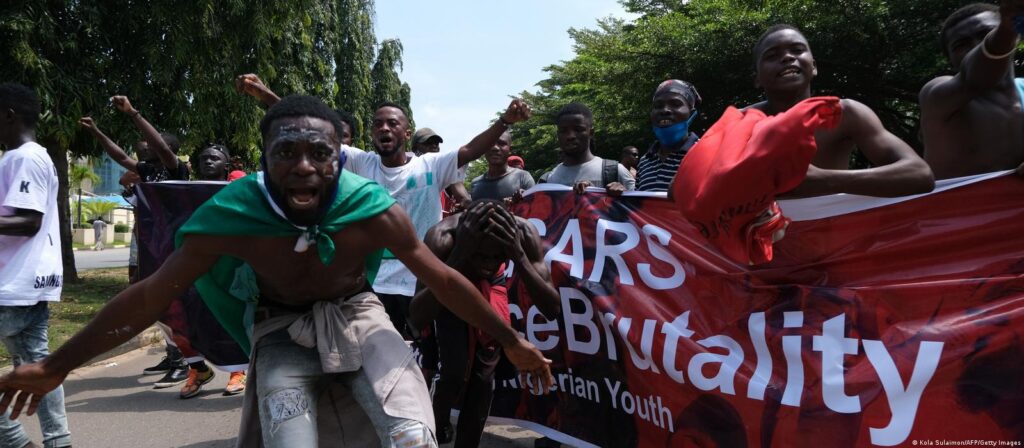 Rasheed's mother, Toyin Balogun, said her son was easy going and was never involved in the alleged crimes. She saw Rasheed covered in blood when she first visited him at the police station in Ikeja.
"The Inspector collected money from me to take care of him in the hospital, but he never did. In fact, my son told me he carried out most of the brutalisation," the frustrated mother told HumAngle during a phone interview.
The case has been seen in court, but proceedings were adjourned, because the police officer did not turn up to court to present any evidence.
"I have spent over ₦750,000 ($1,613) to ensure that he's set free, but the police, and the complainant never showed up in court after the very first day that he was arraigned. Since then, the matter has suffered various adjournments at the Lagos State High Court."
Following Rasheed's arrest, his father, Yusuf Balogun, a farmer, died after a bout of depression in late 2021. Afterwards, Toyin sold all her properties to raise money for her son's freedom.
"The police continued to collect money from me to take care of him when he was sick, but they never did."
Though the inspector named by Rasheed denied the allegations against him, he gave contradictory statements about his failure to appear in court with the person that Rasheed is supposed to have robbed.
At first, the officer told our reporter that he stopped going to court because he was trying to help Rasheed's relatives. Asked why he was interested in helping a person charged with armed robbery, he replied that the real reason is he has been "busy with other assignments".
Convicted on a nod
There are many reasons corrupt police give for arbitrarily arresting someone.
For Idris Oluwole, it was on the nod of a neighbour they had already arrested, and likely tortured.
It was the middle of the night, Aug. 24, 2021. Almost everyone had retired to their beds in Langbasa, a community in Ajah, southwest Nigeria. All except for the neighbourhood security personnel who stood by as police officers broke into the house where Idris, a 24-year-old automobile mechanic, lived with his wife.
He was on the mat watching over his pregnant wife in the small apartment where they lived with his mother. According to Idris, the police came with a suspected robber who had been arrested in the neighbourhood weeks before.
"They told him to take them to his house, where I was also living with my wife and mother. They asked him if he knew me, and he nodded. That was the beginning of my predicament. They searched our house but could not find any implicating evidence, yet they arrested me," Idris explained from his cell.
He was subsequently driven to Ikeja, where he was tortured and detained under inhumane conditions till he broke his hand. He was also prevented from communicating with relatives or lawyers.
To his surprise, the police officers brought an already written confession that admitted he was involved in cultism and asked him to sign. Idris told HumAngle that when he refused, they handcuffed his hands and cut him with a cutlass.
Weeks later, the police charged him with cultism, while the fellow who took them to his house was charged with armed robbery. The officer in charge of the matter came to the court on the first trial date, but he has not shown up since as the matter continues to be adjourned.
Idris' wife later lost her three-month pregnancy. A year after her husband's detention, she left to marry another person.
"I have met several lawyers in court to help take up the matter, but they are exploiting us," said Idris' mother, Kafilat Oduwole. "I have collected several loans to ensure that my son returns home safely, but all have been futile. I have spent over ₦200,000 ($434) on the case, and my business has since collapsed."
Like Rasheed, Idris remains in detention.
Ex-detainee's ordeal
A former detainee, who spoke to HumAngle under promise of anonymity because they fear reprisals from the police, said he was saved from ending up at Kirikiri prison because his parents could afford the bribe demanded by his IPO at the disbanded SARS unit's station.
The officers arrested him and two others as they watched a football match at a view centre in the Jakande area of Lagos in Aug. 2021. Despite identifying themselves as motorcycle mechanics, they were accused of being cultists.
"I thought #EndSARS protest and disbandment of SARS was the end of police brutality, but I was surprised with what I saw when I got to Ikeja. The police forced us to sign statements that they caught us with guns. The IPO was brutal until my parents and others paid him after threatening to charge us to court with false accusations."
He explained that the IPOs were feared because they determined how long a person would stay in detention.
'Unfounded'
HumAngle contacted Ben Hundeyin, Lagos police spokesperson. He insisted in a text response that the Lagos State Command no longer has SARS units.
When our reporter told him about the victims' claims of bribery, torture, and being forced to sign false confessions, he said: "These are unfounded claims. And the command has not received such complaints from any victim."
Lawyer Ademiluyi, however, said the incidents show that police brutality remains a worrisome trend, "and except there is total reform, we will continue to have these cases even when the next government comes to power."
"We continue to receive news of people being beaten by the police. The #EndSARS youths must understand that the struggle has not ended because I am aware of more cases of people illegally arrested in detention."
Ademiluyi also volunteered to follow up with both Rasheed and Idris' parents to ensure their children are released from detention soon.
---
Support Our Journalism
There are millions of ordinary people affected by conflict in Africa whose stories are missing in the mainstream media. HumAngle is determined to tell those challenging and under-reported stories, hoping that the people impacted by these conflicts will find the safety and security they deserve.
To ensure that we continue to provide public service coverage, we have a small favour to ask you. We want you to be part of our journalistic endeavour by contributing a token to us.
Your donation will further promote a robust, free, and independent media.
Donate Here